Mexico has long been a favorite vacation spot for North Americans, but it is also gaining popularity among travelers from Europe who want to take advantage of the country's seemingly endless sunshine, breathtaking scenery, and lovely sandy beaches, not to mention its incredibly rich cultural heritage.

Mexico's old colonial towns and ancient Aztec and Mayan ruins are so significant that several of them have been named UNESCO World Heritage Sites, guaranteeing their preservation for future generations. It's interesting to note that these Mayan archaeological sites, which include locations like Guanajuato, Chichén Itzá, and Uxmal, are often just as popular as well-known coastal destinations like Cancun, Puerto Vallarta, and Playa del Carmen.

The country's rich culture, a fascinating fusion of indigenous people and Spanish colonial influences, which is evident in everything from the cuisine to the colorful musical and dance traditions, tops the whole experience. As a result of its distribution among climatic zones that range from barren deserts to lush tropical rainforests, the nation is also rich in flora and wildlife. Check out our list of the best Mexico vacations to make sure you create the best vacation schedule possible.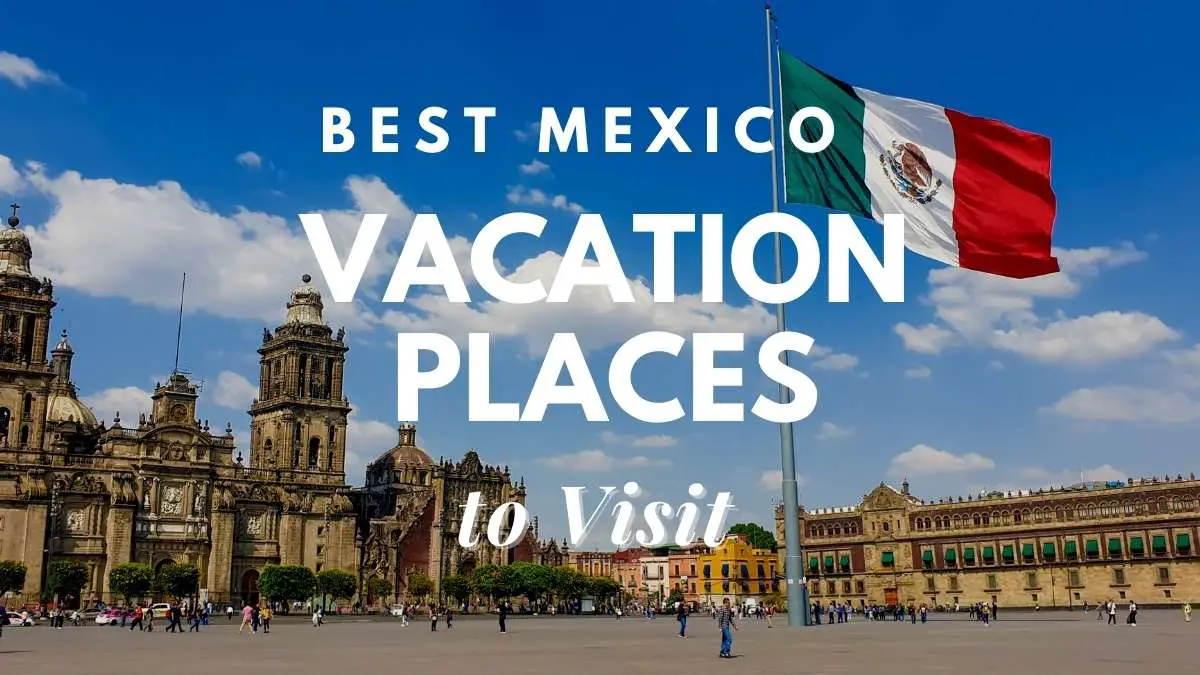 1. The Mayan Riviera and Cancun
The resort areas of Cancun, Playa del Carmen, the island of Cozumel, and more are located along a stunning length of coastline on the Gulf of Mexico. The Riviera Maya is the name given to all of these locations.
Five million tourists visit this stunning region along the Yucatán Peninsula's eastern border every year, bringing in enormous tourism profits. Despite these numbers, the Riviera's expansive beaches, limitless crystal-clear sea, and abundance of top all-inclusive resorts make it unlikely that you will feel crowded.
Additionally, there are lots of enjoyable activities available in the region, including swimming with dolphins and stingrays, snorkeling among reefs and tropical fish, and scuba diving in the world's largest underwater museum, which is home to an amazing collection of sculptures submerged at depths of up to eight meters.
Then there are the several old Mayan ruins in the area, some of which are near to the beaches and can be reached on foot, while others, like Chichén Itzá and Tulum, are just a short drive away and are among the biggest and most stunning.
Read: Is Traveling A Hobby? The Ultimate Guide To An Exciting Way Of Life Learn about the Downsides Of Traveling As A Hobby

2. Venezuela Vallarta
Puerto Vallarta, which is located on Mexico's Pacific coast, is another beach location that is becoming more and more well-liked. The city, often abbreviated to "Vallarta," initially gained notoriety as a holiday destination in the 1960s as a playground for the social elite of North America. Since then, it has become immensely popular with foreigners searching for second homes in a bright, warm environment. It has not seen much contemporary development in many areas.
Nowadays, Puerto Vallarta is just as likely to draw an older cruise ship audience eager to swim with dolphins as it is younger people searching for excitement, who may find it here in sports as varied as paragliding and jet skiing. This is attributable to the city's various things to do.
The city also offers a variety of places to buy for arts and crafts or to just wander along nice coastal promenades with their numerous green areas and sculptures, perfect for people who want their vacations to be a bit more leisurely. Of course, you can't leave the city without seeing Puerto Vallarta's top beaches, just like any decent resort location in Mexico.
3. the corridor via Los Cabos and Cabo San Lucas
One of Mexico's most popular beach locations is Los Cabos, sometimes known as "Cabo," which is located at the southernmost point of the lovely Baja Peninsula. This 30-kilometer length of beautiful beaches, also known as the Los Cabos Corridor, stretches from the cities of Cabo San Lucas to San José del Cabo and is famous for its clean seas, diving, snorkeling, and fishing (it also organizes the biggest marlin contest in the world).
There are now many resorts available for different tastes and price ranges, from opulent spas to golf-focused resorts with some of the top courses in North America. However, Los Cabos tends to draw tourists with large vacation budgets. It is one of Mexico's opulent capitals.
Swimming and snorkeling around the well-known natural landmark El Arco de Cabo San Lucas, a huge archway carved out of the coastline where the Sea of Cortez meets the Pacific, is one of the most well-liked activities to do in Cabo San Lucas in addition to relaxing on the beaches and exploring the town.
4. Grand Canyon of Mexico is Copper Canyon.
One of Mexico's most northern states, Chihuahua, which borders New Mexico in the US, is home to the breathtaking Copper Canyon, one of the most popular natural attractions in Mexico. Copper Canyon, which is a stunning collection of steep gorges located in the Sierra Madre Occidental, is actually bigger and deeper than its more well-known cousin, the Grand Canyon. These remarkable natural features, which get their name from the striking copper green coloring along their high canyon walls, were created by six rivers that confluence in the Rio Fuerte before emptying into the Gulf of California.
There are many alternatives available for people wishing to visit this region of exceptional natural beauty as a result of the area's rising appeal as a tourism destination, from picturesque train tours on the Ferrocarril Chihuahua al Pacfico to more daring excursions by bike or even on horseback.
5. The Historic Center of Mexico City
Because of its many top-notch museums, art galleries, and attractions, Mexico City (Ciudad de México) is not only the nation's capital and seat of government, but also one of the most well-liked alternative tourist locations in the nation. Don't let its size deter you. Instead, concentrate your efforts on the historic city center, a 15-square-kilometer UNESCO World Heritage Site that is home to more than 1,400 significant colonial structures from the 16th to the 19th centuries.
Most of Mexico City's major attractions are located here, many of which are accessible on foot from Constitution Square, the busy city center. These attractions include the National Palace, the Metropolitan Cathedral, and the Templo Mayor with its Aztec artifacts. The enormous volcanic mountains Popocatépetl and Iztacchuatl, which tower above the city and are each over 5,000 meters tall, add to the whole experience. They provide a fantastic occasion to get outside and take in the breathtaking landscape in this region of the Mexican Highlands.
6. The Mayan Metropolis is Chichén Itzá.
The majestic Mayan city of Chichén Itzá is one of Mexico's most visited archaeological sites, as well as one of the largest and finest maintained. It is a well-liked day excursion for people traveling to Cancun, Playa del Carmen, or the Yucatán capital, Mérida. There are many reasons to visit this UNESCO World Heritage Site. The enormous El Castillo, also known as the Pyramid of Kukulkán, is a must-see sight and is the highest building on the site at 30 meters.
The majestic Caracol, an over 1,000-year-old observatory that demonstrates how sophisticated the Mayans were, is another outstanding attraction in this area. The structure is noteworthy for the tiny openings in its walls that let the sun to pass through twice a year so priests may precisely establish the date. The site's many sculptures, many of which show the well-known Mayan Chacmools clutching their sacrifice vessels as they continue to guard these ancient temples, are quite interesting.
7. Guanajuato
Guanajuato is a city that demands to be explored on foot, with its many ancient colonial buildings, meandering streets, and tiny alleyways earning it the designation of UNESCO World Heritage Site. Visiting its various plazas, especially the charming Jardin de la Union, the city's main square with its beautiful ancient architecture, is a very enjoyable experience. The stunning ancient San Diego Church and the magnificent Juárez Theater may be found here, along with fountains and flowerbeds, cafés, and restaurants.
After that, descend to the city's underground streets, which are a network of tunnels that formerly carried a river but are now utilized by vehicles and people to rapidly navigate the city.
One of the best museums in Guanajuato, which is known as an art city, is the Museum of Quixote, which is devoted to the writings of Spanish author Miguel de Cervantes. The International Cervantino Festival, Latin America's most significant celebration of the author, is also held in the city. The city's well-known Mummies of Guanajuato exhibit also features a number of organically mummified remains of people who perished during a cholera epidemic in the middle of the 19th century, provided you have the stomach for it.
8. Zihuatanejo and Ixtapa
There's no doubting the allure of Mexico's major beach resorts, but there are many compelling reasons to go to some of the nation's many smaller holiday spots. The Pacific coast of the nation's has a number of excellent towns, including Ixtapa and its neighbor, the much smaller old fishing community of Zihuatanejo.
The old coconut and mangrove producing town of Ixtapa, which is the bigger of the two, has been deliberately master-planned as a tourism center to excellent effect; its streets and beaches are uncluttered and simple to navigate. Make sure you reserve a room at one of Ixtapa's top all-inclusive hotels.
Zihuatanejo, a stunning town that has made a concerted effort to preserve its small-town atmosphere, stands in stark contrast to conventional beach resorts. Nevertheless, there are many things to do in the town. It is a pleasant and safe town to visit, with a number of great hotels and restaurants, and it is situated along a tiny, well-protected harbor. Shopping at the local fish market is enjoyable, but going fishing and catching your own fish is much more fun.
9. The Historic Tulum Fortress
The ancient city of Tulum is one of the most popular tourist destinations on the Yucatán Peninsula since it is renowned as the only walled Mayan hamlet situated on the shore. The site's well-preserved remains can be seen for miles around owing to its placement atop 12-meter-high cliffs overlooking the lovely Caribbean Sea in the Mayan Riviera, close to the beaches of Cancun, Playa del Carmen, and Cozumel.
Tulum is renowned for its massive walls, which give the area the appearance of a fortress and imply both a military and religious importance. The town, which dates to the 13th century and was inhabited until the arrival of the Spanish in 1544, is home to numerous other significant archaeological discoveries, such as the Temple of the Frescoes (Templo de los Frescoes), which features sculptures and reliefs, and the Castillo, the largest structure on the site and well-known for its cliff-side location.
10. Coastal Life in Cozumel
The ultimate Mexican vacation is almost made for the island of Cozumel. This verdant tropical oasis, which is 20 kilometers from the Yucatán Peninsula, gets its name from the ancient Mayan "Ah-cuzamil," which translates to "country of the swallows," and has been inhabited for a very long time. And although it is said that Mayan pilgrims were the island's first visitors, they were reportedly followed by European smugglers and pirates. Nowadays, people are attracted to the island by the promise of unending sunlight. Playa San Juan, Playa San Francisco, and Playa Santa Rosa are just a handful of the favorite beaches for these sunbathers.
Many people are drawn to Cozumel by the world-class diving opportunities available near its coral reefs. It's relatively simple to include at least a little underwater activity in these stunning locations because they are abundant with fish and other marine life. You can do this by making a diving reservation through your resort (or before your trip) or by simply purchasing a pair of flippers and a mask when you arrive.
Go to the Palancar Reef on the island's southwest point if you're a serious diver. You'll be rewarded by an undulating seafloor that drops to depths of 80 meters from its shallow areas here. Dive around man-made structures, such as sculptures and bronze statues, as well as those placed to promote coral development, is a relatively new experience.
Final words
Now you have a clear idea about the best Mexico vacations that you can consider. Go ahead with planning your tour to Mexico, and you will surely fall in love with what the country as to offer.