You've probably heard of the beaches of Sarasota's well-known barrier islands, Anna Maria Island, Longboat Key, and Siesta Key, if you love the beach and are considering a vacation to Florida. Between Tampa and Fort Myers on the gulf coast, this group of islands outside Sarasota is widely renowned for its white sand beaches, turquoise seas, and small-town atmosphere. Many people are lured here while looking for Florida's greatest beaches because they want to escape the busy, overly touristic beaches of St. Pete and Clearwater (to the north). In this Anna maria island vs Siesta Key comparison, we will help you to figure out what the best destination available for you to visit is.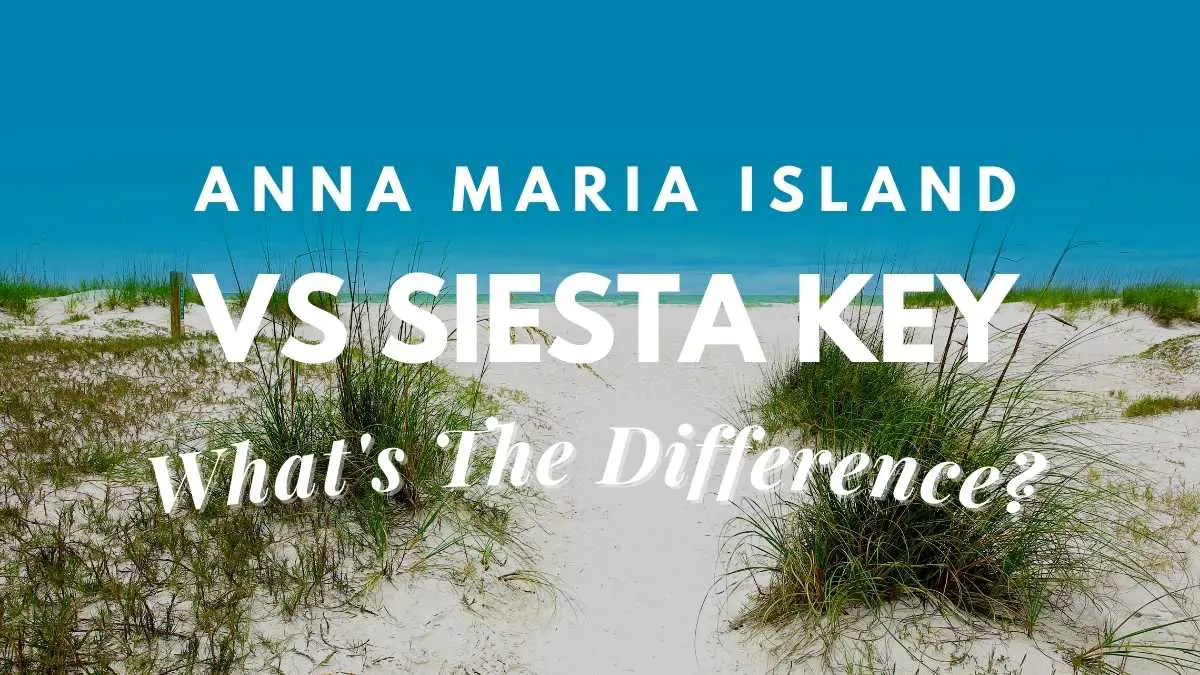 Anna Maria Island
Although the northernmost island is really one continuous island, Anna Maria Island and Bradenton Beach are two separate islands. Bradenton Beach is near the island's southernmost point (the city of Bradenton is just across on the mainland). At the southernmost point of the island, Coquina Beach, there is a sizable public beach access, and as you go north, it is essentially one continuous length of "small beach town" vibes.
Anna Maria Island located on the island's northernmost point. There isn't really a clear distinction between the two, and there isn't much of a difference in the kinds of lodgings either (one isn't necessarily better than the other). I will acknowledge that there is a perception that Anna Maria Island and Bradenton Beach are somewhat superior to one another, but I believe this is mostly due to name familiarity. I observed that quite a few eateries, particularly those closer to the southern end of the island, utilize "Anna Maria Island" instead of Bradenton in their names or branding.
Holmes Beach and north are thus unquestionably included in the definition of Anna Maria Island, despite the fact that it is unclear where one ends and the other starts. If you want to be in the thick of things (close proximity to restaurants, shops, etc.) On the island's northern tip, Pine Avenue is without a doubt the major thoroughfare. It divides the island in two, running from west to east (where there is a public beach access) and ending at the Anna Maria Island City Pier. It is lined with adorable stores and eateries. You can certainly move about mostly on foot, by bicycle, or in a golf cart if you're staying in the northern part of Anna Maria Island (bike and golf cart rentals are available at several places in town).
Read: Is Traveling A Hobby? The Ultimate Guide To An Exciting Way Of Life Learn about the Downsides Of Traveling As A Hobby

What can you experience in Anne Maria Island?
Overall, Anna Maria Island has a very relaxed atmosphere, however there might be a lot of traffic (especially around Bradenton Beach). In most respects, it's like any other tiny seaside town. Consider boutique hotels, ice cream parlors, surf shops, quaint eateries, etc. These objects are mostly lining the major route up the island. Although it lacks the picturesque, planned atmosphere of Seaside or Rosemary Beach on the 30A, it is also not unduly commercialized with a high concentration of chain eateries or shops. It has just been developed gradually over the years and has that endearingly dilapidated appearance that comes about when a little seaside town is "discovered."
My recommendation for this island would be to find accommodations along Pine Avenue in the north. A golf cart rental would also be excellent. If you remain on the island's north end, you can escape most of the traffic that passes through Bradenton Beach (where there is a sizable public beach access), plus there is a Publix and a bridge leading to Bradenton there as well.
Siesta Key
I just visited Siesta Key after hearing about its renowned sugar white sand beaches for years. I didn't really expect to be that awe-inspiring. I mean, Florida's whole gulf coast is well known for its white sand beaches. Is Siesta Key really all that unique? Yes. Sure, it is. It turns out that the sand is quartz, which explains why it feels so pristine and delicate. Although Siesta Key resembles Anna Maria Island more than Longboat, it is nonetheless distinct.
Read: 17 Things To Do In Anna Maria Island In 2023
What can you experience in Siesta Key?
It's distinct from the other islands, to start. Without crossing the bridge to Sarasota, traveling a little distance down the shore, and then crossing the bridge to Siesta Key, it is impossible to get from Longboat Key/St. Armand's. Actually, two bridges connect Sarasota to Siesta Key: one at the island's extreme northern and center ends. The bulk of everything else is centered up towards the northern end on Ocean Blvd. There is a tiny cluster of restaurants (and maybe a few businesses) near the bridge at Midnight Pass (the island's center). It is the region of the island that resembles a "town" the most. Everything on Siesta is relatively tightly focused in those two districts, unlike Anna Maria Island/Bradenton, which is essentially one continuous stretch of stores, eateries, and enterprises.
The majority of the lodging options are located north or close to the Midnight Pass bridge. The majority of the island's residents are found in the south (and not necessarily the kind of places you rent-I think people actually live there). On Siesta Key, there are a ton of condo developments, cozy inns, and holiday rentals. You should be aware that even though a location is on the beach side of the major road, it can still be quite a distance from the beach itself. If acquiring anything on the beach is vital to you, keep in mind that the island is rather large in one length and that it seems there are 2-3 condo buildings deep between the road and the beach.
Beaches in Siesta Key
Despite the fact that the whole island is covered in a continuous length of sand, depending on where you stay, you could or might not have access directly at your home or you might need to utilize a public beach access. Well, Siesta Beach's public access is quite outstanding. I'm not making this up. The best public beach I've ever seen, including the amenities, is Siesta Beach. Anywhere.
It's good to see that they've invested in infrastructure that makes visiting it a pleasurable experience after years of receiving acclaim for being "America's finest beach" and winning several honors. There was a ton of parking, loading and unloading zones, a snack bar, clean facilities with enough of stalls, a store with necessities like sunscreen, inflatables, beach toys, caps, etc., picnic tables, and MORE.
There is also an accessible entrance, which I had never seen previously (and I heard that beach wheelchair rentals were also available). From the parking lots down near to the water's edge, there was a 5–6 foot wide industrial path. It's incredible that you can walk (or push a wheelchair, pull a wagon, etc.) to the seashore without having to slog through thick, scorching sand since the beach is so extensive (it felt like one and a half miles or more from the parking lot to the ocean).
My recommendation for this island would be to get a room around the northern tip of the island, close to Ocean Blvd's array of eateries and retail establishments. It would be good to not have to worry about a vehicle every time you want to go out to eat since there is so little parking in the vicinity (and so few restaurants relative to how many rooms are on the island).
Top Beach? Siesta Key or Anna Maria Island?
Without a doubt, Siesta Key has the nicest beach (sand!) unless you prefer to collect shells. The absence of any shells in the sand accounts for its appearance as white sugar (quartz). That is why it is so lovely, but if you were planning to walk the beach searching for shells, you could be let down.
The best access to the public beach is on Siesta Key. If you aren't staying directly on the beach, it can be crucial. There isn't much public beach access on Longboat Key (there is some, but it's generally very secluded and parking is extremely scarce). Although Coquina Beach in particular provides parking and other services, there may be a lot of traffic in Bradenton/Anna Maria Island. Regardless of whether visitors are arriving from the mainland across the bridge or from a property that is not directly on the beach, Siesta Beach is completely prepared for day visitors. Once you arrive, setting up camp is simple and they provide everything you need (restrooms, showers, snack bar, picnic tables, a small shop, etc.).
Best Restaurants by the Ocean? Siesta Key or Anna Maria Island?
The greatest seaside dining options are unquestionably found on Anna Maria Island. It's possible that this is the only island with beachside dining. While Siesta Key doesn't seem to have any on the water, Longboat has a handful in the bay. However, there are several locations in Anna Maria where you may really sit at your table with your feet on the sand. In this region, where condominiums and vacation homes occupy the majority of coastal land, it is very uncommon.
Final words
By reading this Anna maria island vs Siesta Key comparison, you have a basic idea on where to visit. If possible, we encourage you to visit both attractions as they offer an unforgettable experience for everyone!