Pennsylvania's famous moniker, the Keystone State, dates back to 1802, and it is home to some of the most captivating nature and outdoor activities to keep any camper intrigued. The state of Ohio, one of the original 13 colonies, is rich in history and natural beauty, with the Appalachian Mountains running through its center and Lake Erie on its northern boundary. To get the most out of your tour, you should locate the best PA campgrounds with lakes. In this article, we will share a few of the greatest available options with you.

There are numerous beautiful state parks as well as excellent private campsites to visit throughout the state. Each camping spot was located among rivers, lakes, mountains, and spectacular waterfalls. Prepare to pitch your tent, park your RV, or check into a cabin or yurt for a vacation in one of the country's most gorgeous states.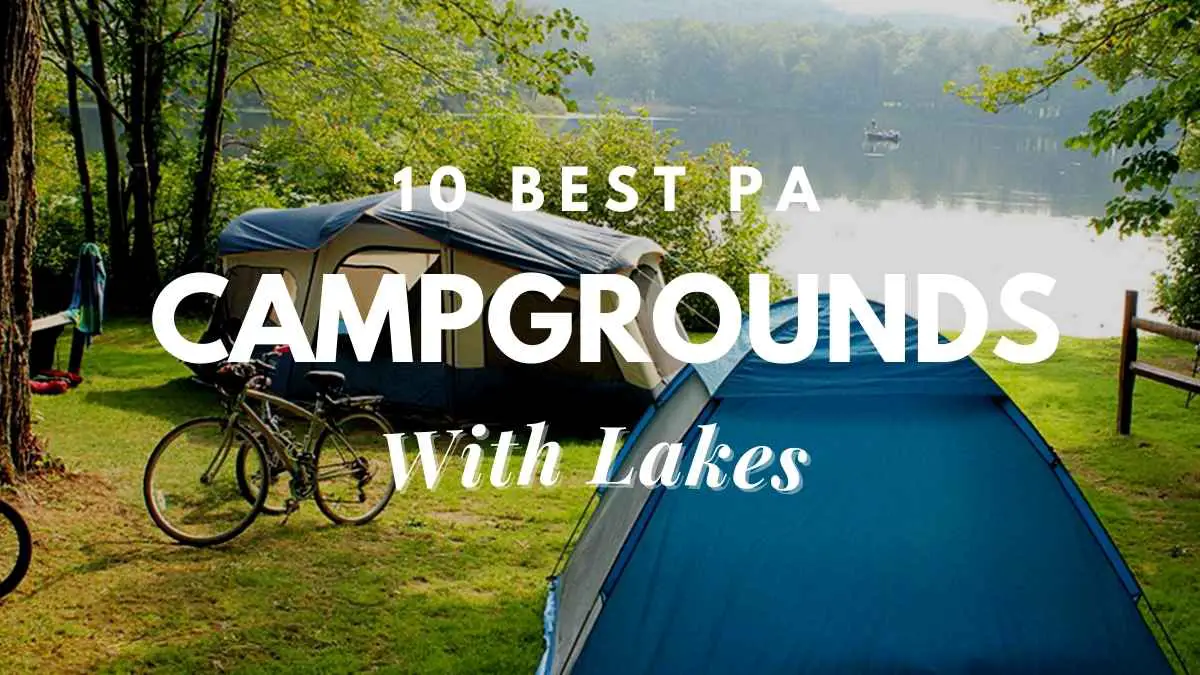 What is Pennsylvania's largest state park?
Pymatuning State Park is Pennsylvania's biggest state park, with more than 21,000 acres. It's also one of Pennsylvania's most popular state parks, with the 17,000-acre Pymatuning Reservoir serving as the state's biggest lake.
Read: Is Traveling A Hobby? The Ultimate Guide To An Exciting Way Of Life Learn about the Downsides Of Traveling As A Hobby

How much does it cost to camp in an RV in Pennsylvania?
In Pennsylvania, RV camping is generally more than rustic camping. Overnight rates are widely dependent on the season, location, and park facilities. RV camping in Pennsylvania, on the other hand, may cost anything from $15 to $50 each night.
Read: Mt Moosilauke Camping Guide 2022 (What You Should Know)Learn about the Less-Traveled Paths
In Pennsylvania, where can you camp for free?
Pennsylvania has a lot of places where you may camp for free. The Appalachian Mountains are the ideal place to go trekking, see the nicest vistas, and camp for free. Tioga State Forest, Susquehannock State Forest, and Elk State Forest are three of the most popular camping locations in the area. Boondocking is also possible at Rothrock State Forest, Weiser State Forest, and Loyalsock State Forest.
Read: Can You Camp On The Beach At Ocean Shores?
When does Pennsylvania's camping season begin?
In Pennsylvania, the camping season runs from April through October. However, certain parks, such as French Creek State Park and Ricketts Glen State Park, provide year-round camping.
1. Lake in Wood RV Resort
This Gnome-themed campsite, located approximately an hour and a half from Philadelphia, is one of the most interesting spots to escape the ordinary in the region.
A six-acre lake, a Gnome café, and spectacular performances are among the attractions. While the kids are at the playground or the kiddie pool, you may cool down in the pool, fish, play mini-golf, boat, or rest in the spa waters.
Lake in Wood RV Resort has a variety of accommodation alternatives as well. For an amazing experience, stay in your RV, pitch a tent, or rent a barn, yurt, tipi, or covered wagon. There are also deluxe park model rentals available.
2. Yogi Bear's Jellystone Park
Yogi Bear's Jellystone Park Camp-Resort provides a fun Yogi Bear-themed vacation with a variety of activities. Yogi Bear's Water Zone, an aquatic playground, is one of them. Another option is mini golf, where you may putt while watching a Yogi Bear statue.
You may also get some exercise on the basketball and volleyball courts or go for a run or stroll along the Stewart Run Creek hiking paths. In fact, the woodsy, quiet character of this 63-acre park thrives in this area. For an extra fee, you may participate in gem mining and laser tag. Please keep in mind that this campground is closed from early November to early April, with the peak season being between the middle of June and the middle of August. Also keep in mind that the park encourages making reservations at least six months ahead of time.
Other factors to consider include the fact that dogs are only permitted at the RV sites and that Wi-Fi is only provided in the Water Zone, Pavilion, and Ranger Station.
Read: How To Bear Proof Campsite (14 Most Effective Ways)Learn about the how to Keep Bears Out of Your Campground
3. Hersheypark Camping Resort
The best feature of Hersheypark Camping Resort is its proximity to Hersheypark, which is just 3 miles away. It has a similar chocolate-themed atmosphere, and customers may take use of unique perks associated to the Hersheypark theme park, such as free parking and early and late admission. Discounts at the Hershey Story's Museum Experience and Hershey Gardens are also available.
Meanwhile, a variety of events held at the camping campground keep both parents and children engaged. Between Memorial Day and Labor Day, special activities are planned for practically every weekend, as well as the first three weeks of the season, which begins on April 1 and concludes on September 26.
Prospective renters should be aware that the campsite is near to an active railway line, which is fantastic for train fans but may be a disadvantage for others due to the noise. Those seeking peace and quiet should keep in mind that, in many situations, minimal space separates the RV sites.
Read: Camping Near Austin [20 Amazing Locations] Read about the 5 best RV Parks in Austin
4. Raystown Resort
Camping choices abound on Pennsylvania's biggest lake, including tent and trailer sites, yurts, and cottages. Expect to get wet since there are so many water activities to enjoy. Swim at the beach, enjoy lake boating, play at the water park, or try stand-up paddle boarding.
Try your hand at geocaching on land. There are six caches to discover on the resort grounds, with others scattered across the area. This private campsite, which sits on three peninsulas, also has numerous contemporary facilities. If you don't feel like cooking, stop by the Marina Café for a bite to eat. For a fun day, go to the Wild River Waterpark. Weddings, family reunions, and retreats are all possible at Lake Raystown Resort.
5. Campground on the Allegheny River
River activities abound at the Alleghany River Campground, from fly fishing to river tubing. In the past, this ancient river was used for a variety of reasons. It is presently protected, with portions of it falling within the National Wild & Scenic River System, which is particularly designated for recreational use.
While the campsite has contemporary as well as natural elements, such as a heated swimming pool, you can still enjoy the natural surroundings.
There are both rustic tent campsites and RV hook-ups on the property. In addition to cabins and cottages, you may hire a vintage RV for your stay.
7. Buttonwood Campground
Buttonwood Campground is one of Central Pennsylvania's biggest camping areas, located in the Juniata River Valley. It offers large, pet-friendly campsites as well as cabin rentals for RV and tent campers. Buttonwood Campground, on the other hand, is renowned not only for its size but also for the quantity of enjoyable activities available.
On a tube, kayak, or canoe, explore the Juniata River's natural beauty. A pool, mini-golf, jumping pillow, laser tag, horseshoes, and other activities are available. The on-site winery will appeal to wine aficionados, and Hazard's Distillery is not far from the campsite. Golf courses, flea markets, amusement parks, the Midway Drive-In Theater, and hiking, fishing, and boating options are among the other local attractions.
It makes no difference whether you come alone, as a pair, with a group of friends, or with your family. Buttonwood Campground is equipped to meet the demands of all types of campers.
8. Otter Lake Camp Resort
While vacationing at Otter Lake Camp Resort, get up and personal with the Poconos mountains. This secluded campsite is a treat for every level of camper, with 300 forested acres to explore. On the gorgeous 60-acre lake, go canoeing or kayaking. Spend your time fishing for bass, perch, catfish, and other species if you choose.
For individuals who are less interested in nature or want a range of activities during their camp stay, modern activities abound. Organized activities such as archery and crafts are examples. Tennis, racquetball, and basketball courts are also available. Check out one of the four playgrounds, a splash park, or the gaming room for the kids.
9. Ricketts Glen State Park
Ricketts Glen State Park is an excellent camping spot for folks who love a variety of outdoor activities all year. The park, located on the state's eastern border, has a fishing and boating lake, a swimming beach, rental cottages, and various campsites. During your visit, you may discover old-growth woods, natural wetlands, and majestic geological formations, making it a nature lover's delight.
The park has five premium cottages, ten contemporary cabins (two of which are ADA accessible), and 120 tent and trailer campsites, and is just a two-and-a-half-hour trip from Philadelphia. Bring decent hiking shoes since this park's renowned Falls Trail will attract you. This walk takes you past 21 of the park's spectacular waterfalls, which range in height from 11 to 94 feet.
Lake Jean, an excellent area for swimming, fishing, and boating, is also located inside the park. The lake is also supplied with trout every year. This is also the place to go if you like winter outdoor sports like cross-country skiing, snowshoeing, snowmobiling, and ice fishing. If you like hunting, the park has approximately 10,000 acres of authorized property as well as state game grounds around it.
10. Hickory Run State Park
Hickory Run State Park is a fantastic place to explore, particularly if you have a compass or GPS. The park's 20,000-year-old boulder field, which is listed as a National Natural Landmark, is a standout feature. Take a self-guided tour of this natural history site that dates back to the last ice age. Along the trip, the park gives coordinates to follow and learn about the old terrain.
Over 40 miles of hiking routes, which were previously historic roadways going to local towns in the 1800s, may be found in the park. Hikers should be aware that these paths vary in difficulty from simple to challenging. Sand Spring Lake is also a nice place to visit. Before and after a refreshing dip, relax on the sandy beach. For a relaxed day, float on a raft. There are also shaded picnic tables here.
Hickory Run provides around 300 tent and trailer spots for campers. However, keep in mind the active bear population in the region and hang your food. If you're looking for something a little less daring, stay in one of the park's five cottages.
Final words
These are the best PA campgrounds with lakes. You can visit any of these, and you will end up enjoying the unique experiences that come on your way.