Swimming in natural cold water is one of the most exciting aspects of being outside. It's relaxing, particularly after a long day of activities. Regardless, bear in mind that swimming in natural water regions is restricted at outdoor sites. They do this for your protection or to protect the water supply. Jenny Lake is one of the most prominent rivers that you can find in Grand Teton National Park. Can you swim in Jenny Lake? Continue to read, and we will help you with finding answers to the question.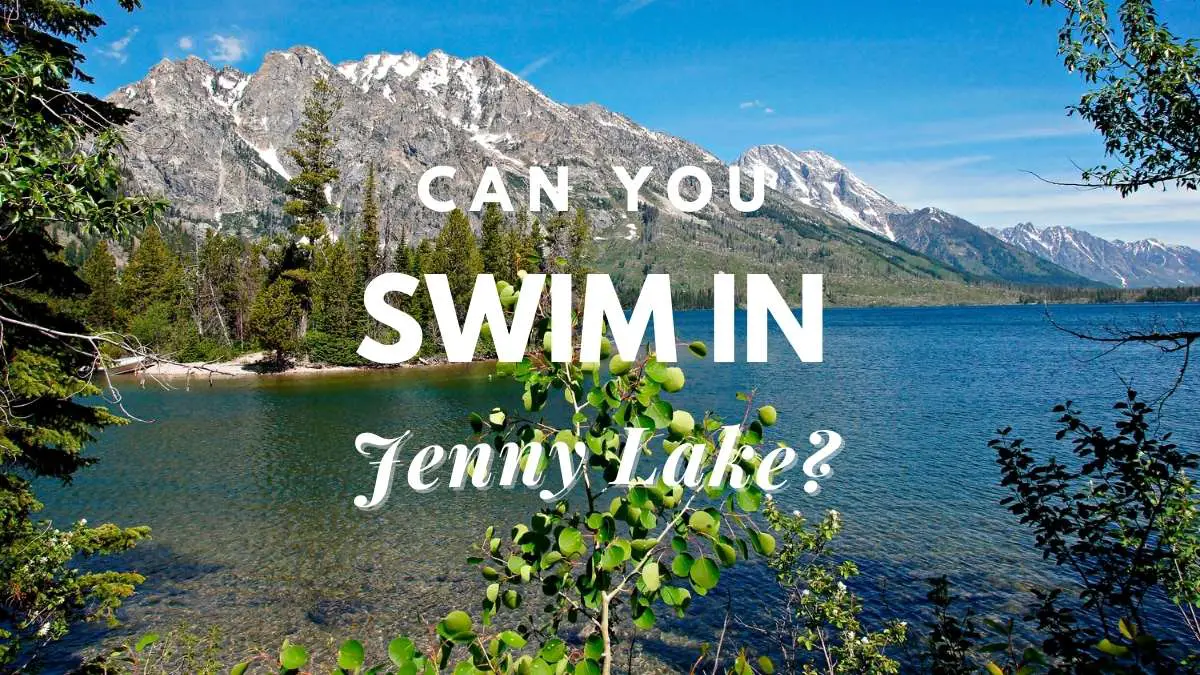 Can you swim in Jenny Lake?
Yes, it is possible for you to swim in Jenny Lake. Swimming is permitted in all of the Grand Teton National Park's aquatic areas, however swimming in the Snake River may be prohibited depending on its state. You should be prepared for a chilly swim since the park's water temperature seldom rises over 60°F/16°C throughout the year.
The frigid water shouldn't damper your spirits; a good wetsuit may help you stay warm while swimming. Jenny Lake is notable for its crystal clear, chilly water. Jenny Lake's most famous sight is the vista of the Tetons in the backdrop. Squirrels, marmots, moose, elk, bears, and mule deer are common sights. So bring your binoculars. Hiking paths wind their way around the Lake's perimeter. Jenny Lake Campground, where you may camp, is also located here. Boating, canoeing, swimming, and fishing are all popular activities on the lake.
The Jenny Lake Boat Concession, on the other hand, is located near the lake's north entrance. Swimming is not permitted in this region to prevent interfering with boats and to keep swimmers safe. In comparison to the other Grand Teton Lakes, Jackson Lake is also quite popular for boating. As a result, there is a boat docking area where swimming is prohibited.
Read: Is Traveling A Hobby? The Ultimate Guide To An Exciting Way Of Life Learn about the Downsides Of Traveling As A Hobby

What other activities can you do?
Grand Teton National Park, located in northeastern Wyoming, is noted for its stunning lakes and mountains, as well as its diverse fauna. The parks attract around 4 million visitors each year. Swimming, fishing, boating, canoeing, and water skiing are all permitted on the park's rivers, according to the National Park Service. However, you must observe the National Park Service's standards and limits in order to participate in these activities.
Swimming
Colter Bay (near the picnic area) and Signal Mountain both have swimming beaches in Grand Teton National Park (next to the campground). Swimming is prohibited between Jenny Lake's north entrance and the public use area for the Jenny Lake ferry boat concession, according to the National Park Service. The marinas and boat mooring sites on Jackson Lake are not swimmable. Swimming and wading are permitted in all other park waterways.
Snorkeling
Snorkeling and underwater diving are treated differently by the NPS than swimming. Only the bathing sections on Jackson and Jenny lakes are suitable for snorkeling and diving. As a public safety precaution, it is forbidden in all other park waterways.
River Snake
While most rivers and streams are open to swimming, the Snake River prohibits the use of inner tubes, air mattresses, or other floating equipment. According to the National Park Service, the usage of such goods presents a danger since "passages are often choked with trash, providing a threat to users and park rescuers." Because the dam may produce hazardous currents, the river is also restricted to swimming for 150 feet below the downstream side of the Jackson Lake Dam.
Restrictions on Boating
Boating restrictions have been placed near swimming sites and swimmers by the National Park Service. Boats aren't allowed to operate within 500 feet of a designated swimming area unless they're in a recognized channel and moving slowly. Boats must also be kept at least 100 feet away from swimmers.
How to keep yourself protected
The water in open sea is generally frigid and may be rather deep. In rivers and lakes, there may be risks such as shopping carts or shattered glass. Shingle beaches quickly 'shelve,' becoming very deep not far from the coast. Riverbanks may be slick and difficult to navigate.
These dangers don't imply you should only swim in indoor pools, but it's always good to be prepared. Our outdoor swimming water safety information may be found here.
Determine the present situation.
If you come upon a river of cold water and are ready to jump in, first check the flow. If you throw a stick or a branch into the water, it will float away quicker than you can swim, and you will be unable to beat the river while returning upstream. Avoid.
Even if you dive or jump often, you should use extreme care while doing so. Rocks, sand, branches, and trash might have been carried downstream, resulting in shallow spots and risks. If you must dive or leap, make sure the water is clear of obstacles and judge the depth by going in and checking it out from the water rather than from the side.
Avoid becoming too chilly
Even in the summer, outdoor swimming locations might be frigid, so put on a wetsuit and gradually warm up.
If you get into difficulties or need to get out of the water quickly, identify and arrange your escape routes. Remember that riverbanks may be slippery and difficult to climb, so look for shallow sections where you can scramble out easily.
Blue-green algae is a slick material that may be harmful. If possible, avoid it. If the problem is severe, find a new place. It's most frequent near lakes in the late summer, and if consumed, it may cause skin rash, eye discomfort, and vomiting.
Avoid swimming by yourself. When wild swimming, having a companion will increase your safety while also making your swim more pleasant. If swimming with a companion isn't an option, wear a bright tow float on a string behind you and a bright swim bonnet — red is the most noticeable. Tow floats provide you something to hold onto for a second if you need to rest, even though they're not meant as buoyancy aids and should never be depended on as such. Some feature waterproof compartments for valuables or water and snack storage.
Keep an eye out for reeds.
Weeds and reeds may be irritating, but they can also be deadly if they grow thickly. Avoid thrashing or quick motions while swimming through thick reeds, and instead use your arms to swim away. Another reason to avoid pike is that they tend to lurk in submerged freshwater plants.
Final words
Now you have a good overall picture about swimming in Jenny Lake. You can keep these facts in your mind and go ahead with swimming. It will provide you the opportunity to get the best possible experience out of swimming in the long run. Moreover, you will also enjoy the swimming activities that are coming on your way as well.