California essentially wins the prize for having the most diversified landscape. There are many of picturesque places to vacation in the Golden State, including breathtaking mountain ranges, shimmering lakes, and sandy beaches.

One of the finest ways to see California's breathtaking landscape and thrilling outdoor leisure options is to rent a cabin. This list of the top cabin rentals in California, all of which are available on Airbnb, was put together as a result. All of the listings are managed by superhosts—hosts with a track record of delivering top-notch hospitality—to guarantee that these cabins are really the finest of the best. While keeping that in mind, let's take a look at 10 popular spots for scenic cabin rentals in California.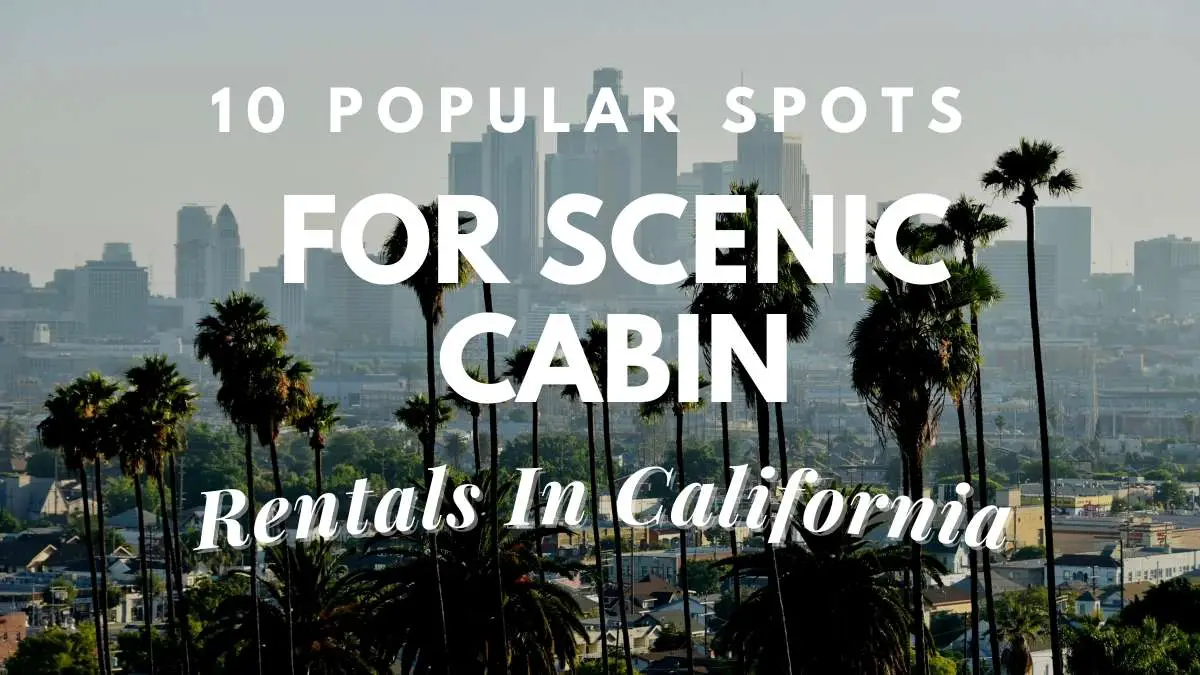 1. Wine Country Retreat
The first item on our list is a tiny California cottage hidden in the tranquil Paso Robles wine region hillside. This old military bunker, which has tin ceilings, exposed beams, and beautiful furnishings, has been painstakingly refurbished to provide a lovely contemporary refuge. The studio room is outfitted with a king-size bed, leather couches, and a two-person dining table, making it perfect for a single traveler or a couple. Wi-Fi, TV, and air conditioning are among the many contemporary conveniences. A complete kitchen and toilet are also provided.
Enjoy the patio chairs, barbecue, and picturesque outside area while unwinding. The house of the owners, another rental apartment, a lovable ranch dog, and a few cats all reside on the property. Pets owned by guests are also allowed to stay. The cottage is flanked by gorgeous rolling hills and a number of vineyards, four of which are just a short walk away. It is undoubtedly a wine lover's heaven.
Read: Is Traveling A Hobby? The Ultimate Guide To An Exciting Way Of Life Learn about the Downsides Of Traveling As A Hobby

2. Sonoma's Rustic Cottage on Airbnb
This gorgeously renovated chicken coop is situated on two acres of lovely grounds in Sonoma County and has been tastefully designed to create a Zen environment. The interior has a warm, welcoming atmosphere warmed by a woodstove and rustic exposed wooden beams. The room has a queen-size bed and is furnished with a minifridge and a fully-stocked coffee bar, making it perfect for one or two people. The rental has an outdoor kitchenette, and the toilet and shower are also outside the cabin, making it a perfect option for a real nature enthusiast.
A roomy covered patio with a pleasant fire pit and a magnificent 2,000-year-old redwood tree on the property is perfect for entertaining or resting. The Airbnb welcomes pets and offers access to a private sauna, an outdoor hot tub, and a 900-square-foot labyrinth tucked away amid the woods. There are various restaurants and beaches close by, and the vibrant city of San Francisco is just a short drive away, if you feel like leaving the property.
3. Redwood Treehouse in the Mountains through Airbnb
Check out this magnificent handmade treehouse for a one-of-a-kind experience with stunning natural landscape and convenient access to major attractions.
The property has a grand design with natural-themed decor and living trees that are interspersed throughout the communal rooms. The cabin sleeps two people and is equipped with a raised bed, a small couch, and a dining table that seats two people. There is a complete kitchen and bathroom, as well as a TV and a nice woodstove, in this contemporary and intimate apartment. On the front porch, unwind amid the trees, or bathe in the private hot tub. You will undoubtedly be delighted by this outstanding Airbnb, regardless of how you choose to spend your time in the treehouse.
This distinctive California cottage for rent is situated in the Monterey Bay region and is tucked away in the magnificent Santa Cruz Mountains. It is bordered by a redwood forest. Famous restaurants, golf courses, art galleries, and places for music and amusement are all conveniently close to the hotel. Additionally close by are the Monterey Bay Aquarium, many hiking paths, and the Santa Cruz Beach Boardwalk.
4. High Mountain View Getaway
This magnificent lodging really has it all with 380 acres of private property, one mile of riverside shoreline, and convenient access to a well-known national park. This studio-style cottage in California has a queen-size bed and a two-person dining table and is perfect for couples and lone travelers. With wood flooring throughout and a nice woodstove in the living area, the interior is snug and welcoming. A complete kitchen with stainless steel equipment and a complete bathroom with a walk-in shower are also included.
On-site activities include hiking, swimming, boating, and fishing in any of the several ponds. There is a wonderful front porch perfect for taking in the magnificent mountain views, and the property has no neighbors that can be seen. Even though the cabin is conveniently situated just 15 minutes from Sequoia National Park's entrance, it is serene and totally private.
5. The Magical Lookout
The opulent facilities and breathtaking views of this spectacular antique overlook are hard to find in other California vacation rentals.
The interior combines modern design with traditional rustic elements in a stylish way, with exposed wooden beams, upscale furniture, and red accents all throughout. The stunning living room, which is outfitted with a brown leather sofa, an antique dining table, and a tree stump coffee table, will wow you when you first enter the house. Grab a book from the extensive collection of classics in the library, then curl up in front of the old-fashioned wood fire. The brand-new kitchen includes a complete kitchen with an antique porcelain soaking tub and an excellent array of equipment with a retro-inspired design. Both of the bedrooms, one with a king-size bed and the other with a double bed and a washer and dryer, come with beautiful chandeliers and TVs that are hung on the walls.
A sizable patio outside has a barbecue, an outdoor dining table, and an opulent hot tub. The cottage, which is elevated amid the woods, offers expansive views of the nearby forest and the stunning Volcan Mountain. Although the cottage is just a short distance from busy streets and fascinating sights, it is truly located in the medieval town of Julian.
6. River Cabin on a Ranch
It is without a doubt deserving of its rating as one of the top cabin rentals in California that this lovely property, situated on a historic 360-acre cattle ranch close to Yosemite National Park, commands.
The distinctive lodging, which has a lot of character and pleasant touches, has been a member of the host's family for many years. Vintage artwork, rustic wood ceilings, and colorful decorations make the space seem spacious and elegant. There is a huge living room, a formal dining room, and a separate complete kitchen in the cabin's common rooms, all of which are comfortable and roomy. The cabin has three bedrooms, each with a queen-sized bed and two double beds, and can accommodate up to six visitors. The main feature of the cabin is the screened-in porch with a river view, and although there is a contemporary complete bathroom inside, visitors may also take use of a private outdoor shower. Wi-Fi, air conditioning, and a woodstove inside are further features.
The expansive property, which includes cows, horses, and limitless trekking options through the former mining region, is open to visitors' full exploration. Yosemite Park is just a 25-minute drive away if you want to go outside of the property, which has abundance of rivers, springs, mountains, and canyons.
7. Gorgeous Cabin with Magnificent Views
Another excellent alternative for a solitary traveler or a couple is this tranquil cottage, which is four miles from Sequoia National Park's main entrance.
A lovely fenced-in garden with views of the Great Western Divide, nearby wildlife, and the property's rescue horses surrounds the California cabin rental. Inside, there is a comfortable studio room with lovely windows that give breathtaking views of Moro Rock, Eagle Rock, and Alta Peak. The well-appointed living area is outfitted with a king-size bed, a couch, and a small dining table. There is also a small kitchenette and a complete bathroom. A wide range of pleasant facilities are also available to guests, including Wi-Fi, TV, central air conditioning and heating, and a free breakfast.
The main home of the hosts, where visitors have access to a lavish in-ground pool, is located on the same property as the cabin. The lodge accepts pets, and the grounds have a suitable area for feeding and resting horses.
8. Unique Creekside Home through Airbnb
This tiny solar-powered cottage could be the ideal rental if you're seeking for something different and environmentally friendly in the middle of the wilderness.
This charming California cabin rental is a one-of-a-kind creation, handcrafted from local materials and embellished with artwork by regional artisans. As you enter the roomy living area with comfortable seats and a TV, be amazed by the stone accent walls and stunning stained glass windows. The sunroom, which has bamboo furniture imported from Bali and walls of windows, is another fantastic location to lounge and unwind. A complete bathroom, a full kitchen with copper worktops, and a separate dining space with glass doors leading to a balcony are all included.
The cabin sleeps up to five people and has a queen-size bed in one bedroom, a single bed in another, and a couch bed in the living area. In addition to the opulent private hot tub in the garden, this contemporary home also has Wi-Fi, a dishwasher, a washer, and a dryer.
A pristine brook and a stunning forest with bay, oak, and fir trees surround the cottage. Two miles from the Golden Gate National Recreation Area, the Inverness Park Market and the Tap Room are both easily accessible to visitors. Anyone interested in outdoor activity will love the location, which provides quick access to parks with trails for hiking and mountain biking as well as beaches for swimming and surfing.
9. Romantic Cabin with a Hot Tub on Airbnb
The next property on our list is a handmade cabin in California with breath-taking views, an opulent interior, and Airbnb Plus accreditation. For those who are unaware, Airbnb Plus is a premium designation given to chic Airbnb that have undergone physical inspection.
Classic wood-planked walls and high ceilings meet exquisite furniture and contemporary comforts within the cabin. With a queen-size bed and all the conveniences of home, including high-speed WiFi, a Smart TV, air conditioning, and a washing and dryer, the one-bedroom cabin comes equipped. A traditional woodstove adds warmth and coziness to the room's living space, which is roomy and outfitted with a couch bed and a formal dining table. The cottage has a complete bathroom with a soaking tub and a full kitchen that is nicely furnished with utensils and equipment.
The living room's glass doors lead onto a large terrace with an opulent hot tub, patio chairs, and a barbecue. The cottage in Sonoma County is surrounded by redwoods and provides visitors a calm and secluded refuge only a few miles from Guerneville and the Russian River. In order for you to fully enjoy the excellent outdoor activity the region has to offer; your hosts will additionally give two bicycles and beach equipment.
10. Whispering Pines Modern Cabin through Airbnb
You can't go wrong with this tranquil refuge in Whispering Pines if you're looking for a modern cabin that provides a wooded escape near to metropolitan services.
The California cabin's one bedroom can sleep two people and has a queen-size bed and a complete bathroom with a walk-in shower. With features like luxurious towels, top-notch linens, air conditioning in the summer and a woodstove in the winter, the area is guaranteed to keep you cozy. In addition, there are contemporary amenities like Wi-Fi and TV, and your host will even provide beach equipment if you prefer to visit the hot springs or pool nearby. With gorgeous windows, forest green cabinetry, and tall wood-planked ceilings, the inside of the house is warm and cheerful. A practical complete kitchen and a roomy living area with a plush couch are also included.
The cottage is in a rural area with a few other houses close by and is tucked away amid the surrounding dogwood trees. The large deck, which overlooks the forest and has a posh outdoor shower, lends the area a remote feel. When you leave the property, you'll discover that a number of conveniences, such as hiking trails, golf courses, vineyards, restaurants, and grocery shops, are just a short drive away.
Final words
These are the 10 most popular spots for scenic cabin rentals in California. If you are a person who is interested in experiencing scenic cabin rentals, you may book any of these without keeping a doubt in mind.