Are you looking for fun things to do in Dodge City KS? , this city boasts plenty of exciting sights and activities to make your visit unforgettable. Dodge City is the county seat of Ford County, Kansas, USA, and was named after the neighboring Fort Dodge. Dodge City attractions include experiencing some of the city's distinctive cultural attractions. Because of its past as an Old West frontier town, this city is well-known in American culture.

You will have a fantastic time in this city, just as you would in other Kansas cities. You may have a good time in Dodge City by taking a tour of the city, stopping at places like the Carnegie Center for the Arts, the Giant Coronado Cross, Mueller-Schmidt Home of Stone, Gunfighters Wax Museum, and more. You may also visit the Long Branch Lagoon Waterpark to chill down. Some surrounding sights, such as the old Fort Dodge, are also worth a visit. Here are the best entertaining things to do in Dodge City, Kansas for a memorable visit.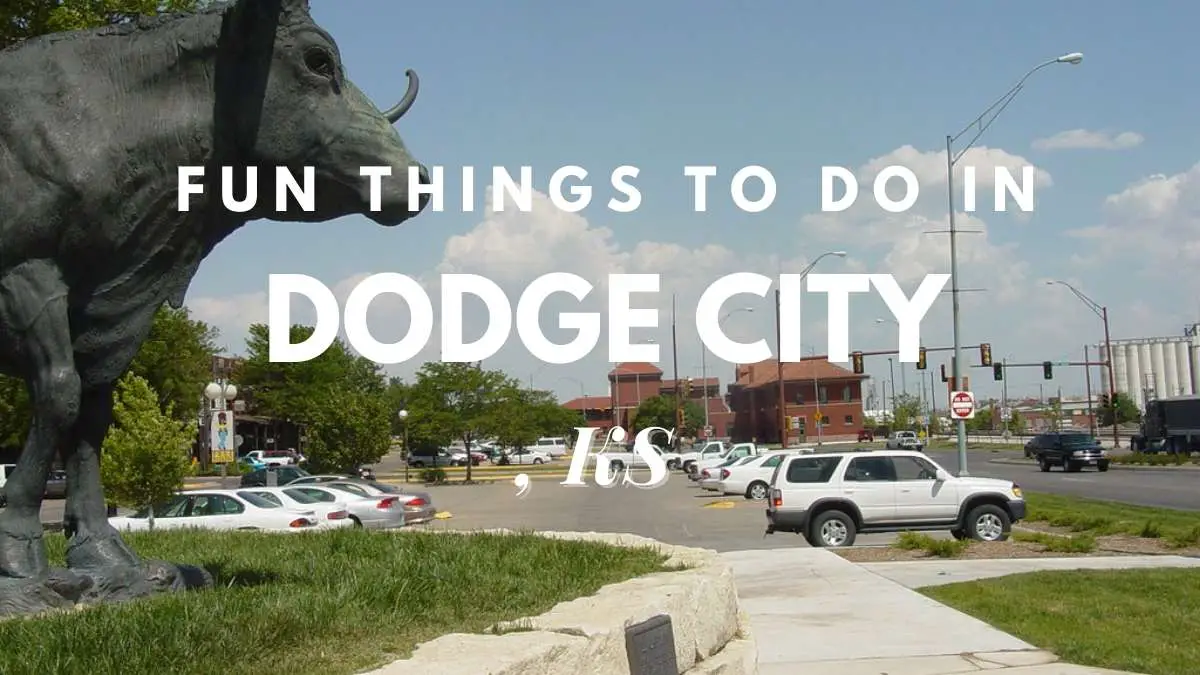 1. Check out El Capitan.
The majority of artworks are given names by their creators, however this longhorn steer monument on Wyatt Earp Boulevard was not. It was named after a naming competition held in its honor. In the 1970s, the Boot Hill Museum opted to celebrate the almost 4,000,000 cattle that traveled from Texas to Dodge City between 1875 and 1885. They commissioned Jasper D'Ambrosi, an Arizona sculpture artist, to create a longhorn steer monument to be installed in Dodge City. He saw the birth of El Capitan (The Captain in Spanish translation), a story about an animal that guided other creatures to the destination. He seems lanky and skinny after his journey, but powerful, since many of the steers had made several voyages in the leading position.
The Spanish name was also appropriate for this sculpture since it is well known that Spanish explorers were the first to bring longhorns to North America. This Dodge City attraction is not to be missed during your stay. It's one of the most interesting sights in Dodge City.
Read: Is Traveling A Hobby? The Ultimate Guide To An Exciting Way Of Life Learn about the Downsides Of Traveling As A Hobby

2. Distillery Boot Hill
"From dirt to sip, born from a barrel, forged in the dust, crafted by master distillers." Boot Hill Distillery's mission statement is to "perpetuate Dodge City's tradition of a city created on the ashes of a campfire and the footprints of a bar." Boot Hill Distillery employs high-quality locally produced ingredients to create the greatest in-house distillery for your enjoyment. They're open from 12:00 PM to 10:00 PM every Thursday, Friday, and Saturday, with tours at 1:00 PM, 3:00 PM, and 5:00 PM on Fridays and Saturdays.
You may attend any of their excursions for $10, but you need book ahead of time on their website since each trip is restricted to just 20 people.
3. United Wireless Arena
Spending time at United Wireless Arena is one of the most enjoyable things to do in Dodge City. United Wireless Arena is a 17,000-square-foot venue that holds athletic events, concerts, family entertainment, trade exhibitions, racing, and a variety of other events. This venue, which seats over 3,000 people, holds some of the area's biggest acts and events.
You may engage in open ice skating at this rink during November and December each year if you visit between those dates. This is one of the greatest spots in Dodge City to see a concert or a game, and it should be on your bucket list.
4. Visit the Boot Hill Museum to learn about history.
The Boot Hill Museum in Dodge City is a history museum dedicated to preserving the history of the Old West and Dodge City. A visit here will introduce you to the museum's nearly 20,000 objects on exhibit. Armor and genuine firearms may be found in the collection.
The museum has an entertaining part where visitors can learn about history while seeing simulations of saloon shots and gunfights. Boot Hill got its name from a common term for graves that refers to the fact that many of the men who died violently and with their boots on. The museum's development began in 1992, after a fire. The whole building was given a makeover as a result of this.
There are also stores erected around the museum that retain its vintage appearance as a means of remembering about the past. A trip here will immerse you in history, making it one of the best things to do in Dodge City for history buffs.
5. Take a Dodge City Trolley tour of the city.
Do not miss a tour of the region aboard the famed Dodge City Trolley during your vacation to Dodge City. This makes for a wonderful day wandering the city with a vintage atmosphere. Dodge City Trolley service is available every day of the week from 8:30 a.m. to 6:30 p.m. from June through August. However, throughout the months of May and September, they also operate from 8:30 a.m. to 5 p.m.
You may also join a walking or driving tour of Dodge City, which will take you to some of the city's most popular attractions. The driving excursion may be scheduled at the Visitor's Center Bureau. Do you want to take a self-guided tour of Dodge City? A CD is available to assist you in your endeavor, and you can also buy a map to guide your journey. During your journey of Dodge City on either of these trips, you will have the chance to encounter 77 sites of interest. This makes exploring what to do in Dodge City a great addition to your bucket list of exciting things to do in Dodge City.
6. Carnegie Hall for the Performing Arts
The Carnegie Facility for the Arts is a devoted art center and one of Dodge City's top attractions for art enthusiasts. This art center was formerly a library that was converted into an art center with large, spherical art galleries. The Carnegie Center for the Arts is situated in Dodge City's downtown district, and its structure is fairly old.
When you come to this facility, you will see a two-story edifice with countless antiquities and showpieces on exhibit. Visit its gift store, which has art pieces and paintings by local artists; one of these artworks may pique your curiosity. The gift store is also a great spot to buy mementos to remember your trip to the city. Are you an art lover who would like spending some time appreciating works of art? The Carnegie Center for the Arts is a must-see throughout your stay.
7. The Coronado Cross
The Coronado Cross is one of the historical sites in the region worth seeing during your vacation to Dodge City. Because of the legendary tale it conveys, the Giant Coronado Cross is praised for its historical value. This Cross depicts the narrative of Francisco Vasquez de Coronado, a Spanish nobleman who left his birthplace in 1540 with a small army to hunt for the City of Gold that he had heard so much about.
They crossed the Arkansas River and arrived at what is now Fort Dodge after a lengthy voyage. They were said to be joined by Father Juan de Padilla, who held the first thanksgiving ceremony on a neighboring hill. It was said to be the first of its type, conducted 100 years after pilgrims first arrived in the region. The Ford County Historical Society, which oversaw the erection of the Coronado Cross, constructed a permanent monument to remember this remembrance. The Coronado Cross was built in 1975 and has a tower that is 38 feet tall. Since its erection, it has remained standing.
If you're in the vicinity, pay a visit to this historical site, which should be on your bucket list.
8. Purchase at the Dodge City Farmers Market
The farmers market, which is held every Saturday morning in the downtown area of Dodge City, caters to your requirements. Seasonally farmed vegetables and fruits, as well as handcrafted items, will be available for purchase here.
This is also a great area to go in Dodge City if you want to take a stroll outside while enjoying the scent of fruits like pineapple and cherry. You may also get some of the freshly baked goods for a quick breakfast. Between June and September, depending on the weather, there are several art and craft exhibits put up in local stores throughout the mornings and noons, where you may browse for these things. Consider adding this on your bucket list as one of the greatest ways to spend your day.
9. Wax Museum of Gunfighters
Wax museums are a fantastic way to spend some time looking at wax sculptures of some of your favorite celebrities while also getting some amazing shots. Gunfighters Wax Museum offers all of the excitement of a wax museum plus much more for a great adventure.
Many life-like wax sculptures of legendary figures like as Billy the Kid, Buffalo Bill, Calamity Jane, Festus, Belle Starr, Doc Holliday, and others may be found at this Wax Museum. This museum is next to the Kansas Teachers Hall of Fame, and admission for both may be bought at a discounted price. Exploring this wax museum with the family is one of the most fascinating things to do in Dodge City, and children under the age of five are admitted free.
10. Visit Fort Dodge
Exploring Fort Dodge, an unincorporated village in Dodge City, is one of the top things to do near Dodge City. This community offers a nursing facility for Kansas veterans who served in the US Army. It was originally intended to defend Santa Fe Trail passengers and railroad employees from Plains Indians in the region.
It was an outpost on the Santa Fe Trail from 1865 until 1882, and it is still unincorporated today, with a population of 165, providing care to Kansas war veterans. It also serves as a retirement home. Take advantage of your stay by touring the historic library and the surrounding historic buildings.
Final words
These are some of the best fun things to do in Dodge City KS. If you want to get the most out of your time, make sure that you come up with a proper plan and explore these attractions.