Are you excited to explore the Arbuckle Mountains? Then you should be informed of the Arbuckle mountains' attractions. Turner Falls, Oklahoma's largest waterfall, is located under the Arbuckle Mountains in south-central Oklahoma, just under an hour from the Texas/Oklahoma border. Visitors come from all around to enjoy the atmosphere created by Mother Nature as the waterfall flows into a pool of pure spring water. From sunrise to sunset throughout the summer, you may spend the day swimming, hiking, discovering natural caves, visiting a medieval rock castle, and more. Turner Falls has long been a popular family vacation spot for both Oklahomans and Texans. Let's take a look at the things to do in the Arbuckle mountains as of now.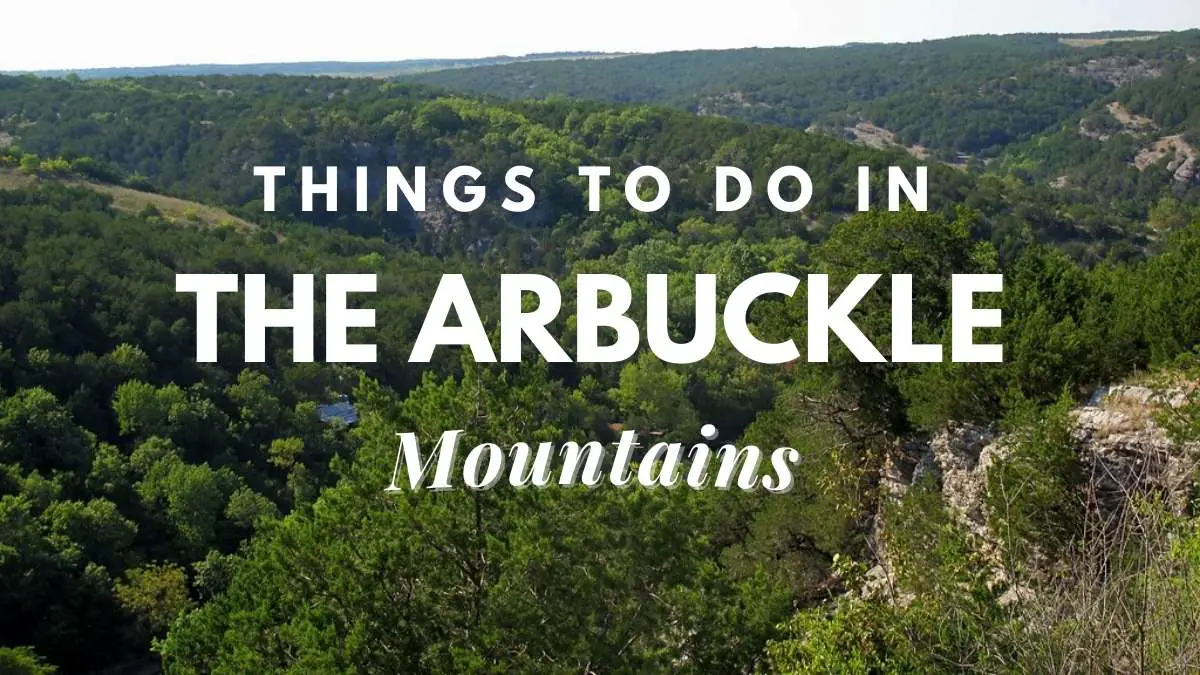 1. Take in the scenery of Turner Falls Park.
Turner Falls Park, Oklahoma's oldest park, is known for its falls, but it has much more to offer its visitors. Many visitors come here just to walk about the park and admire the scenery, which covers over 1,500 acres on three levels. If you want to do this, bring a good pair of walking shoes with you since the park offers a range of terrains.
Because there's so much to see and everything is spread out across many levels, I recommend planning your day by checking up the park online and determining where you want to park your vehicle, especially if it's your first visit. I went there many years ago, and I'm glad I planned my day ahead of time by reading up information online, since so much has changed since then.
During the summer, the hours are 6 a.m. to 8:30 p.m. All levels of parking are available, with level three being free. Buses run throughout the day, bringing visitors from one level to the next for free. So, keep that in mind while you plan your vacation. Turner Falls Park's Facebook page is also a good source of current information. You'll have to leave your favorite pets at home since the park does not allow them. During peak season, the line to get in might be rather long. Buses stop running at 6:30 p.m. throughout the summer.
Read: Is Traveling A Hobby? The Ultimate Guide To An Exciting Way Of Life Learn about the Downsides Of Traveling As A Hobby

2. Wading in a 77-foot Waterfall
I'm certain that dipping your toes in the water near the falls is a big reason why so many people come to Turner Falls every year. The waterfall is beautiful and would make a great shot for any photo book. This is the most manageable place to swim or wade in the water if you're visiting the park for the first time. Although the terrain is rugged, getting into the water is straightforward.
Even though the water is incredibly cold — not cool, but really freezing – visitors continue to swim in it. Some, maybe, such as me! My almost-11-year-old grandson leaped in and started swimming to the other side, leaving me stuck in the cold. I have no qualms about dipping my toes in the water! For the elderly and children, this is the best area to enjoy the water.
A life jacket is required for all children under the age of 12. Because they are rather pricey at the park, bring your own. Water shoes are highly recommended in all areas where swimming and wading are allowed.
3. Pack Your Own Lunch
Picnicking in the park seems to be a popular activity. When we arrived early in the morning, several families had their picnic supplies set out and their grills lit. I don't believe they were first-time guests. Picnic areas are first-come, first-served, but don't let that dissuade you; there are so many lovely spots to pick from, and most of them have a picnic table and grill.
If you're having a family picnic, bringing a wagon to transport your food and other supplies, as well as a rolling ice chest, is a wonderful idea. If you're lucky enough to find a picnic spot close to where you parked, great; if not, there's a storage compartment at the back of the buses where you may keep large items for the duration of your journey. Pop-up canopies, as well as beer and alcoholic beverages, are allowed in the park as long as they stay at your picnic spot. Early arrival is recommended to get a spot behind a tree or in the shade provided by the mountains.
4. Visit the Blue Hole Pool for a swim.
The grandkids will want to spend the most time in the Blue Hole Pool. This was my grandson's favorite part of the park. This area has a big slide that leads into the water as well as a diving board. A lifeguard is on duty, which provided me tremendous peace of mind. Simply be careful while passing by or swimming in the creek. It's possible that the moss will make it scratchy and slimy. A few shaded chairs are available for you to rest and watch.
5. Pay a visit to the Old Castle
The castle in Turner Falls Park was constructed in the early 1930s using local stone and is an example of English architecture. The castle, now hollowed down, is a stunning piece of art to explore while pondering what happened there many years ago. The castle is approached through steep stairs, and once inside, there are many levels to explore as well as a narrow stairwell leading to a higher level. Because there are no guided tours, you and your family are free to visit the castle whenever it is convenient for you.
While exploring the castle, be careful and watch out for stones. There are a few areas that are difficult to navigate.
6. Go cave exploring
Who doesn't like exploring mysterious caves? Turner Falls Park's three caves are tucked away above the falls. Take your time searching the neighborhood for them. I made it down the stairs and over the rocks to one of the caves, but the other caves were too difficult for me to see. But, hey, my knees are in terrible condition! My grandson went exploring on his own and found a new cave. He expressed his gratitude that I didn't walk down because he knew I wouldn't have made it.
7. Go for a Walk on the Trails
Turner Falls Park is a fantastic area to go trekking for the day. A two-mile hiking route with several detours to smaller trails provides views of the park's attractions. Set out to explore the park, keeping an eye out for whitetail deer, wild turkeys, and other creatures that have made it their home. Keep in mind that since the park is constructed on three levels, there are elevation changes throughout the trail. Use the map that you get when you check in to see all of the routes that are open to explore throughout the park. Hiking trails in the park are moderate to difficult. Re-plan your strategy.
8. Go fishing for trout.
If you happen to be in the area during the winter, you may go trout fishing at Turner Falls from late November until the middle of March. Check for availability before you go since dates are subject to change. Getting the grandkids together for a weekend at one of the cottages would be a terrific incentive to go fishing (more on these below). Turner Falls would be an excellent winter camping spot. For information on fishing fees, daily catch limits, and licenses, go to Turner Falls Park's things to do website and go down to the fishing section. A valid fishing license from Oklahoma is required.
9. A Night of Camping
Staying in a cabin along Honey Creek's bank or pitching a tent in the primitive camping area on Level 3 are both options for overnight camping at Turner Falls. Cabins with grills, picnic tables, and fire pits, as well as screened-in shelters, are located on the two lower levels. RVs are also permitted. Turner Falls Park's Cabin webpage shows how the cabins are laid out and what's inside. Camping in the off-season, when the temperature is cooler and the fall foliage is in full bloom, is an excellent way to enjoy the outdoors. Of course, since fall is my favorite camping season, that's just my opinion.
Final words
The top activities to do in the Arbuckle Mountains are now known to you. If zip-lining is your thing, there's a course on the same road just outside the park. The zipline's name is 777Zip Zipline. It's a two-person sit-down zip line. There are no reservations required. The last time we were visiting Turner Falls, we kept seeing people across the park just above us. If we hadn't been so hot and tired after leaving the park, my grandson and I would have done it. So, you've got few strong reasons to come back in the fall: camping and ziplining!