Spring break is, after all, the reason college exists. Spring break is the light at the end of the tunnel after a long, arduous winter of studying, allowing you to rest, recharge, and psychologically prepare for the final weeks of courses, papers, and tests. If you are searching for best sprint break destinations for college students, you may take a look at this list.

College spring break travels have become a rite of passage, thanks to MTV and adolescent comedy. Everyone has different interests and aspirations when it comes to spring break travel ideas, but they all have one thing in common: sun and fun. Some students are on a budget and are seeking for inexpensive spring break locations, and some of the greatest spring break destinations for college students on a budget may be found right here. Some college students want their spring break excursions to be opulent and pricey so that they may live like Instagram celebrities for a few days. Some people can't wait to go to the beach, and the simplest spring break vacation ideas are the greatest.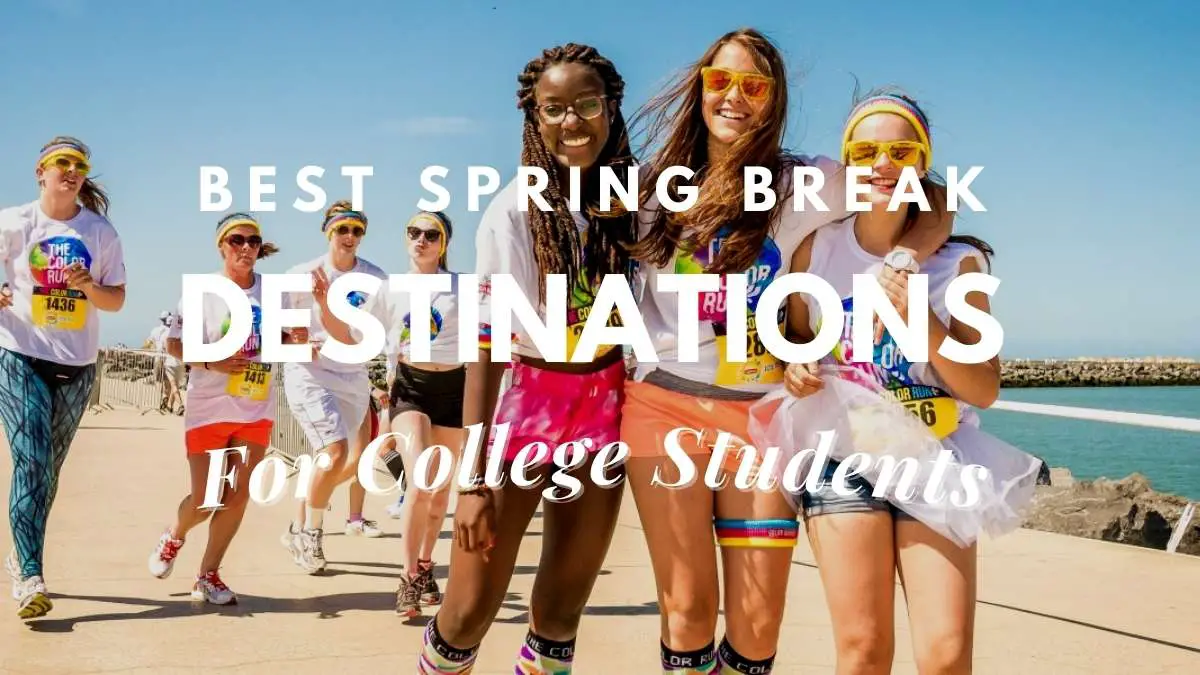 1. Panama City Beach, Florida
Panama City Beach, Florida is situated on the Gulf Coast in the northwest Florida Panhandle's southern borders. Walking the 27 miles of gorgeous white sand beaches with the Gulf Coast seas caressing your toes, Panama City Beach, Florida claims to be "The World's Most Beautiful Beach" and the "Spring Break Capital of the World." Panama City is also a popular family holiday destination owing to its proximity to several surrounding states.
Spring break in Panama City Beach is a well-organized event organized by the city's hospitality business, and it is one of the best spring break destinations for college students. Spring breakers spend their days at the beach or in neighboring arcades, trying to win ludicrous prizes. Mini golf is a well-known recreational pastime. Tiki Bars, hot tubs, and ping-pong are among the amenities offered by certain resorts. Check out Panama City Beach spring break while planning and looking through spring break travel options.
Read: Is Traveling A Hobby? The Ultimate Guide To An Exciting Way Of Life Learn about the Downsides Of Traveling As A Hobby

2. South Padre Island, Texas
South Padre Island, Texas is a barrier island on one of Texas's most southern reaches. South Padre Island has the distinction of being the first non-Florida site to attract large numbers of spring breakers. Its success stemmed from its ability to provide inexpensive spring break options outside of Florida. South Padre Island authorities estimate that up to 120,000 spring breakers visit the tiny barrier island each year for fun, sun, and unrivaled nightlife.
The population of South Padre Island rises dramatically every March, with July being the busiest month. Spring breakers flock to the different water-sport activities accessible when spring comes. Dolphin watching, water sports, and even beach horseback riding are just a few of the options. For college students on a budget, South Padre Island, Texas is one of the greatest spring break locations.
3. Daytona Beach, Florida
Orlando's playground – home to Disney, Universal, and SeaWorld – is just 50 miles away from Daytona Beach, Florida. It's known as the original spring break beach since it meets the Atlantic Ocean. Daytona Beach is the most populous city on Florida's "Fun Coast." Spring Breakers may visit the legendary Daytona Beach Road Course, which is a racing wonderland. Embry-Riddle Aeronautical University59 is also located in Daytona.
The 23 miles of sandy beaches at Daytona Beach, Florida are known for its hard-packed beaches, which are the only sort of sand that can be driven on. Sixteen miles of the sandy beaches of Daytona Beach are devoted to motorsports, which take advantage of the hard-packed sand. Free red double-decker buses transport spring breakers from restaurant to bar or beach. The majority of the sights to visit are within walking distance. The waterfront in Daytona Beach has 20 waterfront parks with attractions, activities, and the greatest cuisine around. Check out Daytona Beach, the original spring break party, if you're looking for a spring break location for college students.
4. South Carolina's Myrtle Beach
Spring break excursion ideas allowed college students to unwind after a difficult semester. Myrtle Beach is often cited as one of the most affordable spring break locations for college students. Myrtle Beach is a city on the east coast of the United States, midway between the beginning and finish of The Grand Strand, a 60-mile stretch of beachfront that runs along South Carolina's northern coast.
For college students, Myrtle Beach is one of the most popular spring break locations. According to US Census projections, Myrtle Beach is the second fastest expanding metro area in the nation. As a consequence, in addition to having the top spring break vacation ideas, Myrtle Beach is a year-round tourist attraction, with an estimated 14 million visitors each year. Spring breakers flock to Myrtle Beach for the wonderful events on offer. College students looking for a relaxing week may attend The Coastal Uncorked, a wine and cuisine festival in Myrtle Beach.
5. Jamaican waterfall at Ocho Rios
What was once a small fishing community, Ocho Rios, which translates to Eight Rivers, has now become a popular spring break resort for spring breakers on the island of Jamaica. Ocho Rio is often regarded as the best destination to visit in Jamaica during spring break. Spring breakers and tourists alike may take advantage of a once-in-a-lifetime chance to visit Columbus Park, which claims to be the site where Christopher Columbus first set foot on earth. The park has a variety of Colonial Spanish structures, as well as marine items to examine.
Ocho Rios, Jamaica is a great place to visit for affordable spring break cruises. Spring break events at Margaritaville and Rick's Café are also available to Jamaican spring breakers. Spring breakers socialize with spring breakers from all over the globe, including the United Kingdom, in day-long parties. Check out their seaside cuisine events or the reggae music that is played around the area. Ocho Rios offers something for everyone, including museums, waterfalls, beaches, and outstanding nightlife, if spring breakers can find the drive.
6. Louisiana, New Orleans
New Orleans is famous for its distinctive cuisine, incredible music, and distinct regional accent. Mardi Gras, the nightlife on Bourbon Street, and the French Quarter are among the most well-known attractions in New Orleans. With over 100,000 tourists each year, some consider New Orleans to be the most distinctive city in the nation. While New Orleans has been devastated by natural catastrophes, its resilience characterizes the city and all those who are working to restore it. Tulane University70, one of the nation's most distinguished research institutions, is located in New Orleans.
Bourbon Street in New Orleans is alive with music, bars, and a tangible excitement. New Orleans is a fantastic spring break destination for college students, particularly spring break foodies. Jambalaya, Creole cuisine, and muffulettas, as well as luscious quantities of fresh food and melt-in-your-mouth French pastries, are available to Spring Breakers. Boutique hotels, outdoor concerts, vintage antique stores, and crazy weekends await even the most committed partygoer throughout the spring break season. According to recent surveys, New Orleans is one of the greatest spring break locations for budget-conscious college students.
7. Bahamas Beach in Nassau, Bahamas
Spring break in Nassau, Bahamas is quickly becoming the most popular of all Caribbean spring break destinations. The finest of both worlds may be found in Nassau, Bahamas. A Bahamas spring break promises uninterrupted excitement and partying from sunrise to nightfall for those spring breakers keen to party and play every day. Those seeking serenity and tranquility after a stressful semester can discover unique spots to unwind in the tropical beauty of Nassau, Bahamas.
Spring breakers in the Bahamas may purchase a 'platinum pass,' which includes snorkeling, an open bar, a dance contest, and native cuisine that will keep you going back for more. On exquisite white sand beaches that snuggle up to magnificent bright blue seas, watch the sunset. Some hotels include gaming packages and casinos where guests may try their luck at a slot machine or table game.
8. Florida's Key West
The last destination along Florida's keys is Key West. Key West is a tiny but historically significant city that enjoys a good time. In reality, Key West is 95 miles closer to Cuba than Miami (129 miles). Remember that Key West and Miami Beach are the only two areas in the continental United States that have never had a frost or a freeze. Despite the fact that the island's size is just approximately 4 square miles, Key West is a popular point of call for affordable spring break cruises.
A Sunset Cruise, Jet Ski Tours, Parasailing, Dolphin Eco Tours, Snorkeling, and boat rentals are just a few of the great alternatives available to spring breakers. Investigate the culture. Visit the house of Ernest Hemingway, where he wrote a section of A Farewell to Arms. In April, take a special Eco Snorkel tour to commemorate Earth Month.
9. Cancun, Mexico
Cancun is a Mexican city on the Yucatan Peninsula, which is bordered by the Caribbean Sea. The Riviera Maya — one of Mexico's most eastern locations – hosts a Cancun Spring Break. When examining everything Cancun has to offer college students eager to play, spring break getaway choices come to a stop. Consider visiting adjacent Mayan sites in the Hotel Zone if you want to get a taste of history during your stay. Spring breakers who like the beach may attend fantastic beach parties or participate in a range of water sports. Partygoers should visit one of the numerous popular nightclubs in the area, or take a Booze Cruise, which Cancun is known for.
Cancun Spring Break adventurers may also push their own boundaries. Ride through caverns on horseback or take a zip-line canopy tour. Visit 'Wet' 'n Wild,' the area's only water park, for some fun in the sun. Don't miss the Shot over Jet, which skims over the lovely Caribbean while doing a magical 360-degree turn.
10. Savannah, Georgia
Savannah, Georgia is Georgia's oldest city, having been established in 1733. It is constructed in a vintage manner. It is made up of squares, each having its own name and function. The famed Savannah Walking Ghost Tour allows visitors to discover the city's long history. Spring breakers interested in the occult or difficult-to-explain sightings may take this 90-minute tour after eating an unusual selection of delicacies, including Paula Den's The Bag Lady.
Spring breakers could take in a theatrical performance or a relaxing paddlewheel boat cruise on the Savannah River. Spring breakers could visit the Telfair Museums to learn about the city's fascinating history. Relax on a trolley trip around Savannah after a day in the sun. Spring breakers searching for something unique might take a Segue tour of Savannah.
Final words
We can strongly recommend these spring break destinations for college students. It is up to you to pick the best destinations out of them and proceed with exploring.