Traveling to New York City for the first time, especially if it's your first visit, might be intimidating. Getting out of the airport on time is one thing but getting into the city without traffic is a rare occurrence. However, it is an incredible city that is well worth the effort. It's also a terrific location to bring your kids since there's never a dull moment. I've compiled a list of helpful hints for wandering about our wonderful city with your infant. Check out my piece on what to pack for your trip to NYC here, and here are some helpful ideas for traveling with a baby! This guide on New York with a baby will help you to get the most out of your visit without a problem.

Because New York City and its traffic are not conducive to renting a vehicle, the best alternative is to walk, use public transportation, or use taxis when necessary. Here's a rundown of baby-friendly travel alternatives in New York.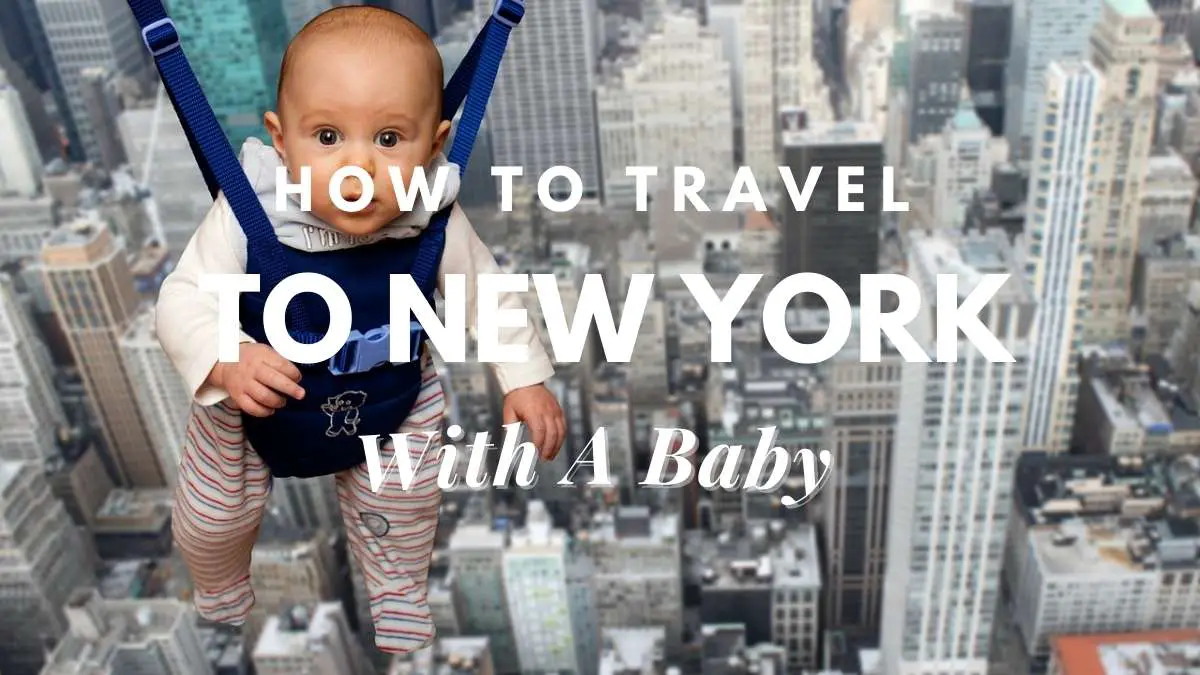 Use taxis for transportation
One of the most convenient methods to move about the city is to take a cab, Uber, or Lyft. However, this necessitates consideration of vehicle seats. It is permissible to ride in a taxi without a car seat in New York, but if you choose to use one, you must either carry your own or book a cab that has one.
Both Uber and Lyft have inexpensive vehicles with car seats, but they're forward-facing and only for infants over the age of 12 months. Taxis with car seats are available from Black Lane and Kidmoto, although they are expensive. Most taxis and Ubers will accept your car seat if you have one with you.
We carried our own car seat with us and utilized it to go to and from the airport in an Uber. You could even utilize a car seat on the aircraft (which we didn't do). If that's the case, here's a list of airline-approved car seats.
Read: Is Traveling A Hobby? The Ultimate Guide To An Exciting Way Of Life Learn about the Downsides Of Traveling As A Hobby

Use the subway as well
Some people advise against using the metro with a newborn, but we found it to be really convenient. Traveling on the subway with a baby carrier is just as simple as going without one – just avoid rush hour to avoid being jammed in with the people.
We tended to bring the stroller along, which made things a little more difficult. Because most metro stations have stairs and few have elevators, Steve had to lug the stroller up and down several steps while I held Otis. If you have the strength, you can accomplish it, but for a simpler alternative, check out this list of accessible subway stops. However, be aware that the elevators are not always operational. Use the MTA travel planner to plan your route.
Get a high-back travel chair
One of my favorite pieces of infant travel equipment is a portable high chair. Although most restaurants feature high chairs, a mobile high chair comes in handy when dining in your hotel room or apartment. You'll have to hold your baby while they feed if you don't have one. With one, though, the baby may sit alone and finish their food while you go about your business. We found it really beneficial for breakfast.
Fabric travel high chairs are available, but they must be linked to a chair and lack a tray, so you'll need the correct chair and table, which aren't always accessible in a hotel room. The Summer Infant high chair folds up tiny enough to fit in the stroller if you know you'll be eating at a restaurant without high chairs or want to use it for a park picnic.
Be ready with baby formula and food
Although there are many stores in New York that offer baby food and formula, depending on the duration of your stay, you may want to pack a small supply of your child's favorites. In the United States, for example, we had difficulty finding protein-rich ready-made vegetarian baby food.
We fed Otis mostly fresh food, made at home or at restaurants, although a pouch came in useful on occasion. We identified a few decent possibilities. We ordered them via Amazon and had them delivered to Amazon lockers since we were traveling for so long. This is a fantastic method to get necessities that you don't want to bring on the airline. Before you go, create an Amazon account in the United States. I wasn't worried about formula since I was nursing Otis in New York. Whether your child is used to a certain brand, check to see if it is available in New York, and if not, carry some with you.
Be ready with the necessities of your infant
When traveling with a newborn, it's tempting to overpack, so keep in mind that you'll be able to get everything you need in New York, most likely at any time of day — it's the city that never sleeps! Bring enough diapers and wipes to get you through the flight, then go out and purchase the remainder.
Playground in New York with a Baby
Steve and I are huge advocates of doing the same things we would have done before Otis came when we travel. Of course, certain activities, such as late-night pubs, clubs, and theater performances, are out of the question, but there are a surprising number of things you can do with a baby in tow.
Infants under the age of one may frequently be fascinated just by staring at the world around them, so take advantage of it while you can before they begin to form views. Additionally, if your kid sleeps in their stroller, they may snooze while you're out and about. However, since every baby is different and you know your infant best, do what works best for your family – whether that means committing to one hotel sleep or not spending whole days out and about. Do what seems right to you. There are so many things to do in New York, but these are my top ten. I've also added a few baby-friendly activities that we heard about but didn't have time for during our vacation.
Take a stroll across the city
Walking about New York is one of the simplest and most pleasurable things to do. It seems like entering into a familiar movie, TV program, or book since it is the scene for so much art and entertainment. We strolled for kilometers, taking it all in and stopping along the route for beverages and food.
The Lower East Side, Soho, Dumbo, and Williamsburg are some of my favorite areas to roam. Also, at some point, go over the Brooklyn Bridge, which offers some of the greatest vistas of the city. See also this article on the top hikes in Manhattan.
Go shopping in Chelsea Market
Chelsea Market is a beautiful covered market full with wonderful restaurants. Los Tacos No. 1 and Doughnuttery were two of our favorites. Posman Books and Artists, as well as Fleas, are two excellent businesses (a marketplace, featuring lots of different artists and stalls).
Take a boat ride
The New York ferries were previously discussed in the 'how to get about' section, but they're also a wonderful way to explore the sights. Take a journey to Staten Island on the free Staten Island boat or one of the regular NYC ferries.
Visit a play area
New York features a variety of playgrounds, play areas, and play cafés for suitable infant entertainment. For a complete list of play places in NYC and Brooklyn, go to the Mommy Poppins website.
Take a museum stroller tour.
Most museums in New York accept children, but a handful additionally provide stroller excursions conducted by museum specialists. Stroller tours are available at the Guggenheim, Whitney, and Brooklyn Museums.
Go on a carousel ride
Riding one of New York's iconic carousels is a delightful thing to do with a newborn. The carousel in Central Park is the most traditional alternative, but we also found Jane's Carousel, a glass-enclosed version on a pier near Dumbo.
Visit one of the nearby parks
When traveling with newborns, parks are wonderful, particularly when the weather is nice and you can spread out a blanket and let your child play. There are several parks to choose from in New York, including the famed and large Central Park, as well as smaller parks such as Washington Square Park, Brooklyn Bridge Park, Prospect Park, and Bryant Park.
We also like stopping at playgrounds to let Otis try out the swings. There are 21 playgrounds in Central Park alone, including the Tarr-Coyne Tots Playground on 68th Street, which is geared for infants and toddlers.
Stroll along the High Line
The High Line combines walking through the city with visiting a park, yet it merits its own mention. It was formerly a railroad line, but is now a beautifully manicured elevated park. It stretches between 10th and 12th Avenues from the meatpacking area to West 34th Street.
The High Line offers spectacular vistas of the city as well as some amazing street art. Combining it with a visit to Chelsea Market is a fantastic idea.
Visit a baby movie theater
Going to the baby cinema was one of my favorite things to do while on maternity leave. It's when the most recent films are played at special screenings where you may bring your infant. This implies the cinema is more tolerant of noise, as well as turning down the sound and keeping the lighting low.
Hawks with Babies, held every Tuesday afternoon at Nitehawk, and Alamo for All, held at the Alamo Drafthouse, are two theaters in New York that provide baby screenings. Both theatres provide in-seat eating, which is a unique experience in and of itself.
Take a trip to the Children's Museum
The Children's Museum is geared at slightly older children, although there are sections of it that infants may love, such as the soft play, which is ideal for children aged zero to twelve.
Take a tour
Here are several excursions that appear like they'd be enjoyable to take with a newborn. The skip-the-line tickets would be quite useful, and I couldn't resist include the doughnut tour! And hiring a photographer to commemorate your vacation with professional images of your family would be fantastic.
Look for the best places to eat
When we travel, the only thing we've altered about our eating habits is that we no longer go out for evening and instead focus on lunch or brunch. We either self-cater or order take-out in the evenings since Otis goes to bed about 7 p.m. Caviar, Postmates, and Grubhub, for example, allow you to order meals from some of the top restaurants and have it delivered directly to your hotel.
Final words
Now you know how to spend your time in New York with a baby. Keep these in mind and plan your visit accordingly. Then you can end up with getting the maximum returns out of your stay as well.