Telluride is one of the many beautiful destinations in Colorado to go skiing. But apart from skiing, Telluride offers a variety of other wintertime activities. This article lists some of the top wintertime activities for visitors to Telluride. We showcase additional snow sports as well as family-friendly wintertime activities. Anyone who is searching for Telluride winter activities can go through this article and figure out the best activities available out there to consider.

There is no ideal time of year to visit Telluride, for example. Because it's one of the trendiest places in America and has plenty to offer the whole year! And although we concentrate on December, January, and February in Telluride for the purposes of this book, winter 'more or less' lasts from mid-November through early April.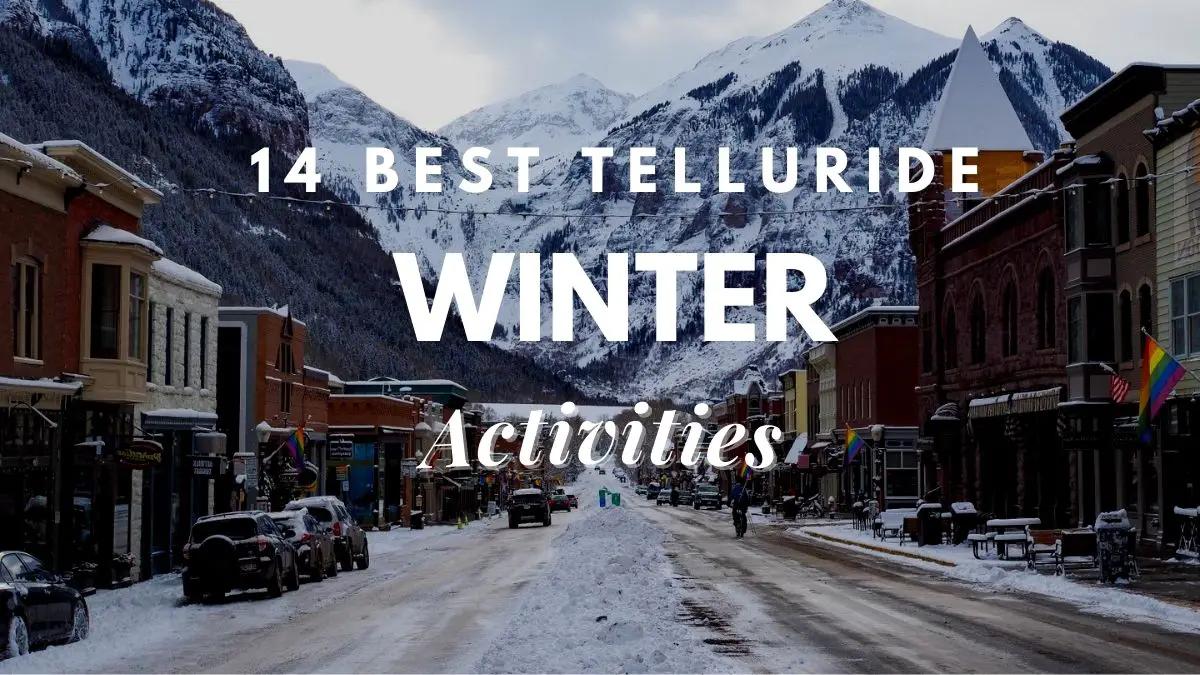 Best Winter Activities in Telluride
1. Telluride Ice Climbing
Tired of the same old ski trip? You may look for the more daring winter activities in Telluride, such ice climbing! The charming ice arenas in this little Colorado town make it feasible to take part in this thrilling pastime. We strongly advise performing this as a part of a planned activity, like the one we suggest below! Private ice climbing trips are offered by Mountain Trip in Telluride. Your education and a half-day ice climbing expedition are organized for you by their knowledgeable experts.
Families, visitors, and anyone who are pressed for time should take this trip. There is no shortage of gear, including helmets, harnesses, mountaineering boots, and ice tools. Participants must be in fair physical condition and free of any heart, back, or other medical concerns. In the event that the trip is postponed due to bad weather, you will either have the option to reschedule or get a full refund.
Read: Is Traveling A Hobby? The Ultimate Guide To An Exciting Way Of Life Learn about the Downsides Of Traveling As A Hobby

2. Telluride snowmobiling
Telluride's excellent snow conditions make it the ideal snowmobile heaven. There are several snowmobile trips available in Telluride for people of all ages and skill levels. Consider these choices and excursions with Telluride Outfitters if you want to go snowmobiling in Telluride:
For motorcyclists with novice and intermediate riding skills, Alta Ghost Town Tour offers historical family and group experiences. Enjoy the breathtaking landscape and historical insight into the early mining era.
An excellent option is the Dunton Hot Springs Tour, which offers private excursions into the charming village of Dunton and a sumptuous lunch in the area's natural setting. Both single and tandem cyclists are accepted. There are no manicured pathways. Full Day Backcountry Tour arranges rides to secluded mountain locations for individuals looking for more daring excursions. Included are lunch, snacks, and beverages. You'll also go to Dunton and Barlow Creek.
3. Bear Creek Trail hike
In Telluride, many trails close for most of the winter, however the Bear Creek Trail is open all year round for activities like hiking. Newcomers and families with children are welcome on this leisurely walk (in summer). Bear Creek, a double-track route, is named for the many streams it follows as it travels through coniferous forests and wide meadows with views of the surrounding cliffs and high slopes.
After two kilometers of climbing, you will arrive at a level plateau where you can take in the breathtaking view of the falls at the canyon's back. In addition, you'll have a chance to see any Colorado wildlife that crosses your way while traveling!
Your hiking itinerary should include a stop at Smuggler's Brewpub, which is at the trail's beginning, for a post-hike beverage and food. Bear Creek may be a smooth and enjoyable trek in the summer, but because of the abundance of snow in the winter, it can also be risky due to the possibility of avalanches.
Please only attempt this walk if you are an experienced winter hiker with the necessary equipment. Make sure you are incredibly experienced and secure if you want to bring your children along during the winter.
4. Brew your own beer in Telluride
Telluride Brewing Company has been in business since 2011 and makes great craft beers using top-quality grain, hops, and yeasts. The business has cemented a unique position for itself in the world of beer brewing thanks to its excellent artisan beer. Their Face Down Brown has earned Gold at the Great American Beer Festival in 2012 and 2014, as well as Bronze. It also won the World Beer Cup in 2012. (2016).
Another distinctive product of theirs, Whacked Out Wheat, won honors at the 2015 Great American Beer Festival and World Beer Cup (2016 and 2018). When you're in Telluride, you should swing by and test it out as the business is continually innovating and extending its tap selection!
5. Travel on a fat bike
There is an endless number of wintertime recreational activities in Telluride, and fat riding has been particularly popular recently. Grab a fat bike (for a tour or to rent!) and explore the trail system on the Valley Floor. The two most well-known paths are Jurassic, which runs from Mountain Village to the Valley Floor, and Bear Creek, which begins directly in the middle of the town.
Join one of the many personalized excursions offered by organizations like Bootdoctors and Paragon Outdoors, Telluride Brewing Company Tour, and the Telluride Adventure Centre if you don't like exploring trails on your own.
Renting a bike is an option for you if you're a beginner and want to test your talents at fat riding in Telluride. Box Canyon Bicycles, Gravity Works, and Bootdoctors/Paragon Outdoors are good places to rent bicycles. Before you start your bike trip, you may also receive some local maps and information.
6. Experience Telluride's Nordic skiing
There are several locations in Telluride where you can go Nordic skiing, but these six are well-known for their varied terrain, well-maintained slopes, and breathtaking vistas. The golf course at Mountain Village's Telluride Town Park Valley Floor Trout Lake is the top of Chair Ten. The trails are maintained and groomed by the Telluride Nordic Center. Additionally, it offers rental alternatives, local trail maps, and cross-country skiing instruction.
Dog owners may visit Mountain Village, the Priest and Trout Lake paths, or both. If your pets join you for the day, don't forget to keep them under control and clean up after them!
Get a membership if you want to visit the region often to help Telluride Nordic Association with finances. Attend unique occasions hosted throughout the year, such as ski demo days, as an added benefit.
7. Telluride snowshoeing
Snowshoeing is a winter sport for people of all ages that lets you explore the expansive, snow-covered landscapes of Telluride. Select from a number of guided walks arranged by neighborhood businesses and take in the surrounding natural areas.
8. Telluride's San Miguel River Trail
The Valley Floor is a fantastic location for snowshoeing as well, offering access to a parking lot and views of Ajax and the frozen river. Try the hilly, through-pine-forest Lizard Head Pass if you're a hardcore explorer. Try to avoid walking on the groomed Nordic and skate ski tracks when snowshoeing!
9. Skate on the ice at Mountain Village
Telluride is a mountain town with a vibrant wintertime culture and activities, as well as ideal ice skating chances. In the center of Mountain Village, look for another icy adventure. Enjoy skating at the Madeline Hotel and Residences' full-service ice rink. Their beautiful rink is a great spot for beginners and families to skate. It offers daily open skating from 12 p.m. to 8 p.m., and if you'd like, you may even participate in a free skate hour!
The Madeline provides skating instruction, equipment rentals, punch cards, and season passes. The rink is a fantastic venue for meetings and celebrations for kids. Visit the hotel's restaurant and bar for meals and beverages. On the plaza, there are also arranged special events.
10. Visit Helitrax to go heli-skiing
With Helitrax, experience Telluride's finest heli-skiing. For those searching for untracked powder in the wilderness, the firm arranges expeditions. The greatest skiing in Colorado is available when you board the helicopter, but this is not for novices.
With a group of experienced guides, the trip provides 200 square miles of unspoiled terrain in the San Juan Mountains where you'll have access to breathtaking Alpine valleys and couloirs. A morning briefing, avalanche safety gear, powder skis, food, and water are all included in the trip. Six runs at around 10,000–14,000 vertical feet each will be provided for you.
After skiing all day, indulge in après. Visitors have the option of booking a one- or multi-day Heli-ski vacation. Additionally, Helitrax offers private groups specialized trips.
11. Bathe in a hot springs close to Telluride
go visit one of the many hot springs in Telluride and the surrounding area to relax after a day of riding, skating, or skiing. Some of the most popular locations around are listed here! Orvis Hot Springs offers a clothing-optional experience, natural pools with temperatures ranging from 98 to 114 degrees, an indoor kids pool, a cottage, and a massage tent.
Visitors to the opulent Dunton Hot Springs may relax in the mineral-rich pools, spend the night in a secluded log house, and explore the area's lone geyser.
12. Ouray Hot Springs
The natural vapor cave and spa treatment room at the Historic Wiesbaden Hot Springs Spa & Lodgings are another health destination worth visiting. A popular family vacation spot, Ouray Hot Springs include slides, a diving area, a water volleyball court, and shallow areas for beginning swimmers.
Penny Hot Springs will be mentioned as the final location. The Crystal River is the location of this natural treasure in Colorado. For a luxurious experience, go to Lumiere Telluride. Enjoy a memorable and opulent getaway at the Lumière with Inspirato. This boutique hotel is a true gem for tourists looking for a premium stay in Telluride. Lumiere is a luxurious hotel with 18 boutique homes and fantastic ski-in, ski-out access that is situated in Mountain Village.
You'll have access to all the facilities and services that are intended to guarantee your unique mountain experience. You may unwind in the spa, swim in one of the pools, use the sauna or outdoor hot tub, among many other options.
Enjoy premium wines, drinks, and beers while playing a board game with friends or family by the fireplace. Additionally, the hotel can arrange for personal chefs, childcare, and outdoor excursions. Additionally, Lumiere employs the friendliest and most helpful people!
13. Telluride fly fishing
Grab your fly rods and add fly fishing as yet another awesome outdoor sport to your list! Enjoy Telluride's scenic rivers during the winter fly fishing season. The Uncompahgre, San Miguel, and Gunnison Rivers are just a few of the top locations for fly fishing. Enjoy the views as you float from the Gunnison Forks to the Austin Bridge on a beautiful day.
14. Colorado winter fly fishing
Rainbow and brown trout may be found in the Lower Gunnison River, making it a great day trip from Denver for fishermen. Nymphing is the main method utilized on the San Miguel River from February to April, when it is at its best.
Just a few minutes away from the river is a fly store where you can resupply on supplies for your excursion. The Uncompahgre River is the ideal location for winter fishing and is favored by both residents and tourists. The greatest fly fishing prospects in the region are produced by ideal water conditions and little fishing pressure.
Final words
You must dress correctly if you want to take full advantage of Telluride, Colorado, in the winter. Thick, heavy winter gear is required since the temperatures drop far below zero at night and hover around freezing during the day. There are a few basic wardrobe things that you must carry with you to this CO town in addition to wearing in layers. Keep the basic facts we shared through this article in mind and you will be able to get the most out of your time at Telluride.