Although Missouri is renowned as the "cave state," another important ingredient that is plentiful there is critical in the construction of caves: water! The Missouri Canoe & Floaters Association recommends floating and canoeing on 30 of Missouri's rivers. These 11 rivers are ideal for tubing this summer, even if the massive Mississippi and Missouri Rivers are not the safest or cleanest bodies of water to unwind in. Without further ado, we give you our list of Missouri's top lazy rivers. If you are searching for the best Steelville MO float trips, you may take a look at this list and plan accordingly.

Make sure to give any outfitters you want to rent from or stay with a call in advance since flooding may sometimes impair how they run their riverside enterprises.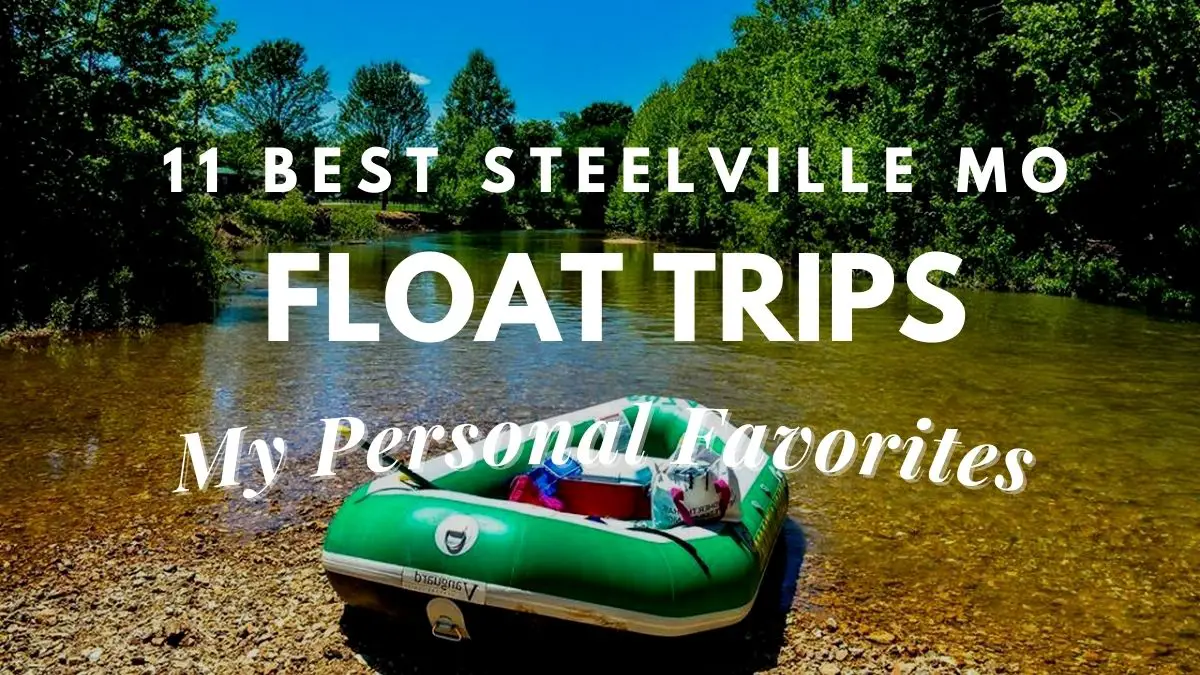 1. Bennett Spring at the Niangua River
The Niangua River tops the list of Missouri's sluggish rivers. This 125-mile river flows gently into the Osage River as it meanders through the gorgeous Ozark landscape in the heart of the Ozarks. Rent a canoe from NRO Canoe Rental to enjoy the refreshing river waters coming from Bennett Spring. You may visit the Niangua River webpage for further details.
Read: Is Traveling A Hobby? The Ultimate Guide To An Exciting Way Of Life Learn about the Downsides Of Traveling As A Hobby

2. Meramec River
One of Missouri's longest rivers is the Meramec River. Even though the Meramec ultimately empties into the Mississippi River, the regions south of Jefferson County are ideal for tubing and floating. No matter where you choose to float the Meramec, you're certain to have a good time since there are so many outfitters and campsites along the river. Visit Ozark Outdoors to get everything you need.
3. Galena's James River
The James River is famous for its strangely green hue, which is brought on by a bacterium that exists naturally and is completely harmless in the water. Southeast Missouri's 130-mile-long river features a pleasant, quiet stream that's ideal for tubing on a hot day. The James River is worth the journey if you're searching for a more tranquil float. You'll be on the river in no time thanks to James River Outfitters. Visit the James River Outfitters website for further details.
4. Richland, Gasconade River
For floaters, the Gasconade River offers distinctive vistas and pauses. Along the waterway's 280 kilometers, there are breathtaking cliffs, caverns, and springs. Compared to rivers like the Huzzah, Currant, and Meramec, this simple float often has fewer floaters and is more serene. The Gasconade River is a terrific option whether you want to relax, cast a line, or see some wildlife. Visit Gasconade Hills Resort if you want to go camping or rafting.
5. Elk River
Looking to arrange a float trip in Missouri's southwest? Look at Elk River, which is practically to the border of Arkansas, close to Noel. The Elk River is renowned for its crystal-clear, impossibly peaceful flow, and is excellent for a tranquil river weekend. You may get everything you need for a vacation from Elk River Floats.
6. Riverton's Eleven Point River
One of the list's most picturesque rivers, the Eleven Point River has relatively undeveloped shorelines. A large number of the floating resorts can only be reached by boat. Although canoeing is Eleven Point's most well-liked activity, it also makes a perfect place for a float due to the calm waters. You are taken care of by Hufstedler's Canoe Rental.
7. Van Buren, Current River
One of the most well-liked places to go floating in the state may be the Current River. So, the ideal times to go if you're seeking for a family-friendly float are during the week. The majority of the floating resorts and campers are located close to Van Buren, where Missouri's biggest spring, Big Spring, empties into the river. Enjoy the refreshing waters all summer long, but if you want to hire tubes, rafts, or canoes, be sure to contact ahead since many outfitters get booked up! Your best bet for waterfront rental requirements is The Landing.
8. Huzzah River at Steelville
The Huzzah River is another incredibly well-liked floating location, particularly among residents of the St. Louis metropolitan region. This resort, which is just 100 miles from the city, is another where things may get a little wild on the weekends. The area is ideal for floating through and stopping for swimming or picnics due to its clean waters and abundance of rocky beaches. Not only does Huzzah Valley Resort provide outfitting tours, but you can also stay overnight.
9. Lesterville – Black River
The Black River passes past Johnson's Shut-Ins State Park, a well-liked swimming spot, in the southeast of the state. The river is ideal for tubing in addition to swimming. In Wayne County, the Black River is dammed, creating Clearwater Lake. For more than 40 years, the family-run company Twin Rivers Landing has been providing its services. When it comes to float excursions, they have you covered. Visit the Twin Rivers Landing website to find out more.
10. Big River, Bonne Terre
East-central Missouri is traversed by the Big River. Navigable waters for 83 miles provide mild currents ideal for floating. If you want to go camping for the weekend, check out the several parks along the river. Canoes, kayaks, rafts, and tubes may be rented at Cherokee Landing.
11. Duke's Big Piney River
The final location on our list of Missouri's sluggish rivers is Duke. The Big Piney River is another fantastic alternative for floating, despite being most well-liked among fishermen. Wide channels and tranquil waterways are ideal conditions for an enjoyable float excursion. If the summer has been very dry, the water levels may drop, although usually the river remains navigable all summer. Since 1972, Peck's Last Resort has offered float rides, cottages, and camping areas.
How to be secure when on float excursions
Numerous people are too ashamed to confess they never canoed or floated on an inner tube down a river or stream as children each year go on their first float excursion. Because of this, they are unable to adequately plan for potential problems. Here are some safety advice for a secure ride on a Missouri float.
No matter how many float excursions you've taken, the first and most critical rule is that you and everyone else should always use a personal flotation device. You should never swim or boat alone, despite the fact that it can seem like basic sense. You should constantly keep company in your line of sight.
It is preferable for you to disclose your lack of expertise so you may be partnered with an experienced paddler or floater, whether you are floating downstream with a group of friends and family or with others via an outfitter. There is a lower risk of capsizing when there is an experienced paddler or floater.
On your next float trip, safety depends on planning and avoiding potential hazards. When river levels and discharge flows are greater than usual or at flood stage, stay away from rivers and streams. On your subsequent float excursion, if your boat flips over, stick with a canoe or kayak on the upstream side. Panic is the last thing you want to do while you're in the water.
Regarding safety on your next float trip, it's also important to be aware of your physical limits. It's time to unwind by taking a rest on a gravel bar when you're worn out. It is ideal for novices to have a shorter float excursion, particularly in rafts and inner tubes. The best times of year for float trips are often in the summer, when river levels are lower and winds from the south are stronger than 10 mph.
Although rope swinging and leaping into rivers from bluffs or bridges are sometimes glamorized in films, you should avoid jumping into rivers or streams from these locations because there may be submerged logs or tree branches that might injure you. Walking is one of the riskiest activities one may engage in. River wading shoes protect your feet from cuts.
Additionally, you should take precautions to protect your skin and eyes. Sunscreen, a hat, and sunglasses should all be used in addition to suntan lotion. You'd be astonished at how fast a person without sunglasses may get a headache from the light bouncing off the lake. Sunburns may be avoided by packing enough clothes. Bring lots of water, Gatorade, or other thirst-quenching beverages to stay hydrated. Snacks like peanut butter crackers or others can help you stay energized.
Camping
Your vehicle keys are the last thing you need to misplace on your next float trip. Before you get into the canoe, do yourself a favor and leave them with the outfitter. In fact, you should secure your vehicle or leave everything you don't want to lose at home.
Recommendations for logistics
The specifics should be planned out before your travel. You must determine if permission is required, whether permits are available, and how long you may stay. You'll need to figure out how to get your car from your launch location to your takeout point. There are businesses you may hire to drive your car to the takeout location. You may also do your own shuttle, but in certain situations the time required makes the money saved insufficient to journey along a river.
Decide how long you will be floating for. Depending on how much you want to accomplish while floating, your journey will vary in duration for many river floats. Will you require more time for leisure activities like sightseeing or fishing? If so, the 20-mile float will be quite different from what it would be if you were just floating through.
Do you need a float guide? Having a guide is beneficial or necessary in various circumstances, depending on how you want to use the river. What additional permits or charges apply to the journey. Always check for the most recent costs since these items might vary from year to year.
River scout or group leader
The first thing that often comes to mind when I am planning my next river trip, aside from how amazing it will be, is who will be joining me. It's crucial to choose a capable leader among the boaters in this group. By leader, I mean the one who will be the one you turn to for advice on running the river.
This individual was probably the first boat to go down the river, too. The night before the big run, this individual gives you the assurance that you can succeed. This individual will be knowledgeable if you have any queries regarding a particular technique or body of water.
Some individuals may believe that their boating expertise alone qualifies them to run a new river. Perhaps some have a map and feel comfortable following it. River guiding When I am on a new river, I am aware that I have no difficulty allowing the person with the greatest experience to take the lead. If I happen to be the most qualified individual, I'll take on the assignment. Even though it was my first time on the river, I have been the most experienced person on a few rafting excursions. In this instance, we took care to go outside and scout any rapids about which we had any doubts.
You may wish to consider hiring a guide if you don't have someone who has run the river previously or if no one has the self-assurance to lead. There is an additional fee, but depending on the length of the journey, it can be worthwhile. In addition to ensuring that the trip will probably be safe, a guide will also provide you with a wealth of information about the river and other tiny facts that you wouldn't otherwise know. A guide might be of great assistance if you can afford the additional cash.
Don't overpack
When it comes to carrying gear, I've always thought of myself as kind of a sherpa. I overpack in the mistaken belief that having more stuff would improve the camping experience. You may make a decision using this link's listings of camping equipment. This could be the case, however the last time I did this, the effort it took to drag a big canoe down the river wasn't worth the benefit we got from having the equipment in camp. At the very least, a large boat has placed me in perilous circumstances.
The most crucial factor is to have a balanced boat so that even if you weigh a lot, you can still navigate it well. So, when you pack for your vacation, attempt to combine gear with that of other travelers to reduce the amount of extra items that add weight and size.
Start and end early
I'll just tell right off the bat that on almost every trip, something will go wrong. Things always arise, even on the finest of journeys. When bringing your boat in at the beginning of the day, it is a good idea to get an early start and to always leave a little window of time at the end. This not only makes it possible for you to handle circumstances when an environmental influence was at play, but it also significantly reduces your stress.
Final words
Now you are aware of the best Steelville MO float trips. Keep these trips in mind and plan your vacation accordingly. Then you will be able to get the most out of what these float trips are offering you.