It takes a strong person to navigate the cold tundra. For people who live in cold arctic or mild winter climes, dog sledding has been the main mode of transportation for generations. Numerous chronicles, notably the one written by Marco Polo during his travels across Asia in the thirteenth century, provide information on the history of dog sledding. As the name suggests, dogs are attached to the reins of a sled, much as we see reindeer hauling Santa's sleigh. Today, those who live in climates conducive to it enjoy the commuting technique as a pastime. In this article, we will be sharing how to get the most out of your dog sledding New England trip.

There are undoubtedly regions of New England, which is notorious for its hard winters, that get enough snowfall to provide the ideal circumstances for this pastime. A more recent trend is New England-style dog sledding. If you've always wanted to attempt this pastime, continue reading to find out how to approach it for the greatest experience.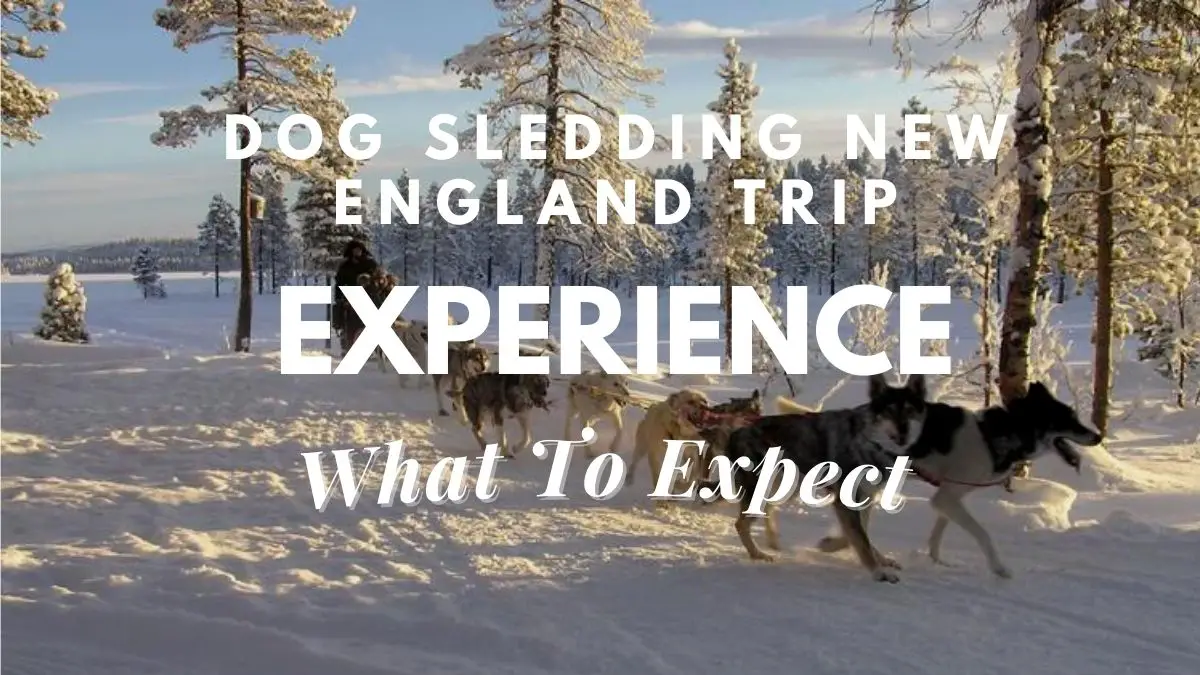 Tips for dog sledding
Looking for New England's top dog sledding? Here is a checklist of important elements to keep in mind while looking for the ideal canine-led trip.
You will need to make sure you and your family are well equipped for cold weather excursions by carrying the necessary gear with the stunning winter woods and snow-covered meadows as your background. At the very least, lined coats, hats, gloves, boots, and ear muffs will keep you warm and shield you from the elements.
The most serene and magnificent time of year to visit New England is in the winter. You'll want to make sure you put the phone down and spend time enjoying nature in all its grandeur with the magnificent White or Presidential Mountain range in the backdrop to refresh your spirit.
You'll learn a lot more than anything else, I promise! There are many things to learn from your head musher, from dog types to sleigh building and driving skills. Dog sledding is a winter pastime that will revitalize your mind, body, and spirit whether it's your first or 1,000th time.
Locations for Dog Sledding
New England is a popular location for winter activities, but there are other locations spread throughout a vast five-state area. The variety of locations to stay and explore in New Hampshire as well as its recreational opportunities are well recognized. The Adair Country Inn in Bethlehem, New Hampshire, is one such location that provides a dog sledding trip. For those who would rather go on an all-inclusive adventure, a dog sledding package is also available. It includes a two-night stay, substantial meals, champagne, and comfortable lodgings that will make you feel genuinely festive throughout the winter. Dog sledding is not as common as you would believe since it is a sport that takes a lot of time, effort, and professional knowledge. To ensure your dog sled escape, plan your vacation early.
Sledding with dogs in New Hampshire
While the season for dog sledding in New Hampshire might vary depending on your calendar, it normally lasts from December to March, just before spring arrives and the snow disappears. To find out the conditions for your vacation, be sure to check in with the friendly staff at your lodging! To design the ideal experience for you and your family, get in touch with the welcoming staff at New England Inn and Resorts.
Things to keep in mind when you go ahead with dog sledding New England
Traveling in Greenland makes it simple to disconnect from the outside world, and dog sledding is one of the greatest ways to accomplish it. Here are six dos and don'ts to keep in mind as you explore the world of dog sledding.
Turn off your mobile phone
The backcountry of Greenland is unlikely to have a functioning signal unless it's to snap a picture. The vast Greenland Ice Sheet, which covers 80% of the nation, creates a physical ice wall across the land, and the sparsely populated areas on the country's edges add a sense of isolation that is uncommon in the contemporary world. In fact, Lonely Planet utilized the lack of connection to describe Greenland when it placed us in its list of the Top 10 "Best in Travel" destinations in 2016.
Enjoy the beautiful landscapes around you
The surroundings seem oh-so-white, but as you walk more into the wilderness, you'll quickly realize that the undulating white track you are now on will gradually alter. It obviously depends on whether you're going for a little trip around the block or a multi-day journey that takes you past towering icebergs stuck in frozen fjords. Since dog sled travel is often relatively leisurely, you'll have plenty of time to really appreciate the experience.
especially after consuming seal blubber! The Greenlandic sled dogs eat whatever they can, and much like people, you can tell what they've eaten. The sled dogs rapidly pick up the skill of using the restroom while running when they first begin to run in teams so as to not slow down the sled. They usually disperse to the outside of the group to relieve themselves. Just take extra precaution while the dogs are moving downward. Perhaps you'll get a scent of something fishy.
Learn how to speak to dogs
Many of the dog mushers learned how to live in the wilderness by practicing the skills that their forebears had taught them as they grew up dog sledding. Even if your dog musher cannot speak English, you may still communicate effectively by using gestures and sign language. If you can, it would be beneficial to learn a few travel-related terms to make things simpler.
You may learn a few words of "dog mushing language," which is how the dog musher interacts with the dog pack, while you're sitting there on the sled anyhow.
Keep yourself away from getting off the sled
We've previously said that you're in for a leisurely excursion and that the calmness of your surroundings will cause your pulse to settle down. Due to the crisp, pure air, and continuous beat of paws on snow, you could even nod off when dog sledding. On the other hand, if you're sledding through rocky or steep terrain, be ready for a slightly jarring ride! Just to make sure you don't fall asleep.
When you start to feel a bit numb, you may even decide to get off the sled to warm up your body. No matter how many layers of clothes you are wearing, you will feel the cold if you are sitting still for a long time at minus 30 degrees Celsius. Take a cue from the dog sledding manual and join the group. You will quickly get warm, and your dog team may even enjoy the additional assistance (read: lower weight) traveling uphill.
For the majority of individuals, dog sledding is a once-in-a-lifetime event. Dog sledding is not widespread in the continental United States because sled dogs require a chilly location with excellent snow to function. Fortunately, Stowe provides mild temps, plenty of space to wander, and plenty of snow, all of which make huskies happy. Following are some expert hints to help you get ready for your expedition if you want to attempt dog sledding in Stowe:
The majority of dog sledding courses provided in the Stowe region divide the experience among periods spent on the path and periods spent engaging with the dogs and learning about the sport. 30-minute introductions to two-hour, highly engaging programs are available. While taking in the breathtaking vistas that Stowe is famed for, learn how to handle, harness, and hitch a team. When selecting a tour, take into account your group's needs, the cost of each session, and the locations of the activities. Clients will not only spend more time on the trail with the dogs, but also get to spend more time interacting with the team, if tour operators are lucky enough to own a kennel with miles of good trails.
Since dog sledding is such a sought-after activity, most dog sled trips in Vermont sell out weeks or even months in advance. As soon as you make your selection, reserve your journey!
Learn about the history of dog sledding
Sled-pulling with dogs has been a tradition since at least 2,000 BC. In sub-Arctic cultures, the sled dog evolved into the main mode of transportation and communication. Dogs assisted in transporting mail, food, fuel, furs, gold, mining equipment, and other necessities to and from outlying villages and camps. Watch the actual tale of Togo, the lead sled dog that assisted in the 1925 rescue of the town of Nome, Alaska, as you get ready for your expedition. Disney+ has the movie Togo available for streaming.
It goes without saying that good snow is a must for dog sledding. Programs for dog sledding may sometimes be found at high altitudes farther away from the town. Public transit is an option for programs in the city, but to reach the higher terrain tour operators, you'll need a car or rental that has four-wheel drive and snow tires. Plan additional travel time on snowy days and make sure your transportation is organized in advance. It's critical to be on time since rescheduling tours for missed excursions are uncommon.
It's thrilling to be pushed by a pack of sled dogs! It's crucial to keep warm and comfortable since you'll be moving through Vermont trails at a speed of five to ten miles per hour. Layers of clothing are your best friend since you can always take one off if you are too warm. A thick cap, neck gaiter, pair of gloves or mittens, dry warm socks, and insulated boots are essential. Consider purchasing hand and toe warmers to supplement your gloves and boots if your hands and feet are prone to becoming chilly. You may want to wear ski goggles if there has recently been new snowfall on the trails to protect your eyes from the snow that the dog team is kicking up.
Final words
You will remember dog sledding as a one-of-a-kind and extraordinarily memorable experience for the rest of your life. Here are some advice so you know what to anticipate and may maximize your journey, whether you want to go on a half-day excursion or a multi-day expedition.
Dog sledding is a hands-on activity; you'll be engaged in every step of the process, from harnessing the dogs to operating the sled to re-harnessing them after the trip. Naturally, a guide will provide detailed instructions on how to accomplish this and will provide direction and advice during the whole trip. If you are afraid of dogs, don't be concerned. If you let us know, we'll offer you an easy-to-handle older, calmer dog. Alternatively, you may assist with preparations in another manner. Keep these facts in mind and go ahead with dog sledding in New England. It is one of the best places out there in the country for you to visit to secure an unforgettable dog sledding experience.