Ketchikan, Alaska is an interesting, engaging, memorable, and gorgeous place that allows tourists to see and experience a lot of what Alaska has to offer. During the busy season, a large number of cruise ships arrive in Ketchikan, and the population of this small and isolated little town more than doubles from its normal 8,200 inhabitants. If you wonder what to do in Ketchikan cruise port, you can continue to read this article.

Despite its tiny size and population, Ketchikan has developed into a bustling tourist attraction in recent decades, and there is much to see and do when visiting this port. Because the weather here is typically much warmer than you may expect, don't be hesitant to try out some of your ship's various outdoor activities. If you're unsure how to spend your time in Ketchikan, you'll be pleased to learn that there are several alternatives available, with something to suit every personality.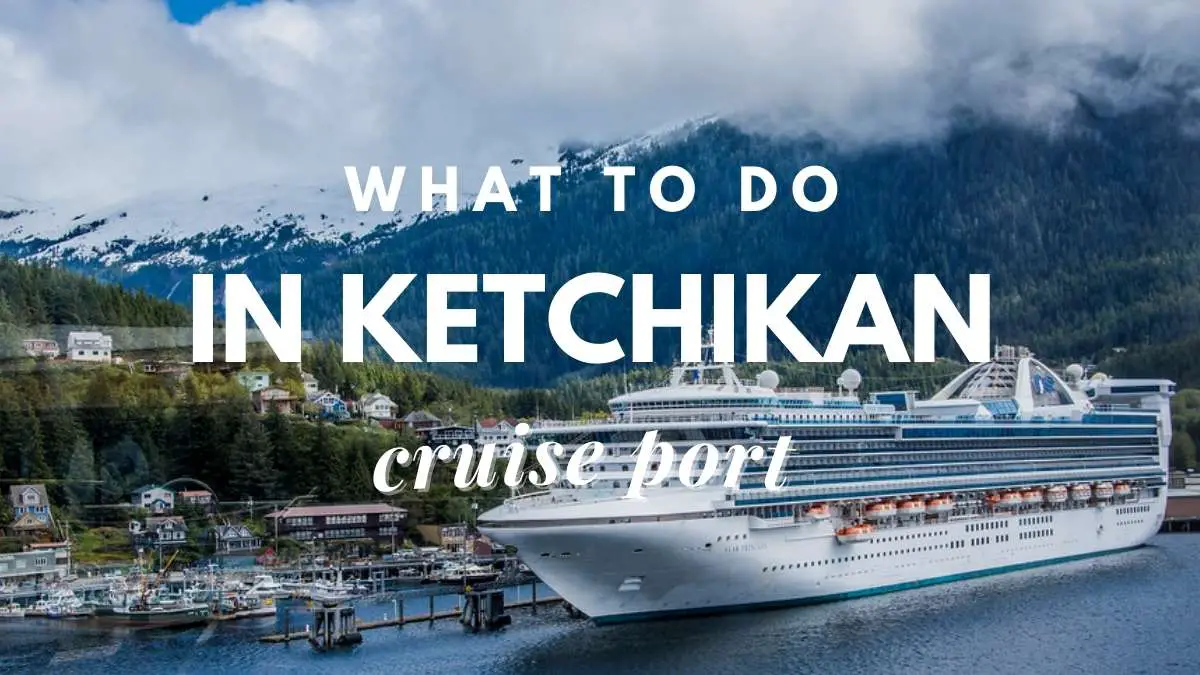 1. Explore Creek Street
Creek Street is a historic promenade and shopping district located close to the cruise liner terminals. His magnificent row of buildings grew up on stilts above the Ketchikan Creek in 1903, and it was the site of the town's red light district until brothels were legalized in 1954.
These lovely and colorful structures now host a variety of Alaskan-themed souvenir stores, galleries, restaurants, and more. Even if you don't enjoy shopping, Creek Street is worth a visit for the photography. After visiting Creek Street, you'll see how often the picture is used to represent traditional Alaska.
Read: Is Traveling A Hobby? The Ultimate Guide To An Exciting Way Of Life Learn about the Downsides Of Traveling As A Hobby

2. The Great Alaskan Lumberjack Show
The Great Alaskan Lumberjack Show is an entertaining experience for the whole family. The event's location is within walking distance of the cruise ship dock, and each ship organizes excursions for those who want to see the performance. The event lasts an hour and there are three to five chances to view it every day.
As the lumberjacks climb trees, chop, and saw wood, balance on rolling, floating logs, and more, you'll be astounded by their strength, skill, stamina, and excitement. These are professional lumberjacks and jills, the majority of them have featured on ESPN and hold national and international championships in this fascinating sport. A trip to the lumberjack show will be a once-in-a-lifetime experience!
3. Sport fishing
If you appreciate fishing, Alaska is one of the most exciting destinations in the world for sport fishing. There are several outfitters in town who provide charters, equipment, and general instruction to anybody interested in participating in this activity in our most northern state. In southern Alaska, you may catch a variety of fish, including rockfish, herring, and twenty-six distinct kinds of cod, but salmon and halibut fishing are the most popular in Ketchikan, and there are many different variations of each to go for.
Salmon in Alaska are reputed to fight harder than any other fish, but if it's size you're after, halibut, which may reach over 400 pounds, would be a better option. Whatever you catch, your outfitter will clean, package, and send it to you so you can eat it when you get home.
4. Take a look at the totem poles
When many people think of Alaska, they automatically think of totem poles. If these lovely pieces of art pique your attention, there are many venues in Ketchikan where you may see them.
You may view them in Totem Bight State Historical Park, for example. It's approximately 20 minutes north of town in Potlatch Totem Park, a gorgeous area on the beach.
The US Forest Service began a campaign to rebuild totem poles that were abandoned when native people went to cities for jobs in 1938, long before Alaska became a state. They also engaged experienced carvers to carry along the totem pole legacy to the next generation of artists.
Totem Heritage Center
If you choose to remain in town, the Totem Heritage Center is a good option. The City of Ketchikan maintains and promotes this attraction, which aims to teach the public about the Tlingit, Haida, and Tsimshian peoples' ongoing creative traditions. Admission is free, and there are numerous totem poles on exhibit.
Totem Pole of Chief Johnson
Johnson, Chief of Police the Totem Pole is located near the Creek Street entrance. It was initially erected in 1901 to commemorate Tongass Tribe Chief George Johnson of the Gaanaxadi tribe. This totem pole was recently renovated, and it is now one of the world's most photographed totem poles.
Native Village of Saxman
Saxman Native Village, in addition to the totem parks described above, is another destination to visit if you want to learn about the native people of southern Alaska and see totem poles. This educational attraction is approximately 10 minutes south of Ketchikan in Saxman. While seeing more than twenty stunning totem poles, guides will teach you about the Saxman tribe's history and daily life.
National Monument to the Misty Fjords
Misty Fjords National Monument is a beautiful piece of nature just outside of Ketchikan. To go to this secluded spot, you'll need to take a boat tour or a floatplane; most cruise companies provide both types of excursions when it comes to excursions. This 2.2 million-acre wilderness area was designated as a national monument by President Jimmy Carter in 1978. Wildlife watching, photography, and fishing are all included in Misty Fjords trips. On your excursion, knowledgeable experts will explain the ecology of the region, and you will be treated to beautiful vistas.
6. Tongass National Forest
The Tongass National Forest, which includes the Misty Fjords National Monument, is a significantly bigger natural region. This forest is the country's biggest national forest, covering approximately seventeen million acres — virtually the whole state of Alaska. This national forest encompasses Ketchikan, Juneau, and a number of other Alaskan cities and communities.
The great majority of this territory is covered in temperate rain forest, which supports a diverse range of plants and animals, including several that are peculiar to the region. Mountains, glaciers, fjords, islands, rivers, streams, and more may be found there, and over one million people come each year for exploration, hiking, enjoyment, and study. It's a terrific site to visit for anybody who wants to see Alaska in its purest form, and it's simple to get there from Ketchikan and other Alaskan places.
7. The Alaska Rainforest Sanctuary
The Alaska Rainforest Sanctuary is situated in the Tongass National Forest, approximately fifteen minutes south of Ketchikan. It first opened its doors in 2003 and now provides a great mix of local attractions.
First, the coastal journey from the ship to this destination provides breathtaking vistas. When you arrive, a guide will take you on a short stroll into the thick rainforest, where you may see bald eagles and black bears (from a safe distance, of course!). You'll also get to explore the estuary and learn about the unique ecology that exists when salt and fresh water collide. When you return to the visitor center, you may tour a historic sawmill, see native-carved totem poles, and see the birds of prey display at the Alaska Raptor Center.
At the Alaska Rainforest Sanctuary, you'll learn a lot about Alaska, and the entire family will depart with new information and beautiful memories.
8. Southeast Alaska Discovery Center
Because the Southeast Alaska Discovery Center is just a block from the cruise ship dock, it's a popular stop for anybody interested in learning more about the area. Exhibits include the natural history, animals, people, and culture of this special region of the globe. The friendly team is glad to answer any questions you may have about Alaska. On a loop, an educational video plays, and the center's cozy theater is a perfect spot to relax before moving on.
9. Dolly's House Museum
Dolly's House Museum is one of the buildings on Creek Street that attracts a lot of attention. Dolly's House seeks to teach tourists about the half-century of brothels that thrived here during the first half of the twentieth century, despite the fact that the bulk of the properties on this historic street have been converted into milder and entirely legal places of business.
10. Hiking and walking
The Tongass National Forest has several hiking and walking routes, including some that are particularly popular with cruise passengers. Although the Deer Mountain Trail is about a mile from the cruise ship docks, you may wish to take a taxi there. Before you even begin, there is a significant elevation gain.
When you reach the path, you'll be rewarded with breathtaking views of the country and lake below. Mountain goats may be encountered, and salmon will most likely be seen in the river. The Ketchikan Rainbird Trail is quite popular, and it is very easy to get to from town. It's a short, simple route that winds through the dense jungle and provides beautiful views of the port.
Final words
Now you know what to do in Ketchikan cruise port. Plan your tour accordingly while keeping all these attractions in mind. It will help you to get the best possible experience at the end of the day.