A good family getaway should include an equal amount of entertainment, outdoor activities, and peaceful, tranquil times. The ideal journey is complete when you include a few educational opportunities. Continue to read and we will be sharing more details around Lake Blackshear.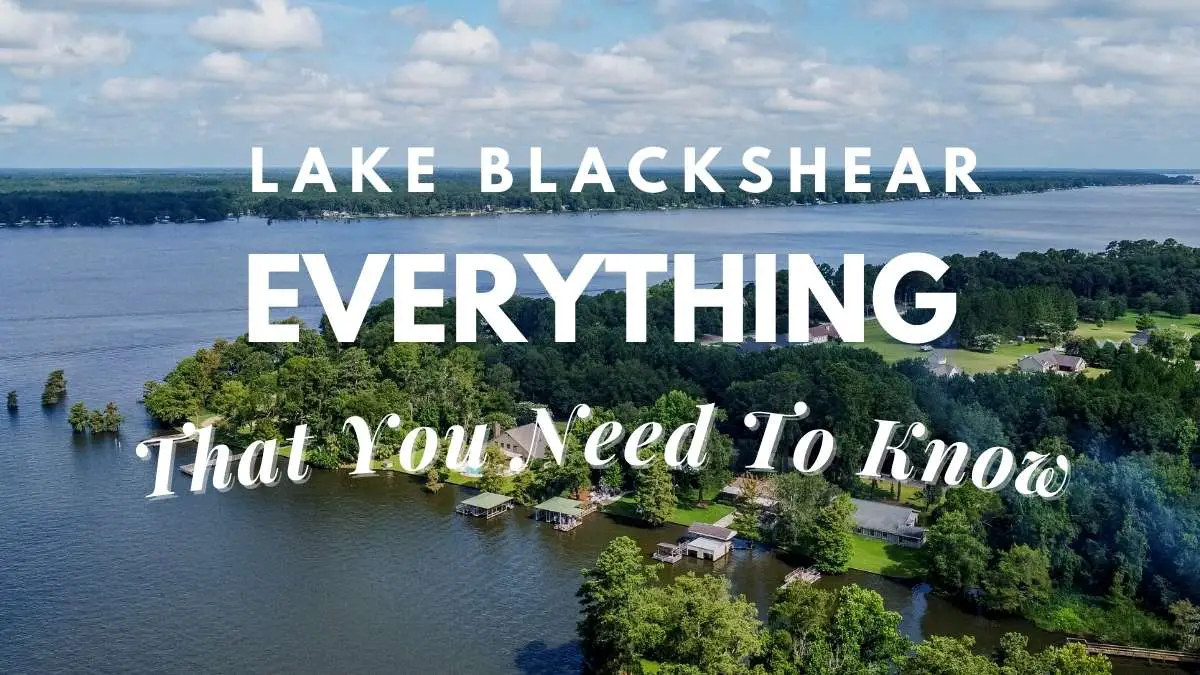 What is Lake Blackshear?
At Lake Blackshear Resort & Golf Club in South Georgia, that is what we found. On our road trip through the Georgia State Parks, which also took in Amicalola Falls State Park, Unicoi State Park and Lodge, and Brasstown Valley Resort and Spa, we slept there for three nights.
Due to its unique location inside the 1,308-acre Georgia Veterans Memorial State Park, Lake Blackshear Resort and Golf Club is special. One of Georgia's most popular state parks, it was built in 1946 as a tribute to American soldiers and is known for its recreational opportunities, including boating, fishing, swimming, archery, hiking, and a round of championship golf.
The Southern way of life is personified by Lake Blackshear. In other words, days spent lazily taking in a gorgeous lake surrounded by forested groves and cypress trees dripping with Spanish moss. Your days conclude with the beloved Southern charm of an iced cocktail or iced tea on the porch during a warm summer night while taking in the breathtaking views of the setting sun.
By damming the Flint River, which ultimately joins the Chattahoochee River and flows to the Gulf of Mexico, the 8,500-acre Lake Blackshear was built in 1930. The lake is a popular recreational place for residents and tourists alike, featuring miles of coastline and woodland regions, in addition to delivering low cost electricity to the people.
Read: Is Traveling A Hobby? The Ultimate Guide To An Exciting Way Of Life Learn about the Downsides Of Traveling As A Hobby

Lake Blackshear Resort is where?
Only a two-hour drive from Atlanta, Lake Blackshear Resort is situated on Highway 280, west of I-75, near the Cordele exit.
1. Cycle or stroll around
Biking around Georgia's bike-friendly Lake Blackshear Resort and Golf Club. The many activities and attractions at Lake Blackshear Resort are simple to navigate between. Parking your vehicle will allow you to ride your bike or walk the somewhat longer distances, easing you into the slower pace of the South.
It's the ideal way to appreciate the cypress trees and the lakefront wind while getting your daily workout. Both the resort grounds and the state park include miles of hiking paths, some of which are paved and follow the lake. You may add renting a bike to your holiday package at the resort.
2. Lake Blackshear Resort and Golf Club activities
Lake Blackshear offers a wide range of activities to fit your style and speed, whether you prefer to explore on land or in the water. The Georgia Veterans Memorial Golf Course is situated on the serene shores of Lake Blackshear, continuing the history of golf courses being built in breathtaking settings. The Denis Griffiths-designed Lake Blackshear golf course is among the four-star-rated venues mentioned in Golf Digest magazine. The 7,000-yard, 72-par course has 130 bunkers, 4 sets of tees, and 2 sets of alternate tees.
Step up to the disc golf plate and replace your golf club with a frisbee. A pleasant pastime for families is disc golf. Tossing a disc, a la Frisbee into a metal basket known as a "hole" is the goal. The targets are positioned along a course through the woods, like golf holes. The winner is the one who uses the fewest throws across the course to get the disc into the hoop.
Your disc golf supplies are available in the lodge. All ages may enjoy it, making it perfect for families and groups of individuals.
3. Renting a boat
Boating Disc golf at Lake Blackshear Resort and Golf Club Pontoon boats are enjoyable to ride. Rent a pontoon boat at the marina and sail around the lake on your own for the day. While driving us around the lake and soaking in the stunning sight of the cypress trees, Craig really enjoyed himself.
Take a short trip outside with a lunch and your fishing equipment. I would advise ending the day by watching the magnificent lake sunset from your pontoon boat. The Lake Blackshear Marina provides all you need whether you own a boat or simply need to hire one for a few hours.
Boating at Lake Blackshear Resort and Golf Club The resort is two minutes' walk from Lake Blackshear Marina. They offer pontoons for family outings, fishing trips, and cruises that can hold up to 12 people. The most cost-effective rentals are for half and full days.
4. Kayaking
At Lake Blackshear, kayaking amid the cypress trees was enjoyable. Try your best to avoid the Spanish moss's drips, or simply paddle through it like Savannah! As a means to appreciate the local natural beauty and make special memories, our family enjoys kayaking together.
The moment the sun sets over this South Georgia lake, it is a special occasion, so the next time we return, I want to paddle about on a kayak or stand-up paddleboard. I like how much green space there is in the resort grounds along the edge of the lake. Finding a location for a picnic with picnic tables and shelters beneath shaded trees is simple.
Near Cypress Grill, there is a little swimming beach that is ideal for a cooling afternoon pastime. If the weather isn't ideal for the lake, Lake Blackshear also offers a heated outdoor swimming pool that you may use.
5. Warm pool
For history aficionados, the Lake Blackshear Resort features a military museum with instructive displays and items from the Revolutionary War to the Gulf War, including uniforms, guns, and medals. This was a wonderful experience for the kids to relate to since they have both been studying the Revolutionary and Civil conflicts in school.
For many people, distance learning is a NEW concept. We Old Homeschooling Goats can attest that this is the most effective strategy for learning. A B-29A Superfortress, planes, tanks, and a helicopter are among the tanks and aircraft you can see outside. You can also see a fully-clad Patriot do a rifle shooting exercise.
6. 3D Archery Training
For the 3D archery course, Kalyra channeled her inner Katniss and set the bar high by taking out the bear first. We all shot a target hit directly after her as a result of her excellent leadership. We all enjoyed the 3D archery experience, which was new to us. This is a fun pastime for families, particularly those with teenagers.
7. Foam bear target at Lake Blackshear Resort
We were led through a forest road towards the 3D archery course, where there were 15 foam targets shaped like animals and mythical beings. At the Static Archery Range and Air Gun Range, you may shoot not just at fixed targets but also at 3D foam targets. There are 12 static air rifle targets on the air gun range, which is 10 yards from the firing platform. The five static targets on the static archery range are spaced 10 to 40 yards from the shooting platform.
Lake Blackshear Resort air rifle range Savannah like the more nearby and animal-filled targets. The smaller children find it entertaining to fire at them rather than traditional bullseye targets. All aboard the Sam Shortline Train for the excursion! Sam Shortline Train at the Lake Blackshear Resort air rifle range!
A historic train from 1949 named after the original spur line that ran from Savannah to Americus, Georgia, and then on to Montgomery, Alabama, is available for rides near Lake Blackshear. Southern Georgia's undulating farmlands may be traveled through on varying periods of time in a variety of carriage classes.
What else can you experience at Lake Blackshear?
Americus, a Victorian town, is home to the new Habitat for Humanity Global Village. Plains, a little Georgia town made famous by President Jimmy Carter, is where you can visit the museum dedicated to his presidential campaign.
At each depot, the train pauses for about five minutes so that passengers may get off, explore the destination, and then board a later train. They also host special events like a Day out with Thomas, a Wine and Cheese Train, and a Murder Mystery Dinner Train, which is the one I want to return for.
Magical scene during the sunset at Sam Lake Blackshear Resort
On the night of our first meal at Lake Blackshear, I set down my fork and hurried down to the water's edge to take in the sun's magnificent orange-colored sky. The sunset that night was even more beautiful.
After a more upscale meal at Cordelia's, we strolled down to the water's edge to take in the peace and beauty of the pink sky and the kayakers leisurely paddling to their ideal water viewing locations. We finished off the last of the evening light around the campfire with a glass of red wine, savoring the tranquility while the girls danced and played on the grass. Sunset over Lake Blackshear Resort.
Can pets be brought to Lake Blackshear Resort?
Girls having fun on the beach with a dog
Yes, it welcomes pets. We are often short on space in our baggage, so we were thrilled to take in this adorable dog named Cotton for the day. She came along with us to the Lake Blackshear Resort and Golf Club where we were shooting!
Cotton was a very adorable dog who even managed to somewhat win my heart. Today, the girls are pleading with us for a dog. For the time being, the answer is no, but it's wonderful to know that travelers who adore animals may discover pet-friendly hotels.
What are the best places to stay at Lake Blackshear?
A variety of lodging options are available for visitors, including lodge guestrooms, a choice of 68 villa guest rooms, 10 lake view cabins, and a campsite. For people who are studying or working remotely, the rooms provide a desk and lots of space as well as high-speed Wi-Fi.
The Lodge, which has chic accommodations with lake views, is the hub of the Lake Blackshear Resort. With two double beds in each of its 14 guest rooms, each one can easily accommodate a family.
Loved our screened-in porch A huge structure with shrubs in front for more roomy rooms with lake views, stay in the villas. It's ideal for families because of its peaceful, remote location. The Villas are close to all facilities and are situated near to the Lodge. They feature connected rooms for large families.
Lake Blackshear camping
Camp just beside the lake.
While cruising the lake on our pontoon boat, we caught a glimpse of the Lake Blackshear campground. On our RV journey, I could see us happily spending a few days camping here. Its tranquil location on the lake's edge invites you to disconnect from technology and re-engage with nature. 82 campsites are built to support tents, trailers, or RVs. Additionally, the facilities of the lodge and resort are easily accessible on foot. At Lake Blackshear Resort, grass tables are used for dining.
Views from Cypress Grill are beautiful
I like how Lake Blackshear Resort offers excellent cuisine without requiring guests to leave the premises. And why would you do that when the surroundings are this serene and the views are so good? You must order the asparagus as your side dish for every meal, whether you eat at Cordelia's or Cypress Grill. I've never tasted asparagus like that before. Being enthusiastic about asparagus is feasible because of Lake Blackshear. I made sure to order it for Savannah and give myself a double helping since she never eats her sides.
Final words
Based on the facts we shared on this article; you may think about visiting Lake Blackshear. It will provide a unique experience, which you will surely fall in love with. No matter what you do, you will enjoy everything that Lake Blackshear is offering.