The hiking paths in Everglades National Park are one-of-a-kind. I've visited numerous National Parks across the world, and every now and then, some surprisingly stunning place blows my expectations out of the water. Hiking paths in the Everglades range from tiny informative trails to lengthy day treks. Everglades National Park is in Florida, in the United States' southernmost state. This Park is jam-packed with excitement, the greatest treks, wildlife, and one-of-a-kind creatures, and it's a must-see for everyone visiting Florida.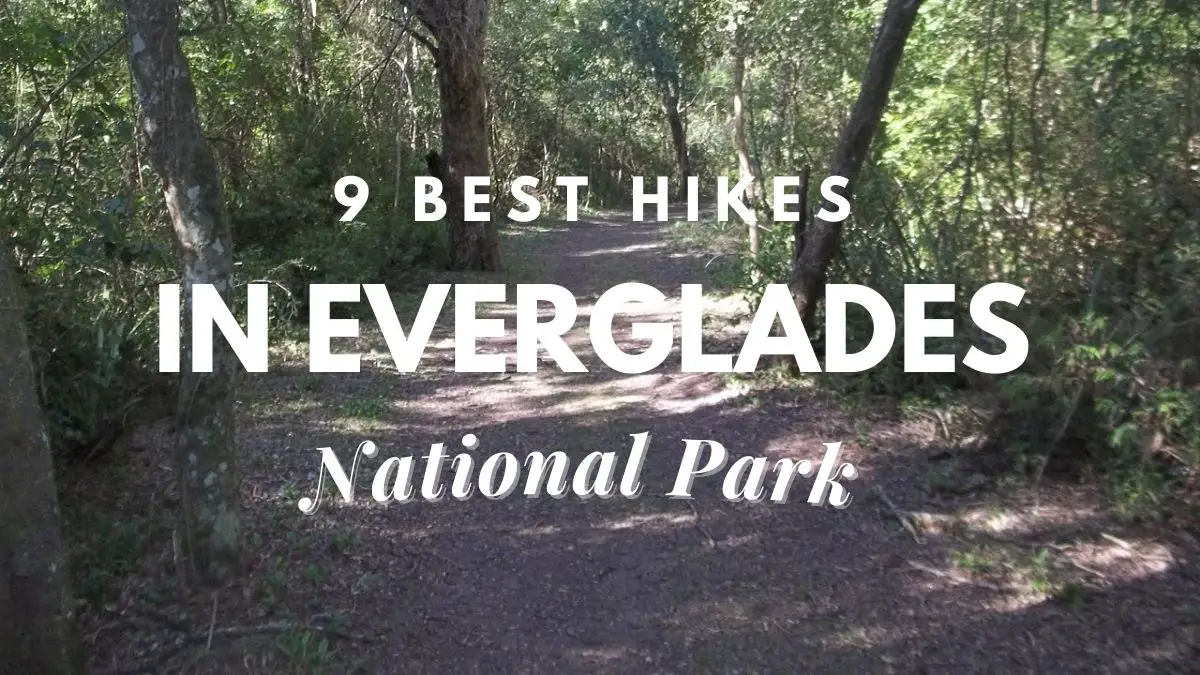 Everglades National Park's Most Popular Trails
In the Everglades, elevation is usually measured in inches rather than feet.
The park's greatest height is just 8 feet, so seeing this elevation marker at 4 feet made me giggle a little.
From the lowest freshwater marsh to the highest tropical hardwood hammocks, the park's elevation levels characterize each ecosystem.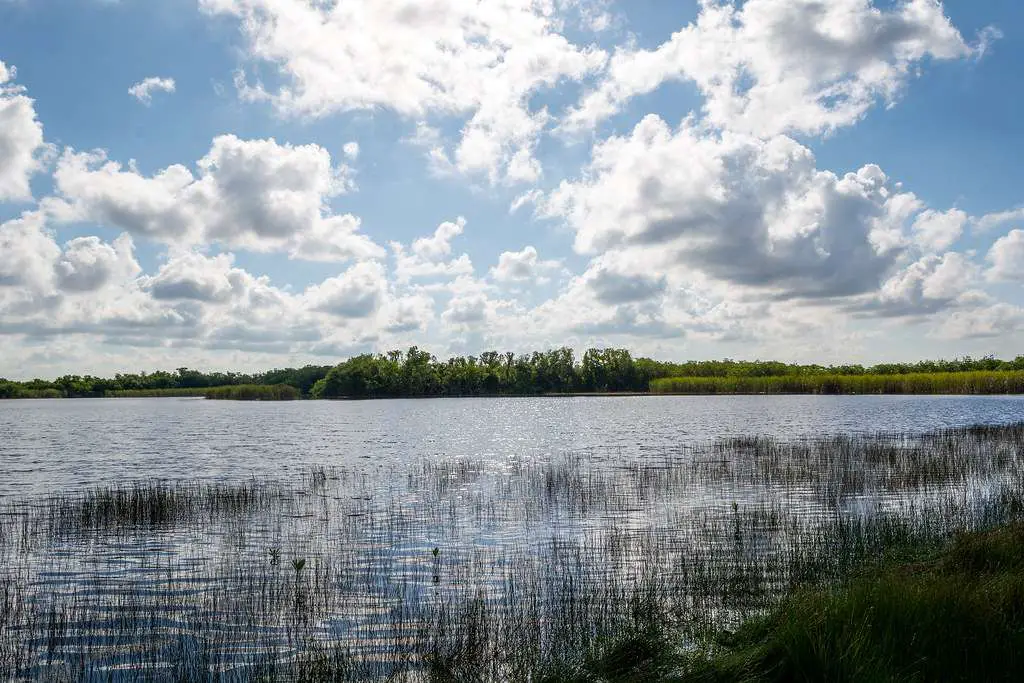 Read: Is Traveling A Hobby? The Ultimate Guide To An Exciting Way Of Life Learn about the Downsides Of Traveling As A Hobby

1. Anhinga Trail
This self-guided route runs through a sawgrass marsh, where you could encounter alligators, turtles, anhingas, herons, egrets, and a variety of other species, especially in the winter.
Because of the abundance of animals, this is one of the park's most popular paths.
As you enter the park from the east entrance, the first trailheads you'll see are Anhinga and Gumbo Limbo.
The Anhinga path is the finest trek we found in the Everglades.
The boardwalk route runs through the sawgrass marsh and is the greatest trail in Everglades National Park for animal viewing.
Alligators, egrets, anhingas, herons, turtles, tropical colored birds, and a variety of unusual fish were among the animals we observed.
The Anhinga path has a lot of traffic and may get fairly congested, although we never felt cramped.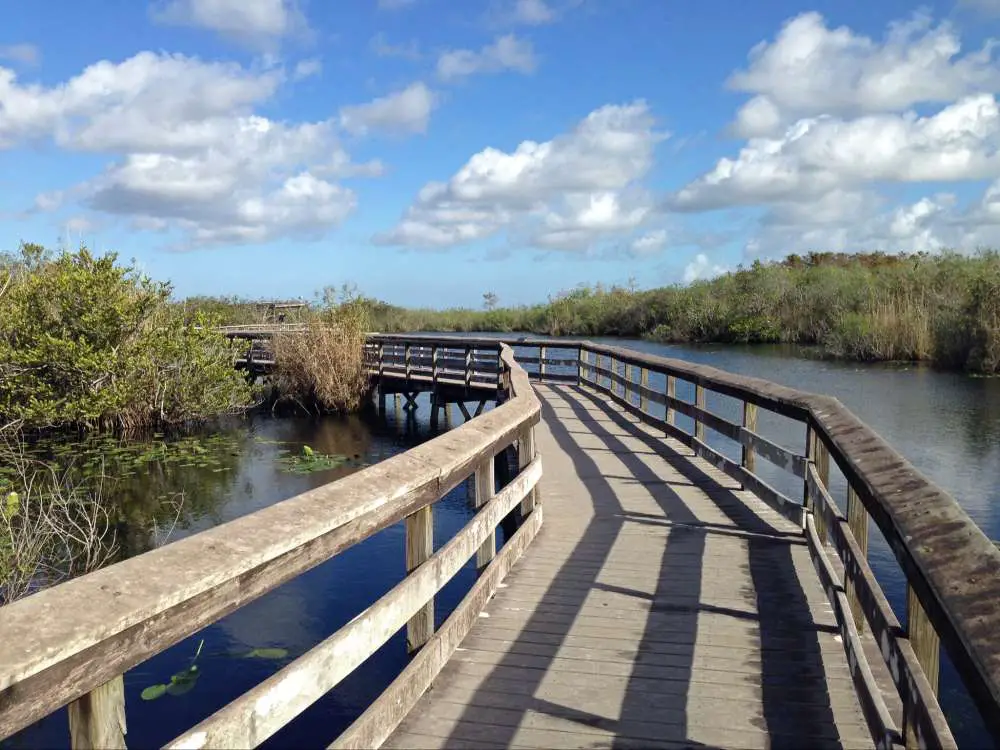 Read: Mt. Moosilauke Winter Hike (What to expect)Learn about the Mount Jim Ridge trail
2. Gumbo Limbo Trail
We moved on to the Gumbo-Limbo path after finishing the Anhinga trek.
You'll enter a deep tropical hardwood hammock after a brief 0.4 mile trek.
The route winds through a tropical hardwood hammock, a world far apart from the slough's open expanse.
Plants appear to be all identical in the dark tangle of greenery, and animals appears to be non-existent.
The route was not overcrowded, and it provided a welcome reprieve from the hot heat of the Anhinga trek.
Only the tropical climate allows forests like these to exist. Around 700 of the park's 700 native plant species are tropical in origin.
Gumbo Limbo Trails is a moderately difficult trek.
The round trip distance is 4 miles. This path is wheelchair accessible as well.
A wonderland of gumbo limbo trees, royal palms, ferns, and air plants awaits you on the route.
As you travel along, you'll come upon a short boardwalk.
When the route comes to a conclusion, you'll emerge from the trees in front of the visitor center, which is next to the parking lot.
The hammock is home to a remarkable number of species, each of which takes on its own personality.
The vegetation grows in layers due to the fierce struggle for light and space.
In 1983, a botanist visiting the hammock was so taken aback by the abundance of bromeliads, royal palms, and orchids that he proposed the area be designated as a federal park. It took him three days to get here from Miami.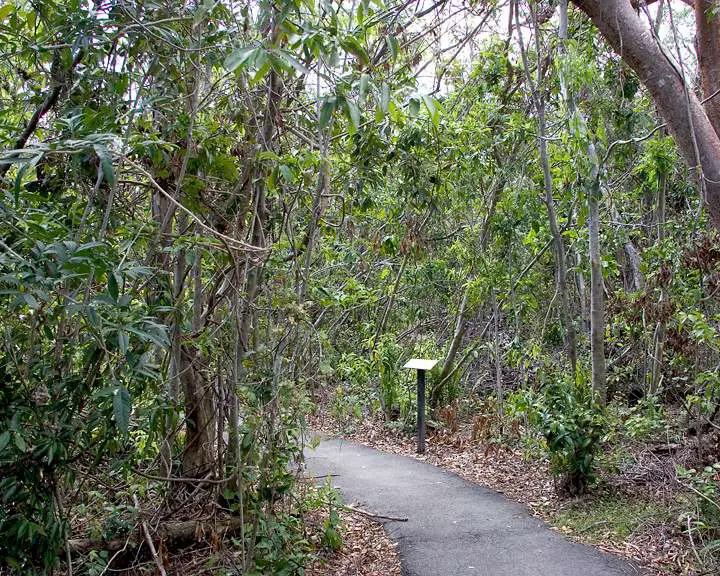 Read: 12 Best Washington Spring Hikes To Try Out In 2023Learn about Hoh Rain Forest Loop trail
3. Pinelands Trail
Take a brief walk through a sub-tropical pine forest on this 0.4-mile route.
You'll be strolling through one of South Florida's most varied ecosystems.
As hardwoods give way to young pine, the landscape will change.
Unless they are destroyed by fire first, higher regions in the Everglades eventually become huge hammocks.
Fire is essential to the Everglades' natural variety and the regeneration process of the different habitats.
In the past, the hammocks of South Florida were home to 52 different color variations of tree snails.
They were scattered from the West Indies and established on different tree islands.
Many multi-colored variants emerged as a result of years of inbreeding.
Collectors would occasionally burn hammocks after acquiring a large number of one kind, eliminating those that remained and increasing the value of their collection.
As a result, at least four species of tree snail have become extinct.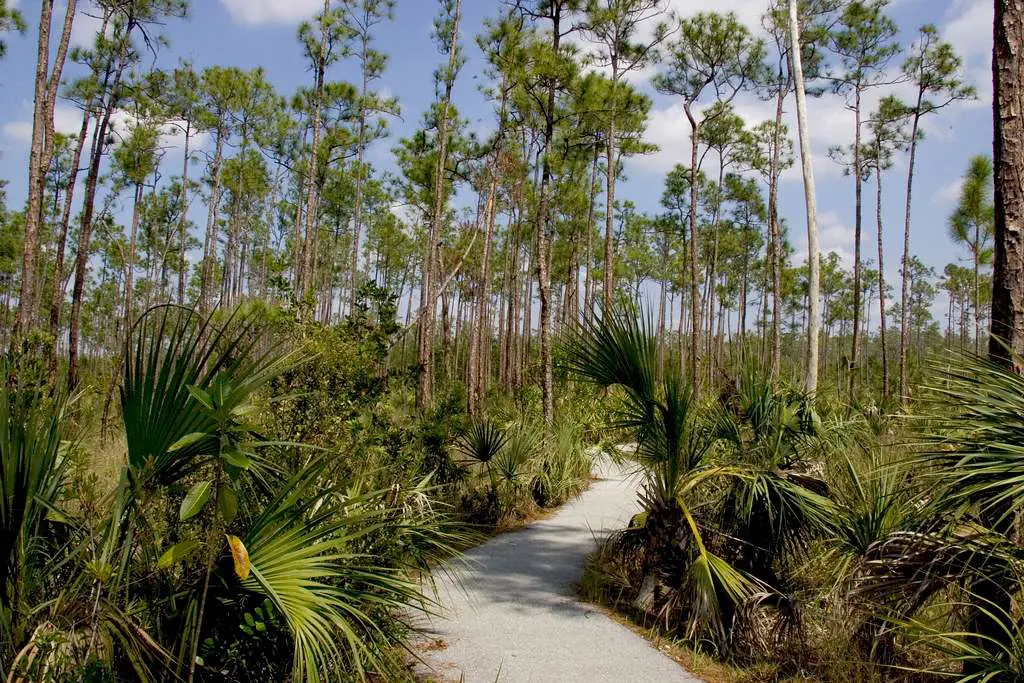 Read: 14 Best Hikes In Denali National Park To Try Out 2023Learn about The Gorge Creek Trail
4. Pa-hay-okee Overlook
A short stroll will lead you to Pa-hay-okee, a lovely viewpoint.
This freshwater marsh habitat is characterized by a broad, shallow, and slow-moving "river of grass."
It's incredible how big this green river of grass was. It looked to stretch towards the horizon indefinitely, with the rare tree growing out of it.
The yearly rise and fall of fresh water is the lifeblood of Everglades National Park, and this river of grass is reliant on it.
It is also reliant on individuals. We dug, dammed, and drained the countryside for almost a century.
The ebb and flow of this life-giving fluid may be controlled. As a result, we put the Everglades and the life that depends on it in jeopardy.
Read: [9 Best] Kid Friendly Hikes At Mount HoodLearn about Laurance Lake trail
5. Mahogany Hammock Trail
This 0.4-mile stroll takes you through an island woodland that seems like it belongs in a jungle.
Everglades National Park is home to tropical hardwood hammocks like the ones shown above.
The hammocks develop out of the freshwater marshes to form thick island woods.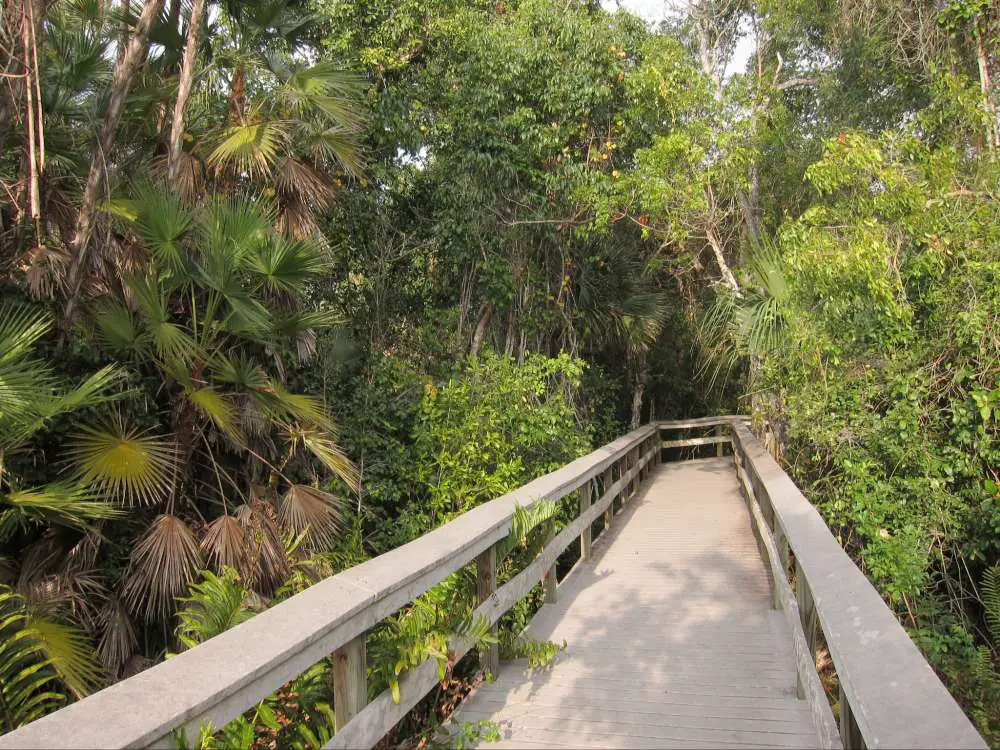 Read: 8 Best Hikes In Saguaro National Park RatedLearn about Valley View Overlook Trail
6. Bear Lake Trail
The Bear Lake Trail is a moderately difficult hike that takes you on a historic trip.
Early developers attempted to drain the coastal plains around Cape Sable, and their efforts may be seen along the road.
The Flamingo Visitor Center is where you'll find the trailhead.
Follow Main Park Road north for 0.5 mile until you reach Bear Lake Road.
Starting at the trailhead, it leads you down a tropical forest-lined corridor to the Bear Lake Canal, a mangrove-lined canal.
Bear Lake's beautiful sights await you at the end of the journey!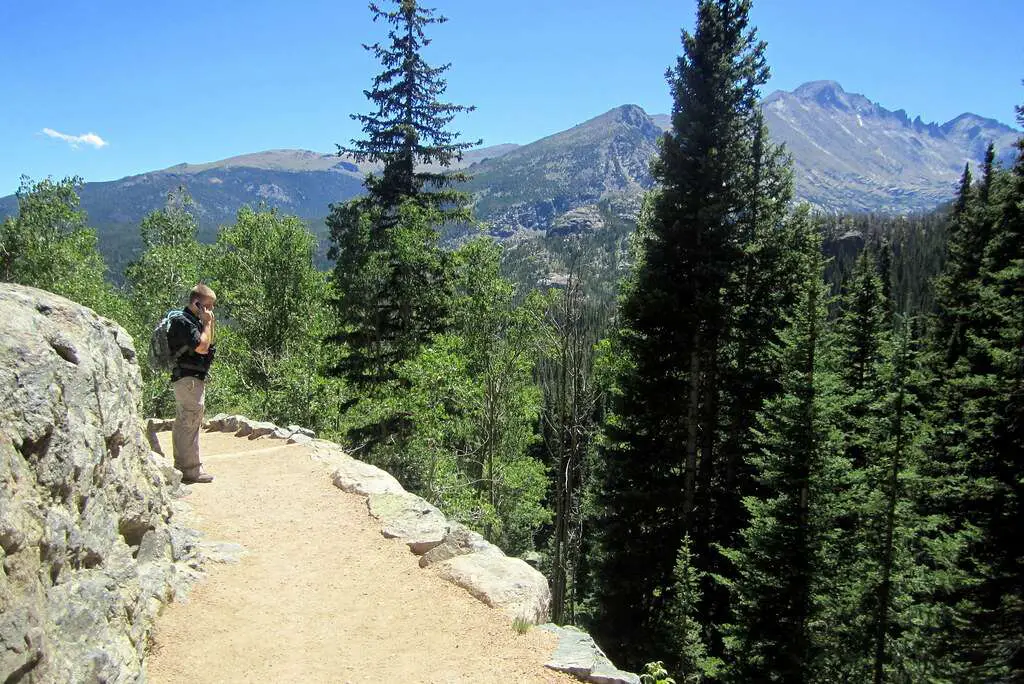 Read: 10 Kid Friendly Hikes In The Red River Gorge ReviewedLearn about Tom McCall Preserve trail
7. Christian Point Trail
The Christian Point Trail is regarded as one of Everglades National Park's most difficult hikes.
This path is not maintained, despite the fact that it is available.
To get to the path, proceed to the Flamingo Visitor Center and then north on Main Park Road for 0.8 mile until you see the Christian Point trailhead on the right.
The journey begins in a mangrove forest before entering a wetland (accessible via a boardwalk).
After passing through the mangrove forest, you'll come to a tiny prairie that leads to a larger marl prairie.
Snake Bight, a portion of Florida Bay, is located on the other side of this grassland.
As you go on, you'll pass through a buttonwood and black mangrove forest before seeing views of Snake Bight and the remainder of Florida Bay.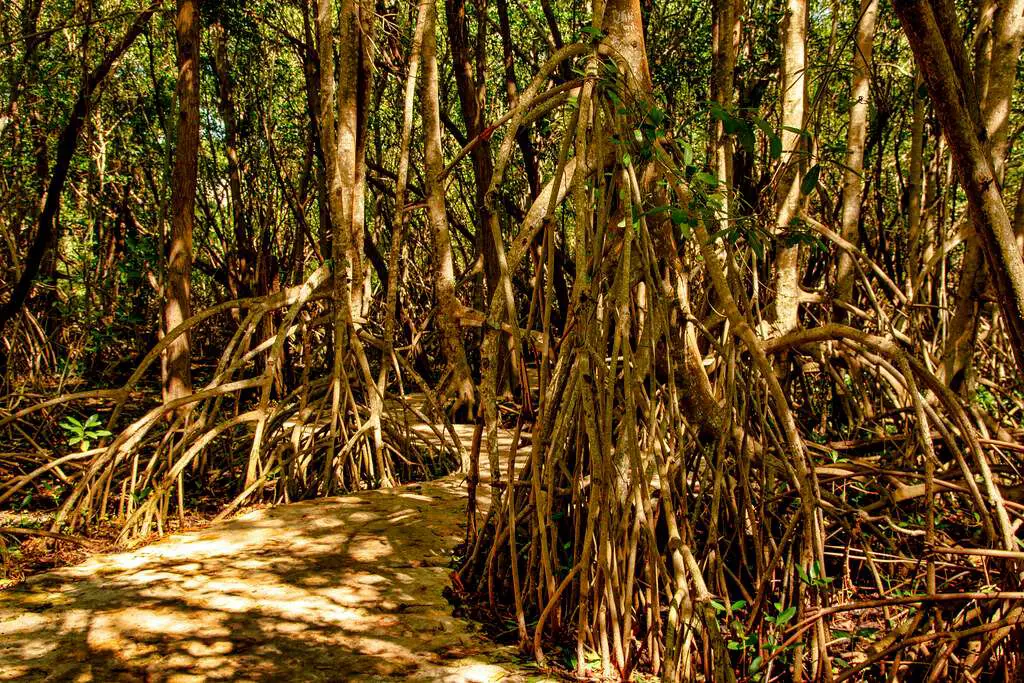 Read: 10 Best Dog-friendly Hikes In Acadia National ParkLearn about Wonderland Trail – 1.6 mile distance
8. Coastal Prairie Trail
The Coastal Prairie Trail in the Everglades is a difficult hike.
Although the path is now available, it must be walked with caution and care because it is poorly maintained.
There may be plants or other flora and wildlife that will make your hike more difficult.
This walk transports you back in time to when cotton pickers and fishermen utilized this route.
Prairies of succulent coastal plants may be found along the road.
The Coastal Prairie Trail begins at the Flamingo Campground's Loop "C" and finishes at Clubhouse Beach.
Backcountry camping necessitates the purchase of a permit.
Read: [10 Best] Hikes In Pinnacles National ParkLearn about the Best moderate hikes at the park
9. Nine mile pond canoe trail
There is a canoe trail at Nine Mile Pond.
With a length of 5 kilometers, this circle should take 4 to 5 hours to paddle slowly.
On this route, you may observe alligators, wading birds, turtles, and fish.
Carry rain gear, food, a personal flotation device (PFD) for each canoeist, a spare paddle, and a waterproof gear bag.
Read: [9 Best] Stroller Friendly Hikes Sedona In (2023))Learn about Devil's Bridge Trail
How to get to the Everglades National Park
Because the Glades are so large, seven airports serve as entry points.
Despite the fact that some take longer to reach than others, none are more than four hours distant (and most much less).
As a result, it's ideal to combine your arrival city with other activities you might enjoy theme parks in Orlando, nightlife and museums in Tampa and Miami, fine dining, golf, and charter fishing in Sarasota, Fort Myers, and Naples, and Hemingway kitsch, history, and endless margaritas in Key West.
There are three major entrances, four tourist centers, and an information station in the park once you've chosen your airport.
On the park's east side, the Shark Valley and Ernest F. Cole Visitor Centers, as well as the Royal Palm Information Station and Bookstore, are all conveniently accessible from Miami and provide ranger-led activities.
The 45-foot-tall, 360-degree viewing tower in Shark Valley is a popular visit.
The Gulf Coast Visitor Center, located near Everglades City on the park's west side, is easily accessible from Naples and serves as the finest entrance point for the Ten Thousand Islands region, a birding, fishing, and kayaking paradise.
The Flamingo Visitor Center is located on Florida Bay, at the park's far southern edge, and may be reached by automobile from Miami or by boat from the state's east and west coastlines.
It is simple to get here by car. U.S. Route 41 is the only way in from Tampa, Sarasota, Fort Myers, or Naples on the west side.
The major ports of access from Miami are U.S. Route 41 and Florida State Road 9336, which turns into Main Park Road.
Both sides are equally accessible from Orlando.
However, regardless of where you're coming from, the best way to explore the west coast, where the river of grass meets the sea, is to bring your own canoe or kayak or rent one from the Ivey House in Everglades City.
Keep in mind that the waters are shallow, and the undersea ecosystem is delicate.
You'll have to get out of your boat and push if you get trapped in the muck, which rips up the underwater seagrass ecosystem.
Use of depth finders is recommended, as is understanding of tides and nautical maps, as well as awareness of endangered manatees.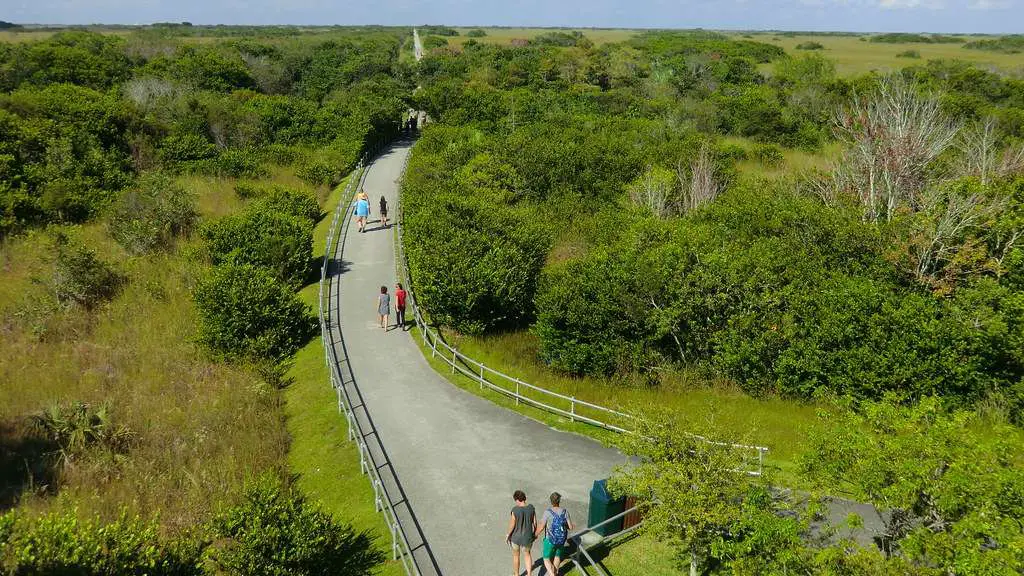 Things you can do at the Everglades National Park
The Glades offer a variety of activities for those willing to brave the mazelike waters, tall grasses, and mangrove isles.
Most of the park's one million annual visitors don't venture much further than a visitor center walking tour, but for those willing to brave the mazelike waters, tall grasses, and mangrove isles, the Glades offer a variety of activities.
Whatever activity you pick, one thing is certain: you will most likely get wet.
If you're a birder, there's no better site in the country to cross off your bucket list than the Everglades, which is home to over 360 different types of birds.
Simply select a bird from your list—for me, it's always the shy and pink-hued roseate spoonbill—and you'll see it in the Glades.
For a day excursion or a two-week expedition, launch your canoe or kayak at the Flamingo or Gulf Coast Visitor Centers.
There are 100 miles of linked, aquatic wilderness between the two places, as well as backcountry campsites and a few designated canoe paths to protect you from getting lost.
The 5.2-mile circle around Nine Mile Pond, which passes through grass marshes and mangrove islands, is a popular day-trip destination.
Those who become lost, though, keep park rangers busy with frequent rescues.
You may catch more than 70 different species of fish here, and the first step is to acquire a license from the Florida Fish and Wildlife Conservation Commission's website (the park itself has some special regulations outlined here).
For freshwater locations, light tackle is sufficient.
I catch a lot of panfish, catfish, and bass using crawlers.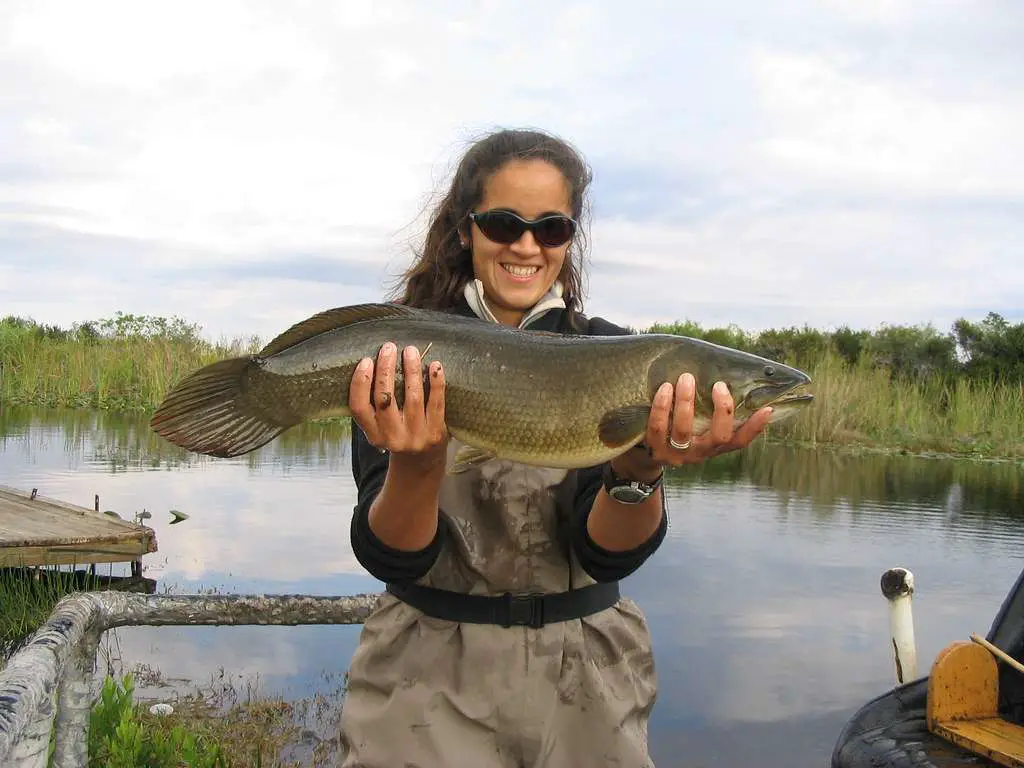 Final words
The state of Florida has a lot to offer visitors. Yes, there are beaches and artistic neighborhoods, but it is natural wonders like the Everglades that will delight you. Biscayne National Park should be on your bucket list if you enjoy eco-adventures. This national park is easily accessible from downtown Miami.
Biscayne is known for its turquoise oceans, green islands, and fish-filled coral reefs, as well as its nautical heritage, which includes pirates and shipwrecks. After the Everglades, you should go to Big Cypress National Preserve. The swamp of Big Cypress is primarily made up of cypress trees (of rainwater). It is also near to Miami, similar to Bisayne.
Before visiting any of the other national parks in Florida, make sure that you go ahead with at least one of these trails. Then you can get the best experience that the park has to offer.