Are you planning a trip with your small child and are concerned about how to prepare baby meals while staying in a hotel? Traveling with a newborn may be stressful for many young mothers, particularly if they are just beginning solids. There's no reason to be concerned about feeding your infant. It shouldn't be any more difficult than at home with a little forethought.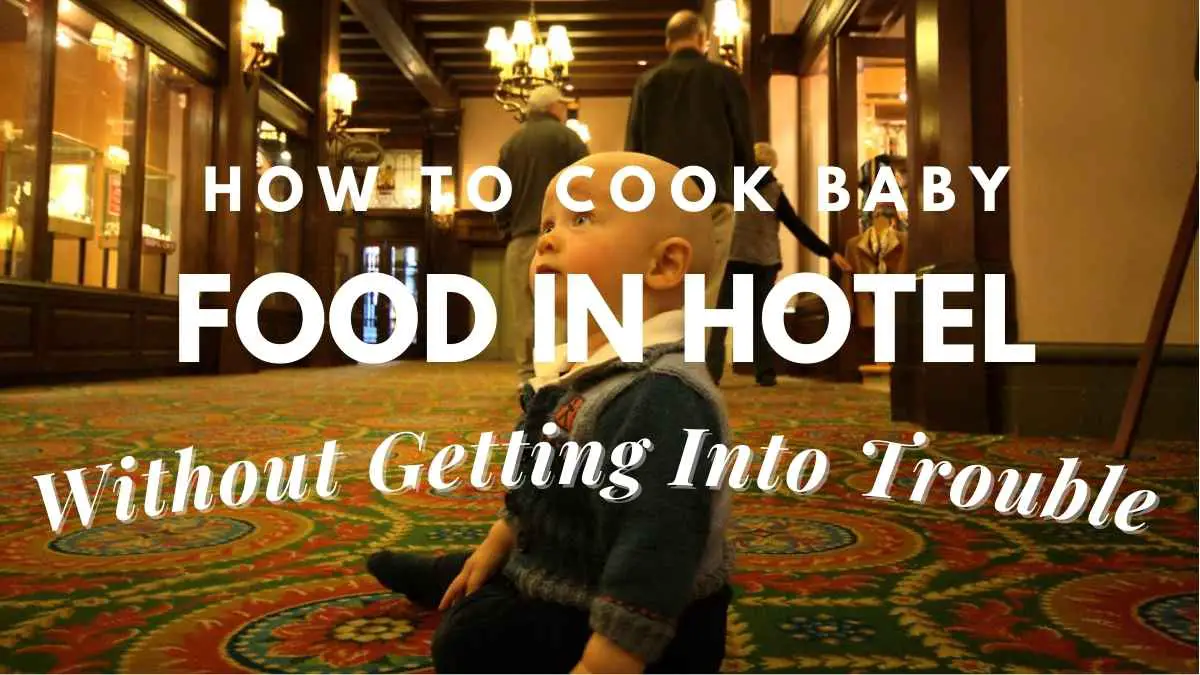 Can you really cook baby food at a hotel?
Breastfeeding is, without a doubt, the most convenient method. But how do you handle it when your kid is a little older, or if your infant is only bottle fed? We'll provide you suggestions and guidance on how to prepare baby meals at a hotel or while travelling in this post.
It is a good idea to verify what equipment will be accessible for you to use whether you are staying in a hotel, guest home, or Airbnb. An Airbnb will almost certainly be better furnished and feel more like a home away from home. However, most hotels and guesthouse rooms now have a refrigerator, tea and coffee making facilities (with the ability to boil water), and maybe even a microwave.
It's usually a good idea to double-check ahead of time to see what will be available to work with. This will provide you with an idea of how to prepare baby meals at your hotel. If there isn't a refrigerator or a kettle, make a request and explain that you're travelling with a baby. It's a good idea to book someplace else if they oppose or reject.
Read: Is Traveling A Hobby? The Ultimate Guide To An Exciting Way Of Life Learn about the Downsides Of Traveling As A Hobby

When Traveling with a Baby, What Food Should You Bring?
If you're just going to be gone for a few days, you may bring your own pre-made baby meals with you. Packing frozen dinners into a cooler box with ice is a simple concept. When you get to your vacation spot, you can immediately put these meals in the fridge to use over the following several days. Longer journeys will need a little more preparation.
The best travel baby food includes:
Baby cereal that can be easily mixed with breast milk or bottled water
Made-from-scratch baby food in re-usable feeding pouches
easy-to-heat meal pouches or jars from the store
Avocados and bananas, for example, are soft foods that can be readily mashed with a fork.
Plain yoghurt that does not need any processing.
Kit for Solids Feeding
Food Storage for Babies on the Go
Going on vacation does not have to be put on hold because you have a child. Traveling with your baby is simple if you have decent baby food storage and a little forethought. Regrettably, as your family expands, so will your baggage. Make sure you have a dedicated baby bag with all of the required teats, bottles, reusable food pouches, bowls, spoons, towels, and bibs.
When you're out and about, Tupperware or plastic containers come in handy. Not just for nursing the baby, but also for keeping all of the dirty laundry when you return to your hotel room.
How to prepare baby food at the hotel
Making baby food at a hotel is simple as long as you have access to a fridge and warm water. Here are some suggestions on how to prepare baby meals in a hotel room:
Preparing baby food with warm water
Remember that infant food should only be warm, not boiling. It won't take long for a baby bottle, reusable food pouch, or jar to warm up in a hot bathroom sink.
Getting the help of a portable warmer
The Cherub Baby Click and Go Travel Bottle Warmer is the ideal baby bottle warmer for use on the go. It's lightweight, reusable, and warms up quickly. This cordless portable bottle warmer does not need a power outlet, making it ideal for travel and hotel stays. With the click operated heating technology, just click the disc within the gel pack to heat your formula or breast milk. It warms and keeps reusable baby food pouches, breast milk bags, and baby bottles warm.
Because of the adjustable heat wrap, the Cherub Baby Car Bottle and Food Warmer can fit most jars and bottles. A USB cord and a power bank are now included with this auto bottle warming. So you'll never have to worry about running out of electricity or a baby milk warmer again. Simply use the warmer with the power pack to warm formula, breast milk, and baby food whenever and wherever you want.
While some parents choose to prepare their baby's meals in the microwave, we do not suggest it for warming. Microwaves don't heat uniformly, which might result in hot patches that burn your baby's mouth. If you happen to have one in your hotel room, it's ideal for sterilizing your baby's bottles, teats, cups, bowls, and spoons. Bring a pack of microwave sterilizer bags with you, which are convenient, fast, and safe to use.
You can disinfect your baby's gear using a kettle if your room has one, but it's not as simple as using a microwave and sterilizer bags.
Take all essentials with you
Before you go on your vacation, double-check that you have everything your infant or toddler will need for feeding, sleeping, dressing, and bathing. To accommodate for accidents and messes, pack twice as many baby clothing. Unfortunately, not everything is as simple to travel with as you may think. Bringing all of your usual baby gear isn't going to be realistic.
Be ready to make some difficult choices
While it's tempting to depend on hotel amenities for things like showering, this isn't always the best option. In other circumstances, purchasing specialized travel equipment makes more sense. You may acquire a customized portable bathtub that folds flat and fits neatly into your baggage, for example. You can also stock up on certain space-saving travel baby supplies ahead of time, such as body wash, diaper cream, and the smaller can of formula if you are bottle feeding.
Determine how many diapers you'll need ahead of time.
Calculate how many diapers you'll need depending on your baby's current schedule and carry extra. Alternatively, choose a local medicine shop or grocery store near the hotel to stock up on diapers and baby food once you arrive to conserve space in your baggage.
You may also follow Travel and Leisure's advice and have your diapers transported to the hotel and ready for you when you arrive. Make sure you have extra of plastic bags on hand to store soiled diapers, separate dirty and clean items, and keep your bottle supplies organized. If you forget, you may always use the ice bucket liners or plastic laundry bags that are already in the room. When travelling with a baby, you'd be astonished at how many smart hotel room hacks you can come up with.
Make a reservation with the hotel ahead of time.
Calling the hotel ahead of time can give you a better idea of what to expect. You can learn more about the tub, sink, and crib. Then you'll know what you need to bring, or change based on your baby's or toddler's age. For families, most hotels have cribs or pack-n-plays available. Knowing these items ahead of time will help you avoid overpacking your suitcase.
If you are concerned about the cleanliness or safety of a hotel crib, you may bring your own pack-n-play. Alternatively, you may bring some additional crib linens. You save the trouble of additional equipment while keeping the area between your infant and the crib mattress clean.
Inquire about extras
Make friends with the cleaning workers when you arrive at the hotel. Extra pillows, towels, and garbage liners can be requested. It's best to order them ahead of time so you don't have to call room service at 2 a.m. after a particularly big blowout. Pillows may be used as a toddler bed rail, towels can be used as a changing station or to block light, and trash can, or ice bucket liners can be used to hold soiled diapers. If you're travelling with breast milk, you may take use of the ice machine to keep things cool.
Make a sleeping area that is dark and peaceful.
Parents, just like at home, seek to create an ideal sleeping environment for their children. If feasible, consider paying a bit more for a suite. Suites provide extra space for a peaceful sleeping area as well as a hangout area for parents who aren't quite ready for bed.
If a suite isn't in the cards, you may always place the crib in a closet and cover it with a sheet to keep the light out. For the greater good, you may even "surrender the bathroom." You may place the infant cot in the bathroom and use the hotel lobby bathroom for nighttime teeth brushing and bathroom crises.
Make an improvised changing table
Do you recall the additional towels you requested? Create a baby changing station with them and the office desk in the room. You could simply put the towel on top of the bed, but having a separate station keeps the room neat and under control.
Make your space baby-proof.
Here's a fast and easy way to baby-proof your hotel room. Bring a roll of blue painter's tape to cover outlets, cushion sharp edges, and keep drapes shut, among other things. It takes off easily with no damage, and it packs neatly.
I like the idea of doing a sweep of the room from your baby or toddler's height. Look for exposed cables and open outlets. Make sure the television is locked up and that the coffee maker is turned off until you need it. Gather any loose objects (think supplementary toiletries products) and place them in a drawer to prevent messes. Place the garbage can out from children's reach. To keep inquisitive toddlers at away, tape up the tiny fridge.
Put a DO NOT DISTURB sign on the door.
If you have housekeeping or management knocking on your door, creating an ideal sleeping environment is pointless. While you're in the room, use the Do Not Disturb sign and chat to the hotel personnel about having your room cleaned when you know you'll be gone. Don't be ashamed to ask for this. The majority of people are aware that newborns need naps.
Forget about room service.
When travelling with a newborn, one of the most difficult things to adjust to was not being able to dine out every night. However, just because you can't eat at the restaurant doesn't mean you have to settle for mediocre room service. Make a list of restaurants you wish to visit throughout your vacation and appreciate the convenience of takeout. You may place an order while out touring and pick it up before returning to the hotel for a restful night's sleep.
You may also have food delivered using a service like Uber Eats, DoorDash, or GrubHub. Don't settle for overpriced room service. You may still enjoy the city's distinct delicacies while ensuring that your children receive enough sleep. You're having the time of your life! Some hotels have regulations prohibiting meal delivery, so double-check. Alternatively, one of you may walk out on the street and get the meal.
Finding easy methods to accomplish "before child" hobbies is one of my favorite aspects of parenthood. Before going on my own experience, I like to learn about tactics and hacks, and I hope this list will be useful to you as you prepare to conquer the hotel with your kid.
Final words
Traveling with a little child might be a terrifying notion. It doesn't have to be that way, however, with a little forethought. Whether it's a weekend getaway or a longer vacation, a little planning goes a long way. Follow these steps and see how you can make food for your baby at the hotel with ease.