If you've read any of our prior packing lists, you'll notice that I like to begin at the bottom. Why? Traveling is fundamentally different from being in a location. Even if the weather is bad, you'll want to spend a lot of time strolling about and soaking in the sights. You don't spend 8-10 hours a day in a hot office, probably with a more attractive pair of shoes stashed under your desk so you can excuse wearing running shoes for your subway journey.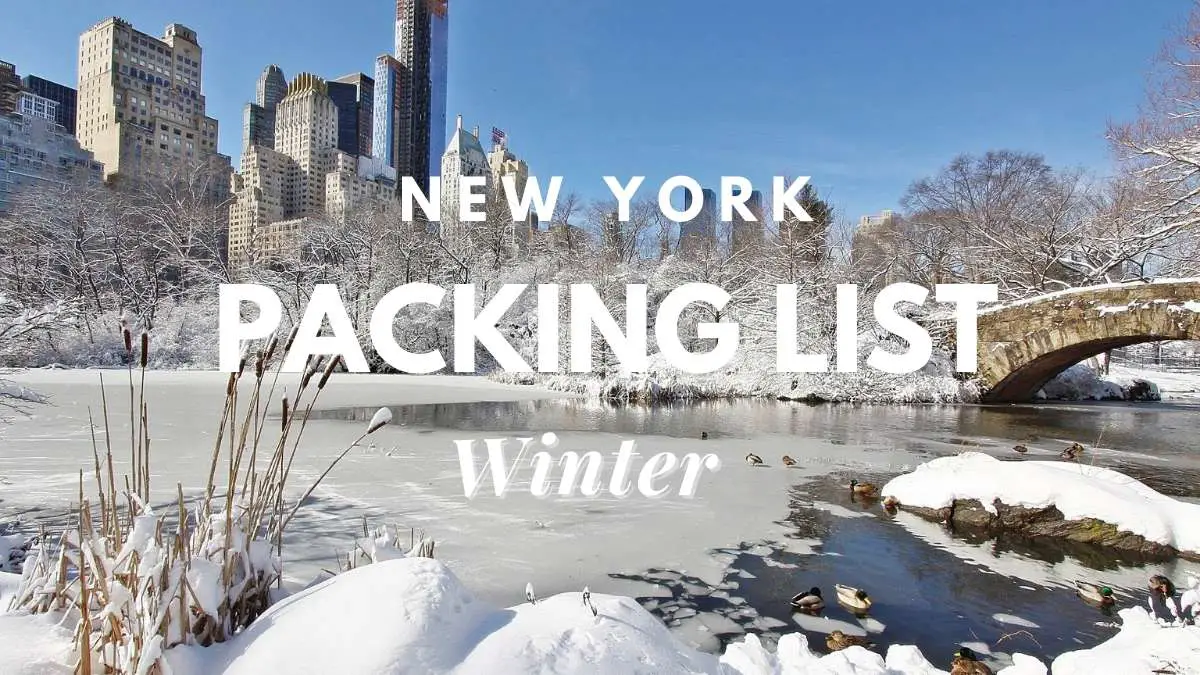 What should you wear during your stay in New York?
So, as a visitor in New York in the winter, what shoes should you wear? In addition to how much baggage you intend to bring, you'll need to consider the weather and your comfort.
We flew to NYC as a family of four with just one (big) bag, so each of us had to make do with only one pair of shoes.
If you choose this way, make sure your one pair of shoes is not only comfortable and weather-appropriate but also adaptable enough to transition from sightseeing to dinner and a play at night.
These short boots kept my feet warm and dry and met all of my demands for a week in the city — they performed well in rain, snow, and wind, and were comfortable enough to walk 15,000 steps in.
They don't appear out of place if the weather is dry and clear (but it's still chilly) since they're short.
As a native Californian, I'm not a big fan of the cold.
For individuals who are used to cold weather, this may be a little much, but I believe it is crucial to carry all of these shirts as layering alternatives, and then depending on the temperature each day, you may choose to wear all, 4 of 5, 3 of 5, and so on.
I start with an extremely soft basic tank top beneath my outerwear since it is kind on my skin and typically reduces the amount of static that might occur due to the dryness of the weather and the jacket materials.
After that, I'll put on a tight but comfortable long sleeve shirt, then a thin sweater that fits over the top.
I usually pack a basic sweater for the day and a somewhat trendier sweater for the evening.
My fleece jacket is my secret weapon since it is the warmest and coziest material for the winter.
If you're shopping for outerwear, make sure you get a jacket that covers your butt!
I swear this is an essential addition to your winter packing list!
I made the mistake of packing a down coat that only came up to the top of my jeans line one year, and it was terrifying.
All of that changed when I received the North Face Metropolis II, a fluffy down coat that reaches to the knees.
It was the ideal length.
It's also waterproof, which is necessary for the event of rain or snow.
Instead, carry a wool jacket (that also goes down to the knees) for fancy nights out to a Broadway musical, a good supper, or a performance at Lincoln Center.
I usually bring my favorite pair of blue and black jeans to wear with all of my winter ensembles in New York.
On the coldest days, I also carry some long thermal underwear and lululemon yoga pants to wear beneath.
On top of that, I always wear my lululemon when I travel.
The long underwear may also be worn as an extremely comfy pajama bottom thanks to the double layering on the bottoms!
If you're going on a business trip, a pair of black slacks, a professional dress with thick tights, or a pantsuit should all be on your winter packing list.
Beanies, gloves, and scarves
Although they are accessories, they are essential for a winter vacation to New York!
Make sure the material on your beanies and scarves does not itch since these products will be on your head and neck all day.
I'd go for a luxurious cashmere scarf.
Also, check out my favorite Amazon beanie; it's incredibly reasonable and has a very attractive shape for your head.
When it comes to gloves, the most significant feature is that they are mobile touch-sensitive.
When you become bewildered by the metro system, succumb, and order an Uber, you won't have to repeatedly draw your hands in and out of your gloves in the bitter weather.
Wool socks are a must-have for your winter wardrobe in New York!
Because your feet are the body portion that is furthest distant from your heart, blood circulation to them is more challenging.
That's why wool socks are essential for keeping your toes warm.
If you have space in your shoes, you may even double layer them with a thin pair of socks.
Speaking about footwear…
I packed a pair of gorgeous combat boots and bright pink running sneakers to New York the last time I visited.
When it began snowing, the issue was that the combat boots were not waterproof and had a worn-out sole with no adequate grip at the bottom, making walking incredibly slippery.
With all of my ensembles, I was obliged to wear my bright pink shoes.
Winter fashion in New York at its best So, to put it bluntly, I stood out as a tourist.
It turns out that the rumors are accurate.
New Yorkers are huge fans of the color black.
In addition, I seemed silly in all of my photographs.
Read: Is Traveling A Hobby? The Ultimate Guide To An Exciting Way Of Life Learn about the Downsides Of Traveling As A Hobby

What should you put in the bottoms of your boots?
Wool socks are the only solution.
They keep your feet warm in the winter, cool in the summer, dry in the swamp, and may be worn several times without becoming filthy.
REI's socks are just the right height and weight.
If you have additional room and will be bringing two pairs of shoes to NYC, instead of just the short boots, try bringing one pair of tall boots and one pair of ordinary shoes.
Tall boots are the solution if you want to look like a New Yorker in the cold.
In case of the dreaded slush puddles, make sure they're warm and waterproof.
As we traveled across NYC in the cold, we spotted a lot of these boots!
Just add some thick wool socks underneath and you'll be ready for even the worst weather New York has to offer.
They're a little on the pricier side, but owing to wool's anti-stink characteristics, you'll be able to wear them a few times.
However, if the temperature drops to 50 degrees and the sky clear, those towering boots will seem out of place!
As a result, combine your tall winter boots with a pair of normal shoes as a backup.
What are the greatest walking shoes to wear in New York City? Depending on your taste and demands, I have two choices to suggest.
What to dress in the winter in New York
Maybe you detected a pattern in the footwear choices above? That's correct, the whole outfit is black.
While the cliché of every New York woman dressed head to toe as if she's going to an extremely fashionable funeral isn't quite accurate, black is likely to be at the heart of most winter looks in the city.
When it comes to creating a vacation capsule wardrobe, black is the simplest neutral hue to work with (get more details here).
Simply add a few neutrals (read: black) and one or two flashes of color, and you're done.
Fortunately, with proper layering, your winter packing list in New York does not need to be a mile long.
Trying to figure out how to fit it all in?
Check out our in-depth evaluations of the top women's travel bags.
What is the most critical thing on my winter packing list for New York?
Long underwear is a must.
I'm not sure whether locals wear them, and I don't mind — I'm a wimpy Californian, and it's always below freezing in New York City in the winter, with or without wind chill.
I just wish I had purchased both a top and a bottom.
Leggings can be worn under ordinary trousers in a hurry, but my experience has been that the leggings I purchase are too thick to be comfortable under another pair of pants.
Merino wool base layers are another excellent alternative.
They breathe well while keeping you warm, and the antibacterial wool keeps you from stinking up heated rooms when the temperature rises by 60 degrees in a matter of seconds.
I like this one and have only lusted for it multiple times — the mixed material is nice and non-itchy.
As a base layer, they also produce matching merino pants.
What do you wear over your long underwear?
You can get away with two pairs of black trousers or jeans (in case one gets wet or filthy) and three sweaters, whether you're traveling for a long weekend or a whole week.
At the very least, one of those sweaters should be toasty! For the coldest days, put a long sleeve t-shirt between your long underwear and a sweater.
In comparison to shorter sweaters, I enjoyed my longer sweater since it provided a bit more coverage and warmth.
However, if you layer appropriately, you won't need to carry as many clothes as you may think.
I usually pack a long necklace (or two) to accessorize, and my absolute favorite is the Kendra Scott Rayne, which comes in a rainbow of hues to complement every outfit.
I also pack a short necklace, such as this one, to go with low-cut tops.
In the winter, you'll need the following items on your New York packing list.
What else should you pack for winter in NYC except clothing? The name of the game is "weatherproof."
We had taken a perfectly waterproof bag with us by accident, as luck would have it!
That came in useful during our week in New York in January, when it was snowing and pouring rain.
While carrying a handbag or tote bag is lovely, when you're going about the city all day and need to carry a drink, an additional layer, and all the other daily requirements, a beautiful backpack wins for comfort and convenience.
Keep it near to you on public transportation, either on your lap if you're sitting or on your front, if you're standing.
This one seems to be a good alternative, particularly since the zipper is concealed behind your back; nevertheless, depending on the evaluations, I'd definitely spray it with waterproofing spray just to be cautious.
What are the finest winter clothing options for New York?
Long and warm, as with everything else, is the name of the game!
Almost every lady we saw (including myself) was dressed in a hooded black puffer coat that was mid-thigh or longer.
I chose a cheap packable puffer since I haven't required a winter coat in a long time and didn't want to lug about the weight, and it was a Big Mistake.
If there's one piece of advice I can give you about what to wear in New York in January or February, it's to invest in a very warm coat.
I suggest testing out a couple of them ahead of time to pick one that is right for your body, budget, and level of cold sensitivity.
When preparing for a winter vacation, you'll obviously want to carry a scarf.
Another blunder I made was bringing an infinity scarf with me (which was all I had available at the time since everything else was in storage).
When the 40mph wind gusts roar across Manhattan, a plain old-fashioned scarf is preferable because you can wrap it over your whole face.
Final words
Now you know what you need to pack when you are planning to stay a winter in New York. Adhere to this guide and you can make your stay more comfortable.