Are you looking for Lake Ouachita houseboat rentals? Then there are quite a few options available for you to consider as of now. If you want to spend quality time with your family or friends, we strongly suggest visiting one of these Lake Ouchita houseboat rental locations. All of the locations we recommend here are completely furnished and equipped. We encourage you to go through the options and pick the best houseboat rental out of them to secure a quality time.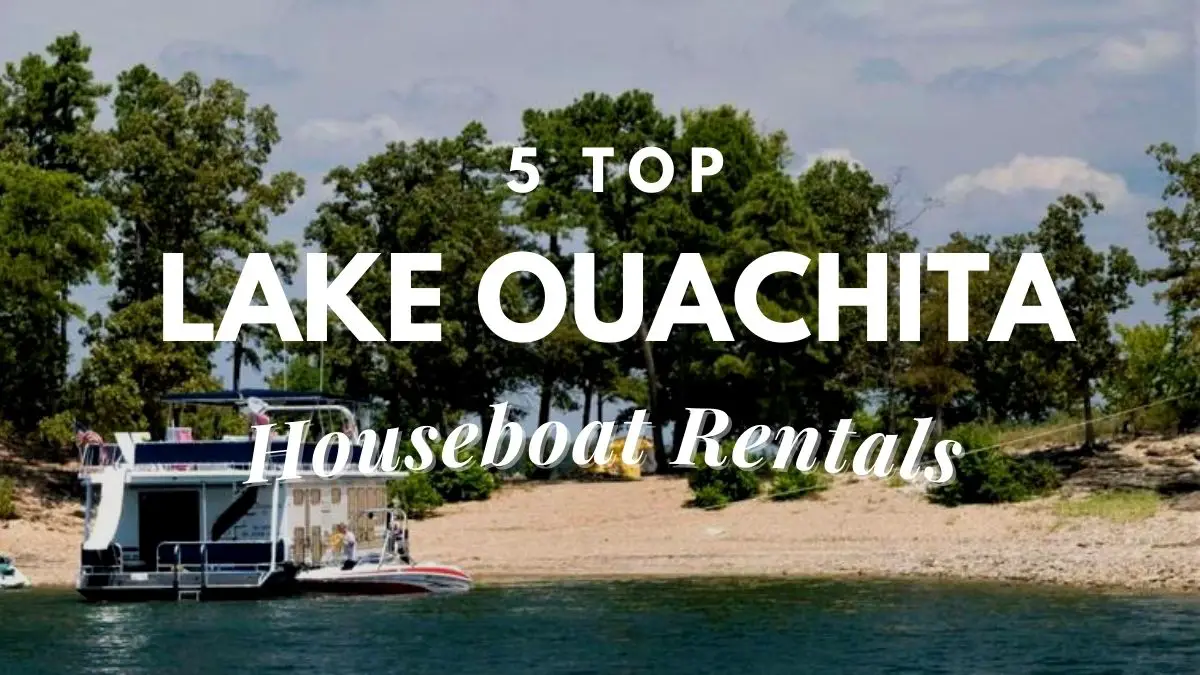 1. Rent a luxury houseboat from Wake Zone
A family-run business that owns three luxury lake Ouachita houseboats is offering this for rent. You may have a pleasant stay in these luxury houseboats thanks to their abundance of facilities and tastefully furnished suites.
It has two bathrooms, a fully functioning kitchen, and seven bedrooms. You may adjust the interior temperature of the boat to your preferences thanks to central heating and air ducts. Additionally, they provide all the large appliances you could need while visiting.
Water slides, wet bars, and hot tubs are available alternatives to add even more adventure and relaxation to your trip. They also provide cheap off-season rentals for the houseboats they provide. These houseboats come in a variety of sizes, and 8 to 16 people may easily and comfortably remain there.
Read: Is Traveling A Hobby? The Ultimate Guide To An Exciting Way Of Life Learn about the Downsides Of Traveling As A Hobby

2. Lake Ouchita houseboat rentals
This is an additional choice for renting a houseboat on Lake Ouachita in Lake Ouchita. Whether guests arrive with their complete family or a large group of friends, this is the ideal choice. This is the ideal location to visit if you want to have leisure time, have sightseeing possibilities, or go on an adventure.
This houseboat rental has comfortable patio seats, a canopy, a swim platform, and even a personal water slide. Divers flock to Lake Ouachita because it is such a great diving location. They provide enjoyable activities including largemouth bass fishing in the center of the lake, scuba diving, and snorkeling.
Visitors may easily enjoy scuba diving in Lake Ouachita's crystal-clear water when they arrive in the center of the lake. Additionally, visitors don't have to worry about comfort since this location has boats that can accommodate up to 14 people. They have six separate bedrooms with opulent queen beds, so you won't have to worry about soiled sofas or bunk beds. In addition, a queen-sized sleeping sofa is available.
3. Anchor's Away
Another choice if you wish to remain in the lake Ouachita area is Anchor's Away. In Lake Ouchita' beautiful Ouachita National Forest, this houseboat is for sale. On this opulent houseboat, visitors to the Ouachita National Forest may take in the 13,000 acres of DeGray Lake. If you provide your family and children the ideal time, this is appealing. This is an additional choice for renting a houseboat on Lake Ouachita in Lake Ouchita.
This Lake Ouchita houseboat rental option is a hidden treasure. For a quiet getaway, they provide six individual bedrooms and two complete bathrooms. A queen-sized couch and reclining chairs may be found in the spacious living room space.
They supply you with the greatest services possible in addition to cleaning services. Various packages are available, and you may choose one based on your preferences. They even don't charge that much for the houseboats they provide.
4. Dream Chaser Houseboat & Water Toy Rentals
A second houseboat rental in Lake Ouachita provides inexpensive possibilities for a getaway with your family or friends. This hotel on water offers both comfort and elegance. They include four to seven private bedrooms, a cozy sitting area, two complete bathrooms, and fully functional kitchens.
This houseboat rental facility in Lake Ouchita is another one that is run and owned by a family. Additional rental amenities are available on seven distinct houseboats, and they may be tailored to the visitor's convenience. Additionally, you might decide to go to North Shores Resort while traveling.
5. The Lake Ouchita Lake Escape
This Lake Ouchita houseboat rental choice is located on Diamond Lake and offers the ideal escape for an opulent and relaxing vacation. They ensure tourists' happiness and relaxation during their vacation since they are close to the national park in Hot Springs, Lake Ouchita.
This rental property is suitable for big parties and provides an exciting stay for friends and family.
The Houseboats are soundproof and quiet enough to make your vacation calm and worthwhile away from the city hustle. They have a variety of water slides, a barbecue grill, a fully equipped kitchen, and excellent and spotless lodging. If they choose this rental, any family or party may have a good time on their trip.
Renting a houseboat at Lake Ouachita
The locations listed below provide a wide range of facilities and excitement for visitors of all ages. Water slides and a clean environment are just a few of the features that keep youngsters and adults entertained. Just be sure to verify the features and other pertinent information before making any reservations for houseboat rentals in Lake Ouchita.
Due to the high cost of houseboat rentals in Lake Ouchita, the state also provides speed boat rentals, which enable tourists to creatively enjoy lake life.
Visitors may choose from a variety of alternatives based on their intended spending limit. There are lots of things to do aboard these houseboats on Lake Ouachita to keep everyone happy and entertained the whole time you're there. You may navigate the lake's depths by knee boarding and tubing on certain cruises until dusk. Visitors might anticipate getting even greater discounts or exclusive packages if they go during off-peak times.
Useful tips to get the most out of houseboat rentals
Now you have a clear idea on how to go ahead and get the most out of Lake Ouchita houseboat rentals. If you are impressed with these opportunities, you will be determined to go ahead and locate the most appropriate houseboat rental that will cater to your needs. While you are looking for that opportunity, you will also come across multiple confusions. That's why we thought of sharing some useful tips with you. You just need to keep these tips in the back of your mind and look around for houseboat rentals. Then you can end up with finding the best and the most appropriate houseboat rental that will cater to your needs.
 You needn't carry as much as you would assume.
On your houseboat, the majority of what you'll need will already be waiting for you. Each model comes with a variety of accessories, including pots and pans, mugs, towels, microwaves, and culinary utensils. This frees up space for the necessities that you won't want to forgo, such as bottled water, sunscreen, sunglasses, clothes, toiletries, shampoo, soap, toothbrush, beach towels, and so on. Still unsure on what to bring. You may take a look at the website of your houseboat rental services provider. That's where you will be able to gather all sorts of useful information with related to the houseboat rentals. This will assist you to clarify the doubts you have. But if you still have any doubts, feel free to get in touch with the houseboat rental company directly and ask about them.
You should consider renting a boat.
Renting a few personal watercrafts is a must if you want to go all out on your houseboat vacation (and let's be honest, who wouldn't?). You have the opportunity to explore more confined areas of the lake and experience an exhilarating rush. They're also useful to have around while looking for spots to beach your houseboat. Having a smaller watercraft, in our experience, greatly decreases undercarriage damage to the houseboat since they are often the first to see potentially hazardous rocks ahead.
Powerboats, fishing boats, and personal watercraft are available for hire at Lake Ouachita in addition to houseboats. Visit the website to find out more about our boats.
You must prepare the meal.
You'll need to bring a sizable quantity of food that will last you the whole vacation, unless you want to go fishing for supper every night. We advise our visitors to assign one or two individuals to handle the meal. That requires you to ensure you have enough food for the whole team for breakfast, lunch, and supper. Remember that everything will need to be prepared aboard, so try to make things simple. Consider prepared foods like sandwiches, breakfast items like pancakes and eggs, burgers and hot dogs, and prepared dinners.
You should also remember to include any items you typically use every day as well as your favorite home-grown seasonings. To ensure that everyone in your company is aware of the daily menu, think about developing a meal calendar and sharing it with everyone. They are welcome to bring along any extra meals to add to the freezer on board if there are any anomalies.
You'll need to be aware of certain expenditures.
It's crucial to estimate a more precise price while traveling on a houseboat with friends and paying individually so that no one ends up spending more than necessary. These expenses consist of the reservation deposit, petrol and oil, the pet charge (if you want to bring a pet), the option of early boarding, and trip cancellation insurance (optional).
While the majority want payment in advance from their group, we really advise waiting until the conclusion so all expenses may be taken into consideration. By doing this, you may prevent having to hassle your pals after they've already given you money.
Prior houseboat driving experience is not necessary
Don't worry if this is your first time running a houseboat. You will quickly get the necessary knowledge and skills from our team to feel comfortable navigating the ocean on your own. Pay attention to the directions and ask any questions you may have while you're there. Of course, in the event of an emergency, we will always be reachable by phone or radio.
Keep an eye out for other boats and big rocks, and everything should work out nicely. Having a co-captain to act as the captain's second set of eyes is beneficial. Having extra assistance is often beneficial, particularly in the beginning when you are still getting acclimated to the procedure. This is quite a useful tip, but most of the people just ignore it. If you are willing to get the most out of your houseboat rentals, make sure that you don't ignore this tip. Then you can end up with enjoying the most out of your houseboat rentals, and you will never have to worry too much about anything at all.
Wise friends and relatives.
The thought of piloting a vessel of any kind for the first time may be extremely intimidating for most individuals. A houseboat may seem more like a spacecraft than a vehicle to someone who has never driven even a modest boat.
First-time houseboat renters often have a considerably better experience if they have access to someone who has managed the enormous vessels. They may provide advice on safe operation, safe mooring, safe tying out, and certain often used terms. Ask around, and you'll undoubtedly find someone who is knowledgeable enough to make your houseboat holiday a success.
Websites and publications found on board.
Once you've decided on a marina, you should look up the website of the related business to go over their regulations and make your houseboat reservation as soon as feasible. There, you may learn more about every service offered at the resort of your choice.
An established lakeside marina's well-maintained website will be updated often to reflect any changes to rental policy and operating hours. Additionally, both online and on board, there are helpful glossaries and operating manuals for boaters who are considering renting a houseboat. The website will usually contain all important pieces of information with related to the houseboat rental. Therefore, it is a must for you to check and see whether your specific houseboat rental has a website or not in place.
Marina management and crew.
Who better to ask questions of than folks who regularly use the model of houseboat you've decided to rent? Regardless of their position, marina employees and management often have a wealth of advice to provide.
Additionally, workers at marinas who do repairs are well-versed in houseboats. It's possible that a single vessel has a little flaw, but the experts who maintain them will be aware of the problem and move fast to assist you comprehend your leased houseboat.
Inventory lists for houseboats.
You will need to know what will be provided on the houseboat and what won't be before you arrive. This helpful tool, created by the marina of your choice, may be used as a checklist to help you remember everything you wanted and required for the next vacation.
Houseboat rentals often do not include with any additional equipment like fishing boats or PWCs. All of them will need to be addressed before your reservation, and the paperwork will be finished when you get there. You should also consider if you need to pack any cooking, bathroom, or sleeping goods.
Maps of the neighborhood.
Numerous inland lakes, particularly those of any significant size, fluctuate quickly and frequently throughout the year. A freshly released map must be the most crucial resource for anybody who plans to boat on a major canal. A paper or waterproof map is preferred under these circumstances since smartphone applications may become obsolete or lose coverage.
Boat operators must be well-aware of any changes in depth and the locations of potentially dangerous circumstances in order to lower the possibility of collision or running aground. Additionally, a map is more likely to contain recently posted slow-speed and no-wake zones the more recently it was released.
Looking before you jump and knowing before you go are two great bits of advice for anybody planning a houseboat trip. Even if you have experience operating these types of boats, it may still be a good idea to review your expertise. The whole family may then take a summer vacation without any difficulties or mishaps.
Final words
This was the definitive list of Lake Ouchita houseboat rentals for your perfect holiday with family or friends. All of the aforementioned rental providers offer various bundles and incentives.
For special offers and other package deals on the rental fleet, always visit their official website. There are several excellent choices, including Greers ferry lake on the Lake Ouchita River, smoke-free houseboats on the lake, Lake Ouchita fun cabin cruisers, and kitchen air conditioning. Even scuba equipment is available at significant reductions. Check the official website, then.
Additionally, we urge tourists to reserve houseboats in advance of visiting. Regardless of the choice tourists choose, they can be sure to have a good time with their loved ones and have access to first-rate amenities since there is always a risk that others will already be on the houseboats if they are not reserved in advance.