In northern Minnesota, Voyageurs National Park is a secluded and beautiful wilderness. The park provides a broad range of activities, from boating to hiking, as well as a number of noteworthy attractions to view along the route. Four huge lakes and several smaller ones may be found throughout Voyageurs National Park. The Ellsworth Rock Gardens and the Kettle Falls Hotel are famous tourist attractions, as are the visitor's centers. Keep reading this Voyageurs National Park itinerary for the ultimate itinerary if you're not sure what to do or where to go next during your vacation to Voyageurs National Park!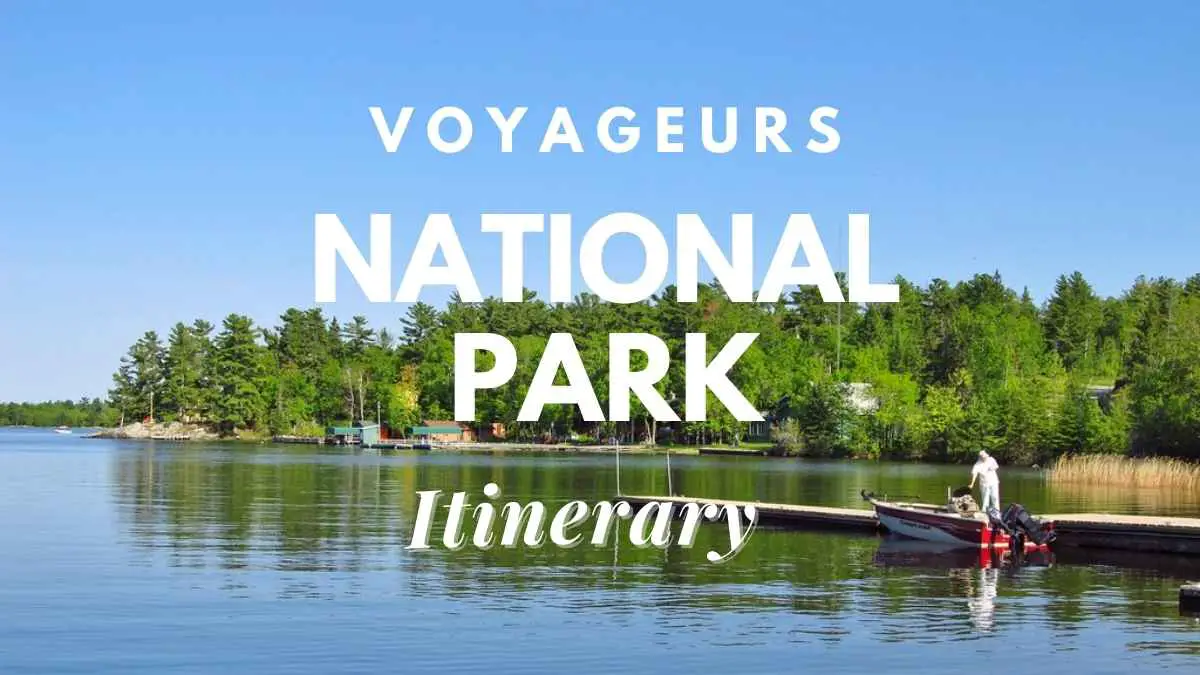 What can you expect at the Voyageurs National Park?
These Voyageurs National Park itineraries are available in two durations. In a one-day pit stop, you'll get a brief overview and a number of outstanding spots. The other is a three-day schedule for exploring Voyageurs National Park, which offers a little more variation. But don't restrict yourself to just a few days! If you like being outside, you could easily spend much more time here taking in all of the natural beauty!
Voyageurs National Park is one of America's most distinctive national parks, located in the far northwestern corner of the state. Water covers nearly 40% of the park, with four big lakes and 26 smaller interior lakes. The remainder is made up of wooded mainland and small islands.
Hiking, camping, boating, and enjoying park-operated ferry excursions are all popular activities in Voyageurs. I recently got the opportunity to visit Voyageurs and had an exciting boat voyage to numerous islands. One of the greatest spots in the continental United States to watch bald eagles is Voyageurs National Park. On the boat voyage alone, we spotted ten!
Do you want to check out Voyageurs? Here's a handbook with all you need to know, including a list of things to do, summer and winter activity options, park fauna, and answers to other frequently asked questions.
Read: Is Traveling A Hobby? The Ultimate Guide To An Exciting Way Of Life Learn about the Downsides Of Traveling As A Hobby

Voyageurs National Park: Basic Information
A map of Voyageurs National Park shows the park's proximity to the Canadian border. When you're out on the water touring the park, it's often difficult to identify which islands belong to Canada and which to the United States!
There are three tourist centers in Voyageurs. The Rainy Lake Visitor Center near International Falls, Minnesota, is the only one that is open all year. Kabetogama and Ash River, the other two, are usually accessible from late May to September. The term Voyageurs is derived from the French word voyageur, which means "traveler." During the 1700s, French immigrants and Native Americans in the region exploited these streams for fur trafficking. By 1780, the Ojibwe tribe had taken control of the region, and they often dealt with European merchants.
Read: Voyageurs National Park Houseboat (What You Should Know)
1. Ojibwe scene at Rainy Lake Visitor Center
Around 230,000 individuals visited Voyageurs in the most recent year for which data is available. That was barely enough to keep it off the list of the Top 10 Least Visited National Parks! The remoteness is definitely the explanation for the modest number of tourists. It is not in close proximity to any big cities.
By automobile, it takes three hours to go to Voyageurs from Duluth, four hours to get to Grand Forks, North Dakota, four hours to get to Winnipeg, Manitoba, and five hours to get to Minneapolis. Because it is so far north, even many longtime Minnesota residents have never visited Voyageurs.
2. Lake Kabetogama
Voyageurs is a five-hour journey from Grand Portage, Minnesota, where you can catch a boat to Michigan's Isle Royale, another distant national park. If you're traveling this far north, you may as well see both parks and cross them off your bucket list.
3. Ferry Rides and Other Activities in Voyageurs National Park
In this woodland beauty, camping and hiking are two of the most popular pastimes. In the next part, you'll learn more about them. You'll also want to go out on the lake to really appreciate the park.
4. Minnesota nature boating voyageurs
The Amik tour boat departs from Kabetogama Lake, while the Voyageur tour boat departs from Rainy Lake. Both are handicapped accessible and may be reserved online in advance. Reservations are recommended in case the restaurant sells out.
5.  A Day Trip to Joshua Tree
From 9 a.m. to 4:30 p.m., the Kettle Falls Cruise includes a visit to the historic Kettle Falls Hotel as well as a picnic lunch break. This tour will cost $50 for adults and $25 for children as of 2021. It does not function on a daily basis. You may book ahead of time without anxiety since tickets are refundable, minus a $3 service charge.
6. Go on a ferry ride
As we set off on a boat journey around the park waters, this is the view from inside the Voyageur. The Grand Tour, a shorter boat excursion that runs every day from 2 to 4:30 p.m., was the cruise I took. This cruise is the one to do if you're short on time or simply want a taste of the park. Adults pay $30, while children pay $15. It includes a quick stop at Little American Island to examine the area's gold rush relics. The rangers who narrate these tour boat excursions are experts in spotting bald eagle nests.
Seasonal strolling garden tours and paddle boat trips are also available at the park. These are free but check with the tourist centers to see whether they are still available. In Voyageurs, fishing and kayaking are other popular activities. Check out the park's list of permitted partners if you wish to hire a private charter boat, rent canoes or kayaks, or hire a fishing guide.
Ice fishing, snowshoeing, snowmobiling, and cross-country skiing are all accessible as winter sports. The park claims to offer 110 kilometers of free winter hiking paths. Snowshoes may be borrowed for free at the Rainy Lake Visitor Center.
7. Visitor's Center at Rainy Lake
During the cold winter months, there are even some ice roads where the lakes freeze, and automobiles are allowed to drive on the ice to get further into the park!
8. Hiking and camping
Within the park, there are just 7 designated hiking paths that are accessible by automobile. A tourist center may provide trail maps. The majority are acceptable for day hikes, but if you're feeling really adventurous, attempt parts or all of the 28-mile Kab-Ash Trail. It's noted for being a secluded route where you may walk for hours or even days without encountering another hiker!
Hundreds of campsites are available in Voyageurs National Park, the majority of which can only be reached by boat. Click here to see the National Park Service's complete camping map (PDF). Tent camping in the park requires bookings in advance. There don't seem to be any campsites inside the park's boundaries that you can drive to. To get there, you'll need to take a boat.
9. Hiking in a small American gold mine
On Little American Island, looking down into Little American Mine, an abandoned gold mine. A few mainland campsites and resorts, such as Pine Aire Resort and Wooden Frog Campground in the Kabetogama region, are not inside the park's official boundary. Food must be stored in bear-proof containers that are hung from a tree that is at least 10 feet tall and out of reach of bears.
10. Wildlife Observation
The big four of Voyageurs NP animals are bald eagles, wolves, moose, and black bears. The park is home to around 150 black bears, and they've been known to get into touch with people who are camping, so take cautious. Grizzly bears are not present in the region.
With almost 1300 pairs, Minnesota has the baldest eagles in the lower 48 states. The park itself contained 42 breeding pairs of eagles at the time of the previous census. If you go on a tour boat ride, you'll almost certainly see several. The West Rainy, North, and East Kabetogama, and West Namakan Lakes are the most popular locations. Look for their nests at the highest tops of towering trees.
11. Moose wildlife adventurers
In Voyageurs, there are only approximately 40 to 50 moose. The Kabetogama Peninsula is home to the majority of them. Cruiser Lake Trail is the greatest area to watch them throughout the summer, according to the park.
Gray wolves reside in the park in groups of 6 to 9, although they are seldom spotted. If you're fortunate, you could see one crossing a park road near a visitor center or along the beaches of the bigger lakes in the winter.
Deer and smaller creatures such as otters, hares, foxes, beavers, and porcupines may be seen by visitors. Bird enthusiasts adore the Voyageurs, which are home to owls, loons, warblers, and other species in addition to eagles.
Is there a charge for admission?
Voyageurs National Park, unlike many other national parks, does not charge an admission fee. Woohoo! If you opt to book a tent, take a ferry journey, rent a houseboat or kayak, or hire a fishing guide, you'll just have to pay. As you get ready for Voyageurs National Park itinerary, you should keep it in your mind as well.
What's the weather like in Voyageurs National Park?
High temperatures in the mid-70s F are common from June through August, although lows may still fall into the 40s, with rain on occasion. Take mosquito repellant with you! Snowfall may be substantial in the winter, and temperatures can drop below zero at night.
Is there anything historically significant in the park?
There aren't many. The park's greatest draw is its natural beauty. The Kettle Falls Hotel is one of the few places on the National Register of Historic Places. It was constructed in 1910 and is still in use as a hotel today. It is only accessible by boat. The hotel is served by several of the park's excursion boat rides.
Is it possible to book a houseboat rental?
Yes! At Voyageurs National Park, renting a houseboat for a party is a popular summer pastime. Learn all you need to know about hiring a houseboat and where you're allowed to use it inside the park by clicking here.
Is it possible to bring your pet?
Pets are only allowed in a few spots, including Front country campgrounds and the 1.7-mile Recreation Trail near the Rainy Lake Visitor Center. They're also welcome in all tourist center parking lots.
Do you think you'll be able to view the Northern Lights in Voyageurs National Park?
Yes, on occasion. The aurora borealis may be seen in this section of northern Minnesota on occasion. Because this location has low light pollution, the night sky are frequently clear and visible. To calculate your chances of viewing the Northern Lights during your visit, go to a North American aurora prediction site like this one.
What else is there to do in the vicinity of Voyageurs?
There aren't many other attractions in the area since it's so far north. You may go to International Falls, Minnesota, and then cross the Canadian border. You might go to the George Washington or Kabetogama State Forests. You may also go 90 minutes south to Eveleth, which is home to the United States Hockey Hall of Fame. You can add them to your Voyageurs National Park itinerary as well.