When you want to spend a luxurious holiday, you will think about visiting a hotel. Instead of visiting a hotel, you may think about going all the way on a cruise vacation. It is a great alternative for a hotel vacation. In fact, you can call a cruise ship as a floating hotel. Continue to read and we will share more details with you on why cruise ships are known as floating hotels.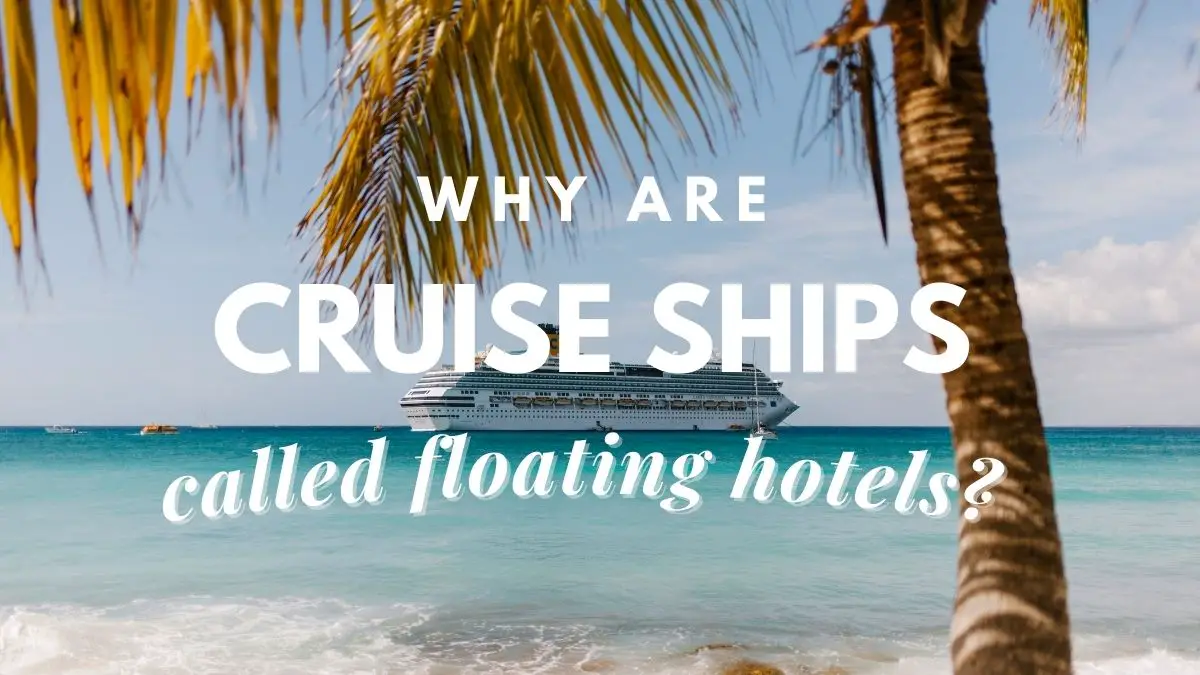 What can you expect in a cruise ship?
Fun abounds on cruise ships, which are intended to keep guests entertained.
Every cruise ship, no matter how big or tiny, will feature bars as well as a theater or lounge with live music, dancing, and magic or comedy performances.
Even tiny ships include spas and fitness areas.
Larger and newer ships typically have many more venues onboard than their smaller equivalents.
Jogging tracks, casinos, basketball courts, libraries, kids and family areas for play and learning, card rooms, conference facilities for large group activities, picture and art galleries, and stores selling anything from tchotchkes to high-end items may be found aboard those enormous ships.
Video arcades, waterslides, mini-golf, putting greens or driving ranges, numerous pool sections, water slides, and poolside movie screens are all available on some ships.
On certain ships, the popular mainstream cruise lines go overboard with onboard events.
Royal Caribbean, for example, has a surfing simulator at sea, as well as bungee trampolines, ice skating rinks, rock climbing walls, bumper cars, ziplines, and simulated sky diving on several of its ships.
In some of the ships such as, Carnival Cruise Line and Norwegian Cruise Line include ropes courses, go-karts, trampoline parks, and laser tag, while Regent Seven Seas Cruises and Oceania have rooms intended for hands-on cookery workshops and demonstrations.
Read: Plane VS Cruise Ship On Vacation – What Is The Best Option?Learn about which one is better?
What is the best way to travel about a cruise ship?
Some cruise ships are massive, like floating multistory resorts.
On ships, "floors" are referred to as "decks," and moving from one to the next may need the use of an elevator.
Several elevator banks are strategically positioned in the front (front), center (midship), and back (aft) of most big cruise ships.
Midship elevators may include additional aesthetic elements, such as glass walls that provide a view of the bustling lobby area below as you ascend and descend.
Usually, where there are elevators, there are also stairwells.
The midship stairs in the central foyer, or atrium, tends to be a beautiful, curving staircase, great for formal portraits as well as handy for traveling to the next deck, although most are just practical.
Certain behind-closed-doors elevators and stairwells are designated for the ship's personnel; nevertheless, passengers would have access to these stairwells in an emergency.
Small ships (such as river cruise ships) with only a few decks may not have elevators at all or may have only one between the main deck and cabin decks.
If you have mobility difficulties, pay close attention to deck designs, especially on smaller ships.
Read: Is Traveling A Hobby? The Ultimate Guide To An Exciting Way Of Life Learn about the Downsides Of Traveling As A Hobby

Concierges and front desk workers work at hotels. Is it the same for ships?
Both yes and no.
"Guest services" desks aboard cruise ships provide services comparable to those provided by hotel front desk clerks.
For the most part, all passengers do not have access to a genuine concierge (exceptions are some high-end cruise lines and river ships).
Aside from that, many suite guests have private concierges who can help with dining and spa bookings, and some luxury cruise cabins have butlers who can do the same.
What to Expect from Cruise Ship Suites
Guest services offices are frequently near shore excursion counters.
Passengers can pick from a variety of ship-sponsored activities onshore at various locations.
Some cruise companies, like Celebrity Cruises, provide shore excursion concierges that may assist guests in booking unique excursions if the regular selections aren't appealing.
Read: Why Are Cruise Ships So Expensive [Answered]Learn about the crew's size and pay
Is there an ATM onboard my cruise ship?
Yes, most large cruise ships feature ATMs, which are usually found around the atrium/lobby sections or casinos.
Keep in mind that sailing is almost entirely cashless; you'll charge the majority of your expenses to your onboard account by swiping your cabin keycard.
Onshore, at the casino, and for tipping crew personnel, cash is accepted.
Many ships also provide guest services where you may exchange cash for foreign currencies; you can typically locate locations to swap money near ports as well.
If you're on a Caribbean cruise, you'll almost certainly be allowed to use your US dollars in port.
If you're traveling to another country, your best chance is to exchange money at a bank before boarding the ship.
Is it possible to use the Internet onboard?
It may seem like a silly thing to ask in these day of 24/7 connectivity, but it's nevertheless a problem aboard cruise ships, where Internet speeds may be slower than on land.
You'll have to pay for Internet connection on most cruise ships, and it's not cheap.
Most cruise ships feature public Internet cafés where you can walk in, pay for a plan, and surf or print documents on the ship's computers.
(There may be an extra charge for the latter.)
It's not a true cafe where you can buy scones or coffee, despite the name; it's more of a computer room.
What's Included in Your Cruise Fare?
Related: Fee vs. Free: What's Included in Your Cruise Fare?
Of course, you may use the ship's Wi-Fi if you bring your own gadgets.
Payment for your package may be made at the Internet cafe or immediately on your device; costs will be added to your onboard account.
Read about what to anticipate with onboard Internet for additional information about accessing the Web at sea.
Read: [18 Reasons] to stay at a hotel instead of airbnbLearn about that you can switch suites or rooms as needed
Is there a medical professional on board?
Onboard medical facilities with physicians and nurses are available on most cruise ships.
If you become ill or wounded while on your trip, or if you need bandages or seasickness medicine, you can go to the medical facility.
Private insurance is not accepted at the medical facility, therefore be prepared to pay for products and services.
If you just require over-the-counter medications, cruise ship shops have aspirin and antacid.
Learn more about being sick on a cruise in this story.
Is it possible to shop onboard?
Even the tiniest ships generally include a store where you can buy souvenirs from the ship or the cruise operator, as well as basics like toothbrushes and sunscreen.
Shopping, on the other hand, is huge business, and larger ships will have numerous stores where you can buy clothes, jewelry, duty-free booze, and cigarettes, as well as high-end purses, cosmetics, and perfume.
Specialty shops, like as chocolate and confectionery shops, are also available on some ships.
Find out more about shopping while on a cruise.
Is there a vending machine and an ice machine onboard?
No, for the most part, however certain river cruise ships do have ice machines.
But don't be concerned: Your ice bucket will be filled by your room steward, who is responsible for cleaning and caring for you during your vacation.
Simply inquire.
You won't find snack vending machines onboard your cruise, but you can get your junk food fix at one of the stores.
Alternatively, you can bring your favorite salty or sweet treats from home and store them in your cabin.
In the buffet or on the pool deck, many ships include self-service drink stations (for coffee, tea, and hot chocolate) and soft-serve ice cream machines that are available long after the meal service hours have finished.
Is it possible to wash laundry on the ship?
You may always send your filthy clothes to be washed and ironed, but you'll have to pay for the service.
Onboard laundries are available on certain ships (but not all), where you may buy soap and fabric softener, wash your laundry, and even iron your clothing.
Clothes irons are forbidden on cruise ships otherwise.
You'll need money on certain ships; on others, you'll be able to pay using your room keycard, which you'll use to pay for almost anything you buy onboard.
On a few luxury cruise lines, such as Viking Ocean, Seabourn, and Cunard, self-service laundry is included.
Read: [16 Reasons] To Stay At An Airbnb Instead Of A HotelLearn about the exclusive Airbnb discounts
Is it possible to be married aboard a ship?
It varies by ship; some major ships have wedding chapels where wedding rituals are held.
Typically, the venues are modest yet private, with non-denominational décor.
Flowers, for example, can be added for an additional charge.
Onboard weddings are often hosted at a bar or lounge.
Learn about the greatest lines for weddings.
Worship sessions on your cruise ship will most likely take place in the chapel or an unoccupied conference room.
On cruise ships, services are often informal; most are haphazardly arranged and generally led by passengers, but clergy is frequently called onboard for special occasions such as Christmas.
Is there a public restroom on board, or do I have to return to my cabin?
Public restrooms are available on cruise ships and are usually placed near large public areas such as the theater, major dining room, and pool.
Most will be able to accommodate wheelchair users; if not, chances are you'll be able to find special bathrooms for people with disabilities nearby.
Changing tables for infants and toddlers are not available in all public restrooms.
Inquire with guest services about the family-friendly restrooms.
What's the best way for me to locate all the fun stuff aboard my ship?
A lot of modern cruise ships include touchscreen kiosks or panels where you may find out where you are and the best path to your destination.
These are usually seen near elevators and stairwells.
Many cruise lines have developed proprietary applications that you may use to help you navigate the ship; most of the apps include full deck layouts with locations of various venues.
Of course, you may always stick to the tried-and-true method: Pick up a paper copy of the deck blueprints from the guest services desk; most are pocket-sized.
Additionally, static signage near the elevators and stairwells will provide a map of the deck you're on or indicate which decks have the primary attractions.
Will the bars and restaurants on board the cruise ship be open?
Yes, a few pubs and restaurants will be open that first day, and they will all be open in the evening.
Upon boarding, cruisers swarm to the buffet for lunch, causing it to become congested with guests and their carry-on luggage.
If any other meal alternatives are available, look into them.
If you're thirsty, the poolside and atrium bars will undoubtedly be open, with roving waiters serving delicious cocktails.
Is it okay for me to go swimming?
Yes, of course! Pools and hot tubs, as well as waterslides, are available on the first day, and they're generally empty because many cruisers don't think to utilize them.
In your carry-on luggage, don't forget to include a bathing suit.
If you forget, you may still relax on a lounge chair and enjoy the sunshine.
Is there anything I need to take care of once I board?
If you're thinking of going to a Speciality restaurant or getting a massage, make your bookings as soon as possible because the best times fill up rapidly.
Here's where you should go: Dinner reservations may be made at your preferred restaurant, shore trips can be booked at the excursions desk, and beverage packages and soda cards can be purchased at the front desk or at designated kiosks.
Depending on the ship, passes for adults-only sun deck areas and thermal suites can be purchased at the registration desk, spa, or adults-only area.
You may also book space in for-fee adult-only sections there.
If you're traveling with children, visit the children's club to register them for activities.
Contact your cabin steward if you have any specific requirements for your cabin, such as altering bed arrangements from a queen to two twins.
Final words
Now you know why cruise ships are called as floating hotels. A cruise ship offers everything that you can expect to get out of a hotel with a new experience. Hence, you may think about going on a cruise vacation the next time