Floras Lake State Park is located in southwest Oregon and is a less popular area of the state. There is no better place if you like scenic hikes and gorgeous walks! If you like the outdoors and adventure, you'll find visiting one of Oregon's most underestimated regions to be quite rewarding.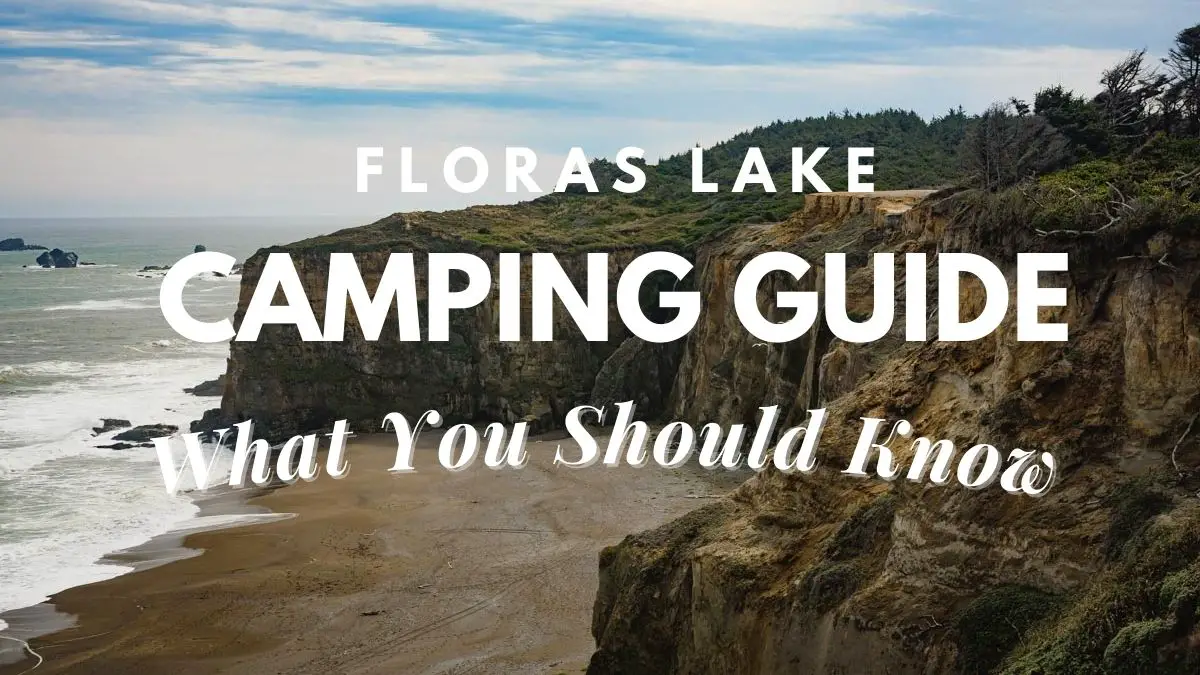 The hiking trails, water activities, and picture-perfect scenery are the major attractions of Floras Lake State Park. You may enjoy a few great routes that we've described in this article, a lengthy beach backed by rust-colored cliffs, and a lake designed for explorers! We must confess that this location is quite well-kept-secret, so how about we keep this location to ourselves? On this Floras Lake camping guide, we will be sharing all important information that you need to know about camping at Floras Lake.
What is Floras Lake?
Fans of water sports using wind power frequent Floras Lake, which is widely recognized for its location. Coastal winds regularly buffet this freshwater body since there is just a tiny dune and beach separating the lake from the ocean. Both kiteboarders and sailboarders like the lake's ideal combination of natural features and topography, and because visitors to Boice-Cope County Park may camp there, it's simple to wait for the proper weather.
The region surrounding Floras Lake is home to some of the same rare plant species that are explained at the New River Learning Center. Floras Lake is a component of the New River Area of Critical Environmental Concern. Nearby snowy plovers breed, and Aleutian Canada geese migrate across the lake every year. If your plan involves numerous activities, the Floras Lake Trail is a great option for a stroll through this unusual ecosystem. It is also a simple and worthwhile side excursion.
The New River channel is said to have been built by Floras Creek during a high water occurrence in 1890 as the route heads out from the little parking area. You have two options once you're on the sand route that is around Floras Lake: you may diverge from it after only half a mile and continue on to another short beach access trail, which is about 0.8 miles from the trailhead.
The Floras Lake Trail runs into Floras Lake State Park and links with the Oregon Coast Trail if you're seeking additional places to explore nearby. Here, the trail can be followed as it descended into the denser coastal canopy. If you choose to go back from any of these locations along the beach, keep in mind that many places are blocked from March 15 through September 15 to preserve the snowy plover, an endangered species.
Visiting Blacklock Point Trail at Floras Lake State Park
This short out-and-back route offers stunning panoramic vistas as it travels to Blacklock Point. You start the walk from Cape Blanco State Airport and take one path to the destination. Fantastic views of the coastline can be had from this location. You may also descend to the beach via climbing!
On the Blacklock Point Trail at Floras Lake State Park, there is a view of the cliffs. You must hike the Blacklock Point Trail when you visit Floras Lake State Park. During the wildflower season, which lasts from March until July or August, there are lovely blooms here. The path is dog-friendly.
This trek should be taken if you don't have much time. You will reach an overlook of the waterfall and ocean after going through the forest; from up here, you will undoubtedly get some stunning views.
Blacklock Point Trail hiking
Although this path does not end or go to Floras Lake, you might walk it first and then drive to Floras Lake to conduct further sightseeing to save time. A beach stroll along the shore leads from Floras Lake to the Floras Lake Waterfall Trail. Because of how sandy the route is, walking on it may be a bit challenging. Floras Lake's stunning vistas, nevertheless, make up for it.
The Floras Lake Waterfall Beach Trail's rocky beach
The waterfall will finally be reached from this beach walk. You will arrive at the beach if you continue on the route. You'll ultimately reach the waterfall if you continue walking down the beach while admiring Oregon's breathtaking coastline. If we're being really honest, this is more like a lengthy beach stroll than a hike. There is a sandy route, but most visitors choose to stroll down the beach, which is somewhat more trail than sand. Whether or if you want serious calf exercise would depend on the tides.
Spend some time admiring the natural wonder when you get to Floras Lake Waterfall at the end of the beach before going back the same way to go to the lake. If you wish to pass through the first on your way back, you COULD go farther inland and utilize the Floras Loop Trail…
7.2 kilometers make up the Floras Lake Loop Trail
This route circles in a circle as it goes from Blacklock to Floras Lake. It is a stunning location to watch animals and offers all the breathtaking vistas and sites you could ask for in a state park. The majority of the route is shaded; however it has several switchbacks and may sometimes be fairly small. If it has rained in the area that is wooded, it might also be quite muddy!
Take a break at Floras Lake in the middle of the walk to take in the park's namesake. This might wind up being closer to 8 miles in length since you'll need to travel an additional half a mile to get to the lake before returning.
Everything the two trails stated above have will be on this circular path. The waterfall, Floras Lake, breathtaking beach views in all directions, Blacklock Point's breathtaking vistas, as well as hikes along the beach and into the forest.
Sports at Floras Lake
Floras Lake offers stunning views of the deep blue seas and is a great location for water sports. This is made possible by the northwest winds, which are often 15 to 25 knots each day. Sailboat in the water at Floras Lake near Bandon Beach with a backdrop of wooded hills.
Floras Lake is perfect for windsurfing, although paddleboarding is an alternative on calmer days. Floras Lake Kiting offers equipment rentals. They are open seven days a week from 10:00 am to 5:00 pm from April through mid-September. If you have a kit, you may also bring it!
Visiting Boice Cope Park to camp
Boice Cope Park offers camping if you wish to prolong your vacation. There are power connections, tidy restrooms, and showers in a wide grassy area. It is also conveniently located close to the other areas of the state park. Depending on the time of year and if it is high season, rates range from $20 to $30.
Nearby Attractions near Floras Lake State Park
Cape Blanco Lighthouse, a must-see Oregon Lighthouse. It will help you to explore scenic views of the surroundings. On top of that, you will also be able to get to the top of the mountain and secure a perfect experience of sightseeing.  
For additional distant excursions and walks with breathtaking coastline views, head to Oregon's westernmost point. Visit to enjoy hiking, bicycling, wild camping, and the state's oldest continually functioning lighthouse, the Cape Blanco Lighthouse.
The breathtaking Port Orford shoreline
Visit Port Orford if you're looking for a blend of history and environment! The port at this settlement, which is the oldest on the coast, is still in use. 61 miles of shoreline are also accessible by foot or bicycle.
Humbug Mountain State Park
Humbug Mountain State Park, one of the Oregon Coast State Parks, with coastal views Humbug Mountain State Park on the Oregon Coast
One of the tallest headlands along the coast is located at Humbug Mountain State Park. A 5.5-mile trek will take you to the mountain's peak if you like climbing. The mountain's summit offers breathtaking vistas, and the area offers camping all year long.
Bandon Beach is widely known for its magnificent boulders and rock formations as well as its stunning sunsets. Along the beach, you may go flat tire riding or walking. You can also go to the Cape Blanco and Coquille lighthouses.
Fresh water is found 16 miles south of Bandon, Oregon. Narrow sand dunes separate Floras Lake from the Pacific Ocean. The water at Floras is quite shallow, and the summer breeze is regular but sometimes strong. The whole setting creates a kiteboarding spot that is popular with novices and is user-friendly.
On weekends and holidays when lake traffic is heavy, this popularity among newcomers may also cause some anxiety. Always be on the lookout for the less experienced cyclist. Since the natives are so encouraging of learning, visitors should follow suit. Speaking about natives, Floras Lake Windsurfing is based there and runs a windsurfing and kiteboarding school there. Please don't whine about the jet skis and allow their instructors and customers plenty of space. Keep in mind that the locals have been known to save a few kiters, so be friendly!
During the majority of the season, the north end of the lake has lovely sandy beaches with little dune grass close to the shoreline. You may adjust your habits here if you are used to a packed launch. There is no justification for rigging on top of anybody around the north end of the lake since there is plenty of space. Please be kind and prepared to take a short trek to get some space from other people.
The shallow waters and end of the kiteboard traffic pattern on the west side of the lake that runs parallel to the ocean are ideal for beginners or those coaching beginners. Going to the small cove on the lake's far west side, about halfway down the lake, is an even better alternative for novices. Both windsurfers and kiteboarders are downwind of this location. On a busy day, try to avoid being the newbie learning to relaunch a kite right in the path of oncoming traffic along the north coast.
Final words
Spend a weekend at Floras Lake, a pretty calm state park on the Oregon coast, if you want an adventure as well as a place to unwind and rest. Pay attention to the camping tips we shared in this article. It will help you with securing the most outstanding experience camping at Floras Lake. You will surely fall in love with all the adventures that will come on your way camping here.