Some of the most fascinating paddling in the area can be found around Amelia Island and Nassau County. Many of the area's journeys include gorgeous backgrounds of beaches and salt marshes, but Nassau County also offers a trip that has elements of the Okefenokee Swamp in it. Northeast Florida provides paddlers a broad range of paddling environments, from moderate to wild, from calm, blackwater rivers to the rapid, tumultuous waters of Cumberland Sound. From this guide on kayaking Fernandina beach, we are looking forward to sharing all useful information with you.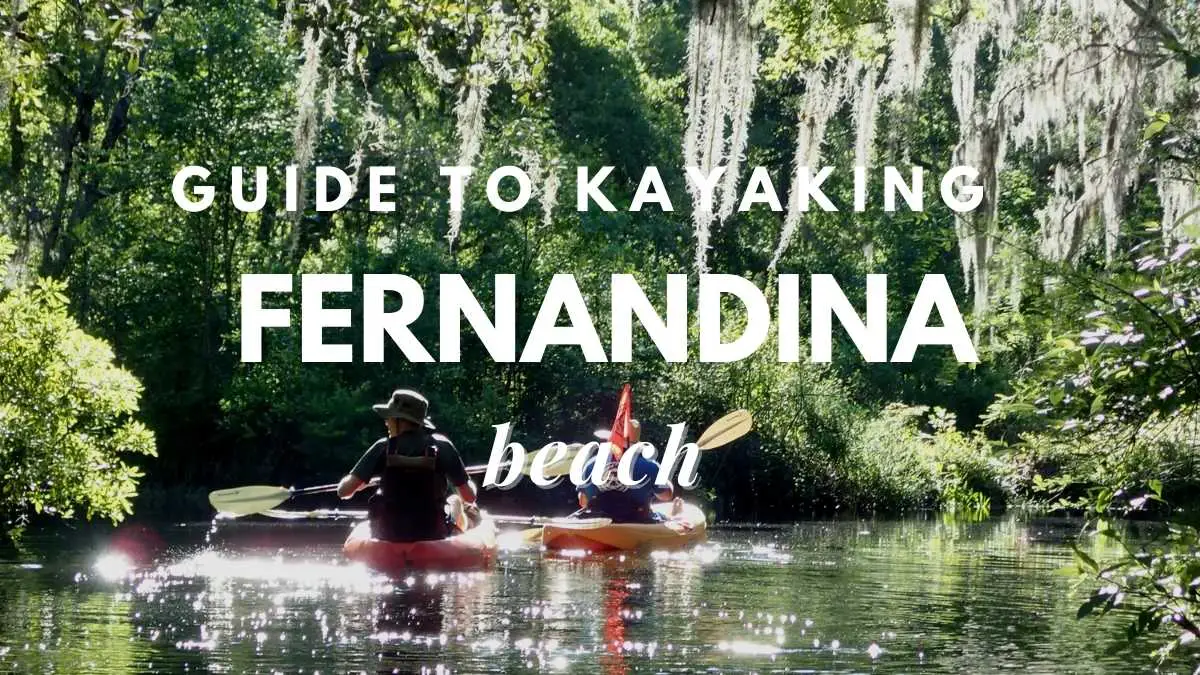 How to get to Fernandina beach?
Additionally, the only method to go from Amelia Island to Cumberland Island National Seashore by kayak is through Up the Creek Xpeditions. Up The Creek is a great alternative for visitors to Amelia who don't want to, or are unable to, drive to St. Marys, Georgia to take the Cumberland Island Ferry over to the island since it is the only outfitter in the area meeting all the requirements for safely and legally taking visitors into the National Seashore.
Paddlers have the feeling that they are traveling back in time since some of the sights and surroundings are quite similar to how it was hundreds of years ago. If you're paddling in Northeast Florida, you're following the steps of brave explorers and Native Americans who traveled these waterways centuries ago, whether you're kayaking across Cumberland Sound, floating through the marshes of Egans Creek, or exploring the swamps of Yulee on Lofton Creek.
Read: Is Traveling A Hobby? The Ultimate Guide To An Exciting Way Of Life Learn about the Downsides Of Traveling As A Hobby

History of Fernandina beach
Amelia Island, which has flown under eight flags, is among the most historic locations in the state of Florida. It was first inhabited by Timucuan Indians and "discovered" in 1562 by a Frenchman named Jean Ribault. When the Spanish overthrew the French in 1565 and seized control of Northeast Florida, they renamed the island Isla de Santa Maria and established a mission there. The Spanish refused to sell the island to the British until the Treaty of Paris in 1763, when the Spanish exchanged Florida for sovereignty of Havana, Cuba. The British gave the island the name "Amelia Island," built a small town there, and tried to acquire it.
Loyalists from Georgia and South Carolina escaped to the island during the Revolutionary War, and many of them utilized it as a boarding point for trips back to England. Florida was given back to the Spanish in 1783 by the Second Treaty of Paris. The town of Fernandina was founded in 1811 and was given that name in honor of King Ferdinand of Spain.
A gang of Americans who referred to themselves as the "Patriots of Amelia Island" sought to take over Amelia Island in 1812. The American flag was flown in Fernandina by soldiers brought in by President Madison, but he withdrew the troops early the next year out of concern of starting a conflict with Spain, handing back sovereignty of the island to the Spanish. However, this was not the island's last uprising. The Spanish fort in Fernandina, Fort San Carlos, was attacked by Gregor MacGregor and his small force in 1817. He also erected his own flag, the Green Cross of Florida. In the Battle of Amelia Island, MacGregor's men engaged the Spanish in an attempt to annex Florida.
The Americans teamed up with a pirate, who first claimed the island for the Republic of Mexico before giving it over to the Americans.
The island, named after Princess Amelia, a child of George II of Great Britain, has been controlled by various colonial powers on several occasions. Eight flags, including the French, Spanish, British, Patriot, Green Cross, Mexican, Confederate, and American flags, are said to have flown above Amelia Island.
Best kayaking tours in Fernandina beach
While you plan to go on kayaking Fernandina beach, you will come across the need to figure out best tours available. Here are some of them.
1. Amelia tours kayak
The original outfitter providing kayaking excursions and lessons around Amelia Island is Kayak Amelia, a well-established business with over 20 years of experience. Simpson Creek, Kingsley Plantation, and "barhopping" are among the tours offered (sandbars). The sunset, a firefly paddle, an overnight stay on Cumberland Island, moonlight kayaking, yoga kayaking trips, and standup paddle boarding are among Kayak Amelia's Speciality tours.
2. Fernandina Beach Kayak Club
A kayaking club is also located at Fernandina Beach. Even if you've never kayaked, you may periodically hire one from the club and test out this water sport while getting to know some local kayakers. The club's goal is to "offer coordinated kayak paddles for kayakers of all skill levels on nearby waterways." 10–12 paddles every year; all paddles are led by competent individuals. Every third trip gives the chance to hire a kayak from an outfitter for those without kayaks (Kayak Amelia). Call 904-277-7350 to make a reservation at the City of Fernandina Beach Atlantic Recreation Center.
3. Dee Dee Bartels boat ramp
Kayaks may be launched for free from the Dee Dee Bartels boat ramp at Fernandina Beach by anyone who have the necessary abilities (take North 14th Street from Atlantic Avenue). Paddlers may paddle along Egans Creek for five miles round trip from this boat launch (to Atlantic Avenue). Alternately, paddle a half-mile across the Intracoastal Waterway (Amelia River) to Tiger Island, kayak along its coastline, and then turn around (3-mile round trip paddle).
Important kayaking tips to keep in mind
1. A rudder's principal function is to keep your kayak moving straight.
The purpose of the rudder is not to turn your kayak. It aids your kayak in tracking and maintaining alignment in windy situations. The importance of this increases while paddling on large, open areas of water. The likelihood that a kayak has (and needs) a rudder increases with the length of the kayak.
2. Be aware of the areas where you may use your kayak.
Understand your personal paddling capabilities! You're entering a new world if you swim out into open water that isn't shielded from the wind and waves or if you go further from shore than you feel comfortable going.
3. Enroll in a sea kayaking class
Study rescue techniques. Prior to experiencing a capsize, practice getting back into your kayak from the water. You'll be happy that you did. It is considerably simpler to get back on a sit-on-top kayak than a sit-inside kayak. Unlike a sit-inside, it won't swamp or get overfilled with water. It only makes sense to keep near enough to shore so that you can swim back safely if you are unable to get back into or aboard your kayak from the sea.
4. Spend money on a good pair of roof racks for your car.
Your car's stock racks may not be suitable for hauling kayaks. The finest configurations are made by specialized producers. The best method for your needs will make loading, securing, and unloading simple and effective. You'll probably start spending more time on the water when loading and hauling are easy.
Never travel along the highway with your kayak falling off the rack! That runs the danger of damaging not just your boat but also harming other people.
5. For all of your strokes, use the strength of torso rotation.
For each stroke, use your whole upper body, not just your arm muscles. If your right hand is moving forward, for instance, your right shoulder should follow suit throughout the stroke, shifting your whole upper body to the left. Use your arms, shoulders, and back muscles to draw the paddle back. Each stroke will have greater strength, and your arms will be less taxed.
Final words
Keep these facts in mind and enjoy your kayaking adventures in Fernandina beach. You will get a bunch of great experience, which you will never forget for the rest of your life in here.