The Pacific Northwest is such a fascinating and interesting place to explore, with a particular charm that you won't find anyplace else. And there's so much to see and do in the neighborhood. Whether you're a resident of the Pacific Northwest seeking for a great family vacation site or a tourist wanting to learn more about the region, you'll discover it has a lot to offer. From this article, we will share the best family resorts Pacific Northwest.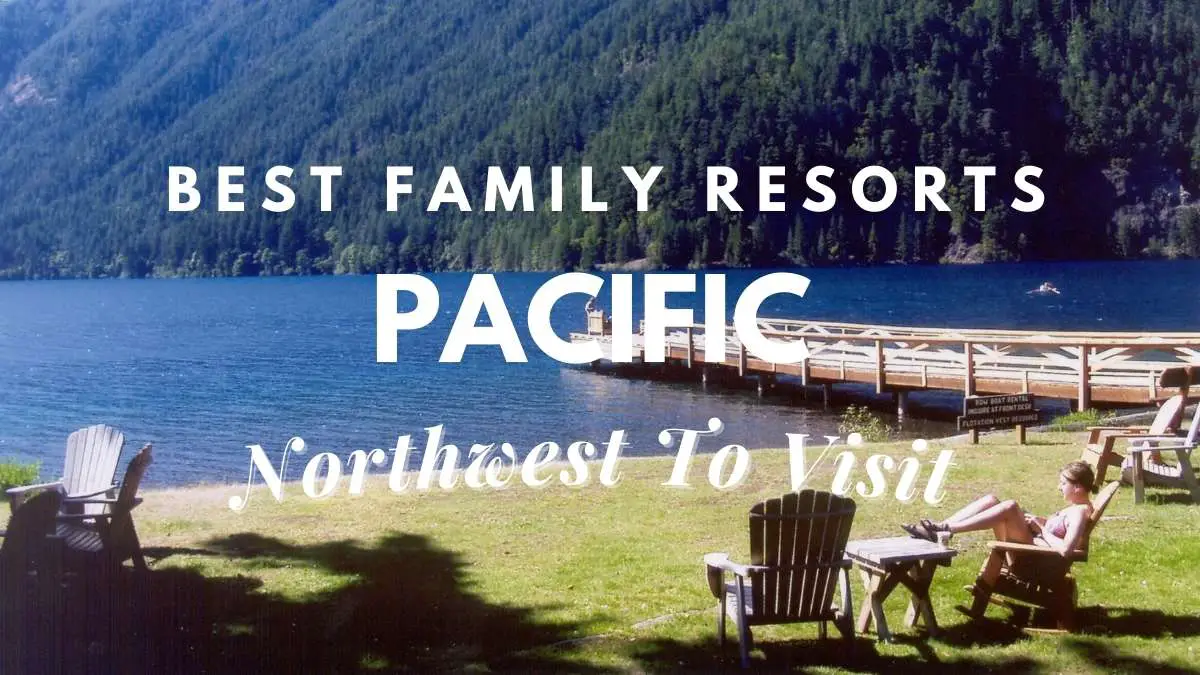 1. Lake Crescent Lodge
Families go to Lake Crescent, which was formed by glaciers and is known for its crystal-clear waters surrounded by scented conifers. They spend the night at the old lakeside resort after taking an amazing waterfall trek. Lake Crescent Lodge, which opened in 1916 as a fishing lodge, has kept its casual, campy character. The Roosevelt Cabins and the main lodge's comfortable suites all have wonderful lake views.
Hike through the neighboring temperate rain forest of towering fir and hemlock trees (the walk to the 90-foot Marymere Falls leaves directly from the lodge), then unwind over supper in the waterfront dining room. Spend the evening relaxing in a lakeside deck chair, watching the sun set behind the Olympic Mountains. On rainy days, family board games near the lobby's stone fireplace are ideal. Pets are allowed in certain kinds of rooms for a charge.
Read: Is Traveling A Hobby? The Ultimate Guide To An Exciting Way Of Life Learn about the Downsides Of Traveling As A Hobby

2. Lake Quinault Lodge
Built in 1926, the stunning craftsman-style Lake Quinault Lodge is steeped in history. The main lodge rooms contain vintage furniture and claw-foot baths, and some offer magnificent lake views. In the more recent detached buildings, you'll discover several big apartments appropriate for families. The location isn't very luxurious, but kids won't notice since they'll be too busy hiking in the nearby rain forest or paddling a canoe on the lake. Warm up with hot cocoa and a game of Scrabble by the massive roaring fireplace in the front lobby after supper at the lodge restaurant. A swimming pool is also available.
3. Kalaloch Lodge
It's all about the place! Kalaloch Lodge consists of a main inn and two rows of rustic cottages, most with woodstoves and kitchenettes, perched on a cliff overlooking the wild, beautiful Olympic National Park shoreline. Look for treasures on the stony beach below or keep an eye on the horizon for passing whales. The lodge restaurant offers top Northwest cuisine, or you may save money by cooking in your cabin. If your family includes a dog, Kalaloch offers various pet-friendly accommodations.
4. Alderbrook Resort and Spa
The Alderbrook Resort and Spa is located on the south bank of Hood Canal, a long, glacier-carved fjord that runs parallel to Puget Sound and is framed by stunning Olympic peaks. Families have flocked to these beaches for decades to shuck oysters, kayak in the brackish water, toast marshmallows, and while away the summer days. That hasn't changed, but the once-weathered gray inn where they slept has been renovated into a large lodge with posh facilities including an on-site spa and a high-end restaurant serving fresh Northwest cuisine. Fishing from the pier, sailing about in a kayak or pedal boat, or just kicking a soccer ball on the large green grass are all activities that children will enjoy.
5. Lakedale Resort
Feel the tension melt away as you enter Lakedale Resort's enormous log-beamed lobby. You're now officially on island time. Lakedale, located approximately four miles from the San Juan Island ferry terminal and centered on three spring-fed lakes, provides traditional lodge rooms (for ages 16 and up) and two-bedroom cabins, as well as canvas platform tents for glamping. Swimming, fishing, and canoeing on one of the three lakes will immerse children in the great outdoors. It's similar to summer camp, but much more refined.
6. Paradise Inn
When you step out of your automobile and declare, "This truly does seem like paradise!" you've arrived in Paradise. Paradise Inn, built of silver fir in 1916 and refurbished a few years ago, is only open during the summer months and provides an unequaled experience on "The Mountain." The lovely resort is surrounded by vivid fields of blossoming wildflowers and is set in the shadow of an active volcano clothed in snow and ice.
Several routes (some paved and easy enough for a stroller) run from the lodge parking area through flower fields populated with foraging marmots and traversed by trickling streams. Room sizes at the lodge range from two to six persons. Evenings may be spent in the lodge restaurant or the large community lobby, where your children can practice their music on the antique piano.
7. North Cascades Institute
North Cascades Institute mixes rustic mountain eco-lodging with hands-on environmental programs to provide one of the most educational locations for families to stay in the Northwest. It's located on beautiful Diablo Lake in the midst of North Cascades National Park. The Institute provides two alternatives that are especially appealing to families with children. Day and evening activities like as kayaking, treasure hunts, arts & crafts, and story time over the campfire are included in Family Getaways. Guided activities such as morning birdwatching and evening strolls to the Diablo Dam are included in the all-ages Base Camp Learning and Lodging option. Both choices include overnight accommodations as well as tasty, nutritious meals. The rooms are simple yet pleasant, with four twin beds (two sets of bunk beds) and restrooms across the hall.
8. Sleeping Lady Mountain Resort
With miles of hiking routes through fragrant ponderosa pine forest, the neighboring mountain peaks of Bavarian-themed Leavenworth are among the most magnificent in the Pacific Northwest. The rustic-yet-luxurious architectural details at Sleeping Lady Mountain Resort, on the banks of Icicle Creek, take full use of the surrounding natural splendor with high vaulted ceilings, enormous picture windows that frame the trees, and alcove daybeds.
The resort's Kingfisher Restaurant is now closed; however, O'Grady's Pantry is open and offering delicious food to guests. The outdoor pool and spa at Sleeping Lady has been renovated; expect it to reopen in late spring or early summer. Dogs are allowed in certain rooms for a charge.
9. Sun Mountain Resort
The Methow Valley's top resort, Sun Mountain Lodge, is a luxurious hideaway with rustic accents, perched on a ridge with panoramic views and recreation paths that leave immediately from the lodge. The resort also rents 13 cottages on Patterson Lake, which vary in price from extremely beautiful to lavish.
Hot baths in the winter and a seasonal pool, as well as a gaming room and horseback riding, are all huge draws here. The lodge's restaurant features Northwest cuisine with a vista to match; the Wolf Creek Grill serves pub fare and is kid-friendly.
10. Ranch Flying Horseshoe
Yee-haw! Prepare for some inexpensive summer fun. The Teanaway Valley's Flying Horseshoe Ranch invites families for a Western-style vacation that includes guided horseback rides, nature excursions, and campfire cookery. There are child-size riding boots available, and the instructors are used to dealing with children who have never ridden before. The ranch's entertaining and rustic accommodations, which include canvas platform tents, tepees, and modest bunkhouses with communal bathhouses and a common kitchen house for making your own meals, were formerly a children's summer camp.
11. Skamania Lodge
Skamania Lodge, located on 175 wooded acres overlooking the Columbia River Gorge in southern Washington, offers scenery and wildlife. This lodge, which has 250 rooms (including some incredible tree homes), should be high on your list for last-minute travel: Even during peak season, there are frequently openings (though less likely for the tree houses). Skamania has a big common lobby with a massive stone fireplace, perfect for resting with literature or board games, in the style of old park lodges.
Children will enjoy swimming in the pool and taking zipline excursions from the top of a Douglas fir tree. A golf course is also available at the resort. Strollers will love the paved routes through the forests. Head up adjacent Dog Mountain for a more challenging walk. Pets are allowed in some Skamania rooms for a fee.
12. Timberline Lodge
Timberline Lodge, a Pacific Northwest landmark, is regarded as one of the greatest examples of Depression-era, WPA-built mountain architecture in the country. The inn, built by blacksmiths and stonemasons on the south slope of Mount Hood, holds so many antiquities and pieces of art that it seems more like a museum than a hotel. Summer provides meadows blooming with beautiful wildflowers and excellent high-country trekking, despite the adjacent ski resort being in peak season. The prices vary from low to high (bunk beds with shared bath) (king bed, private bath and wood-burning fireplace in room). Even finicky eaters will love one of the lodge's three separate eateries.
13. Crater Lake Lodge
Crater Lake Lodge in Oregon's south Cascades, perched on the brink of the country's deepest lake, gives your family a front-row seat to one of the West's most interesting natural-history tales. This sapphire-colored lake was created in the aftermath of Mount Mazama's volcanic eruption in 5,670 B.C. It is presently the sole national park in Oregon. The lodge was built in 1915 and has been refurbished since then, yet it retains its antique charm. About half of the 71 rooms have a view of the lake and are well worth the extra money.
14. The Suttle Lodge
Suttle Lake, nestled in the Deschutes National Forest near Sisters, has attracted families looking for summer enjoyment since the 1920s. With knotty wood and wrought-iron furniture, high-end deck chairs, and stone fireplaces, this contemporary lodge marries plush comforts with rustic allure. Paddling a canoe around the glacier-carved lake, fly fishing in a mountain river, or hiking on a nearby path are all activities that kids will enjoy. The Boathouse restaurant's refined Northwest meals made with locally produced ingredients will delight parents. Rustic cottages with no running water to luxurious lodge rooms are available.
15. Painter's Lodge
Adventures in fishing await! The Campbell River region is well-known across the globe for its massive Chinook salmon runs. Painter's Lodge, a fishing lodge on the Georgia Strait, provides a fantastic experience for families interested in guided fishing trips, even for novices. The lodge rooms vary in size; a two-story loft suite is a fantastic choice for families. Of course, onsite eating focuses on seafood. Look for affordable packages that include hotel and fishing instruction.
16. Middle Beach Lodge
Do your kids like looking for starfish in tidal pools? How about going whale watching? Visit Tofino on Vancouver Island's wild and secluded west coast for a once-in-a-lifetime getaway. Middle Beach Lodge's luxurious cottages, perched on a cliff above the ocean with walking paths leading down to the sandy beach below, are popular with families looking for both relaxation and adventure. This location has just introduced contemporary tree house lodging. From soft robes and duvets to relaxing deck chairs, the amenities are plenty. Dinner may be prepared at your cabin, or you can go to Tofino for sushi or fish tacos.
17. Nita Lake Lodge
If you want to be pampered, reserve a large room at the luxurious Nita Lake Lodge at Whistler Mountain's base. Summer is the off-season, when hiking routes across wildflower meadows replace ski slopes. A kitchenette, a terrace with views of dazzling Nita Lake, a basalt gas fireplace, and a soaking tub are included in a family suite. The Winter Den restaurant in the resort is known for its creative bistro food. The lodge's free bike, fishing rod, and canoe rentals will delight children. Soak aching muscles in the rooftop hot tub or the outdoor plunge pool.
Final words
We like making the most of our vacation time by taking as many road trips and weekend getaways as possible. We are extremely fortunate to have so many wonderful alternatives within (easy) driving distance of our house in northwest Washington. We've compiled a list of some of our favorite Pacific Northwest family vacation spots in the hopes that you'll be inspired to go out and explore the region. Pick one of these best family resorts Pacific Northwest and enjoy your stay.