Every cruise traveler may find something to enjoy at Point Canaveral, whether it is their planned port of embarkation or merely a day trip from their cruise ship. You'll want to return time and time again to Port Canaveral since there are so many fantastic attractions, exciting activities, and other enjoyable things to do!

One of the busiest cruise ports in the world is Port Canaveral. Millions of cruise passengers from various cruise lines sail through Port Canaveral each year in addition to being a naval and maritime port. Ships from Carnival Cruise Line, Disney Cruise Line, and Royal Caribbean Cruises are commonly stationed in Port Canaveral; however, itineraries and cruise schedules fluctuate. Furthermore, Port Canaveral is often visited by cruise ships from Norwegian Cruise Line, Cunard Line, AIDA Cruises, Oceania Cruises, Azamara Club Cruises, and other lines. If you wonder what to do in Port Canaveral cruise stop, you may go through this article and get some ideas.

Before you go for your trip, make sure you have these cruise items.

Port Canaveral, in the center of the Space Coast, is roughly 45 miles east of Orlando at the easternmost tip of the Florida peninsula in Brevard County. With so many sites around that are simple to go to even if guests are just staying for a short while, the port is in a special position.

Near Port Canaveral, there are a wide variety of interesting sights to see. All of the places on our list are within a 30-minute drive of the cruise port, making them accessible regardless of how you plan to get there: by automobile, rental car, taxi, ride-sharing service, or other means of transportation. The choice will be the sole challenge.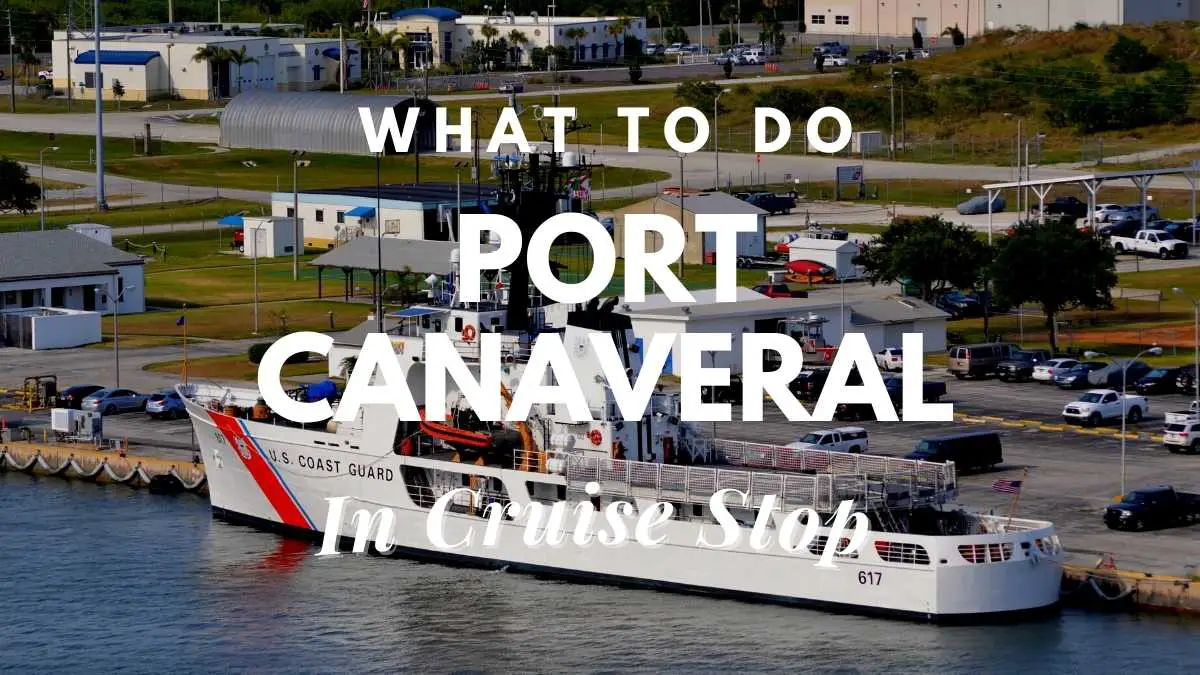 1. Port Canaveral's Exploration Tower
Visit Exploration Tower, a seven-story interactive collection of displays that explores the history of the port, to kick off your day of exploration at Port Canaveral. Both the interior and outdoor observation decks provide breathtaking views of the surrounding region, including your ship's dock, as well as information about the port's history and how harbor pilots navigate to cruise ships.
Read: Is Traveling A Hobby? The Ultimate Guide To An Exciting Way Of Life Learn about the Downsides Of Traveling As A Hobby

2. Skydive Space Center
North of Port Canaveral in Titusville sits the Skydive Space Center, where you may take your excursion to new heights. This thrilling location provides the highest tandem dive in the world, allowing you to take in the scenery from a dizzying height of 18,000 feet. You will experience an unheard-of 1-2 minutes of freefall in addition to an 8–10 minute parachute descent. Each dive comes with a free flight over NASA.
3. Kennedy Space Center
If visiting the Kennedy Space Center is your ultimate vacation goal, you won't be able to go much closer to space than that. Meet an astronaut, stroll through the rocket garden, get up close and personal with the space shuttle Atlantis, and learn about ongoing efforts to launch more commercial satellites and get ready for missions to Mars. You can also get up close and personal with a Saturn V rocket from the Apollo program.
The most well-known tourist destination close to Port Canaveral is likely Kennedy Space Center. All ages may enjoy and learn from a variety of exhibitions and interactive attractions included with admission to this operational spaceflight facility.
A guided tour of historic launch sites and active spaceflight facilities is part of the Behind the Gates bus trip. A visit to the Apollo/Saturn V Center is also included, where you can see genuine moon rocks from the moon and a Saturn V moon rocket, among other Apollo program relics.
The U.S. Astronaut Hall of Fame is located in the Heroes & Legends area, and the brand-new Gateway exhibit visualizes the future of space flight. Additionally, you may go to the space shuttle Atlantis' permanent residence and stroll around the Rocket Garden amid enormous rockets from NASA's Mercury, Gemini, and Apollo projects. The Shuttle Launch Experience, 3D space movies at the IMAX Theater, and much more are other highlights.
4. Aerial Adventures in Cocoa Beach
Try Cocoa Beach Aerial Adventures, only a few minutes south of the harbor, if you want a little height but would rather keep your feet on the ground. All visitors are welcome to tackle one of the three distinct routes on this adventure course, which has 50 different bridges, wires, swings, walls, and other challenges to overcome. All safety equipment is supplied, and no prior expertise is required.
5. Golf'n'Gator
At Golf'n'Gator, you can get up and personal with alligators, a popular Florida attraction. You may view, hold, and take pictures with alligators at this attraction in addition to its two 18-hole miniature golf courses. There are also snakes, unusual birds, lizards, and a tortoise here, and you can use the mining trough to pan for fossils, diamonds, or gold to make amusing keepsakes.
6. Florida Key Lime Pie Company
During your thrilling day at Port Canaveral, you'll need to rehydrate, and the Florida Key Lime Pie Company is a great choice. This vibrant shop provides something to entice everyone's taste buds, from fresh key lime pie to handmade ice cream, cheesecakes, local Florida craft beer, rum cakes, gator jerky, tropical wines, spicy sauces, marmalades, salt water taffy, and other goodies. Don't forget to try a complimentary taste of their famous key lime pie!
7. Merritt Island National Wildlife Refuge
Visit Merritt Island National Wildlife Refuge, a 140,000-acre refuge close to Kennedy Space Center, to experience life on the wild side. The refuge is home to hundreds of species of birds, butterflies, reptiles, and animals and offers both driving tours and hiking paths. You could observe species like alligators, wood storks, manatees, bobcats, river otters, and gopher tortoises here.
A trip to the Merritt Island National Wildlife Refuge ought to be on your list of things to do in Port Canaveral if you want to go in search of additional wildlife while you're there. In accordance with NASA and the Kennedy Space Center, this 140,000 acre U.S. National Park was created in 1963. More than 1,500 different plant and animal species may be found there. Many migrating birds use this location as an important resting spot. Furthermore, this refuge is home to 15 federally designated threatened and endangered species.
There are many walking pathways and hiking trails at Merritt Island Wildlife Refuge that are ideal for bird viewing and photography. Additionally, the 7-mile Black Point Animals Drive and the Manatee Observation Deck are excellent places to see wildlife.
Canaveral Excursions provides planned tours in the refuge if you'd rather leave the organizing to someone else. The business offers professional tour operators, adaptable itineraries, and compact shuttles with binoculars that are ideal for seeing animals.
8. Ron Jon Surf Shop
At the renowned Ron Jon Surf Shop in Cocoa Beach, channel your inner surfer man. This enormous store provides a wide variety of swimsuits, surf shop souvenirs, and snorkeling and surfing equipment, all of which are great to flaunt while on a cruise. Champion surfers from the area are honored in the sandstone sculptures outside the shop, and don't miss the waterfall inside.
9. The Dinosaur Museum and Store
The Dinosaur Store and Museum will introduce you to the old side of the Space Coast, which is also recognized for its cutting-edge technology. The two-story museum has amazing displays and dioramas not just of dinosaurs but also of ancient societies from China, Egypt, Mexico, and South America. Dinosaur fossils, eggs, teeth, claws, and other artifacts are available in the shop.
10. Brevard Veterans Memorial Center
The Brevard Veterans Memorial Center on Merritt Island offers an alternative viewpoint on the past and military ties of the region, especially the naval installation at Port Canaveral. A free museum and library with a number of military helicopters, aircraft, armored cars, and other vehicles on exhibit outside, and items from the Revolutionary War and earlier battles up to the current day within.
11. Ride an airboat
An airboat trip to explore the area in search of wildlife is another well-liked Florida adventure. While airboat trips around Port Everglades (Ft. Lauderdale) are undoubtedly well known to many cruisers, comparable tours are also provided in the Port Canaveral region.
Airboat Rides at Midway, which is approximately a half-drive hour's from the cruise port, provides one-hour trips on the St. Johns River, also known as the Central Florida Everglades. You'll go across the grassy marshes at up to 45 mph throughout this excursion. Alligators, different species of birds, and other animals will make appearances, so be ready to witness nature up and personal.
Final words
These are just a handful of the sights and activities you may enjoy near Port Canaveral. Therefore, people who wonder what to do in Port Canaveral cruise stop will not have to worry about anything. If none of these activities quite piques your interest in visiting, you can also try kayaking on the Indian River Lagoon, strolling along miles of beaches, taking kiteboarding, or surfing lessons, scheduling an airboat ride, trying your hand at sport fishing, shopping at sizable antique malls, or savoring plenty of regional cuisine and ocean-fresh seafood. Welcome!