The winter blues have set in for many around the nation, and we're not so patiently waiting for signs of spring to appear. A romantic retreat comes to mind during these dreary winter months. After all, Valentine's Day is just a few weeks away. There is no better time than now to arrange a romantic getaway for the two of you. We have the ideal location in mind for you as well. From this article, we will share a list of the most romantic places to stay in Eureka Springs. All you have to do is to go through the list of places and pick the best one to enjoy your time with the loved one.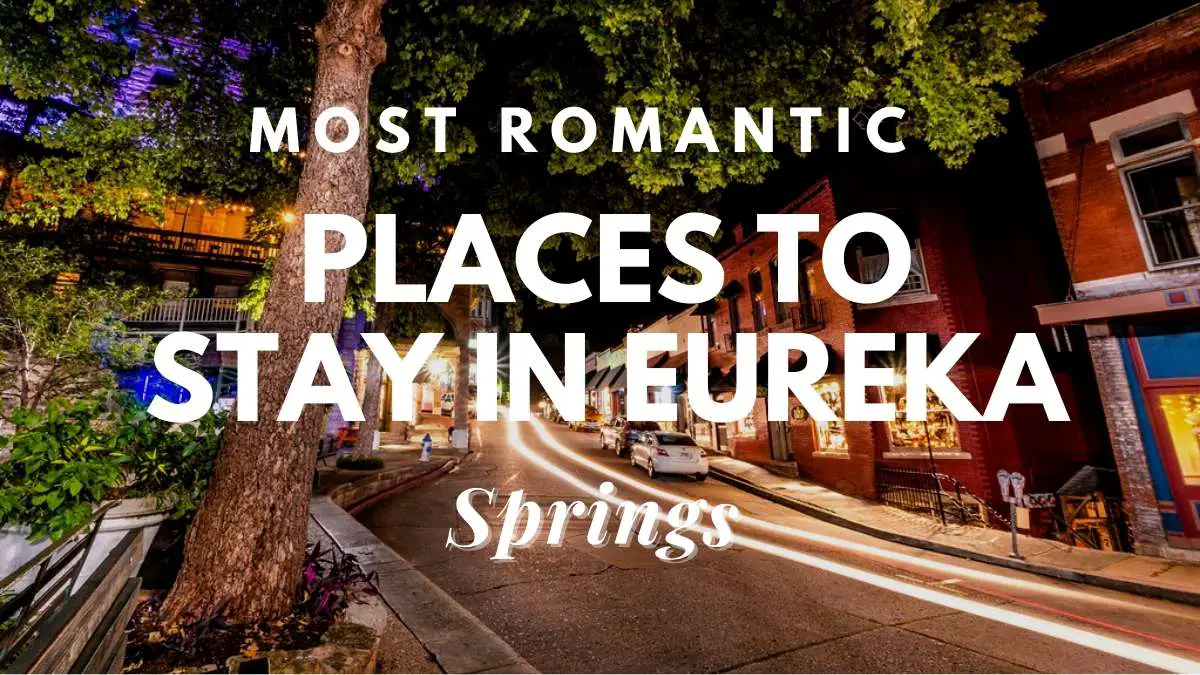 1. Beaver Lake Cottages
Beaver Lake Cottages is Eureka Spring's top romantic Ozarks weekend location. The cottages are located 15 minutes outside of town on the banks of picturesque Beaver Lake and provide a tranquil, peaceful stay. Peaceful and tranquil, yet near enough to zip into town for supper, shopping, and activities without having to travel miles of dusty, dirt roads.
Read: Is Traveling A Hobby? The Ultimate Guide To An Exciting Way Of Life Learn about the Downsides Of Traveling As A Hobby

2. All Seasons Luxury Properties
When you visit Eureka Springs, All Seasons Luxury Properties offers a variety of hotel options. The Piedmont House is an excellent choice if you want a charming room with antiques. If a suite meant to whisk you away from daily worries seems like your idea of a good time, All Seasons Inn is the place to go. Perhaps you like to take in the seasonal splendor of the Arkansas Ozarks while remaining in opulent surroundings. If that's the case, the All Seasons Treehouse Village is the place to be. The Daffodil Cottage, with its Victorian elegance and contemporary facilities, as well as private entrances and elegant rooms, is also available. Consider Briarwood Lodge, which has everything from modest loft apartments to a fully furnished luxury condominium ideal for couples or families.
3. The Crescent Hotel & Spa
This is a must-see and do in Arkansas! The 1886 Crescent Hotel is a proud member of the select Historic Hotels of America and is located high in the picturesque Ozark Mountains. The hotel, which is nestled on 15 acres of manicured gardens and woodland hiking paths, has an attractive formal lobby with full bell service as well as an outdoor pool and hot tub in a lovely garden setting. Walk downstairs to The New Moon Spa & Salon, one of the region's biggest full-service spas, for relaxation and rebirth. Take part in a tradition with a magnificent Weekend Breakfast Feast inside the Crystal Dining room.
The Sky Bar Gourmet Pizzeria, positioned on the roof of the Crescent Hotel and offering one of the greatest views of Eureka Springs, serves cocktails and the tastiest pizza in town. You can easily enjoy all the fun and excitement in Historic Downtown Eureka Springs since it is just a few minutes' drive or walk away. Nightly Ghost Tours, daily guest activities, a souvenir store, an in-house art gallery, shuttle service, and much more are all available at the world-famous Crescent Hotel. The renowned Crescent Hotel excels in "Creating Lifetime Memories."
Read: 12 Best Places To Stay In Eureka Springs In 2023
4. Basin Park Hotel
Discover the MOST FUN in downtown Eureka Springs at the classic 1905 Basin Park Hotel, an Arkansas Ozarks favorite. This historic seven-story hotel is in the middle of Eureka Springs' entertainment zone, making nightlife, live music, bistros, shopping, and distinctive galleries all within walking distance. The Balcony Bar and Restaurant, with views of Spring Street and Basin Spring Park and the greatest burgers in Eureka Springs, is one of the top restaurant spots.
The Lucky Seven Rooftop Billiards Sports Bar and the famed Barefoot Ballroom are located on the top level and are ideal for special parties. Guests can count on pleasant 24-hour front desk service and shuttle transportation from The Basin. Spa1905, a day spa and spa shop on the second floor, provides spa treatments as well as a private Sun Deck and Hot Tub. With so much to offer in the heart of Historic Downtown, it's easy to understand why The Basin Park Hotel is always the most fun.
5. Estate of Lookout Cottages
An historic Eureka Springs home with a rich and legendary past may be found at the end of the road, behind majestic gates. The 1886 Crescent Hotel is a short walk away, but Lookout Cottages Estate is far enough away to provide a pleasant and relaxed stay to this iconic Arkansas holiday location. Lookout Cottages offers a variety of high-quality, reasonably priced cottages, ranging from the luxurious Blue Sky Grotto to the historic and well-appointed Lookout cottage (1905), each with allocated parking, balcony, WiFi, Direct TV, and Alexa. Guests may also take use of the Crescent Hotel's facilities, which include access to the pool and spa, daily activities, downtown shuttle service, and outlet discounts. The Harmon Park track for mountain bikers is just outside the door, and the Bark Park is close to the estate. After an adventurous day, the gazebo and fire pit are ideal family gathering locations!
6. Crescent Park's Crescent Cottages
In the architecturally noteworthy Crescent Cottages, you can experience luxury and renewal surrounded by the natural splendor of the Arkansas Ozarks. The cottages, which were designed by architect Dave McKee, are huge two-bedroom residences with wide porches, complete living areas, and kitchens. The Cottages, which are situated inside Crescent Park and close to the Crescent Hotel, provide breakfast as well as access to all the hotel's facilities, including the shuttle service and swimming pool. You'll have access to complete kitchens, living and dining spaces, and views of Crescent Park's natural forests. Come enjoy all the in-town conveniences while taking in the quiet of the Arkansas Ozarks.
7. Eureka Inn, Best Western
The Best Western Eureka Inn has a Victorian themed décor that mixes well with Eureka Springs' Historic Community while yet providing all the amenities that travelers expect. HBO, Touch Tone Phones, WiFi throughout the resort, automated wake-up calls, and 37-inch LCD TVs are all available at the hotel. Coffee makers, hair dryers, and make-up mirrors are also available in the rooms. There's also plenty of convenient parking for vehicles and buses.
The Gazebo Restaurant offers a Victorian ambiance and serves Southern and American cuisine. The Trolley and Ozark meeting rooms are available for meetings, banquets, celebrations, and wedding rehearsals at the Eureka Inn. The Eureka Inn features the most comprehensive exercise facility in the region, equipped with a dry sauna and jacuzzi. Our heated outdoor pool has a large deck area for sunbathers.
8. 1886 Elmwood House
Elmwood House 1886 is a historic inn on Spring Street that provides opulent yet comfortable accommodations. All suites have been recently refurbished and have antiques, private entrances, balconies, cable TV, and Wi-Fi. This hidden treasure has a fantastic location, with all of Historic Downtown Eureka Springs' stores, restaurants, and galleries only steps away! Brews, which is just next door, serves coffee beverages, local craft brews, gourmet pastries, live music, and local artists.
9. Cottages at Hidden Springs Bed & Breakfast
You will enjoy great service, snooze in an absolutely clean cottage or suite, and treasure seclusion at Hidden Springs, which is situated above Downtown Eureka Springs. Each cottage/suite has its own entrance, allowing you to enter and leave whenever you like. Furthermore, a delectable breakfast will be provided to your suite or cottage each morning at your leisure.
Romantic Vacation Ideas
Eureka Springs is an amazing romantic vacation spot, with its meandering mountain roads and the air of a quaint Victorian village. From the minute you walk onto our property, you'll understand why the Arsenic & Old Lace Bed and Breakfast has a well-deserved reputation for hospitality. Our Inn's warm, elegant, and romantic ambiance captures the spirit of romance in the Ozarks. After then, it's entirely up to you how you spend the rest of your time.