Blackwater Falls State Park, in West Virginia's Potomac Highlands section of the Allegheny Mountains, includes some of the state's most photographed locations. The park's location on the lip of the Blackwater Canyon provides some extremely breathtaking vistas. There are picturesque mountain communities, meandering roads, a plethora of waterfalls, and much more to discover in this section of West Virginia. From this article, we are going to share a list of the best fun things to do at Blackwater Falls. Then you will be able to plan your visit to Blackwater Falls, so that you can secure the best possible experience coming on your way.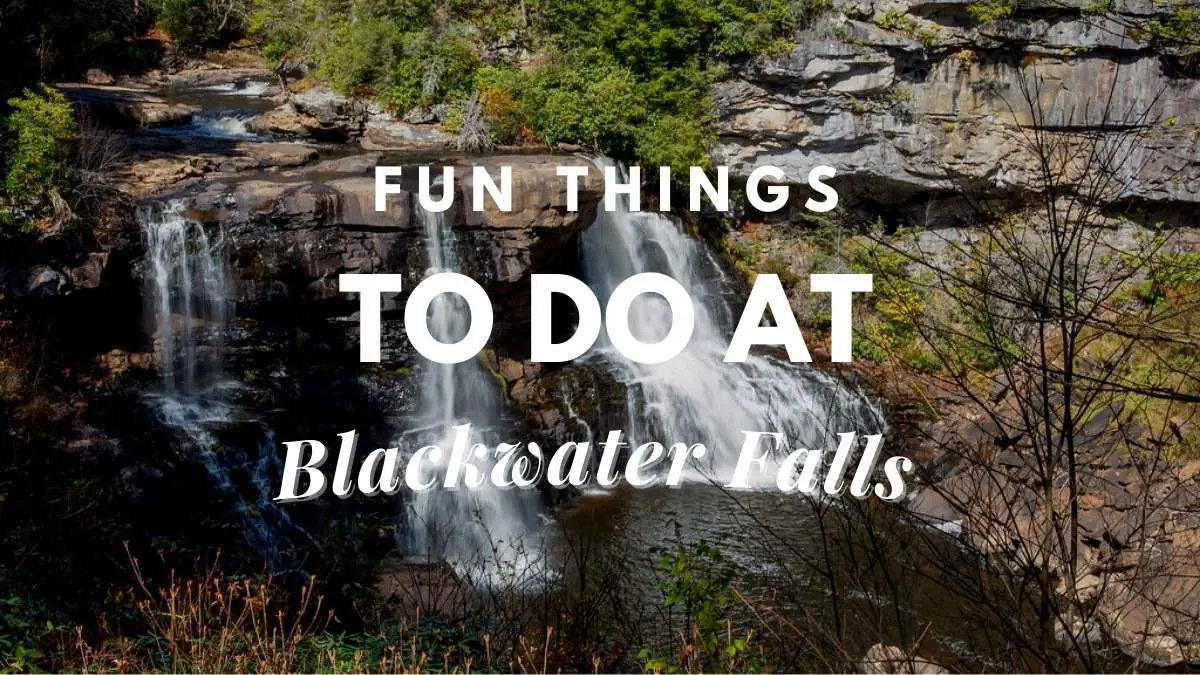 Where is Blackwater Falls?
Because of its rough natural beauty, it is easily one of the nicest (and most popular) spots in the whole state. The Blackwater River, which flows through the park, gets its name from the water's dark, reddish-brown hue, which derives from the amount of natural organic materials including tannins found in the surrounding mountains and valleys.
Read: Is Traveling A Hobby? The Ultimate Guide To An Exciting Way Of Life Learn about the Downsides Of Traveling As A Hobby

What is the best time of the year to visit Blackwater Falls?
The park is open all year with a variety of seasonal activities, but the camping is only available from late April until October 31st. I visited in the summer and it was fantastic, but I've seen photos of the park in the autumn and it was just stunning. During the spring, the rain causes the waterfalls to flow. There are also floral and birdwatching pilgrimages in the spring.
If frozen waterfalls and winter hikes are your thing, you'll enjoy it here in the winter, particularly because there are winter activities like sledding on the East Coast's biggest sled run. Getting There Blackwater Falls State Park is roughly three hours east of Charleston, WV, or three hours west of Washington, DC, and is less than a half-hour from the Maryland border.
What are your expectations for your visit to Blackwater Falls State Park? If you visit the park during the winter, you will be able to enjoy skiing and sledding on their frozen lake. However, if you visit this park during the summer, you will be treated to a variety of wonderful tourist paths. During the summer, you may go swimming and boating.
Things to do at Blackwater Falls
1. Falls of Blackwater
Blackwater Falls' 57-foot cascade is colored by the tannic acid in falling hemlock and red spruce needles. The falls may be seen from two distinct perspectives: the boardwalk down from the Trading Post for an up-close look, or the Gentle path for a different perspective from across the river.
2. Lady Point
One of the most photographed vistas in the state may be seen just beyond the sledding area. Lindy Point is a 3,000-foot observation platform that provides breathtaking views after just a 0.3-mile hike. Parking is fairly restricted here, although I think you may park along the road or at the ski center, which is approximately a mile away.
3. Explore beautiful views of the surroundings
There are several pull-offs along the park's major highways where you may take in the scenery. Some of the viewpoints have benches, while others do not. They all have a limited amount of parking beside the road, so be cautious.
Locals have long appreciated the region, but it was purchased by West Virginia State Parks in the 1930s and has since become one of the state's most popular destinations.
When you enter Blackwater Falls State Park, you will be greeted with panoramic views of four waterfalls as well as the Allegheny Mountains. The waterfalls in this area drain into West Virginia's Blackwater Canyon. Lindy Point is the park's greatest scenic overlook. It offers an observation deck with a 360-degree view from above.
4. Enjoy camping
You may camp in Blackwater Falls State Park in a number of locations. What kind of camping location do you want to go to? There are 65 total tent and trailer sites in this campground. Based on the things you wish to view; you may pick where you want to camp. You will undoubtedly feel refreshed by the tranquil ambience and the natural surroundings. The campsite is open from late April to October 31 according to weather conditions. A bathroom with hot showers, a laundry facility, and a dumping station are among the campsite's amenities. During a worldwide epidemic, you must reserve the location online or by phone. Reservations are available for at least Friday and Saturday.
Guests and campers are asked to observe the social distancing measures because to the worldwide pandemic crisis. Hands should be washed often. Also, before leaving a park or woodland, make sure you don't leave any garbage at this lovely beach.
5. Visit at one of the hotels
With a view of a wooded canyon from the resort, Blackwater Falls Lodge provides a fascinating experience. This seasonal lodge offers well-equipped accommodations as well as high-speed internet access. They offer lovely cottages that are furnished in a rustic style. You will have access to a casual restaurant, a pleasant lounge, and a gaming room throughout your stay. However, if you want to stay in style near the park, Canaan Valley Resort & Conference Center is one of your possibilities. They feature comfortable accommodations with views of the Allegheny Mountains. If you upgrade to a suite, your accommodation will have a balcony as well as a fireplace. Pools, golf courses, ski paths, and a fitness center are among the amenities available. There are a few eateries and several lovely pubs in this area.
6. East at one of the restaurants
Hellbender Burritos is a must-visit while visiting Blackwater Falls State Park. It's a restaurant that specializes on Mexican cuisine, particularly burritos. They offer a meal-sized burrito cooked just for you with handmade ingredients. Your appetite will be satisfied with only one burrito serving. They also provide an excellent assortment of high-quality beers to keep your troat refreshed. However, if you want a meatier meal in the park, you'll have to go to The Smokehouse at Blackwater Falls. This eatery is situated inside the state park. Meaty cuisines such as succulent brisket, ribs, and pig are served here. They will greet you with warm grins and excellent service that matches the quality of the meal!
7. Elakala Falls
In the park, there is a beautiful tiny waterfall. To reach here, park at the Blackwater Falls Lodge and look for the Elakala Falls sign close to the parking lot. It's a short trip down, and you'll actually go over a little footbridge to get to the falls. There are a couple routes down to the foot of the falls that humans have created. There are a couple more waterfalls beyond Elakala, but they're not for the faint of heart, and there's no official track to them that I noticed, so leave no trace and be cautious.
8. Take photographs of Blackwater Falls
The whole park is stunning, but here are some of my favorites. When shooting these locations, you'll need a tripod and, depending on the weather, a filter for your lens in order to capture a long exposure with a remote shutter.
9. Enjoy ice skating
Sharpen your skates and go to our covered outdoor ice rink, which is conveniently situated behind the main lodge building. While perfecting your figure-eight or warming up alongside the rink, take in an incomparable vista of Canaan Valley and the Allegheny Mountains.
10. Antiquing
Antiquing is and always has been a popular method to uncover one-of-a-kind items, whether you're seeking for a memento to take back to family or a treasure to fill your house. There are four well-known antique stores in Canaan Valley for people to visit…
11. Birding
Keep an eye out for animal sightings along every road and path in West Virginia, no matter where your travels take you. Whether you're bird-watching or keeping an eye out for raccoons, foxes, coyotes, or even bears, you're certain to see something on your hike.
12. Caverns of Smoke Hole
Spectacular stalactites, stalagmites, helictites, flow-stone, columns, and dazzling multi-colored formations that you will see in the WV Underground are the result of millions of years of intricate processes and trillions of drops of mineral-laden water seeping through the limestone bedrock, leaving trace mineral deposits that over millions of years create spectacular stalactites, stalagmites, helictites, flow-stone, columns, and dazzling multi-colored formations
13. Appalachian Adventures
We lead hiking, canoeing, and bike trips in the great outdoors. We teach leadership, communication, and outdoor living skills against the stunning background of the West Virginia mountains.
14. Dolly Sods Berry Picking
For decades, picking berries has been a relaxing and enjoyable hobby. Whether you grew up hearing your grandparents tell about picking berries in the fields or your family still makes and cans jam, it's a wonderful tradition to continue.
Is it worth visiting Blackwater Falls?
In West Virginia, Blackwater Falls State Park is a must-see site. Because it is free to access this park, it is quite popular with both residents and visitors. Take full use of the park. There are several activities available in the course. For starters, the Elakala Trail and Blackwater Canyon Trail Bridge are great for trekking. A panoramic image of Lindy Point is also available. You will have to trek a little distance to reach the observation platform. If you like fishing, Pendleton Lake and the Blackwater River are both good options. In the park, there is also a Nature Center where you can see and learn about several interesting exhibits such as the park's history and chronology. It's also known for its Instagram-worthy locales, so take as many photos as you can.