Dale Hollow, located in Clinton and Cumberland counties in Kentucky and Overton and Pickett counties in Tennessee, is one of Kentucky's oldest artificial lakes, impounding the Obey River in 1943, and one of the Corps of Engineers' early lakes. The lake has a surface area of 27,700 acres.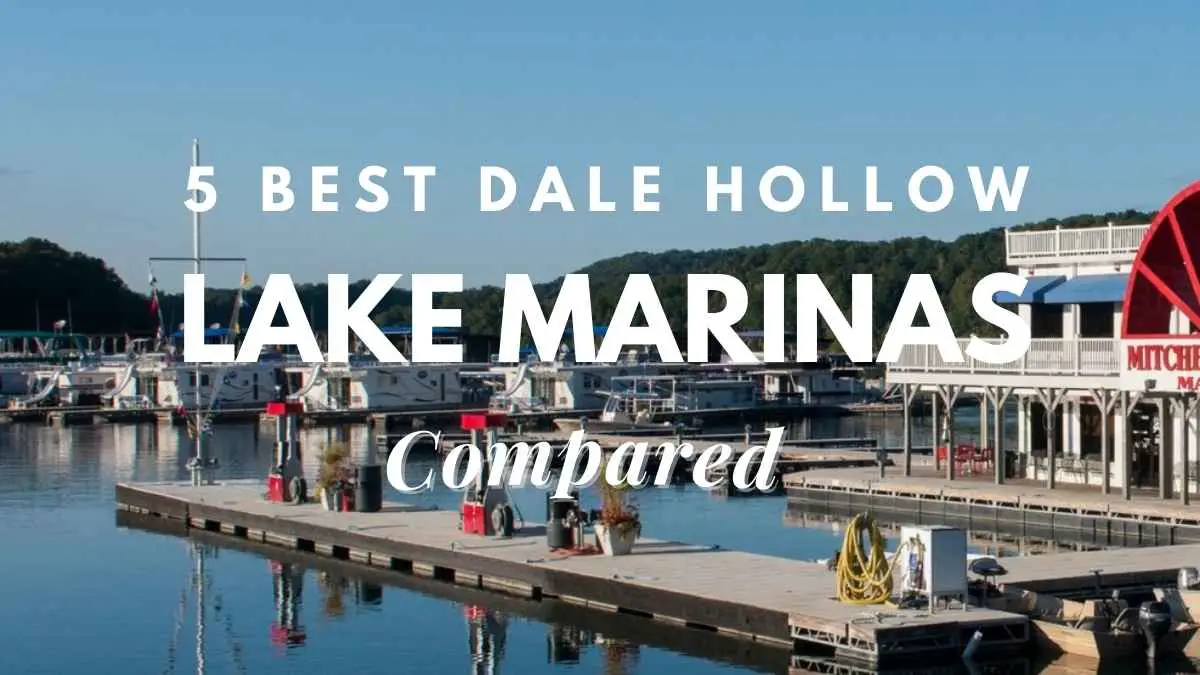 Enjoying time at the best Dale Hollow Lake Marinas
Come float the pure waters and relax, surrounded by nature's noises.
As you ride the tranquil lake, you feel transported back in time to a pristine forest with an unspoilt lake rich with fish.
Return to nature at Dale Hollow Lake for quiet and tranquility.
Dale Hollow Lake is one of the nation's best bass fisheries, in addition to its uncommon beauty, ultra-clear water, and untouched coastline.
Dale Hollow Lake is home to the world's biggest smallmouth bass, as well as numerous other world records.
Dale Hollow Lake fishing guides and fishing reports are offered to guests who want to try their luck at catching a monster fish.
Dale Hollow Lake attracts millions of tourists each year with its recreational activities.
Visitors can fish, hunt, camp, picnic, boat, paddle, trek, ride horseback, and enjoy the outdoors because of the mild temperature and reasonably extended recreation season.
Read: Is Traveling A Hobby? The Ultimate Guide To An Exciting Way Of Life Learn about the Downsides Of Traveling As A Hobby

What are the best marinas in Dale Hollow Lake?
Now let's take a look at the list of best marinas that you can see at Dale Hollow Lake.
It is up to you to take a look at these marinas and pick the best one out of them to secure some unforgettable fun and adventure.
No matter what, you will fall in love with the experience that comes with it.
1. East Port Marina & Resort and Obey River Grill
East Port Marina & Resort and Obey River Grill is one of the most reputed marinas that you can find in the region.
You can access it from the Highway 52 in Jamestown.
The marina offers cabins, chalets, and houseboats.
You will also be able to find a restaurant and lodging facilities available in here.
Boat rentals at East Port Marina & Resort and Obey River Grill are available to you at a price that you can afford.
Moreover, there is a dedicated ship store, where you can shop for whatever you want without a struggle.
We can strongly recommend this as a full service marina to anyone who is looking for the best Dale Hollow Lake marinas.
2. Star Point Resort
Star Point Resort is a marina that you can easily access.
It is located out of the Highway 111 in Byrdstown.
Once you access this marina, you will end up with getting an enjoyable experience as well.
There are comfortable chalets and cabins available for you to enjoy your time.
On the other hand, you can also find condos and a ship store in here.
The boat rentals will help you with securing an outstanding experience as you spend your time in here.
You can also go ahead with RV camping as you explore time here at the Star Point Resort.
3. Sulphur Creek Resort and Mike's Landing Restaurant & Lounge
Sulphur Creek Resort and Mike's Landing Restaurant & Lounge is a marina that you can find in the Cumberland County.
You can call this as the northern most marina of the region.
Therefore, it offers a slightly different experience to the guests when compared to other marinas in the region.
There are lodge and cabin rentals available for the people who come to this marina.
On top of that, you can find Pontoon rentals and houseboat rentals in here as well.
This is a full service marina, which comes along with a dedicated ship store.
You will never be bored during the time that you spend at Sulphur Creek Resort and Mike's Landing Restaurant & Lounge.
That's because your stay in marina comes with live entertainment and music as well.
4. Sunset Marina & Resort
Sunset Marina & Resort is a marina that is located out of Highway 111, in Byrdstown.
This is another great example of a marina that you can easily access and enjoy your time.
Comfortable chalets and cabins are available at this marina for you to enjoy your time as well.
Moreover, you can find restaurant and lodging facilities in here, which will provide a great overall experience to you as you spend your time.
There are boat rentals available at the marina as well.
We can strongly recommend this as a full service marina, which will cater to your specific needs.
5. Dale Hollow Lake State Resort Park & Marina
Dale Hollow Lake State Resort Park & Marina is a perfect marina available for you to breathe fresh air and secure getting an unforgettable experience.
You will be able to discover a large number of vessels in this marina.
There are numerous activities available for you to engage with at the marina as well.
One of the best things about visiting this marina is that it is located in close proximity to the Mary Ray Oaken Lodge.
Therefore, you will end up with securing an outstanding experience while you are here.
It is a great place available for you to go ahead with swimming, hiking, fishing, boating, and even golfing.
What to Do
Basketball courts may be found near the campground's entrance and in the picnic area.
Sporting equipment may be checked out at the lodge front desk by overnight visitors.
Dale Hollow Lake Resort's 3,400 acres provide enough space for certified mountain biking paths.
You must bring your own bicycles.
Cooper's Hawk, Northern Bobwhite, Wild Turkey, and many more species live here all year, while summer visitors may include the Green Heron, Indigo Bunting, and Scarlet Tanager.
The Ring-Necked Duck, Rose-Breasted Grosbeak, and American Redstart are among the migrants seen at Dale Hollow Lake.
The Eagle Point Path is the most significant birding trail in the park, with the Boom Ridge-Eagle Point Connector Trail providing less shrub-scrub habitat and more mixed forest habitat.
The overlook provides an excellent chance to see raptors and waterbirds; a telescope is helpful if you are prepared to bring it to the overlook.
Boating Ample cruising seas are bordered by several inlets and sprinkled with islands.
For additional information, go to dhspmarina.com.
This park marina, which opened in 2008, has almost 200 spaces and state-of-the-art amenities such as a ship's shop and fuel dock.
Recreational and fishing boats are both welcome and may be hired by the day.
Open all year. There is a fee.
The Ship's Store will sell Dale Hollow Lake souvenirs as well as the most recent boating gear and accessories.
Have a question about the marina?
Contact us at (270) 433-6600. Boat Ramp – A concrete launching ramp with a gentle incline is offered.
Trailers may be parked in one of two lots.
Caving
Are you feeling daring? A professional guide will lead you on a wild cave trip via Cindy Cave's hidden treasures.
You'll get wet and muddy, but you'll have a fantastic time!
The admission fee is $7.00 per person, with a $5.00 reduction for children aged 8 and younger.
There is a helmet, a light, and kneepads supplied.
Tours are provided from Memorial Day through Labor Day.
Winter visits for parties of three or more may be scheduled by calling 270-433-7431 or emailing coti.groce@ky.gov.
Tours that are self-guided are now forbidden.
Eagle watching is ideal from December to February, when eagles may be seen all across the lake.
Fishing
The fishing season is open all year, and the fish are biting every day!
Crappie, bream, muskie, walleye, trout, catfish, and five species of bass—largemouth, smallmouth, white, Kentucky, and rock—have earned Dale Hollow Lake unrivaled recognition as a top fishing destination in the country.
This lake was home to both the world and state records for smallmouth bass and muskie.
Dale Hollow Lake, which was built in 1943 by damming Tennessee's Obey River, has 620 miles of coastline.
There are many shoals, minor torrents, and clean, clear water to promote healthy fish development.
It is necessary to have a Kentucky Fishing License.
To buy a license online, go to the Kentucky Department of Fish and Wildlife Resources.
What if you don't have a fishing pole?
Not a problem!
Inquire at the resort desk about their fishing loaner program, which allows you to borrow FREE equipment.
Golf
The Dale Hollow Lake State Resort Park Golf Course is the longest of the 18-hole courses and is played on mountainous terrain.
It promises to put you and your organization to the test.
All of the facilities of this famous facility make a day on the courses much more enjoyable.
A fully equipped pro shop and new driving range are open all year, and riding carts, pull carts, and clubs may be rented.
CLICK HERE for additional information about the Dale Hollow Lake State Park Golf Course.
Hiking Over 15 miles of multi-purpose trails are available for hiking, equestrian riding, and mountain biking unless otherwise noted.
There are no motorized uses permitted.
Throughout the park, the trails mainly follow ancient logging roads over narrow mountain tops.
The majority of the paths terminate at the extremities of these hills, which create peninsulas into Dale Hollow Lake, necessitating a return journey on the same route.
Horseback Riding
15 miles of multi-purpose hiking, equestrian riding, and mountain biking paths (unless otherwise posted).
The paths are not open to motorized vehicles.
Golf Miniatures
The park has an 18-hole nautical-themed mini golf course with flowing water and bridges that enable you to cross across the stream to sink your putt!
The ADA-compliant course will reopen during Memorial Day weekend.
Sunday through Thursday, 8:30 a.m. – 5 p.m., and Friday and Saturday, 8:30 a.m. – 8 p.m. The cost is $6 for adults, $4 for children ages 5 to 11, and FREE for children ages 4 and under.
Trail for Motorcycle Riding
Dale Hollow Lake State Resort Park is the starting point for your adventure!
The Cumberland Valley is noted for its lovely roadways and breathtaking scenery.
Picnic tables and grills are available at all campsites and rustic cottages.
In the picnic area, there is a picnic shelter with facilities and an adjacent playground that may be reserved up to three years in advance.
Tables and a grill are also available near the Cindy Cave parking area, making it ideal for a picnic.
Playgrounds are available near the resort and at the picnic area.
The campsite has three more playgrounds that are open from mid-November to mid-March.
Swimming
The outdoor lodge pool, which has a sloping entry, a separate wading pool, and an ADA accessible wheelchair lift, is solely available to lodge guests.
Visitors to the park may cool down in the well-kept communal pool located inside the campsite.
Camping visitors may swim for free.
What are the benefits of visiting Dale Hollow Lake?
The US Army Corps of Engineers now manages Dale Hollow Lake.
The lake, sometimes known as DHL, is a tourist area situated between the states of Tennessee and Kentucky.
Dale Hollow Lake is not just a tourist attraction, but it is also excellent for smallmouth bass fishing and other types of fishing in general.
In fact, Dale Hollow Lake is said to hold the record for the biggest smallmouth fish, which weighed 11 pounds and 15 ounces and was 27 inches long with a 21.5 inch girth.
On July 8, 1955, David Hayes of Litchfield, Kentucky, caught the smallmouth.
Every year, DHL hosts a number of fishing contests.
Throughout the year, there are further activities held in and around the Dale Hollow Lake region.
For example, Willow Grove Resort & Marina offers an annual fireworks spectacular dubbed "Shake the Lake" during the Fourth of July.
From January through December, each county around the lake has a number of activities planned.
During the winter, there will be an Eagle Watch event at Dale Hollow Lake.
The Bald Eagle is a magnificent bird that should not be missed.
Check out our events page to learn about future activities around Dale Hollow Lake.
How the Lake Was Created
Prior to 1942, communities were distributed over the area that is now DHL.
Dale Hollow Lake was once a man-made lake built by damming the Obey and Cumberland rivers.
The Flood Control Act of 1938 and the River and Harbor Act of 1943 both had a role in establishing this lake.
In 1948, 1949, and 1953, power generating units were installed to assist manage water levels and water direction.
Dale Hollow Lake's dam was erected on the water's west bank in Clay County to assist manage the lake.
After the towns were flooded to construct the lake, it produced a 620-mile-long shoreline, with a surface area of over 27,000 acres and over 25,000 acres of surrounding land, 24,842 acres to be precise.
The lake's average depth is 50 feet, with a maximum depth of 130 feet.
The lake's usual elevation is 651 feet, with minimums of 632 feet and maximums of 659 feet.
Throughout the year, water levels may rise up to 20 feet and fall as much as 10 feet.
These are critical considerations, particularly if you are boating in locations with low water levels.
Before you arrive, do some research about the region to ensure that your boating experience is as pleasurable as possible for you.
Getting to the Lake
If you are planning a trip to Dale Hollow Lake, it is a good idea to explore the various regions and how accessible the lake is from roads and highways.
DHL has simple access in general, although some of the roads to the marinas are lengthy and, in some places, tight.
Because the lake is situated on the border between Tennessee and Kentucky, it is essential to consult a map to ensure you are traveling to the proper marina.
The lake may be viewed from a variety of locations within these counties, making for excellent picture opportunities.
There are several locations where you may enter the lake by boat.
Some marinas and other lake access points are more accessible than others.
Sunset Marina and Resort provides the most direct access to the lake from major routes.
It is situated at 202 Sunset Dock Rd, Monroe, TN 38573, off HWY 111, just south of Byrdstown, TN.
Turn left (if heading north) or right (if traveling south) off HWY 111 and you'll be at the lake ramp access in a matter of feet.
Final words
Now you are aware about the best Dale Hollow Lake marinas, and you may think about coming to any of these to have an enjoyable experience. Other places with lake access and easy launching are available, however the road to get to these areas may be narrow and difficult to manage. For example, if you only want to launch your boat in DHL, Cove Creek provides a relatively simple launch spot, but the route to the launch site is narrow and several miles from a major highway. If you want decent roads, seek for marinas that are adjacent to key highways; more often than not, they will make it simpler to bring your boat onto the lake. If you want to launch your boat for fishing but do not want to use a marina launch location, you may ask the locals for isolated lake access.