Saguaro National Park, in the deep south of Arizona, was America's first national park, established largely to safeguard a plant species. Plants are in charge here, despite the fact that this is a desert environment.

Saguaro cactus, the park's namesake, dominate the environment, which is made up of desert lowlands and rough mountain ranges. The epithet "saguaro forests" does not exaggerate the abundance of these cacti, which are truly emblems of the American West.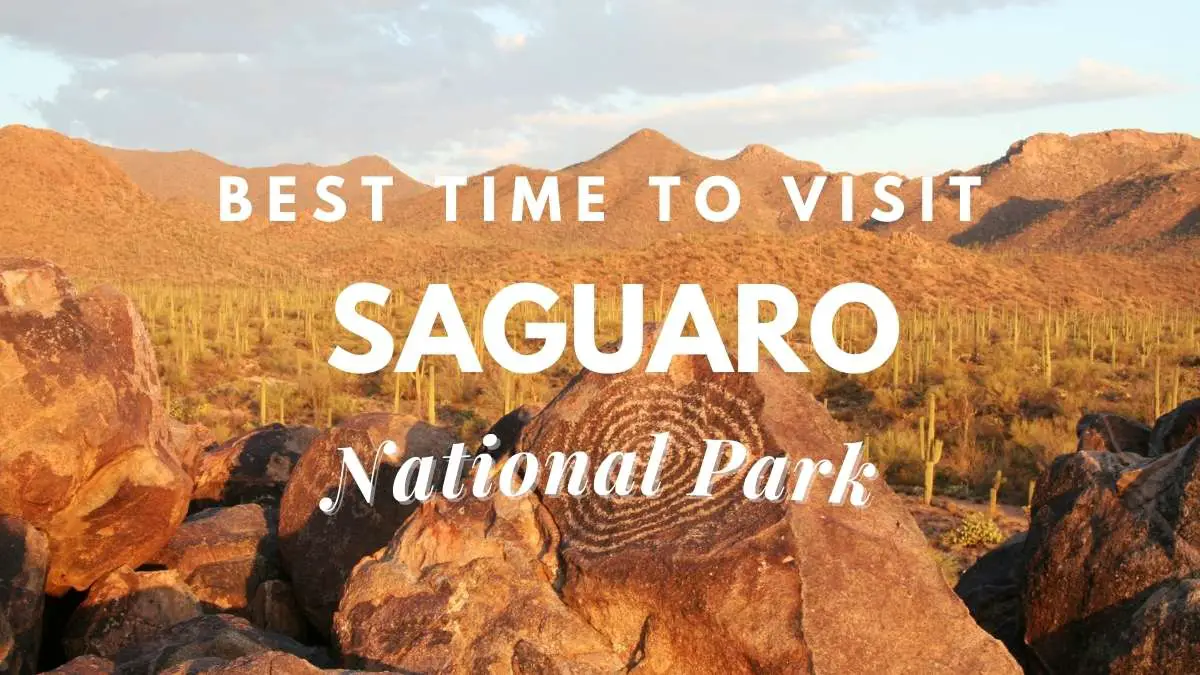 When is the best time to visit Saguaro National Park?
Aside from the two million commuters that travel through the park each year, the park receives roughly 750,000 leisure visitors each year, with Saguaro West getting the most. From Christmas through Easter, the park is at its busiest. Visitors who wish to avoid crowds might go at a different time of year, albeit hikers should avoid the intense heat of July. From late September through mid-December, you may have the best of all worlds: less tourists and cooler weather.
Hiking is another method to escape crowds, even at the busiest periods. Despite the fact that the park attracts a large number of people during peak hours, many tourists limit their activities to scenic drives and brief hikes. You can easily leave the throng behind in 15 minutes.
Read: Is Traveling A Hobby? The Ultimate Guide To An Exciting Way Of Life Learn about the Downsides Of Traveling As A Hobby

Climate & Seasons
Summers are hot, and winters are mild, so October to April is the greatest time to come, particularly for hikers. Summer highs range from 100 to 115 degrees Fahrenheit (38 to 46 degrees Celsius), with lows in the 70s. In July, August, and September, visitors should be aware that severe thunderstorms might occur, posing a risk of lightning and flash floods.
High temperatures in the winter are often in the 60s and low 70s (upper teens Celsius), with lows in the upper 30s and 40s (single digits Celsius). Snow occurs seldom, is usually light, and melts rapidly. Winters are also noted for moderate rainfall, although the weather is mostly sunny.
Read: Saguaro National Park East VS West: Which Side Is Better?On which side of Saguaro do you find the most cactus?
Things to know before visiting the Saguaro National Park
Saguaros are the biggest cactus species in the United States, endemic to the Sonoran Desert and found only in a limited portion of the nation. The finest spot to observe and learn about saguaros is in Saguaro National Park.
Some saguaros are quite massive, reaching heights of up to 50 feet. They're cactus that are literally the size of trees. Seeing a towering saguaro in person is humbling, even if you (think) you know them from Western films and images.
For millennia, saguaros have played a vital part in local Native American legend because to its human-like appearance. There are various creation legends about saguaros, most of them feature people who transform into saguaros.
When you encounter a saguaro in person, it's easy to envision them waving, greeting, and bowing, as if they were humans. Each saguaro is unique in both appearance and demeanor and is thought to have its own personality. In addition, the saguaro's fruits constitute a major part of the indigenous cuisine.
Read: 8 Best Hikes In Saguaro National Park RatedLearn about Valley View Overlook Trail
Sunrise at Arizona's Saguaro National Park
This park is all about these magnificent florae, as you can see. Basically, all of the Saguaro National Park activities I'll discuss below include the saguaro cactus.
Two Districts of Saguaro National Park: West vs. East
Saguaro is a very accessible park. It is made up of two districts that effectively sandwich the city of Tucson, Arizona, which has a significant airport. Both neighborhoods are within a short drive from downtown Tucson.
What is the difference between Saguaro National Park West and Saguaro National Park East?
You may be wondering what the distinction is between Saguaro National Park West (Tucson Mountain) and Saguaro National Park East (Rincon Mountain). The answer is a resounding yes. The western district is much younger and smaller than the eastern district. This is where you'll find the densest concentration of saguaros, as well as younger saguaro woods. Established in 1994, when Saguaro officially converted from a national monument to a national park, this is where you'll find the densest concentration of saguaros, as well as younger saguaro forests.
The terrain is made up of rocky ridges and desert grasslands due to the lower elevation. The oldest saguaro woods, on the other hand, may be found in the eastern side of Saguaro National Park, which has a larger average number of individual saguaros.
This section, which is many decades older than west Saguaro National Park, is also significantly higher in elevation. It has pine-oak woods and mixed conifer forests in addition to the typical saguaro forests. The Tucson Mountain District, in general, is more "visitor-friendly" than the Rincon Mountain District, which is much bigger, rockier, and inaccessible, with just one short loop route.
Saguaro National Park has ten fun things to do.
Both districts have Saguaro National Park attractions. Don't restrict yourself to just one visit! To get a true feeling of what this park (and the surrounding area) is all about, you should go to both. However, I suggest beginning your vacation to Saguaro National Park in the Tucson Mountain District. This summary of things to do in Saguaro National Park will also begin there.
1. Gates Pass Overlook
From Gates Pass Overlook, get a first sight at the cactus-dotted landscape. Despite the fact that it is not located inside the national park, it is nonetheless worth mentioning. The Gates Pass Road, which traverses the Tucson Mountains, is the most direct route from Tucson to Saguaro National Park West. It is located in Tucson Mountain Park, which is operated by the Pima County Parks Commission and borders Saguaro National Park to the south.
The Gates Pass Overlook, located high in the Tucson Mountains, offers a spectacular view of the desert lowlands below, which are studded with saguaros. This area, which faces west, is also a great place to see the sunset.
2. The Red Hills Visitor Center
Starting any visit to a national park at the visitor center is always a good idea. The park's biggest visitor facility is the Red Hills Visitor Center. There's a wheelchair-accessible route there, as well as all of the park's information and the typical national park opening video. Don't forget to grab a map and newspaper for Saguaro National Park.
Bajada Scenic Loop in Saguaro National Park, Arizona Drive the Bajada Scenic Loop in Saguaro National Park, Arizona. The Bajada Scenic Loop is without a doubt the most picturesque of the few routes that go through the Tucson Mountain District. This is a 5-mile unpaved, graded gravel road that circles around the district's core (8 kilometers). On this route, you don't need four-wheel drive or high clearance—a normal two-wheel-drive car would do. Mountain riding is permitted on this lovely gravel track.
This loop has a handful of picnic sites, overlooks, and trailheads, making it a great way to become acquainted with the park. Valley Vista is particularly noteworthy for its breathtaking panoramic view of the saguaro-studded desert.
3. Signal Hill
A picnic atop Signal Hill, on the north side of the Bajada Scenic Loop, is a terrific idea. The Signal Hill Petroglyph Site is located just north of the picnic area and is accessible through a short and simple hiking route. The summit of the hill is covered with more than 200 Native American petroglyphs ranging from 550 to 1550 years ago.
Petroglyphs, a kind of prehistoric rock art, may also be found in other southwestern American national parks. Mesa Verde National Park in Colorado, Capitol Reef National Park in Utah, and Petrified Forest National Park in northern Arizona are just a few examples of national parks.
4. Wasson Peak
The 9-mile (14.5-kilometer) round-trip to Wasson Peak via the King Canyon Trail is my personal favorite walk in Saguaro National Park. Wasson Peak, at 4,687 feet (1,429 meters), is the highest peak in the Tucson Mountains. Needless to say, the vistas are unrivalled.
The trailhead and parking lot are right across the street from the Arizona-Sonora Desert Museum, which is well worth a visit if you have time.
Camping at Saguaro National Park
If you are into camping, you will be able to find many different camping grounds as well. Let's take a quick look at the most prominent camping grounds that are available. Then you can come up with a decision to visit the best camping ground out of them to enjoy your stay.
5. Gilbert Ray Campground is a great place to stay.
Gilbert Ray Campsite is by far the greatest campground near Saguaro National Park West, and it's located in the center of Tucson Mountain County Park, only a short drive south of the national park's southern border. It's also the only built campsite in the park's immediate vicinity, both west and east.
You won't notice any change in landscape since you won't be officially within the national park. You'll be able to sleep amid towering saguaros and gaze up at a star-studded night sky. One of my all-time favorite campsites in or near national parks is this one.
I propose starting your itinerary with a visit to Saguaro National Park in the Tucson Mountain District, followed by a night at Gilbert Ray Campground. On day two, get up early to see the sunrise and travel to the Rincon Mountain District. In Saguaro National Park, there are a variety of things to do. Cactus Forest Scenic Loop in Rincon Mountain District, Saguaro National Park Attractions, Rincon Mountain District (East)
6. Cactus Forest Scenic Loop
The Cactus Forest Loop Drive in the Rincon Mountain District is the best place to go sightseeing in Saguaro National Park. This paved 8-mile (13-kilometer) route leads to a number of trailheads, overlooks, and scenic viewpoints. Many of the park's tallest cacti may be found in a huge saguaro forest.
The Cactus Forest Scenic Loop is suitable to rode bicycles in addition to being a beautiful trip by vehicle. It is definitely gorgeous, despite the fact that it is not the longest of roads. Saguaro National Park was featured in my list of the top national parks for road cycling because of its loop.
7. Arizona's Loma Verde Loop
The Mica View and Loma Verde Trails are well worth a hike.
To the north of the Cactus Forest Scenic Loop is a tangle of hiking paths. Mica View and Loma Verde are the two primary trailheads in this region, both providing access to towering saguaro forests and a variety of other routes.
These trails in Saguaro National Park East have no specified mileage. You are free to walk about and travel as far as you want: the various interconnecting paths enable you to design your own trip. I assure you'll have a great time exploring this section of the park, whether you stay close or venture far.
Activities in Saguaro National Park
People who visit the Saguaro National Park will be able to discover numerous activities as well. These activities will ensure that you don't get bored from the time that you spend at the park. Instead, you will fall in love with all the great activities that are available to you.
See the Spring Wildflowers
A large number of plant species may be found in Saguaro National Park. This is due to the significant height differences between the two districts, which result in different living zones. The Rincon Mountain District has roughly 1,400 plant species, whereas the Tucson Mountain District has 400.
There are a lot of blooming plants among them. In the spring, desert plants, cacti, and succulents, in particular, produce stunningly vivid blooms. This also applies to saguaros.
Final words
Summer visits are discouraged due to the park's location in the heart of the southern Arizona desert. Temperatures of above 100 degrees Fahrenheit (40 degrees Celsius) are not uncommon. From autumn until spring, the weather is ideal for hiking, cycling, and other outdoor activities. I suggest visiting Saguaro National Park in the spring since it is wildflower season and the temps are still pleasant. The months of March, April, and May are usually the best and most lovely for visiting the park.