One of the South Carolina Sea Islands, Daufuskie Island SC is about one mile across the Sound from Hilton Head Island. It's one of the most distinctive and undeveloped islands on the east coast, with delicious cuisine, seductive artists, well-known writers, Billie Burn, and a rich history. On this article about How to get to Daufuskie Island, we will be sharing all basic information that you need to know. Enjoy our comprehensive guide to the island, which includes directions, advice on how to get about, ideas for things to do, places to eat, and places to stay.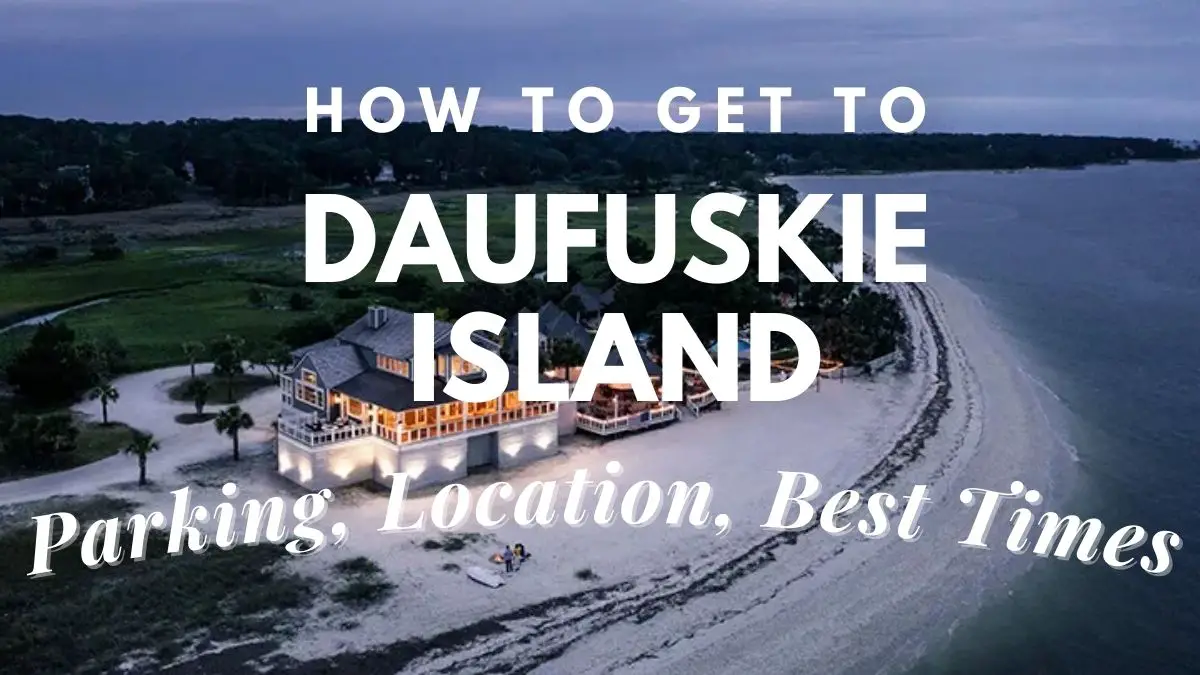 Where is Daufuskie Island?
In between Hilton Head and Savannah lies Daufuskie Island (to be more precise, between Hilton Head and the Savannah Nation Wildlife Refuge) Daufuskie and Hilton Head are separated by the Calibogue Sound, and the distance between them at their narrowest is less than a mile. One of the tiniest islands in the Southeast of the United States, the island itself is barely 5 miles long and 2.5 miles broad.
If you want to spend some time on this lovely Island, there are several ways to get about that don't involve driving a vehicle. The name "the island without a bridge" is not a misnomer. All year long, you may board the Daufuskie Island Ferry at the Buckingham Landing Embarkation Center. The ferry general operates 4 times every day, separated by 3 hours. A 45-minute journey is also required. There are several water taxis available if you'd want to go there quicker and more discreetly than on the public boat. Some can get you there in only 10 or 20 minutes.
There's nothing to worry about if you're staying in Haig Point. There is a private boat that departs from Haig Point every hour, 18 times each day. Additionally, water taxis are available upon request.
Read: Is Traveling A Hobby? The Ultimate Guide To An Exciting Way Of Life Learn about the Downsides Of Traveling As A Hobby

How to navigate in the Daufuskie Island?
The majority of people who visit and live in Daufuskie use golf carts. It's the main cause of the Island's allure and distinction. It's simple to hire a cart if you're staying in Haig Point. When you ask for one, they will have one ready and waiting for you.
Consult the owners or management business if you are staying at an Airbnb or other kind of property. Many will advise you on the best route to take from the boat to your hotel and have golf carts available. Additionally, there are many spots on the Island where you may hire golf carts. In most cases, these businesses will either pick you up from the ferry or water taxi, or they will wait with your cart. Inquire with them for additional details.
If you want to remain for a long, you may bring your automobile to the Island by barge, however this is not advised for brief visits. After loading your automobile, you'll need to utilize the ferry or water taxi since the barge does not accept people.
Our family had a great time driving our golf cart around. The majority of the twisting side roads are unpaved, although some of the larger routes are. But don't worry; they all seem to be in excellent shape and simple to use. We were informed that the local community successfully resisted the state government's offer to pave new roadways. They feared—and rightly so—that the roads wouldn't be maintained and would end up being worse than their present, lovely routes. Don't overlook the location of the renowned sea island cotton.
If you have an electric cart, just make sure to keep a check on the battery indicator. Although we were forewarned that the gauge might swiftly drop to zero after hitting the 50% point, we managed just fine. This is precisely how it turned out for us!
Before it reached halfway, we drove the cart about for hours; sure enough, it went from halfway to 10% in a matter of minutes. If you keep it charged while parked at your lodgings, you'll be good. The Island has several charging stations, and our cart charged up really rapidly.
Things that you can do at Daufuskie Island
Sallie Ann Robinson is a writer, chef, and Daufuskie Island native who is also a sixth generation Gullah and Native American. On the Sallie Ann Authentic Gullah Tour, she served as our tour guide as well. The ideal complement to learning about the past and present was Sallie Ann's tales of growing up on the Island.
She led us to the graves of her mother and sister and spoke to us there. The cemetery is one of six Gullah-only cemeteries in Daufuskie, and as they deteriorate, she works assiduously to get them repaired and preserved. We also went to the about 140-year-old First Union African Baptist Church. Sallie Ann performed for us, singing songs from her family that she goes to church at there. Listen in the video down below.
We also went to the Mary Field School, which the locals erected in 1934. It is now a coffee shop and the studio for the incredible Daufuskie Blues performers. Sallie Ann, a student in the sixth grade, was taught here in 1970 by renowned novelist Pat Conroy. You may remember the character of Ethel from his novel (later made into a movie) Water is Wide, which was based on Sallie Ann and representative of the strong connection the two enjoyed up to his passing.
These are just a handful of our 3-hour tour's top points. Three hours may seem excessive if this is your first trip to Daufuskie Island, but I guarantee you that it will give you a genuinely unique understanding of the island's history and culture.
1. Visit St. Mary's School
You must visit the school on your own if you don't go on Sallie Ann's tour (or, like us, you might stop by again anyway because the coffee here is super.) The school was established in 1934 for the Island's black youngsters, as I said above. Pat Conroy started teaching immediately after the end of apartheid in 1962. Nobody at the moment could have imagined the fame he would eventually bring the little white structure.
Coffee from School Grounds. Through a walk-up window, we could still buy coffee and pastries from School Grounds Coffee. The coffee is excellent! Sit inside to enjoy your cup of coffee if they are open when you go; the area is in what was the school's former cafeteria/lunchroom.
Additional advice if you have children. There is still a playground. My sons adored it since it was the traditional sort. While we waited for our coffee, we may have also played a few games of basketball on their outside court.
Blues in Daufuskie. The indigo dye workshop Daufuskie Blues is located on the campus. Even though the facility was shut during our visit, the owner and artisans took their fabrics outside and showed us how they were dyed.
We were initially shown an indigo plant growing in the yard by artist Rhonda Davis. She described the "new" and "old" processes for extracting dye from plants. She then demonstrated the magic for us. She placed some white cotton in the blue dye and let it soak for a bit. and took it out to see a white strip that was still there. The cloth started to slowly…slowly become blue as the air struck it. When we were done talking and shopping, the sky was a deep blue color like the South Carolina flag. Indeed, magic!
2. Explore the Iron Fish Gallery
Iron Fish Art is created by award-winning artist Chase Allen. His sculptures start off as metal sheets and develop into mermaids, fish, stingrays, and other forms. His work is incredibly reasonable should you fall in love like we did, despite the fact that he is a modest member of the "million-dollar club," which is home to a very small number of productive artists or craftspeople with lifetime sales beyond one million dollars.
His metal sculptures with seaside themes may be seen adorning walls all around the world. We had pleasure in touring his workshop and galleries. My favorite, I believe, was the large fish who greeted us, but he didn't fit on the golf cart.
Take the Guided Daufuskie Island History & Craftsmen Tour if you want to learn more about Chase Allen and other island artisans including Rhonda Davis & Leanne Coulter, Lancy & Emily Burn, Mike Loftus, and more.
3. Explore Daufuskie Marsh
In 2010, Marsh Tackies were named the state heritage horse of South Carolina. They have been around for 500 years. These little Spanish colonial horses are renowned for being calm under pressure, docile, trainable, sure-footed, and robust as an oak board.
Their genetic makeup links them to 1500s Spanish battle horses. After being abandoned on the island for a very long time, they were finally tamed, first by the local Native Americans and subsequently by the European settlers.
The local Gullah population employed the horses mostly in the fields and gardens after the Civil War. In actuality, the reason they were called "tacky" was because they were thought to be inexpensive and widely available—everyone had one.
There are barely approximately 400 still in existence today. Visit the stables to get up close to many Marsh Tacky horses, including the newest arrival from November 2019 and the first one to be born in 40 years.
4. Visit the Marina Freeport
To get to the Freeport Marina, pass through the lovely Spanish moss. Visitors may go on self-guided golf cart tours from the Freeport Marina or, on certain days, board a bus tour of the historical neighborhood. Tourists who wish to sample the island's renowned Scuppernong Wine often stop at the elegant and historic Bloody Point Lighthouse.
5. Visit the lighthouse
The Bloody Point Lighthouse was constructed in 1883 for the Island's southeasterly edge. (Haig Point is the location of Daufuskie's northern lighthouse.) It is not a large, towering lighthouse like those on the Outer Banks… but a two-story structure that was created by the first light keeper himself.
Even though the building was closed when we went, it was still a lot of fun. A big Angel Oak, endless rows of grapevines, an antique hand-dug canoe from the time Native Americans lived on the Island, a flying Bald Eagle's nest, and a tale of how it was found are all visible on the site. The nest place is well identified, and a viewing tube and box carrying free binoculars are provided for a better view.
Winery of Silver Dew. There is a modest red brick structure that you will pass as you go toward the lighthouse. The Silver Dew Winery is located there, although it was formerly the lighthouse's wick house (oil storage). Here, in the 1950s, Arthur "Papy" Burn started producing wine; in fact, Conroy mentions it in his book on the region. It is the only "island winery" in the USA. Sadly, the winery went out of business in 1956. The Silver Dew Winery sign and a cute tiny gift store are still there on the old wick house, where you may still buy a bottle of wine.
The pond behind the lighthouse is a final place to keep an eye out for wildlife as you go through the grounds. We came upon a huge alligator named "Papy" that was lazing about.
6. Visit the community farm
A 100% volunteer-run organization, Daufuskie Community Farm and Artisan Village promotes sustainable living on Daufuskie Island. By converting the farm's original focus on livestock into gardens, orchards, and the new Artisan Village, the neighborhood helped design, build, and maintain this profitable enterprise. Visit them to view the cute goats, along with the chickens, cows, and other animals.
Consider taking the Wild Daufuskie Island Eco-Tour (or any of the eco-tours) from Tour Daufuskie if the local wildlife and native people fascinate you. You may get up and personal with Daufuskie's "wild side," which includes the birds, gators, edible plants and weeds, marsh and marine life, insects, and other creatures that are common on the island, including those at the Community Farm.
Final words
Now you know how to get to Daufuskie Island and explore the surrounding. Keep this article as a guide and you will be able to secure an unforgettable time during the stay.