Visit Rice Lake in Wisconsin's Barron County for a quick break from your stressful city life. Don't be fooled by Rice Lake's appearance as a sleepy town; there are plenty of opportunities for outdoor recreation here. Rice Lake, the commercial and tourist hub of Barron County, is located next to the titular lake.

You can view and experience Rice Lake's famed natural attractions in its parks and nature preserves. The numerous trails in this area make Rice Lake a great destination for outdoor enthusiasts. The bird sanctuaries and wildlife-protected areas near Rice Lake will also provide nature and wildlife lovers with plenty of sight-seeing opportunities. If you only have time for a brief trip, Rice Lake has a fantastic community that is passionate about the arts and history. In this article, we will share a list of things to do in Rice Lake WI.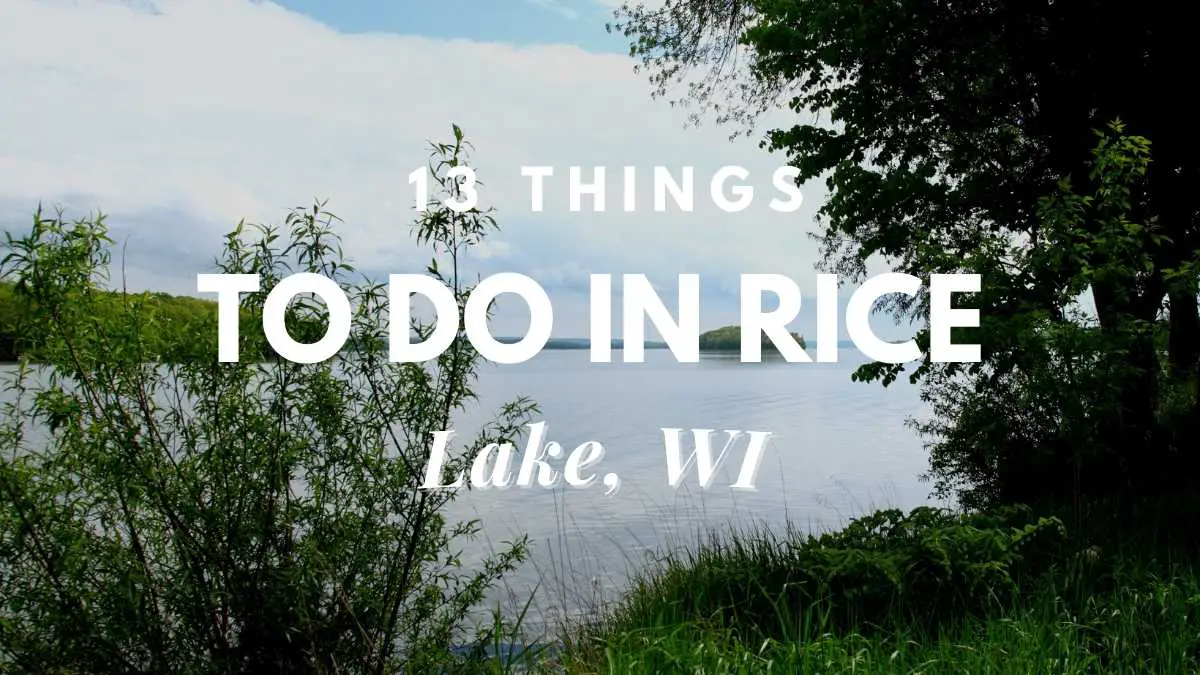 1. Explore the renowned Cedar Side Walking Trail.
The Cedar Side Walking Trail is where most locals in Rice Lake advise beginning your adventure. The easy route on this six-kilometer out-and-back nature trail in Rice Lake is ideal for everyone. The Cedar Side Walking Trail is a popular route for trail runners, off-road mountain bikers, and nature lovers in addition to hikers. There is no better way to begin your trip than by exploring Cedar Side Walking Trail in Rice Lake. One of its access points is on Rice Lake's College Drive.
Read: Is Traveling A Hobby? The Ultimate Guide To An Exciting Way Of Life Learn about the Downsides Of Traveling As A Hobby

2. Visit the Rice Lake Community Garage Sales to Find Great Deals
The annual three-day Rice Lake Community Garage Sale is hosted by the entire community every May. You should take part in it because it will be enjoyable. Everyone is aware that unique or special items may be hidden in garage sales. Check out this special sale in Rice Lake where you can get fantastic items for a bargain price. At the garage sale, you can expect to find old furniture, used clothes, shoes, toys, collectibles, and memorabilia.
Families from Moon Lake Drive, Linden Avenue, Wisconsin Avenue, E. Newton Street, and Philips Avenue are invited to participate in the Rice Lake Community Garage Sale. As a result, make room in your trunk because your Rice Lake travel adventure will undoubtedly result in you bringing home a lot of items.
3. Attend the joyous Barron County Fair.
Each July, the Barron County Fair takes place in Rice Lake and is filled with commotion, joy, and live music. More than a thousand people attend this significant community event from all over Barron County. Every year, the Barron County Fair features produce and livestock vendors, an amusement park, food stands, and musicians. Barron County Fair has been held in Rice Lake annually since 1877. This important event is organized by the Agricultural Society of Barron County.
4. Enjoy Music at the Shell at Sunset
The best regional musicians perform at this monthly concert series at Veteran's Memorial Park in Barron County. Along with listening to great music, you can sample a variety of foods and beverages from the vendors there. At the renowned outdoor theater in the shape of a seashell, enjoy the music. At the yearly flea market and craft fair, score some fantastic finds.
Numerous community-focused events are organized by the Barron County Historical Society. The group's yearly outdoor flea market at the Pioneer Village Museum in June is one of its most popular gatherings. Pre-owned items from residents of Barron County are sold at the flea market. This flea market at Pioneer Village Museum offers the same thrill of perusing dozens of vendors as most others. You can shop for apparel, handbags, jewelry, shoes, home goods, customized designs, collectibles, and artwork. The best place to find unique keepsakes from your Rice Lake vacation is at this flea market.
This flea market is also a worthwhile adventure because you can tour the Pioneer Village Museum's historic structures.
5. At the Rice Lake Speedway, watch them race
Visit the renowned Rice Lake Speedway if you want an exciting experience while you are in Rice Lake. Rice Lake's 1/3-mile racetrack is well-known for regularly hosting events featuring racing cars from the Midwest modified, modified super stocks, pure stocks, and street stock categories. Since 1952, Rice Lake Speedway has developed into the hub of motorsports in Barron County. It's already produced a significant number of elite racers. Don't miss an exciting race at Rice Lake Speedway, whether you're a fan of racing or just a casual spectator.
6. Visit Veterans Memorial Park for a Picnic
The first and largest public park in the city is called Veteran's Memorial Park. The locals' favorite place to unwind or have fun is this neighborhood park. The majority of the city's events take place at Rice Lake's Veteran's Memorial Park, making it stand out from other neighborhood parks. There is also the yearly Sundown by the Shell, a free concert featuring regional bands and musicians at the park's outdoor theater in the form of a seashell. Sports and recreation are also offered at Rice Lake's Veteran's Memorial Park.
In addition to its well-known outdoor theater, it has a playground, picnic areas, tennis courts, a shelter, a wooded area, a Civil War monument, and a Veterans War Memorial.
7. Visit the RedBarn Theatre to see a live performance.
The top performing arts venue in Rice Lake is RedBarn Theatre. This community theater has been showcasing local talent through live performances and productions since the 1960s. Catch a performance at RedBarn Theatre if you enjoy stage plays or Broadway. Numerous successful productions have been staged there, including Sister Act, The World Goes Round, The Hallelujah Girls, Mamma Mia!, and The Boys in Autumn.
8. Have fun at Salt Lake City
Skate City is a great place to spend quality time with your loved ones in Rice Lake. Since it has been open indoors since 1978, this roller skating rink is the best in the city. Over the years, a number of entertaining attractions have integrated themselves into Rice Lake's renowned entertainment district. It offers a volleyball court, ball pit, mini-golf course, turtle slide, overnight lock-ins, and Saturday night dances. Skate City dedicates itself to being Rice Lake's top spot for family-friendly entertainment today. It continues to be well-known for its recognizable blue skating surface. It also has a lot of fun arcade games for the whole family.
9. The Wild Rivers Trail for hiking
You can travel 9.1 miles through beautiful trails on Rice Lake's Wild Rivers Trail. Visit the Wild Rivers Trail if you're looking for more outdoor adventure while you're in Rice Lake. In addition to its 9.1-mile trail that circles Rice Lake, you can travel 104 miles to Solon Springs through Douglas County and Washburn County. You can always rent an ATV to complete the 104-mile trail if you don't have the time to hike it. In the winter, a snowmobile is an option. Similarly, you can bike or ride a horse along this well-known trail in Barron County. In the end, it's up to you how you want to complete the Wild Rivers Trail.
10. Visit the Wolfinger Bird Sanctuary to see exotic birds
In Rice Lake, the Wolfinger Bird Sanctuary is a well-liked spot to observe birds. It is a protected natural area with Rice Lake, marshes, and woodlands. Visit the Wolfinger Bird Sanctuary if you're a serious wildlife enthusiast or birdwatcher to see different bird species. The majority of this Rice Lake bird sanctuary is located along E. Orchard Beach Lane. This bird sanctuary is a great place to see a variety of birds because it offers the unadulterated beauty of Rice Lake's wilderness. Deer and other small mammals are among the local wildlife that you can see in the area.
11. Activate your athleticism at Earl Clanton Memorial Park
A 16-acre neighborhood park along Hammond Avenue, Earl Clanton Memorial Park is renowned for its excellent sports facilities. Go to Earl Clanton Memorial Park to play some sports before you head home. Numerous football fields, softball diamonds, a press box, a multipurpose building, and a concession stand are all present in the park. This location makes Rice Lake more exciting to visit because it hosts the majority of the football and softball tournaments. In addition, the Rice Lake Hockey Arena, another sports complex worth visiting, is nearby.
12. Celebrate Midsummer's Eve
For a unique travel experience in Rice Lake, celebrate the annual Midsummer's Eve at the Pioneer Village Museum. The Barron County Historical Society and the Sons of Norway- Dovre Lodge host this traditional Norwegian celebration.
This unique festival celebrates Scandinavian culture's old and new traditions through former immigrants and now locals of Barron County. You shouldn't miss this festival on your Rice Lake trip.
13. Experience the Old Life in the Pioneer Village Day Camps
One of the most interesting activities advised during your vacation to Rice Lake is the Pioneer Village Day Camps every June. This three-day program is an educational workshop/outdoor adventure for youngsters aged seven to 13. It enables users experience living back in the 1800s in Northwest Wisconsin. The experience allows people understand how basic life was back in the day. During the three-day camp, they'll feed farm animals, handwash clothing, attend one-room school, weave a basket, water the garden, etc. You'll also learn about Native American culture, history, and heritage throughout the camp.
Final words
Rice Lake offers everything an outdoor enthusiast desires, from the gorgeous lakes, parks, and bird sanctuaries to nature preserves. Moreover, Rice Lake has a rich history that may educate anybody eager enough to study. Its tightly-knitted community makes this little city extra distinctive via many activities that are certainly exciting to participate. Plan your tour based on this list of things to do in Rice Lake WI and you will not have to worry about anything at all.