On the boundary of Steuben County, Indiana, and DeKalb County, Indiana, lies a little town called Hamilton. Although we have always been a little community, historically, because of the draw of our "beautiful lake," our population booms in the summer. Over 800 acres and over 90 feet deep make up Hamilton Lake. Downtown Hamilton, which has a large number of eateries, shops, and businesses that provide professional services, is situated along the south bank of the Lake. In this article, we are looking forward to sharing all the details that you need to be aware of Hamilton Lake Indiana.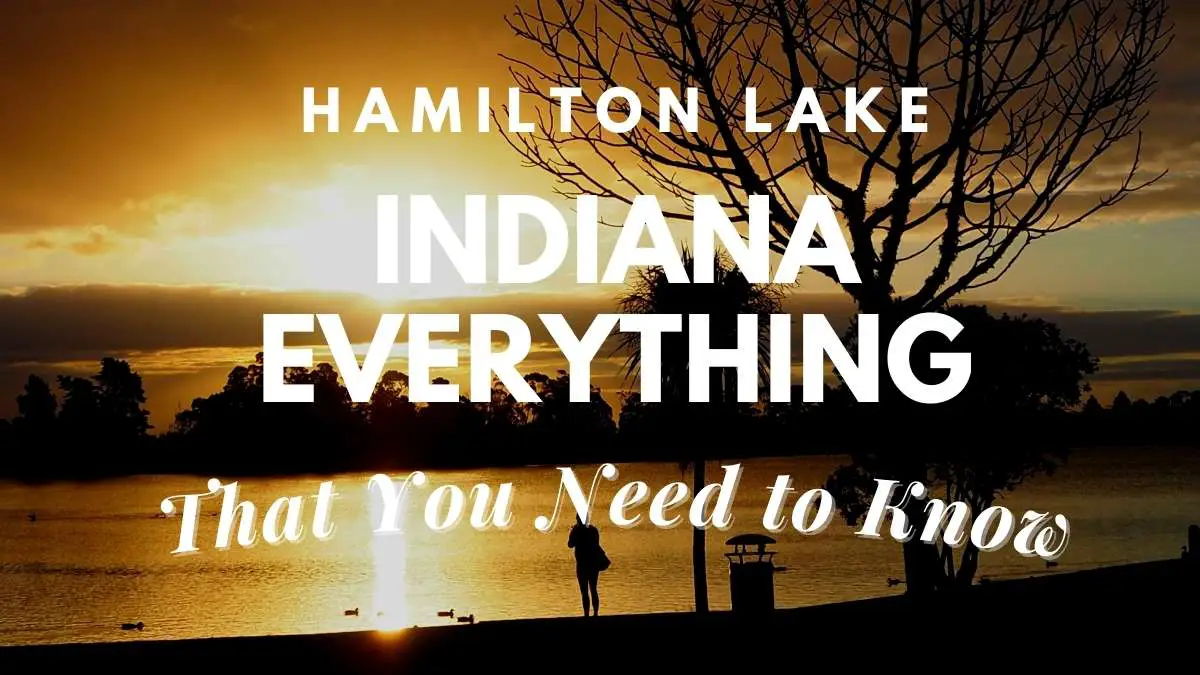 What is the Hamilton Lake Indiana?
Hamilton Lake, the fourth-largest lake in Indiana, is situated in the stunning Steuben County region in northeast Indiana. The present lake was created in 1832 by damming a number of smaller lakes. Despite having two dams, Hamilton Lake is generally regarded as a natural lake. The lake is mostly used for recreational purposes. Crystal Cove, a man-made extension, was built and linked to the lake itself in the most recent ten years. There is plenty of space for boats, jet skis, and other watercraft on the lake's existing 802-acre surface. The Indiana Department of Resources uses a north and south dam to regulate the water level.
The bass competitions are a lot of fun, and anglers will be happy to know that they happen every weekend from Memorial Day through Labor Day. A wide variety of fish species, including small- and largemouth bass, perch, crappie, bluegill, and northern pike, may be found here.
Read: Is Traveling A Hobby? The Ultimate Guide To An Exciting Way Of Life Learn about the Downsides Of Traveling As A Hobby

Fishing activities that you can do at Hamilton Lake Indiana
On Hamilton Lake, all types of water activities are permitted, and there are two free public launches, making it highly accessible. Two filling stations are provided for jet skis and boats, and a number of restaurants provide docks for clients. There are several restaurants, and the eating options are varied. Near the south dam, there is a public beach as well.
Residents have been complained about the persistent trash and growing murkiness of the water for the last 20 years. The IDNR has discovered that every time there is a significant rainstorm, Black Creek, the stream that flows into the lake, deposits a significant quantity of silt. Additionally, a minor quantity of silt may also enter Hamilton Lake via Fish Creek, the lake's exit stream. The IDNR is taking action to prevent silt deposition and soil erosion in the area.
The IDNR and the Hamilton Lake Association fight with the native flora every spring. The lake is overrun with weeds, particularly Curly Leaf Pond Weed and Eurasian Milfoil, and every May a chemical called SONAR is put to the lake to eradicate them. The Association requests that boaters and swimmers refrain from entering the lake at this time in order to prevent the weeds from producing more seeds and spreading farther.
Among the developments are houses, cottages, and neighborhood businesses. The 106-acre property, which includes wetlands, rolling hills, woodland, and a lakefront cabin, is the sole remaining untouched area of the lake's environs. Currently, this property is for sale.
It almost seems like going back in time when you visit Hamilton Lake. The same family still own the vast majority of the cottages that line the coast, and they have been there for more than fifty years. More and newer, complex year-round residences are popping up alongside the traditional seasonal cottages. Boat rides around the lake that are leisurely provide many opportunities to see people and birds. There are several cranes and blue herons, and they are often seen fishing along the coast. There is a steady buzz of boats from sunup to sundown throughout the busiest summer weekends. Weekdays are best if you want to enjoy the lake but want a more sedate atmosphere.
Why should you be visiting the Hamilton Lake?
In the lake region of Northeast Indiana, Hamilton Lake is a jewel. Hamilton is a fantastic option if you only have time to see one lake in Indiana. You won't be dissatisfied.
Greater Hamilton is undoubtedly the destination for lively, engaging, and happy endeavors for the young and the young at heart. We have created a fun agenda by drawing inspiration from three fundamental child activities: playing, riding, and exploring. Continue reading to learn about three family-friendly activities in the Greater Hamilton area.
You can play with your loved ones
A 25-hectare expanse of verdant grassland surrounds the immaculate Lake Hamilton. There is a ton of space to play here! The lake's waters are perfect for canoeing, sailing, windsurfing, sailing, and other water sports. Rest and relaxation are also completely possible because to the abundance of green grass around the lake's shores. Set yourself up for a relaxing day by spreading out your towel, pulling up a camp chair, or setting up your picnic mat.
You can see the whole area from the lake's walking/biking path. The track is little over 4 kilometers long. It is nicely constructed, a leisurely stroll or bike, and it offers several spots to halt along the route to recover and reorganize. The Hamilton Park Run, a free, weekly 5 km run around the lake, is another event that works well on this track.
The Lakes Edge Adventure Playground is about 20 meters from Hamilton Lake and is only a hop, skip, leap, slide, and swing away. There is a ton of fun and equipment on this playground for people of all abilities! The selection of play equipment includes a huge climbing structure, a steep, twisted, turning, spiraling slide, spinners, swings, see-saws, hammocks, climbing walls, play ships, sandpits, diggers, and much more! There are also lots of restrooms, water taps, picnic tables, and shelter.
You can visit the Hamilton Model Railway Museum
The Hamilton Model Railway Museum offers train rides. The Hamilton Model Railway Group Inc., a group of friends with a deep interest in Australian Model Railways, founded and is still devotedly running this museum.
The museum provides kids with all the wonder and joy of the railway, and it is open to the public on the first Sunday of every month (keep an eye on Facebook for extra days and hours). Kids may examine the model exhibit of Kilmore East and a variety of railroad artifacts within the clubrooms. They may ride a variety of toy railcars on the tracks outside while seeing the fresh paintings on display. Keep an eye on the socials as well; the club often hosts popular, kid-friendly events like the "Teddy Bear Picnic" and the most recent addition, "Christmas on the Train."
You have many other things to explore around
In its buildings, gardens, and parklands, the Hamilton Institute of Rural Learning (HIRL), a multipurpose, indigenously based complex, exhibits sustainability ideals. The Eastern Barred Bandicoot enclosure and natural grasslands/bush enclosure are accessible via HIRL. includes a vegetable garden, a play area for kids, red gum sculptures, a nature walk, picnic tables, and an indigenous food garden.
The natural forest that surrounds the HIRL reservoir is traversed by walkers on the HIRL nature path. Enjoy the 12 educational signs that include stunning drawings of the local flora and wildlife. It takes little over 30 minutes to stroll around the reservoir in its lovely natural wilderness, where you may witness local animals, birds, and native flora typical of the grassy plains and bushlands of the western region.
Other activities
The Hamilton County communities of Carmel, Fishers, Noblesville, and Westfield, which are located just slightly north of Indianapolis, have enough allure to warrant a full-fledged vacation all to themselves. You may discover something to suit your interests whether you're traveling alone, with friends, family, a spouse, or any combination of these. You may enjoy outdoor attractions, museums, arts & culture, shopping, and eating in this area, all of which are blended with a generous helping of warm Indiana friendliness. Here are seven things you absolutely must do when visiting Hamilton County.
1. Conner Prairie Museum
The popular living history museum outside of Fishers has long been a field trip destination for local schoolchildren, but it now offers year-round immersive experiences, entertaining events, and educational programs. A few of the attractions are the 1836 Prairietown village where you can meet a group of costumed interpreters, the 1859 Balloon Voyage for a tethered bird's-eye view of the nearby cornfields, the Symphony on the Prairie summer concert series, and the yearly Headless Horseman Festival and Apple Store each October.
2. Examine the Arts & Design District in Carmel
The Arts & Design District's posh shops, galleries, salons, and fine dining establishments further enhance Old Town Carmel's image as a place of style and refinement. The district's stunningly realistic "Man on the Street" sculptures by J. Seward Johnson Jr. are the ideal reason to pause and take a photo.
3. Palladium Performance Venue
The 1,600-seat Palladium music hall serves as the centerpiece of Hamilton County's cultural landscape, which is anchored by the European-style Center for the Performing Arts. The facility draws an impressive array of performances and musicians from a variety of genres, including Gladys Knight, Jason Isbell, Trisha Yearwood, and John Cleese. It also has pitch-perfect acoustics. The campus is completed with the more intimate performances at the Tarkington Theater and Studio Theater. Large touring bands and music festivals often stop in Noblesville and perform outside in the amphitheater of the Ruoff Home Mortgage Music Center.
4. Exploring Noblesville's Old Town Square
The charming Second Empire-style Hamilton County Courthouse is surrounded by modest boutiques and neighborhood eateries where you may while away a delightful morning or day. Just a block from the main center, the Nickel Plate Arts site has studios and galleries in addition to holding practical seminars and other events. Whatever you do, don't pass up the opportunity to try Rosie's Place's famous ooey butter cookies.
5. Nickel Plate Express
The Nickel Plate Express operates themed train excursions throughout the year from downtown Atlanta to Noblesville through the expansive countryside of Hamilton County. Choose from a timetable that offers adult-only meal and drink events, as well as family-friendly Pumpkin, Wizard, and Reindeer Express trips.
6. The Sun King Spirits distillery
The Sun King Spirits distillery offers a one-stop eating and drinking experience and is located right on the Monona Trail, which passes through Carmel's Midtown District. In this dining hall, you may get tacos, pizza, sandwiches, and other casual fare along with artisan drinks that carry a punch. Continue to hang out in the outside entertainment area before or after your lunch to play some ping pong or toss some cornhole beanbags.
7. Strawtown Koteewi Park
In Hamilton County, Strawtown Koteewi Park provides a unique range of opportunities for connecting with Mother Nature. Ride a horse at K-Trails Equestrian Adventures, try your hand at archery at Koteewi Range Sport & Target Archery Center, or climb a tree at Edge Adventures Indianapolis to test your mettle on the ziplines and treetop trails. The groomed Koteewi Run Seasonal Snow Tubing slope entices visitors for exhilarating downhill rides throughout the winter.
8. Mercantile 37 boutique
The Mercantile 37 boutique is located in the most remote areas of northern Hamilton County. The business's father-and-son proprietors, J.R. and Nick Rudebusch, get their vintage gifts, lighting fixtures, jewelry, and home accents from more than 50 Indiana craftsmen. They also design and produce their own handmade furniture and other goods in the studio area at the rear of the store. Along with excellent coffee beverages, breakfast sandwiches, and paninis for lunch, the adjacent Wheelers Cafe and Market also sells a modest range of items and foods that are locally made.
Final words
Find out for yourself how beautiful the expansive gardens are. With room to fly a kite, have a family picnic, or skip till your heart's content, you will be thrilled with what you find. There you have it, then. Play, bike, and learn about Hamilton. Choose one or execute all. In any case, you and the kids will have a blast!