Do you want to learn how to save money for travel as a student? Then you are at the right place. Itching to explore the globe but don't have the finances to accomplish it? These student-friendly money advices can send you on your road to that dream vacation, gap year or major break. Finding 'extra' funds for travelling is a big ask at the best of times and may be extremely problematic when you're a student. Once you are structured, though, you can eat your way to a savings fund without feeling overwhelmed.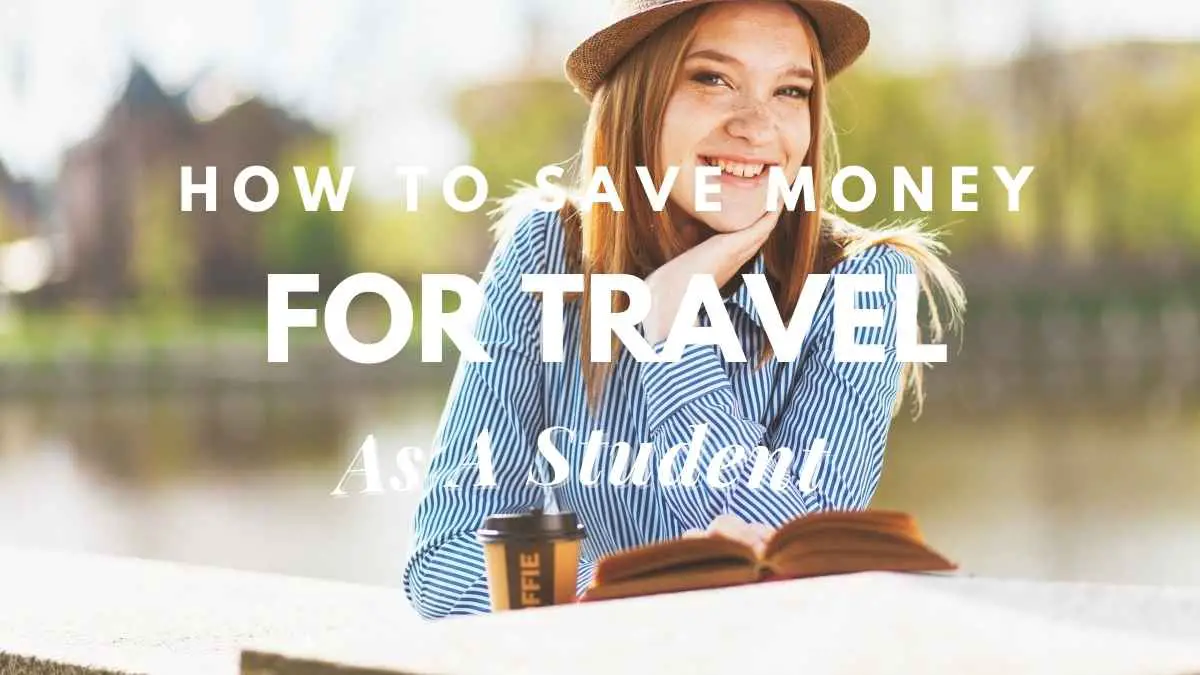 1. Turn your dream into a goal
Whether it's a city break in the South of France or an open-ended shuffle across South America, your first step is selecting what type of trip you're wanting. Next, you need to assess the costs: investigate transport rates, meals, lodging, sightseeing … the entire shebang. Doing this step first provides you a clear objective and will help you remain focused while scraping together the funds. This is one of the best tips that we can give to any student who wishes to learn how to save money for travel as a student.
Read: Is Traveling A Hobby? The Ultimate Guide To An Exciting Way Of Life Learn about the Downsides Of Traveling As A Hobby

2. Hunt for bargains
Any method you can cut the price will make it simpler to save up, so seek for ways to spend less for your getaway or stretch your money longer. If you're a student, an ISIC card (international discount card) might save money when travelling. Not a student? Instead, use the IYTC.
Read: What Essential Oils Are Good For Travel?
3. Set a monthly goal
Divide your trip's total cost by the number of months left. This shows how much you need to save or earn to fund your vacation. If necessary, change the amounts to save less every month over a longer time. If you don't have an ATM in your couch, you have two options: cut back or earn more. We'll cover them both below!
Read: 23 Foods That Travel Well Without Refrigeration
4. Stop cash leaks
Begin by recording every purchase. Mobile coffee? Awful gas bill? Am I being fined for overdrawing? Keep track of your expenditures during the week. Then, and this is key, adjust your actions. Reduce the heat, plan your repayments, and brew coffee at home. Find unnecessary expenditure and eliminate it.
5. Enable auto-saving
Turn on your bank's app's auto-saving, rounding, or change-saving features. Every time you use your debit card, they automatically round up to the closest pound and save the difference for you. Some third-party applications, like Cleo, link to your bank account through Facebook Messenger.
6. Downgrade sincerely
As an example, you could choose supermarket discount brands over expensive items featured on TV. So, if you have big-ticket trip plans, downsize everything. Switch bill providers to save money, walk to save money on bus costs, or purchase exclusively used or refurbished items to save even more.
The largest advantages come from changing accommodations. Making a year-long savings by moving, staying at home, or lowering your existing rent requires advance planning.
7. Sell things that you don't use
Clothes, old phones, roller skates used as a door barrier… For items that haven't been touched in 6 months, sell them on eBay, or advertise locally on noticeboards or using an app. Next, hunt for freecycle websites, shop samples, and online freebies to sell.
8. Hustle
Skills are a step up from stuff, and everyone has something to contribute. Your skills as a musician, web developer, language speaker, or subject matter expert may be monetized. Clients may be found on freelance markets like Fiverr or Freelancer, but you can also go it alone. Even better, remote employment or tutoring may be done by email or video conference from anywhere – extra income while travelling.
Focusing on a monthly target rather than a huge amount helps savers remain motivated. Then do one or two actions every day that help you achieve your goal: refuse an impulse purchase, work an additional shift, or look for a lower phone plan. Saving for vacation is considerably simpler if you take tiny, uncomplicated steps!
9. Self-Preparation
Not rocket science, cooking. It is an art, but it is also a craft. We are not expecting you to become a gourmet cook or MasterChef overnight. Focus on the possibility. Avoid dining out since it adds up over a month. It's harmful and costly. Poor grade cooking oil is utilized. Even plain dal, vegetables, and chapatti has little nutritious benefit. The dal and vegetables are cooked in huge quantities, destroying any nutrition. The money you save at the end of the month may be utilized to travel.
10.  Take Local Public Transit
Don't squander money on taxis or cabs; use the subway, buses, etc. Learn the routes and stops to make commuting easier. Many individuals are too indolent to learn public transportation. Your choice to be lazy or poor and unable to go. Make wise choices and use your resources wisely.
11. Insure your trip!
Purchasing travel insurance is necessary while going abroad. Invest in enough overseas travel insurance coverage so that no one trip emergency may wipe out your savings. These are just a few examples of events that might disrupt your travel plans and force you to pay out of pocket. Never underestimate the value of a trip plan and purchasing proper travel insurance to mitigate travel-related risks and maximize vacation enjoyment.
12. Spend-Free Day
It will help you save money and manage your finances. It's like going on a spending fast when you can't buy anything. Initially, you will be enticed to make purchases despite your warnings. Just be patient and persistent and you will easily survive this quickly. Spend your savings on vacation and set yourself free. Expenses that are necessary to live are listed below. In this case, the expenditures are excluded. If you ride the bus to college, you must purchase a bus ticket and begin your day.
13.  Master Cheap Air Ticket Booking
Most of you know this hack. Clear your browser's cookies, cache, and temporary files before buying airline tickets. After clearing this, go to the airline's website incognito. It will help you obtain great deals.
14. Get a Student Deal
The best way to save money when you're a student is to You can get a cheap student bus pass. Some restaurants also offer student discounts of up to 20%.
15. Weekday Movies
Weekend tickets are rather pricey. You have time as a student throughout the week. Cinephiles may utilize this time to watch movies. A less packed theatre with lower tickets than on weekends.
12. Library Use
We have you covered if you are a voracious reader who indulges in expensive novels. You may borrow books from your university's library and read them without having to purchase them. This will help you control your spending and reading habits.
Final words
Student life is difficult. Month-end funds are a challenge for most students. Adopting the aforementioned practices can help you save money. Then you can discover how to save money for travel as a student.  Traveling is a favorite pastime for some. Traveling relieves stress and breaks up the routine of college life. It exposes kids to other cultures. Traveling gives one much-needed me time and declutters the mind. We hope these travel tricks help you organize that much-anticipated group vacation. Be safe and happy. Best wishes.