The majority of the time, Lady Bird Lake's skyline is visible, making paddling there enjoyable with a view. Lake pathways that are intended for paddling may be explored, or you can choose your own path. Additionally, you have access to the year-round spring-fed Austin pools Barton Springs Pool and Deep Eddy Pool. If you are interested in paddleboard Lady Bird Lake, continue to read this guide. It will provide answers to all questions that you have.

On the lake's banks, there are a number of meeting spots, including Festival Beach and Red Bud Isle. Down especially during the spring and summer when residents settle in for hours, paddlers may be seen up and down the coastlines relaxing in the shade of the distinctive cypress trees of the Hill Country and on the beach areas along the route. If you're a tourist or don't possess a kayak, canoe, or SUP, a number of Austin companies line the lake's beaches and rent out the gear as well as give advice on how to use it.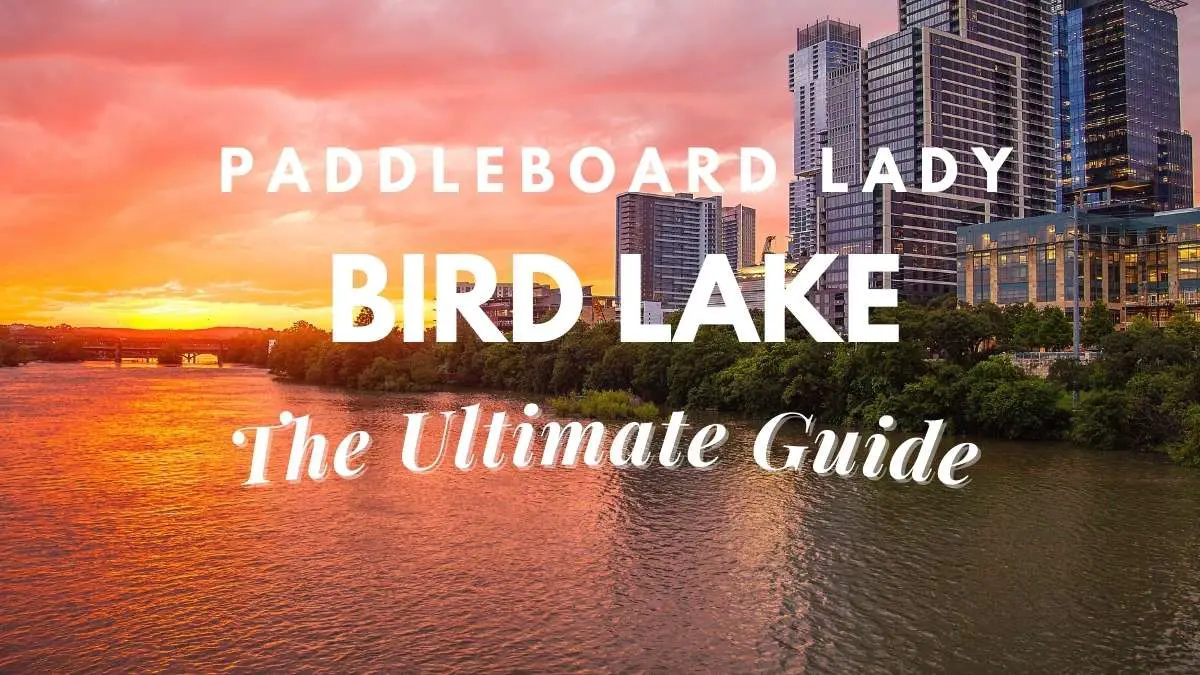 Why do people come to the Lady Bird Lake for paddleboarding?
People like the lake's accessibility and closeness to the city center. Visitors may easily and quickly enter the water thanks to the rentals on the lakeshore. Since there are no motorized boats on the water, it is a safe refuge for families and a fantastic spot for kids to get familiar with the lake.
Lady Bird Lake is open to all types of paddlers since there are no motorized boats using it. Between Longhorn and Tom Miller dams, paddlers for fun, athletes, and even rowing teams train. The lake has plenty of space for those tracking their mileage and is serene and simple to traverse.
Directions on how to get there
Eight designated access spots around Lady Bird Lake provide you access to a variety of lake path alternatives. Parking options change depending on where you want to reach the lake. Zilker Park has plenty of free parking, however it may grow crowded and quickly full. If not, parking is available at Red Bud Isle, Auditorium Shores, or any of the other entrances shown on the map above. Among other nearby locations, Zilker Park, the Rowing Dock, and Texas Rowing Center all provide boat rentals.
Locals and visitors alike visit Lady Bird Lake all year long to kayak and paddleboard on the Colorado River. Kayaks and paddleboards are available for hire from a number of businesses, including Rowing Dock and Texas Rowing Center, and dogs are allowed on the property. It's undeveloped enough that you can trek with your dog on Red Bud Island, fish for bass or carp, and see Mexican Free-Tailed Bats fly off of the Congress Avenue Bridge. Walking around Lady Bird Lake combines Austin's energetic way of life with the natural environment that the city tries to protect. Since motorized boat traffic is not permitted, it is ideal for families with dogs and outdoor adventurers.
What should you do when you come here for paddleboarding?
Don't miss the birds, fish, and other animals surrounding the lake if you're kayaking or paddleboarding during the day. You can also take in the beautiful lakeside mansions and the tree-lined shoreline. Keep in mind that from May to October is bat season if you plan on going out at night. One and a half million of them are flying above on their way to hunt.
Was it simple to navigate?
Finding a location to rent equipment or one of the numerous drop-in spots in the parks around the lake is simple. There are several signs directing you to parking areas, and if you need to stop paddling for a breather, you may do so without worrying about boats.
What is the price?
The cost of rentals is between $10 and $20 per hour, or up to $45 per day. It's a rather cheap way to take advantage of Austin's outdoors without going over your spending limit. This activity is perfect for active tourists who have children or dogs or who wish to have a closer look at the environment.
How to get the most out of paddleboarding in the Lady Bird Lake
SUP is a thrilling, unwinding, and enjoyable pastime that is appropriate for both kids and adults. Paddleboarding is fun for everyone who likes being outside in Lake Tahoe's pristine waters. Even if you have never been on a board before, stand up paddleboarding is also rather simple to learn. You can simply maneuver your stand-up paddleboard across the lake with only a few simple guidelines for maintaining balance and paddling.
1. Learn how to set it up
In shallow water on a sandy coast, a SUP is simplest to use for the first time. El Dorado Beach, Pope Beach, and Baldwin Beach are just a few of the Lake Tahoe beaches that fit this description. To ascend to your board, you must:
Float your board out into knee-deep water and stand by it once you're in the water. You must be far enough down that the board's fins are not in contact with the sand. Put your hands on the left and right sides of the board and lift yourself up so that you can kneel behind the area where the carrying handles are connected, close to the middle. Leave your hands where they are and carefully lower each foot to where your knees were.
Continue to advance gently as you stand up, raising your chest first into the air before straightening your legs as the penultimate step. Lay the paddle perpendicularly across the board when you climb on your board and grip onto the paddle rather than the board. If you have a buddy with you, they may hold your paddle for you and then hand it to you once you are standing.
2. Learn how to remain sturdy on a paddleboard
Unless the water is very choppy, a stand up paddleboard is designed for simple balance. A novice board that you have either leased or bought is likewise designed for optimum stability. It will also be simpler to keep upright if you use these extra posture-maintenance techniques. Your feet should be situated between the left and right sides of the board, roughly shoulder-width apart, with your toes pointing forward. Bending your knees will help you stay more comfortable. Maintaining a straight back while lifting your head and shoulders is important.
Look Forward – It might be easy to fixate on your feet but retaining your attention in that direction can actually help you maintain your balance. Move your hips and knees rather than leaning when you do need to change your weight to assist guide the board. This helps you maintain a balanced position above the board while allowing you to make the little changes required to shift directions.
3. Enjoying paddleboarding
You may start paddling out into the lake after you are somewhat balanced and on your board. The paddle and T-grip are located at opposite ends of a SUP paddle. Depending on which side you are paddling on, your hands will be positioned differently on the paddle.
For instance, when your paddle is submerged in the water to your left, your right hand will stretch across your body to grasp the T-grip, and your left hand will be comfortably positioned a few feet down the paddle's shaft. You will move your hands to the right while paddling. The paddle blade should be angled slightly forward in the water so that it faces the front of your board. Any of the SUP strokes listed below may be used with this grip to aid in fluidly gliding over the water:
The forward stroke offers a straight forward motion and is probably the stroke you will use the most. Put the paddle's blade into the water two feet in front of your feet while keeping your arms straight, then bring it back until it is level with your ankle. When you push forward with your hand on the T-grip throughout the stroke, most of your movement should come from twisting your body. You may maintain your straightness by keeping your paddle as vertical as you can, but you'll also need to switch sides around every three strokes.
Reverse Stroke: The reverse stroke, which is executed in opposition to the forward stroke, aids in slowing down, halting, and turning. The paddle should be set down a few feet behind you, with the blade fully submerged. The paddle should then be drawn forward until it is parallel to your feet. This action will slow down your forward motion and cause your board to turn in the direction of the paddle.
Sweep Stroke: With this stroke, you may turn while walking. You must turn your body such that the shoulder on the side you are paddling on is facing forward before you can perform this stroke. Your left shoulder will be in front if you are paddling on the left, for instance. To place the paddle blade close to the front of the board, lean slightly forward. Your board will spin in the opposite direction as you turn your body to move your paddle in an arch from the nose to the tail of the board.
The wind is another essential component that will facilitate mobility. Your body serves as a sail while you are standing on a stand-up paddleboard. This will propel you forward while you have your back to the wind. You will have to work more to paddle while you are facing the wind, and wind from the side will cause you to start drifting in a different direction. Consider which direction the wind is blowing when you begin paddling to make it simpler.
4. Learn how to respond if you slip
Although stand up paddle boards are sturdy, everyone will eventually fall off if they make a mistake or find themselves in turbulent water. Because of this, you'll need to learn how to fall safely and then stand back up on your board. You will wear a personal flotation device and have a leash that attaches to your ankle and the board as a beginning (but actually always). These will aid in your safety and protect you from severing your connection to the SUP.
Lean to the side when you feel yourself falling so you may land in the water. Compared to falling onto a hard board, this is less likely to result in harm. You'll avoid taking a step later if you can hang onto your paddle as you fall. But if you need to drop the paddle, it will float.
If you want to go stand-up paddleboarding in Lake Tahoe, dress for the weather. Considering that the lake's maximum temperature is barely 70 degrees, diving in may be startling. Continue to take slow, deep breaths while relying on your life jacket to keep your head above water.
5. Returning to the paddleboard
With one hand holding the paddleboard handle while in the water, turn your torso to face the front of the board. Until your torso is horizontal next to the board, let your legs to start floating in that direction. Kicking lightly will also be beneficial. When you are laying there on your stomach, use the handle to lift yourself up onto the board. Get back on your feet by following the steps outlined before for standing up. You may now use your hands to paddle your board over and regain it if you lost the paddle when you fell.
Final words
Now you know how to get the most out of paddleboard Lady Bird Lake experience. Keep these tips in mind and go ahead with getting your paddleboarding experience. It is certainly something that you will enjoy. Anyone who is an outdoor adventure lover may take a look at this activity. It will offer a great experience, which you will surely enjoy.