The Boundary Waters Canoe Area is a remote and untouched wilderness. Over a million acres of Superior National Forest in northern Minnesota, which shares a northern boundary with Quetico Provincial Park in Ontario, Canada, are available for exploration. The two parks complement each other and serve to remind us of the area's genuine nature. If you are searching for a guide on Boundary waters for beginners, you are at the right place. Continue to read, and we will share all useful information that you need to be aware about.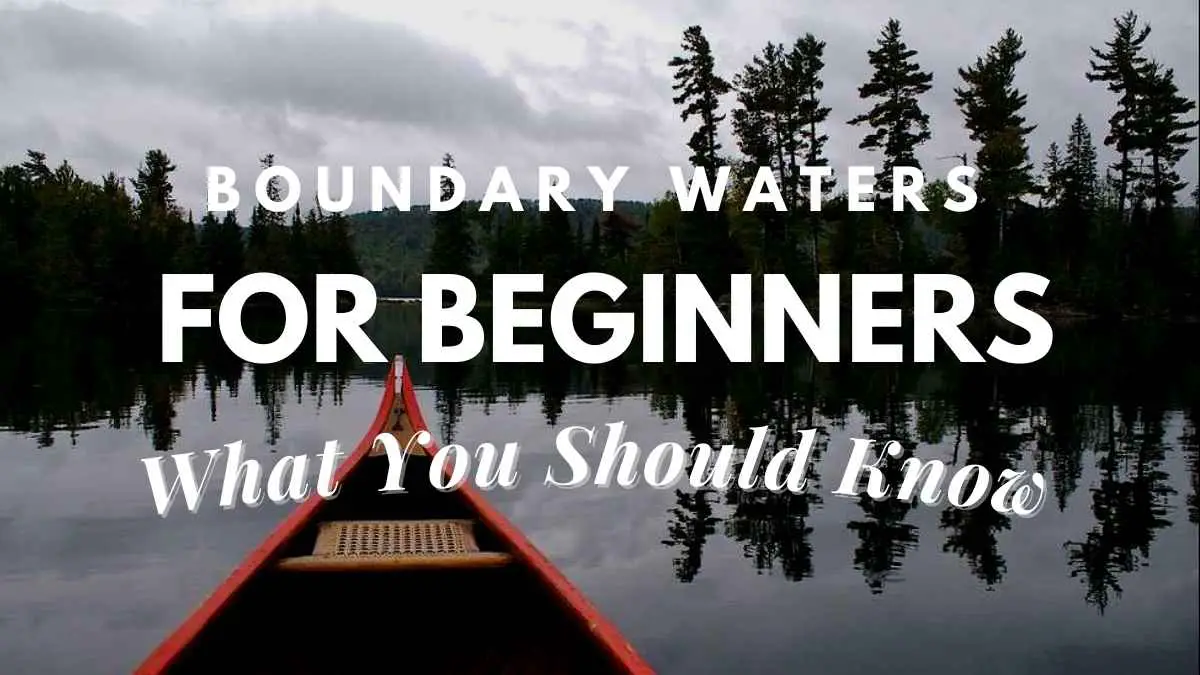 What are Boundary Waters all about?
Over 1,100 lakes and rivers represent about a fifth of the Boundary Waters area, making it one of the most unique settings for a backcountry trip in the world. It's one of the few, if not the only, spots on the planet where a pack of timber wolves howls in the distance and a loon's cry reverberates over the rocky, wooded beaches. While you glide across a lake and catch food, beavers labor diligently to construct their dams. As it makes its way to its next meal, a moose may wander through the woods. Unlike camping, such a unique experience simply needs a boat laden with as little or as much as it can fit, as both your mode of transportation and the source of tonight's catch.
The BWCA's lakes and rivers form one massive ecosystem that is linked together through portages. In the BWCA, there are no established routes. It is up to the visitors to plan their own path through it. It is possible to visit it hundreds of times and never have the same experience. It's essentially a playground where you may explore to your heart's content.
Having said that, you should take it seriously. The BWCA may be a relaxing and enjoyable experience if well prepared. There is no money or cell service; you must rely on what you carry with you and Mother Nature's whims. It is without a doubt one of my favorite spots on the planet.
After all of the journeys I've taken there since I was a child, I've built a great bond with these forests. It has pierced my soul and instilled in me a feeling of desperation. It's a spot where you can be totally alone.
Read: Is Traveling A Hobby? The Ultimate Guide To An Exciting Way Of Life Learn about the Downsides Of Traveling As A Hobby

How to get the most out of your trip to Boundary Waters?
Over the years, I've discovered that following these few steps is the most efficient method to arrange a vacation to the BWCA.
1. Determine the kind of trip you want to take.
The path you take will be determined by the kind of journey you choose to take. Some people want to go fishing, while others simply want to paddle about and take in the surroundings. Knowing what kind of vacation you want to go on makes a huge impact.
Both the Kawishiwi River and Moose Lake are excellent examples of starting courses that may readily be upgraded to something more demanding.
2. Select an entry point and make a permit reservation
There are a few guidelines to observe while visiting the BWCA. You must obtain an admission permit for the precise day and area that you want to visit. Because each location and day's availability is limited, it's critical to make sure one is available for purchase. Permits are available for purchase through Recreation.gov.
3. Make hotel reservations for your arrival and departure.
You may need to book a hotel before and/or after your trip. In addition to a long-distance travel, getting into and out of the BWCA may be problematic. Look for possible hotel alternatives and make reservations for the night before and after your entrance permit date. To allow for a safety and preparation session, some outfitters may want you to arrive the night before your excursion.
4. Obtain all necessary licenses
In the state of Minnesota, fishing permits are necessary and must be purchased if you want to fish at all. All watercraft entering the BWCA's boundaries must be registered in either your home state or the state of Minnesota. If you're going with an outfitter, make sure the watercraft is registered and in good working order before you leave. You don't want to get caught with a boat that isn't registered!
5. Assemble or acquire any necessary equipment
It's crucial to look through the equipment you'll be carrying. You don't want to find out if something doesn't function at 3 a.m., when it's pouring and you're 30 miles from the closest exit point.
Use the BWCA's example checklist if you're not sure what you'll need. It takes care of the majority of your requirements. Make any required adjustments for the kind of trip you've selected. This is frequently the most time-consuming and difficult component of the planning process.
It's worth noting that rubbish burning is prohibited in the BWCA. To pack away all rubbish, you'll need to carry garbage bags with you. Bring lots of bug spray and toilet paper with you. Don't be scared to double-check your list of essentials. I normally do it many times, and you'll never feel entirely packed no matter what you do.
Most outfitting firms provide completely equipped excursions if you don't have the necessary equipment for a journey like this. They take these steps with you, packing your gear, training you as needed, assisting you with route planning, and dropping you off at an entrance point. A comprehensive list of outfitters may be found here.
6. Don't Forget to Bring Your Maps!
Paper maps are both an essential component of the experience and a must-have. Don't depend on technology for navigation; you'll have a hard time finding electricity in the BWCA. Paper maps are lightweight and water-resistant. Most crucial, look for maps with indicated portages. When you arrive to one side of a lake and the portage point isn't evident, they will come in help.
7. Treat others with respect
This is a wilderness region, the government's highest level of protection. To safeguard these sites, we must treat them with care and leave them in the same condition as when we discovered them. This manner, they may be passed down the generations.
Follow the principles of Leave No Trace. If you come upon a campground with any trash left behind from the previous inhabitants, please be kind and take it with you. Only camp in recognized US Forest Service campgrounds, and only burn wood on designated fire grates.
Ranger stations and outfitters are located at BWCA access sites and are expected to answer any queries and assist you in understanding the restrictions. Visit http://www.bwca.com if you have any further inquiries.
How to get to Boundary Waters?
To enter the Wilderness, you must first reserve and acquire a permit for your whole party (remember that there is a limit of 9 people per group). You should check for permits far ahead of time on the day you want to travel on your vacation, since they tend to sell out quickly! A quota permit is necessary for visitors entering the BWCA for an overnight paddle, motor, or hiking excursion, or a motorized day trip between May 1 and September 30. Visit Recreation.gov to learn more about quota permits for this spring and summer.
You may choose your permission by starting at one of the entrance points. These are the lakes where you must begin your journey, but after you "enter," you are free to roam anywhere you like inside the Wilderness' bounds. When picking an entrance location, think about whether you'll be able to park and push off, or whether you'll have to lug your canoe and stuff from your vehicle.
Consider going via a local outfitter to make sure you're completely prepared for a fun and safe adventure! Outfitters can help you with anything from finding the correct map to renting a canoe to completely outfitting and leading your whole trip. Another useful tool for route planning is Paddle Planner. True North Maps also sells maps that may be used to support the Campaign.
When visiting the Boundary Waters, one of the most essential things to remember is to Leave No Trace! This means leaving the Wilderness in a better state than when you arrived. Carry out all of your rubbish; do not rely on others to do it. Use the approved latrines (pit toilets) instead than going to the bathroom in or near the water; if you must, attempt to stay at least 100 yards away from the water. Before leaving camp, make sure your fires are completely out and cold to the touch.
Final words
One of the best things about the Boundary Waters is that it is a designated Wilderness Area, meaning it has the greatest degree of federal land protection. Due to these safeguards, vehicle and motorboat access is restricted, as are limits on how low aircraft may fly over the Wilderness. Over 1,200 miles of canoe routes, over a thousand lakes, and 2,000 isolated campsites make up the 1.1 million-acre Boundary Waters Canoe Area Wilderness. In addition, Northern Minnesota is home to the only remaining Gray Wolf population in the lower 48 states, as well as lynx, bobcats, pine martens, and beavers. All of these characteristics combine to make the Boundary Waters one of the most tranquil and serene locations on the planet.