You must camp at Keen Lake Camping & Cottage Resort in the Pocono Mountains if you like camping near a lake. The Keen Lake Camping & Cottage Resort is a family-friendly campsite in the Poconos where you can relax and enjoy the peace and quiet of a lovely lake. In the Northeast Pennsylvania Poconos, the privately owned spring-fed lake offers the ideal family camping experience. One of the most popular campsites in the Pocono Mountains is Keen Lake Camping & Cottage Resort. In this article, we are planning to be sharing more tips with you on fun things to do near Keen Lake.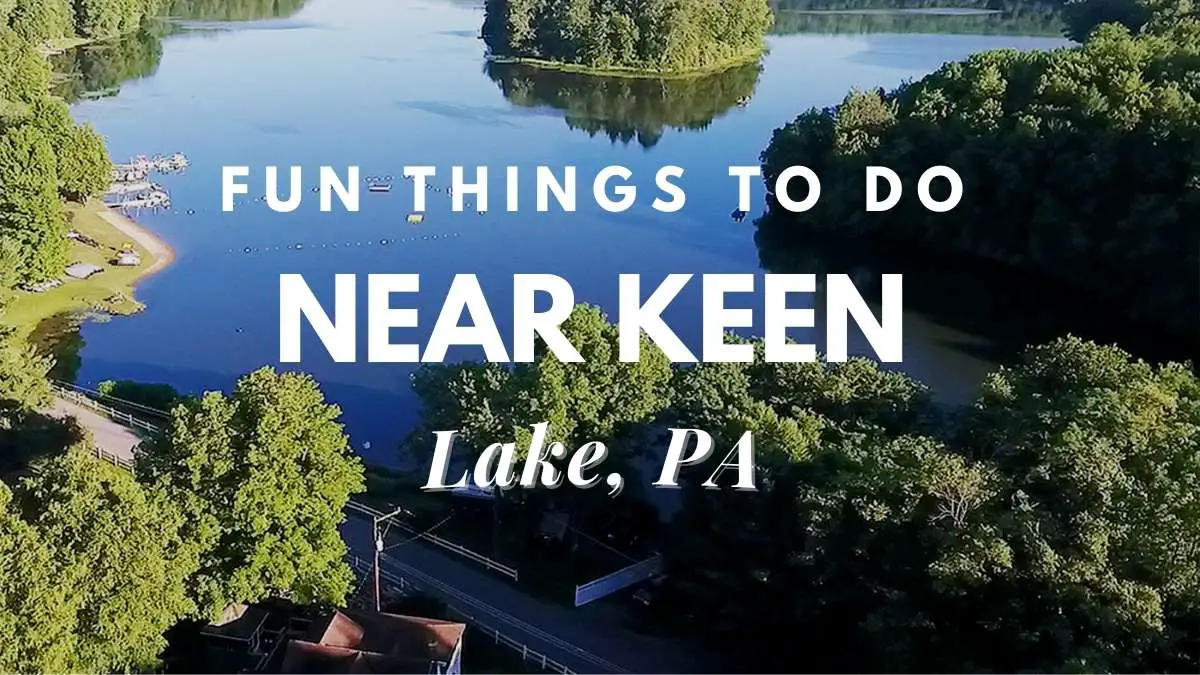 What's the location of Keen Lake?
Near the Pocono Mountains, Keen Lake is situated in Waymart, PA, right off US Route 6 (6 miles between Carbondale and Honesdale). For perspective, the GPS said that it would take us 3.5 hours to drive from Long Island, New York (it took us 5 hours due to an accident on the George Washington Bridge, but who's counting!). The return journey home, however, took just 4 hours.
Read: Is Traveling A Hobby? The Ultimate Guide To An Exciting Way Of Life Learn about the Downsides Of Traveling As A Hobby

Keen Lake's History
In 1814, the Keen family bought property on the Elk Forest parcel. The length of what is now Keen Lake Campground and Cottage Resort was formerly home to a gravity coal-mining train system.
1. Campground at Keen Lake
We decided to check out the campsite after hearing so much about it for so long! Keen Lake Camping & Cottage Resort is a large (and crowded) campground! Over 150 RV and tent camping sites, as well as cottages and family glamping experiences, are available at the campsite.
Because the office and camp shop are close to the pool and beach area, please care while approaching the park with your RV or travel trailer, particularly during peak hours. The check-in process was simple, and the guy at the front desk was kind and helpful in answering any questions I had regarding the park. We set out to explore this gorgeous park after obtaining our campground map with information on how to get to our RV spot.
Our spot, #133, was on the other side of the campsite from the rest of the campground. We saw we were on a slope as soon as we got onto the road heading to our campground. Yes, we've had to back into past locations that were on a slope, but it's not something we like doing! This site, like others around the lake, was tight; nonetheless, we enjoyed it since it was not only peaceful, but it also backed into the woods and had a tiny stream behind it. A picnic table and fire ring are provided at each campground. We also went with a spot that had complete connections. Although our location was gravel, it was not level. We had to use our Lynx Levelers to level the trailer, but we didn't have enough of them, so I felt like our trailer was tilting while I was sleeping!
2. Getting the most out of your RV adventures
At the park, we observed a lot of seasonal campers. You can see how they waved to one another as they drove by in their golf carts, and how they congregated by the pool or the communal campfire to converse.
We also met with several folks who return to Keen Lake year after year, bringing their children and grandkids along. Keen Lake is the kind of spot where you immediately make friends and anticipate seeing them again next summer!
3. Explore the wildness during your stay
Keen Lake Camping & Cottage Resort in Waymart offers a luxurious stay. This resort will make your next camping vacation a bit more luxurious. Rent one of their 12 unique cottages, such as the Hermit Island cottage on a 3-acre island in the midst of Keen Lake. There are also RV sites with water, electricity, and sewage hookups. Pitch your tent beneath the stars if you're an outdoor enthusiast.
At Keen Lake, there's always something to do. Come down to the beach to go fishing, hire a boat, or just relax on the sand. There's also a pet beach for your canine buddies to relax on. The gaming room, pool, basketball court, volleyball court, and playgrounds will keep the youngsters entertained for hours. Take a look at their everyday activities, which include outdoor movie evenings and themed weekends.
Tips for making the most of your visit
Now you are aware about 3 fun things to do near Keen Lake PA. While keeping these fun activities in mind, you will need to figure out a way on how to get the most out of your visit as well. That's why we thought of creating a list of helpful tips. You just need to go through this list of tips and figure out how to get the maximum out of your visit to the Keen Lake.
Relax on the shores of Keen Lake, which is fed by a spring. Inhale the crisp rural air. Spend your days swimming in the cold water, fishing, or sailing or kayaking around the beautiful lake. This lovely campsite may just become your new favorite lakeside place, no matter how you spend those delightful summer days and breezy nights.
Leave your cares behind as you visit Keen Lake Camping & Cottage Resort, a stunning campsite with the 90-acre Keen Lake as its centerpiece.
Park your RV among the towering trees, just far enough away from other campers to enjoy the seclusion you want while being near enough to mix and meet new friends.
Sleep beneath the stars in a pop-up tent or a classic tent for a typical camping experience.
Sleep lakeside in one of the roughly dozen cottages, including the historic pre-Civil War barn that previously functioned as a blacksmith's shop, according to Trip Advisor/Virginia C.
After settling into your new lake house, visit the camp general shop to stock up on supplies.
Spend those long summer days soaking in the sun and swimming in the spring-fed water at Keen Lake, a family-owned resort for over six decades. The resort even has a beach just for you and your furry friends.
Explore the lake in a sailboat or a canoe while listening to the fountain's spray.
Take a lot of photographs of your camping trip. You may feel as if you're in the middle of nowhere, but don't worry: the camp's free WiFi allows you to share your images on social media.
Final words
Keen Lake is a hidden gem that you can find in PA. While keeping this fact in mind, you will need to figure out how to get the maximum out of what Keen Lake is offering. Keep these tips in your mind and you will surely be able to end up with getting a fulfilling experience in Keen Lake. We also encourage you to pre-plan your stay before you come, so that you will be able to get maximum returns out of limited time that you are going to spend in here.