I've wanted to go to the summit and experience the mountains on foot ever since my first mountain excursion as a child. It wasn't until we chose to stay in Breckenridge for a week as part of our family vacation in July 2018 that we had the chance to climb Quandary Peak and explore one of our favorite mountain towns, Breckenridge, Colorado. From this article on Quandary Peak camping guide, you will figure out how to get the most out of your camping adventure.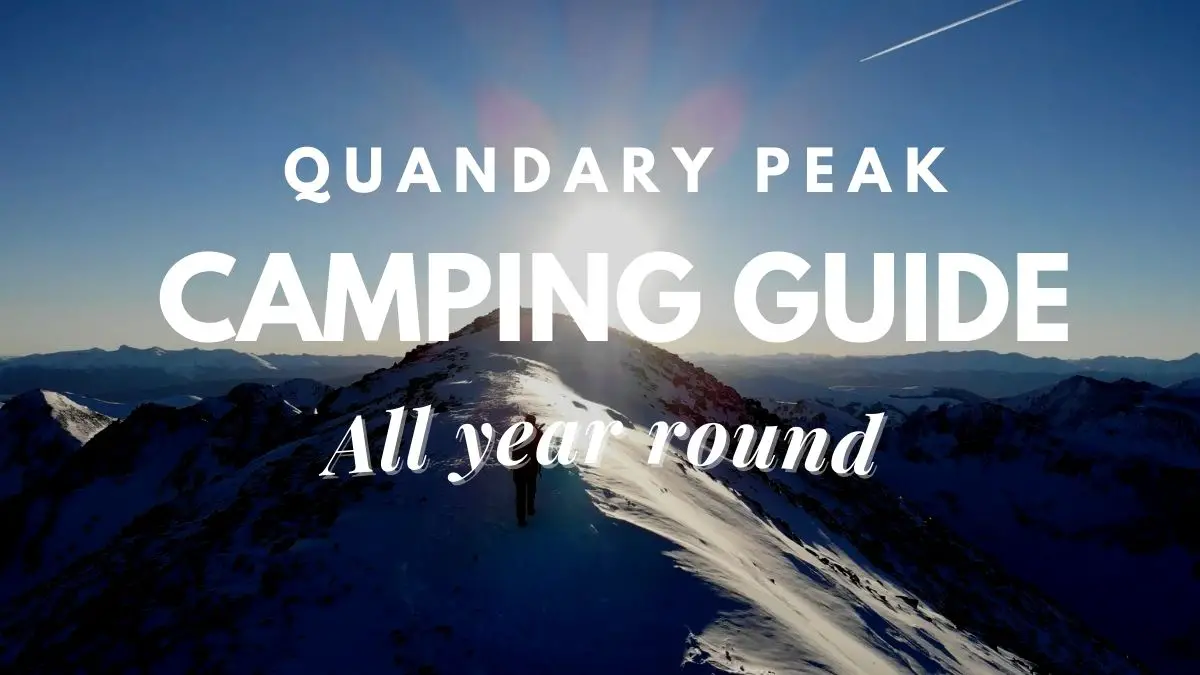 Mountain Quandary
The highest peak in Colorado's 10-mile range, Mt. Quandary, is situated roughly 9 miles from Breckenridge. You start your ascent as soon as you step onto the path. For the lower stretches, the track is well maintained and clearly signposted, making it hard to get lost.
Trail to Quandary Peak
These well organized and recently kept timbers are plentiful along the route. They assist with preventing erosion and ensuring the safety of all hikers ascending in places that may become muddy, rocky, or erode fast.
This path stretch winds through a beautiful, thick forest, filled with the chirping of birds and many squirrels zipping about. I like this place's clean mountain air and fragrant pine forest aromas. Even writing about it transports me there!
Take several pauses, and sip water often. You should drink plenty of water! Your body will experience stress when hiking at altitude, particularly if you are not used to it. It is preferable to be well-hydrated and ahead of the game on this lower stretch of the mountain than to take a chance on being dehydrated and developing altitude sickness further up.
You will be moving through the early stages on hard-packed dirt. This is a great family-friendly part to trek to if all you want to do is reach the tree line and enjoy some breathtaking mountain views without trying to summit. The surroundings may be explored in great detail, and you can return to your starting point easily.
Trail to Quandary Peak above the treeline
After approximately a mile of route and a thousand feet of elevation gain, you start to emerge from the dense forest and come across some exposed places, clearings, and paths that crisscross above the tree line.
Spend some time taking in the scenery. As you gaze over to the mountains, you may see glimpses of the sky above the tree line. Apply sunscreen now, before moving on, since you are wide open and exposed to direct sunshine without any shade provided by trees.
The speed of the ascent is still excellent; it consists primarily of vigorous walking with occasional logs or stairs to turn through a few drainage-filled parts. From this point on, you will begin weaving your way into a little aspen grove, where all the leaves will be smilingly waving to you as you go.
Just beyond the tree line, I began to feel the burn of the rise and the loss of height. I ended myself stopping a couple times to unwind and refuel.
Uncertain Peak
The mountain transitions from soil/dirt pathways to rock pack and well-crafted stone stairs above the tree line. I began using my trekking poles at this stage because I needed anything to aid with stability and utilizing my arms to build up more climbing power.
Be careful to stop often, take in the scenery, and drink water. If you haven't had a snack break yet, do it right away. I discovered that as I ascended the mountain, my digestion and appetite dramatically altered. That delectable chocolate bar I had at the beginning of the path caused me immediate regret as I reached higher elevations. A banana worked fine for me but pack away the skin first since bananas aren't naturally grown up here. Use those poles, be careful, and breathe in the fresh mountain air! Watch your step; from this point on, it's all rocks and stones. As of now, the weather was cooperative, with blue sky and miles of visibility.
The wild sheep were quite curious since it seemed to be late in the day and I was the only one on the mountain. On my ascent, it was a delight to meet them, and I wondered how they managed to live and prosper up here.
Mountain goats on Quandary Peak
Just as with other animals, stay your distance, snap a few photos, and avoid trying to touch them. The sheep are adorable and make amusing sounds, which is fortunate because you've just learned you're on a false top and are now facing a further climb of more than 1000 feet above you.
Around the time I reached the 13,000-foot elevation, afternoon rains began to develop. The monsoon season in Colorado occurs throughout the summer, and storms always appear in the middle to late afternoon. There were now very few hikers left on the path.
Snowfield at False Summit and Quandary Peak Trail
It's basically step by step from here, where the route becomes narrow and sometimes difficult to spot (there was a repair caution while I was up). You'll be glad you have trekking poles right now for both you and your knees! You can see that despite being at the fake summit at 13k feet, you still have a LONG way to go, even if I wish I had a better shot (and that my finger wasn't in the top left corner). A photograph just cannot do the ridge along the left justice; it is where you stroll. Take your time, watch for worn-out areas, and go farther up the mountain to see where the route recovers before continuing back. The track may vanish at this point, so take your time. Up here, the weather may be extreme, and it shows! Get ready!
Quandary Peak's Mountain goats
I have to admit that the final 1000+ feet were the most difficult. Because of the rapidly changing weather and the presence of storms all around me, I kept in contact with my family at the cabin below. In the immediate region, what had been a stunningly bright blue sky rapidly changed to rain, sleet, and storms. At this point, I was grateful for the money I had spent on the correct equipment and trip planning, as well as for my wife's assistance in providing weather updates and keeping track of my wellbeing up here.
Conflicting Peak Rain Storms
On top of the mountain, it seems as if the horizon is endless. These sights are quite difficult to photograph, but the iPhone's panoramic capability does a respectable job of attempting to capture some of them.
Selfie atop Quandary Mountain's summit
I was overcome with emotions as I stood on the summit of Quandary Peak, completely spent. I was happy to have accomplished something I had only ever imagined doing as a child, strong that, at the age of forty-something, I was still able to climb a 14-mile mountain, and I felt a sense of awe and wonder that was at once overpowering, thrilling, and terrifying. (Taking selfies without feeling like you're about to fall off is difficult!)
You see, here you are, perched above the planet on a mound of rocks that mother nature has been trying valiantly to demolish for millennia, and you can see an incredible amount of wonder and beauty in every way. The work in front of you and behind you become more apparent as you stand there knowing that you still have to descend. The sheer size of everything, including the cliffs, the tight parts of the route, and other things, may have escaped you at first but gradually set in since you were so intent on keeping one foot in front of the other. It's not that it terrifies you or fills you with dread, but rather a realization of who you are and your capacity to push yourself, stay safe, and go through something so dramatic and inspiring that it transforms your life and inspires you.
Remember to take pictures to prove you were at the top! A photograph of the survey marker is unbeatable.
Marker for Quandary Peak's summit
Panorama of Quandary Peak The views from up here are amazing. Due of the wind, rain, and sleet picking up, I didn't get many. Since being on top puts you in the midst of the elements, I had to quickly begin my descent.
Around 1:00 PM, I arrived at the peak. I was at the peak for more than four hours. I would have arrived an hour sooner and would have missed part of the rain if I hadn't walked from our HomeAway Cabin and added another mile entirely uphill. It took me approximately 2.5 hours to go all the way down, and throughout that time it seemed like I was the only one on the mountain.
Organizing your hike to Quandary Peak
It's crucial to be ready with reliable gear, clothes, and equipment as well as the appropriate acclimatization and trail timings if you want to have the best chance of finishing your trek.
It's crucial to adjust first. I would strongly advise you first to become acclimated at "basecamp" at the 10k altitude level if you haven't been staying in the 10k foot area for a few days. trying to MT Don't drive or fly in and then try the climb on your first day here since this frequently results in severe headaches and other possible health problems. The last thing you want to happen is to stop hiking and descend feeling ill and with a headache. Not to be taken lightly is altitude sickness!
As soon as you can, rise and begin your trek. Summer is the monsoon season for these mountains, and thunderstorms usually start to form between 1-2 pm. I can't stress this enough. If storms are coming, you don't want to be above the tree line or the highest thing on the mountain. Given that it can take a healthy person six hours to complete the entire loop, it is strongly advised to leave by 7 am or earlier. Many people begin at 5 a.m. with headlamps to illuminate the lower section of the path.
Dress for the mountains when you go out!
A 14-kilometer hike puts you, your gear, and a variety of situations and weather conditions to the test. It might mean scorching heat in the morning and rain or sleet in the afternoon in the middle of July, and anything can happen at any time. While attempting to protect oneself from a 40 mph wind, you can be hot and perspiring one minute and chilly and wet the next. Plan ahead and be ready!
Shirt for Mountain Hiking: I was wearing a fast-dry SPF shirt from REI. kept me from getting tanned, swiftly drained moisture, and felt cozy. If necessary, sleeves would roll up. REI SPF pants with removable legs for pants. Excellent in keeping me warm or cool and quickly dried when I was wet in the rain.
Footwear made by Keen for hiking: They were stable, gripped well, and were comfortable. If you decide to obtain keens, I advise you to get their inserts. Many people are moving to trail running shoes for day walks; these would be fantastic on this mountain in the late summer; alternatively, if you start early in the summer, you would be crossing ice and slush.
Hiking socks that "wick" moisture: When climbing or descending a mountain, one needs dry feet or feet that rapidly dry. Wet feet are a source of much suffering.
Raincoat/Windbreaker: My Marmot raincoat/windbreaker saved my life! I encountered sleet, rain, and wind. I was kept warm and dry in the Marmot rain jacket with a second layer (a fleece shirt over the gray shirt), and it was simple to take off layers as the weather suddenly changed. Without the windbreaker, I would have been uncomfortable and would have given up.
Miscellaneous: Sunglasses, sunscreen, a first-aid kit, a handheld radio, food, a headlamp or flashlight, a hat, a pocketknife, and trekking poles (all of which easily fit within my Camelbak or are securely fastened to the outside!)
Final words
The difficulty of the path is determined by how well you can adapt to altitude and how much energy you have. The track itself is well maintained, well trafficked, and upkept by some committed volunteers. It's only a matter of placing one foot in front of the other as long as you are emotionally and physically prepared since Quandary Mountain has multiple false peaks that will raise your aspirations just to dash them.