The Caribbean Island of St. Thomas is the perfect destination if you're looking for a picture-perfect coastal getaway. This jewel features several stunning beaches that can be found, making it one of the greatest Virgin Islands to visit.

The ideal environment for a relaxing vacation is one with turquoise oceans, white beach, and warm sunlight. Every interest may be satisfied on one of the island's many beaches, whether you want to relax and read or get active and engage in some watersports.

Discover in the Virgin Islands your perfect tropical location. Here are St. Thomas' top beaches, which range from serene coves to vibrant beachside pleasure. While looking for the best beaches in St Thomas, go through this list and plan your journey.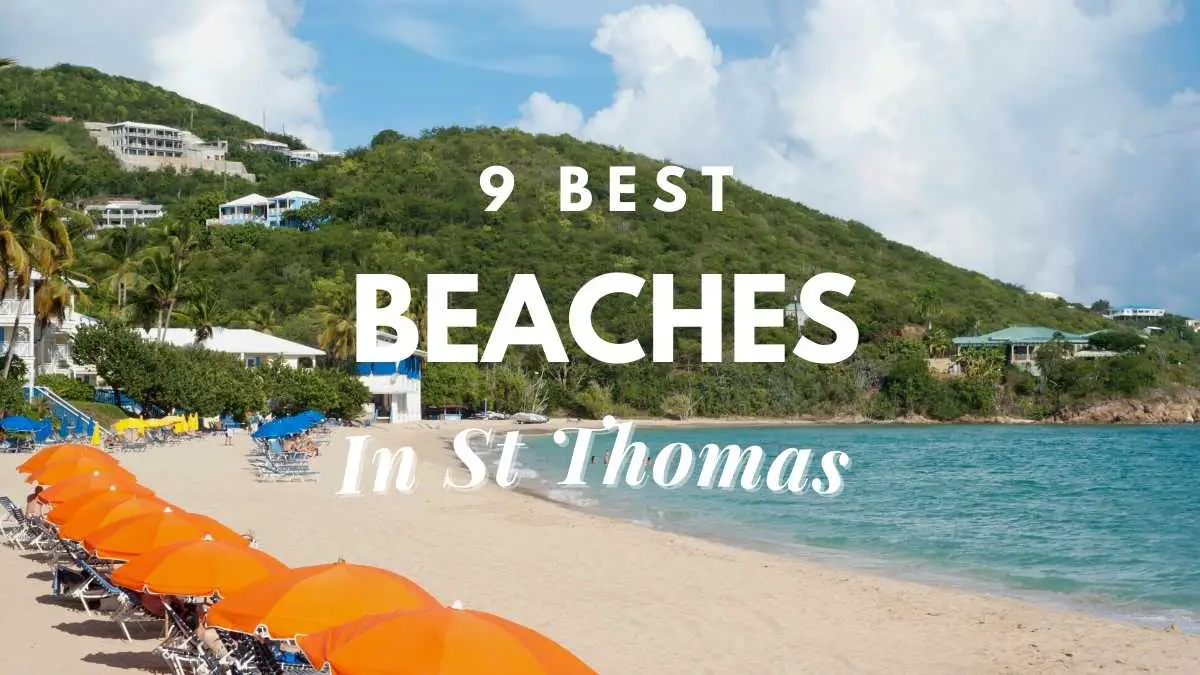 1. Smith Bay Beach Park and Eco Reserve
Smith Bay Beach Park and Eco Reserve is a picture-perfect beach location and is situated on the eastern edge of the island. Popular Lindquist Beach is part of the 21-acre park. The inviting blue waves are framed by light pink dunes and coconut palms. As you relax in the sun, take in the coastal environment of this marine park that has been conserved.
For those seeking a more secluded and uncrowded cove to completely unwind, this peaceful oceanfront retreat is the perfect choice. Enjoy undisturbed time to walk on the beach, look for seashells, admire the crystal-clear waves, read a book, or just do nothing but snooze. Families with small children will enjoy the shallow waters and tidal pools along the bay's western shore. From this section of beach, take in the vista of St. John and the British Virgin Islands. Locals like to have parties and picnics on the beach on Sundays. One of St. Thomas' top beaches is this one.
Read: Is Traveling A Hobby? The Ultimate Guide To An Exciting Way Of Life Learn about the Downsides Of Traveling As A Hobby

2. Sandy Honeymoon Beach
Another little island with a lovely beach that is recognized as one of the top honeymoon spots in the Caribbean lies just offshore of St. Thomas. West of Charlotte Amalie, on the southern shore, lies Water Island, which is home to a well-liked vacation spot for beachgoers. This quiet length of beach, which is reachable by ferry or a small passenger boat, is a great area to spend the day relaxing, swimming, and taking in the tropical beauty.
It's also possible to go kayaking or stand-up paddle boarding to explore the waters close to the island. Honeymoon Beach is a great location for a snorkeling trip because of its calm, beautiful seas. With snorkeling equipment, swimmers may expect to see vivid coral reefs, schools of unusual fish, and perhaps even some sea turtles. On the beach, you may hire any athletic equipment you would need.
Refreshments and a chill environment are offered at a beach bar and grill. A day to remember will include a genuine Caribbean barbecue against this background of sunshine. A visit to the old Fort Segarra, where you'll get a 360-degree perspective of the natural splendor around you, is worthwhile if you're wanting to explore outside of the beach.
3. Emerald Beach
On St. Thomas' eastern coast, Sapphire Beach tempts with the promise of crystal-clear waters, powdery white sand, and plenty of outdoor recreation. While unwinding on this beach, visitors will notice an impressive view of the nearby island of St. John in the distance. The lovely sound of lapping waves on the sand is soothing.
Here, windsurfing is a well-liked pastime for individuals seeking a thrilling beach experience. You may hire kayaks to paddle across the crystal-clear waters while observing tropical fish and sea turtles from above. Take your snorkeling gear to explore the fascinating underwater environment and its fascinating marine life.
With its reef at Pettyklip Point, which is situated on the edge of the cove, Sapphire Beach is home to one of the top snorkeling locations on the island. Spend a delightful day at the beach with a picnic lunch from the neighborhood bar and grill beneath the cover of palm and sea grape trees.
4. Magen's Bay Beach
Magen's Bay Beach, located on the northern coast of St. Thomas, is a stunning cove surrounded by turquoise seas. It is one of the greatest beaches in St. Thomas and among the best beaches in the Caribbean. There is plenty of room for beachgoers along the almost mile-long expanse of powdered soft white sand.
You will feel as if you have stepped into a real-life picture from paradise while you are swimming in the warm sea as the light glints off the clear water. Families may enjoy swimming and beach activities in ideal conditions due to the sandy ocean floor and clear waters.
For a relaxing beach experience, there are plenty of toilets, showers, rental options, and refreshments available. It's simple to spend the full day here thanks to the picnic tables and the abundance of shade. Take a little detour to Drake's Seat for a breathtaking perspective of the island on your route to or from this beach from Charlotte Amalie. Get ready to be in awe of the island's splendor from this sweeping vantage point.
5. Buck Island
Buck Island, one of the nicest white sand beaches in the Caribbean, is located just south of St. Thomas and is a heaven for snorkeling aficionados. Visit this secluded island resort, a marine and natural refuge with crystal-clear seas where you may discover aquatic life. Numerous bird species, tropical fish, and other marine life occupy the ocean reef that surrounds this rocky island, which is home to the National Wildlife Refuge. Despite the fact that the island is a protected nature sanctuary, you may still enjoy its views and sounds from the ocean and from the boat.
Just off the shore of Buck Island, a shipwreck provides excellent circumstances for a diversity of underwater species. Exploring Buck Island by catamaran or by sailing is a common activity. The fascinating Turtle Cove, where you may snorkel among countless endangered sea turtles, is located on the northwest side of the island.
6. Coki Point Beach
One of the nicest beaches in the U.S. Virgin Islands, this little cove on St. Thomas' northeastern coast offers a little bit for everyone. Coki Point is a great option whether you want to go snorkeling or just want to spend the day lazing on the beach.
On the beach, you may hire chairs and umbrellas as well as have refreshments from snack and drink huts. To enhance the relaxed atmosphere of the beach, reggae music sometimes plays from the bar. Jet skis, snorkeling equipment, stand-up paddleboards, and even a dive shop are available for rental on-site.
A thrilling up-close and personal encounter with a variety of aquatic species, including dolphins, stingrays, sharks, turtles, and more, can be had nearby at Coral World Ocean Park. The Ocean Park and Coki Point Beach may be combined for an exciting island vacation on St. Thomas.
7. Brewer's Bay Beach
Brewer's Bay, who is close to both the airport and the University of the Virgin Islands, is situated on the southwest coast of St. Thomas. While taking pleasure in the sun and sand, you will have the chance to see airplanes as they take off and land. Offshore from this beach, there is excellent snorkeling with the possibility of seeing colorful fish, sea turtles, and eagle rays in the crystal-clear water. Particularly among the seagrass on the left side of the beach, the Green and Hawksbill Sea turtle species are known to visit this region.
Families with small children may enjoy leisurely wading and safer swimming because to the moderate slope and sandy bottom. Kids will love playing in the calm water on this laid-back, uncrowded beach. Burgers, hot dogs, fish, and roti are just a few of the foods available from food trucks that are often located just outside of the beach.
8. Hull Bay Beach
On the north side of the island, Hull Bay Beach provides a calmer, less-crowded alternative to the well-known Magen's Bay. Locals love Hull Bay because it is a great place to go fishing. Although the water is clean, swimming might be a bit more difficult due to the rocky ocean floor.
The Inner Brass and Outer Brass Islands, neighboring Tropaco Point, and local pelicans searching for lunch may all be seen from this serene length of beach. Choose between resting in the shade of the beach's trees or tanning.
If you like snorkeling, the rocky ocean bottom offers excellent hiding areas for a variety of marine species. As you swim around the right end of the bay, look out for tropical fish, wary squid, and bright coral formations. From the relaxed restaurant and bar where you can enjoy wonderful cuisine, beverages, and companionship, you can watch surfers battle the waves.
9. Lindberg Bay Beach
Visitors are drawn to Lindberg Bay because of its shallow waters, which are located on the other side of the airport from Brewer's Bay and just west of Charlotte Amalie, the island's capital. As a result of the water's emerald hue, this stretch of beach is also known as "Emerald Beach." Younger families will love wading in the warm, clear waters and taking advantage of the beach's accessible swimming.
Jet skis and other water sport equipment rentals are offered for those who want to go out on the water with a dose of excitement. You may relax on a rented chair or refuel at the neighboring bar and restaurant. If you want to relax in the clear seas, swim, and sunbathe, Lindberg is one of the greatest things to do in St. Thomas.
Final words
St Thomas is a paradise for beach lovers. You can go through the list of best beaches in St Thomas and enjoy the most out of the time you spend in these beaches.