A lovely valley awaits discovery just above Sugarloaf Mountain's crest. With a length of over 30 miles, historic Flagstaff Lake wraps neatly around the foot of the magnificent Bigelow Mountain Range. Paddling includes shallow seasonal water, marshes, and flat water, as well as stunning mountain vistas. The Bigelow summits are all part of a 36,000-acre public reserve, and two of them are on Maine's list of 4,000-footers, so they're popular among "peak-baggers." In this Flagstaff lake Maine fishing guide, we are going to share more details on how to get the most out of your experience.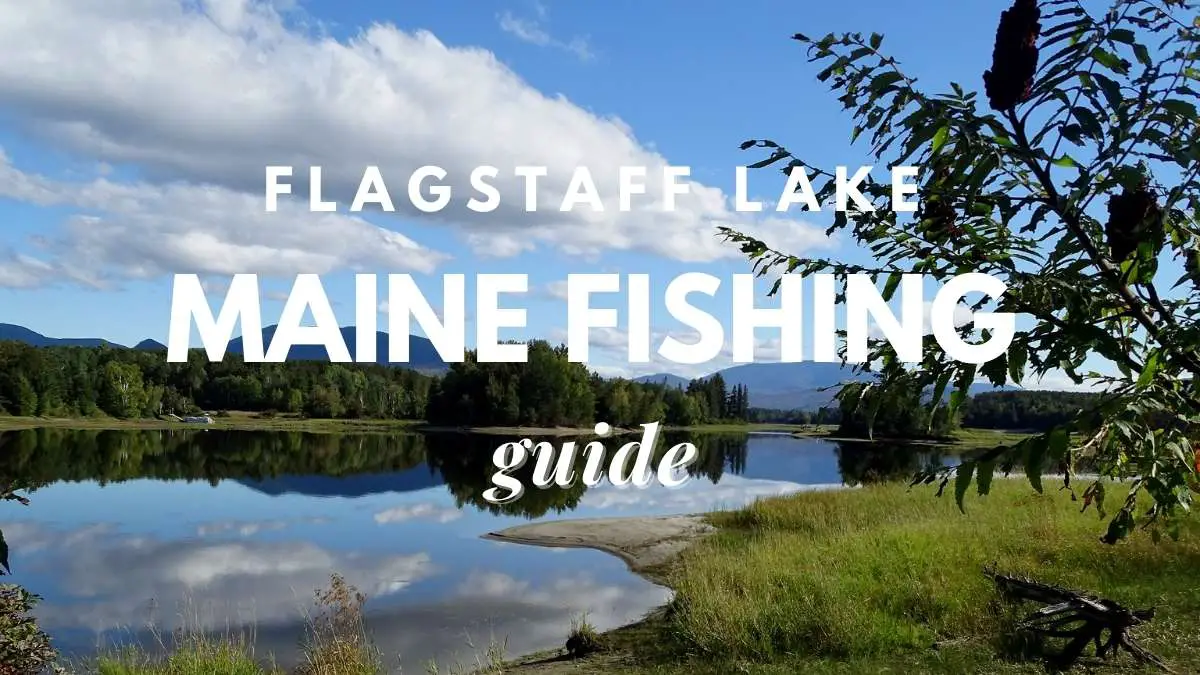 What is Flagstaff lake?
The towns of Eustis and Stratton both provide a wide range of hotel alternatives as well as some excellent eating options, including substantial home-cooked meals, fresh sandwiches, and café lunches. From exquisite wine to peanut butter, local retailers have everything you need.
The hamlet of Flagstaff was founded in 1775 by Benedict Arnold's men on their march to Quebec, and it is one of Maine's most unusual tales. It was submerged 175 years later to make room for hydroelectricity development. Look at the Valley Below map to see where the underwater village landmarks are located. Flagstaff Scenic Boat Tours offers a unique pontoon boat trip to learn about this intriguing heritage. Fotter's Market in Stratton has sandwiches, fruit, beverages, and snacks to help you get ready. Alternatively, take a boat trip with a lunch break at the wonderful and isolated Flagstaff Hut. Visit the Dead River Area Historical Society in the afternoon to view exhibits of artifacts from the communities you passed through this morning.
Paddlers interested in exploring the lake may do it on a day trip or by camping overnight. On the lake, there are several camping options. The trip length is given as 5 miles below, but as this is a lake excursion, you may go as far as you wish.
Read: Is Traveling A Hobby? The Ultimate Guide To An Exciting Way Of Life Learn about the Downsides Of Traveling As A Hobby

Fishing in Flagstaff lake
Grand Falls Hut is ideally positioned among some of the greatest fly fishing in Maine. Grand Falls, located above the Dead River's banks, is known for its trout. Make sure you have your fishing license before going fishing.
1. Derrick Lovitch's shot of fly fishing
The Dead River's main stem originates near Flagstaff Hut, at the mouth of Flagstaff Lake. It runs for 20 miles until reaching The Forks, where it joins the Kennebec River. Grand Falls is roughly 6 miles downstream of the dam and divides the river into two halves. Grand Falls Flowage is the name given to the upper river, which is deep and sluggish flowing. Rainbow trout, which may grow to be over 20 inches long, are the most popular fish in this region. This is a spontaneously reproducing local population that originated years ago as a result of illicit stocking.
Rainbows aren't abundant in this area, but they thrive on the smelts that wash into the river from Flagstaff Lake. Along with rainbow trout, Grand Falls Flowage also has brook trout and salmon. Anglers may wade the riffles around the Big Eddy within a mile of the dam for most of their fishing. To fish the lowest section of this flowage, you'll need a boat. Many of the bigger fish caught in the spring are caught on little spoons and Rapalas. Streamers that imitate smelt, such as the Grey Ghost, Black Ghost, and Thunder Creek, are also popular.
2. Dead River's Lower Reach
The lower river, located below Grand Falls and within close walking distance of Grand Falls Hut, offers fishermen over 15 miles of riffles and pools to explore. The part of the stream between Grand Falls and Spencer Stream is catch-and-release only, and it is home to a large number of trout and salmon. Access is restricted to a few locations where a road leads down to the water; those seeking privacy should go to the lower Dead's center part. Fishing pressure is substantially higher in areas that are easy to access, such as Grand Falls, Spencer Rips, and Poplar Hill Falls.
The majority of the fishing on the lower river is for wild brook trout and salmon, with rainbow, brown trout, and splake (from Wyman Lake) thrown in for good measure. Fish don't grow as big here as they do upstream, although there are always outliers.
Effective Strategies
Salmon are commonly found around the mouths of cool inlets like Spencer Stream or Enchanted Stream since the lower Dead flows hot in the summer. Fish clusters near spring leak on the bottoms of some of the bigger ponds as well. Although artificial lures are permitted for spin fishing, many anglers choose to float nymphs, tiny streamers, or wet flies through the attractive pools and riffles. When the hatches start in mid-to late-May, dry flies become popular, and fish are caught on anything from grasshoppers to elk-hair caddis.
Flagstaff lake Maine fishing tips
1. Choosing the Best Fishing Spots
Anglers must first and foremost place their bait in a fish-holding area in order to have a good day of bass fishing. Anglers may greatly reduce the amount of time they spend casting in locations where there are unlikely to be any fish. Although you may sometimes see a bass exploring open water, depending on this will not help you routinely capture more fish. Because largemouth bass are ambush predators, their optimal habitat will include cover where they may hide and attack their victim.
Anglers should be on the lookout for any structure where bass may hide and ambush victims. Largemouth bass may be found in a variety of structures, including rock, boat docks, timber, grass, lily pads, and more. Look for locations with shadows, such as overhanging trees, that may provide safety to the bass.
Bass has a diverse diet that includes anything from baitfish like bluegill and shad to tiny prey like young ducks. As a result, identifying what is prevalent in your area water is the finest bass fishing approach to consider when picking which bait to use. Because bass will eat a broad range of baits, the best approach to encourage them to eat yours is to make sure it is appropriate for the environment. If your lure seems to be out of place in the habitat, the bass will most likely notice and refuse to eat it. Make careful to "match the hatch" or choose a bait that imitates the sort of forage the bass are eating on in your local water when picking your bait or bass lures. Use a shad or something similar as your bait if the local bass is eating on shad, or a silver-colored swimbait or crankbait if you're casting artificial.
2. Make Weather Adjustments
Different weather conditions may have a significant impact on how the local bass behaves each day. The weather may have a huge effect on a bass angler's performance if they don't know how to react to the circumstances. A bass angler who uses the same approaches every day depends on chance rather than a strategy to catch a fish. Weather-related bass fishing tips and methods differ depending on local waterways and other conditions, but there are some basic guidelines to follow while studying the habits of the local species.
3. Overcast Days
On overcast days, the bass is more ready to reveal itself and is more active. To get powerful strikes from huge active fish on cloudy days, baits with high movement are optimal. Chatter baits, spinnerbaits, and topwater plugs are some of the greatest baits to use for excellent movement. Furthermore, live baitfish like shad will almost always entice an aggressive bass to strike.
4. Days with Sunshine
On days with a lot of sun, bass like to remain close to cover or near the grass. They'll usually be lazy and hide beneath a cover, waiting for bait to come to them. On bright days, a bottom bouncing bait like a texas rigged soft plastic or a jig is preferable. Flip and pitch your bait into the striking zone towards the base of the cover and be prepared for large bass to hit forcefully. On hot, sunny days, some fishermen feel that live bait is the only way to get a bass interested enough to move.
5. Wind
A bass fishing trip can be canceled due to wind, but you might want to rethink giving up the chance to utilize the wind to your advantage and catch more fish.
Of course, there is a limit to this, and fishermen should never fish in unsafe circumstances; nonetheless, a light to medium breeze may help anglers land fish that might otherwise be startled. Because the wind creates turbulence on the water's surface, the bass is less likely to be startled by the boat, your footsteps, your bait, or anything else. Experts also believe that something about the wind makes the bass agitated and ready to feed. Start throwing a moving bait towards the wind and be ready for a hit from an energetic fish.
Final words
Maine is an angler's dream come true. Small and largemouth bass, salmon, and brook and lake trout abound in the state's lakes, ponds, rivers, and streams. While Maine has many fantastic fishing places, three bodies of water stand out above the others. Kennebec County's China Lake, Webber Pond, and Great Pond have all been named to the 2017 Bassmaster's "100 Best Bass Lakes" list for the northeastern division. With hundreds of lakes and ponds in the northeastern United States, the fact that three bodies of water in Kennebec County made the top 25 on this list indicates you shouldn't leave home without your fishing gear, since there are plenty of eager fish just ready to put up a historic battle.