Utah is home to some of the most popular national parks in the United States. Utah's national parks encompass over 2% of the state's total land area. A Utah national parks road trip is the finest way to experience southern Utah's splendor, from Bryce Canyon's iconic hoodoos to the parched desert arches. This list of the finest Utah national parks includes all of the attractions as well as a few side excursions! You'll have the ideal strategy to make the most of your visit to Utah's five national parks by the conclusion of this article. Continue to read and you can create your own Utah vacation itinerary based on that.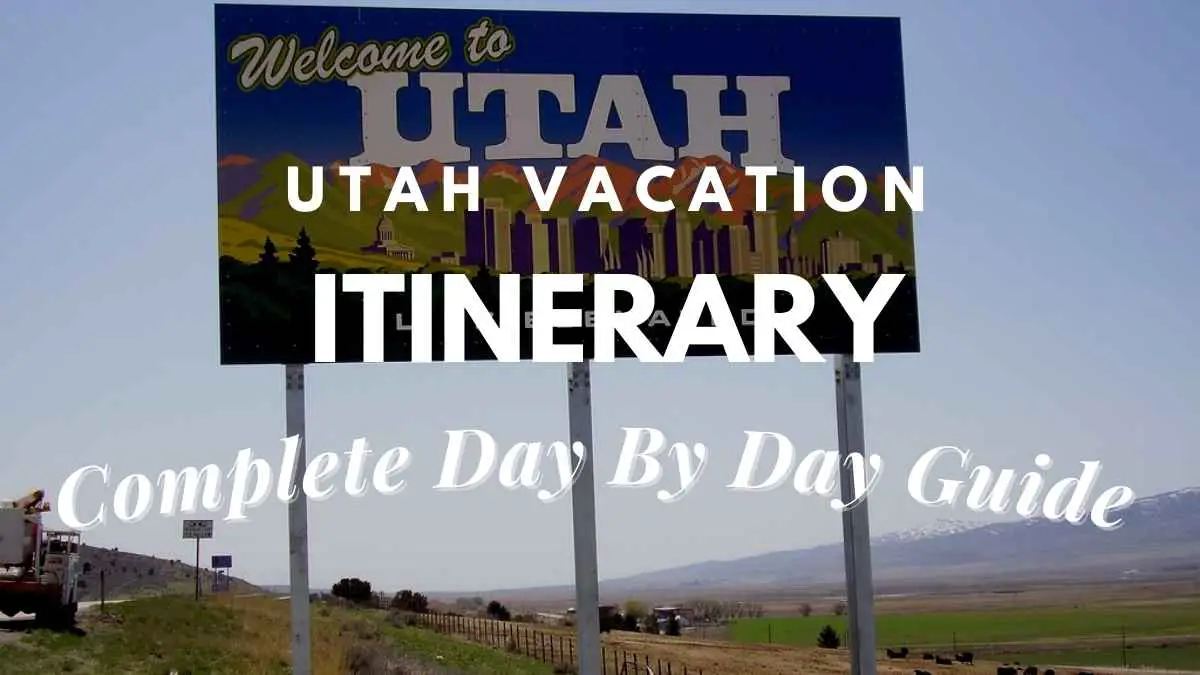 How to visit Utah?
From Highway 191, the approach to Moab grows gradually — then quickly — visually stunning. This is the heart of red rock country. Each new route unveils fresh natural wonders: Monument Valley's distant monoliths, Capitol Reef's soaring cliffs, Red Canyon's hoodoos, or the abrupt emergence of Zion's deep canyon from high on the east rim. The greatest way to pause and take it all in is to take a week-long road trip across Utah's national parks. Take advantage of every opportunity to relax. There's still so much to see.
Read: Is Traveling A Hobby? The Ultimate Guide To An Exciting Way Of Life Learn about the Downsides Of Traveling As A Hobby

Should you visit Utah?
What makes The Best Week of Your Life so memorable? Let's do the math on this one: Five national parks, two national monuments, five scenic routes, one of which is an All-American Road, two national forests, and up to six state parks, including the beautiful Dead Horse Point and Kodachrome Basin, are all worth visiting.
From Moab, you'll visit Arches and Canyonlands national parks before heading south to Monument Valley Navajo Tribal Park for a trip through prehistory. You may visit Natural Bridges National Monument or save time to visit Capitol Reef National Park, which is home to the Land of the Sleeping Rainbow.
Then things become a whole lot more interesting. From Capitol Reef to Bryce Canyon, it's Utah's All-American Road Scenic Byway 12. Over Boulder Mountain, via Grand Staircase–Escalante National Monument, and up the high plateau to the amphitheaters of Bryce Canyon, there are more than 100 miles of diverse vistas.
The expedition concludes at Zion National Park, in the desert southwest of Utah, where the slickrock plateau meets the Mojave Desert and the Virgin River continues to form a spectacular panorama of adventure.
Read: Perfect Day Trip To Ocracoke Island Itinerary
1. Day 1 -230 miles from Salt Lake City to Arches National Park
Fiery Furnace Spend some time in Utah's colorful capital city for breakfast or lunch or get straight into your journey via The Mighty 5 national parks. 300 million years of erosion have produced incredible dramatic landscapes that seem to have been molded by huge legendary creatures rather than natural processes. About 2,000 windowed arches, towering spires, frightening hoodoos, and dangerous pinnacles may be found at Arches, including Delicate Arch, Utah's most famous landmark and a must-hike destination in the park. Numerous parking places for trail access and spectacular vistas are available along a paved 36-mile scenic drive from the park entrance. Overnight at Moab or Devils Garden Campground.
Read: Alaska Winter Itinerary (7-Day Plan)
2. Day two – 100 miles from Arches to Canyonlands National Park
Imagine a series of deep canyons carved out by the currents and tributaries of Utah's Green and Colorado rivers, separated by towering mesas, pinnacles, cliffs, and spires, and spanning tens of thousands of acres of some of the world's most spectacular red rock scenery. Despite the fact that Canyonlands National Park is divided into three separate land divisions, the emphasis today is on the scenic Island in the Sky and the nearby Dead Horse Point State Park. Return to Moab or camp in the parks.
3. Day Three – 230 km from Canyonlands to Monument Valley
Newspaper Rock is a massive petroglyph panel located on the beautiful route leading to Canyonlands' Needles District. It's worth getting up early to fit in a trek here but be warned: you may not want to leave so quickly. Except for Monument Valley, which awaits. The holy heart of the Navajo Nation is Navajo Tribal Park, a famous emblem of the American West. The mountainous landscapes are imbued with ancient spirits, yet because to Hollywood's long love affair with this area, they are frighteningly familiar. Along the trip, see Edge of the Cedars State Park and Bluff Fort. In Monument Valley, spend the night.
Read: Day Trip To North Captiva Island Itinerary
4. Day 4 – 200 miles from Monument Valley to Capitol Reef
If time allows, go north on S.R. 261 up the Moki Dugway's switchbacks (trailers and big RVs are not permitted) and over Cedar Mesa to Natural Bridges National Monument. The three huge bridges are a sight to see even if you merely stop at the beautiful views. Then there's Capitol Reef National Park, which runs for 100 miles through an enticing wilderness of sandstone formations, rock art petroglyphs recounting the narrative of the Fremont Culture's early indigenous people, and the huge fruit orchards of Fruita, an early pioneer community. Along S.R. 24 and the Capitol Reef Scenic Drive in the front country, there are miles of interesting paths. You may explore the wilderness with a high-clearance vehicle and a permit. Torrey is where you'll spend the night.
5. Day 5 – Highway 12 115 miles from Capitol Reef to Bryce Canyon
Travel across high-alpine Boulder Mountain and through the Grand Staircase–Escalante National Monument on the All-American Road: Scenic Byway 12. Introduce yourself to the many groups of outgoing and friendly people that call it home. Discover a feeling of antiquity that adds to the structure of this unforgettable road journey.
While Bryce Canyon is the destination of this itinerary, driving straight through would miss out on must-see outdoor attractions such as Calf Creek Falls and Kodachrome Basin State Park, dining options such as Kiva Koffeehouse, Hell's Backbone Grill, and the Burr Trail Outpost, and geologic history and heritage hotspots such as Anasazi State Park Museum and Escalante Petrified Forest State Park. In other words, if you can, take it easy today – even if it means giving yourself an additional day or two. Also, reserve ahead of time for the finest hotels or campgrounds.
Read: Innes National Park Itinerary ( Planned Days And Printable Itinerary ) Learn about Enjoying your meals at Yorke Peninsula's Watsacowie Brewing
6. Day 6 – 90 miles from Bryce Canyon to Zion National Park
Bryce Canyon National Park is made up of a series of natural amphitheaters carved out of pink cliffs and dotted with exquisite red rock "hoodoos." With the rising and setting of the sun, the park's most vibrant colors come alive. Summertime brings a plethora of walking and hiking paths, as well as a 37-mile scenic drive with breathtaking views (with a summer shuttle option to avoid driving in traffic). The historic Bryce Canyon Lodge's position inside the park provides easy access to the area's sights, treks, and starry nights. Stay at the lodge or Bryce Canyon City for the night.
Read: Lassen Volcanic National Park Itinerary ( Printable Multiple Day Itinerary ) Learn about turtle exploration at Sundial Bridge
7. Day 7 – 310 Miles via Zion National Park
"The Promised Land" is how Observation Point Zion is translated. For you, this means some of the most breathtaking trekking you'll ever experience, as well as breathtakingly magnificent scenery you'll never forget. Zion National Park is a refuge of the greatest natural order, carved by water and time beyond comprehension. While many tourists choose Angels Landing or the Riverside Walk/Gateway to the Narrows, hikers hoping for a less crowded experience might choose Hidden Canyon, the lengthier and more rigorous Observation Point, or even a visit to the park's Kolob Canyons portion. If you're looking for a bit more excitement, prepare ahead and hire a local outfitter and guide for a memorable canyoneering trip in the Orderville Canyon, which is somewhat challenging.
Read: North Cascades National Park Itinerary ( Easy to print ) Learn about the Marblemount Diner
When is the best time to visit Utah's national parks?
All year long, Utah has plenty to offer. All five parks are open all year and may be visited even in the winter. Depending on your interests, the optimum time to visit southern Utah may vary.
Spring: The weather is warm but not oppressively so throughout the day, making it ideal for trekking. Before the peak season, crowds are lighter in the spring. However, water levels are still too high this time of year to trek The Narrows in Zion. One of the finest times to explore Utah's national parks is now.
Summer: Temperatures are scorching by early summer, with highs in the 80s and 90s. This is also the most popular time of year, especially in Zion and Arches National Parks. While you may have to contend with crowds, summer offers the advantage of having all park facilities available and children out of school.
Winter: Utah's winters are lovely, but the snow and frigid weather make hiking difficult. The fact that there are less people in Utah in the winter is a big plus.
Fall: As the weather cools down, the crowds thin out. This is a fantastic time to visit southern Utah since the weather is ideal for trekking (especially The Narrows in Zion!).
Adhere to this Utah vacation itinerary and you will enjoy the time that you are going to spend in here.
Read: First Time Hawaii Itinerary Learn about Day 1 in Oahu