Are you looking forward to going on a solo trip to Colorado? Then you are about to gather one of the best experiences in your life. However, it is still important to learn how to plan your trip accordingly to get the best experiences. Continue to read this guide and we will share all useful details on how to plan your solo trip to Colorado.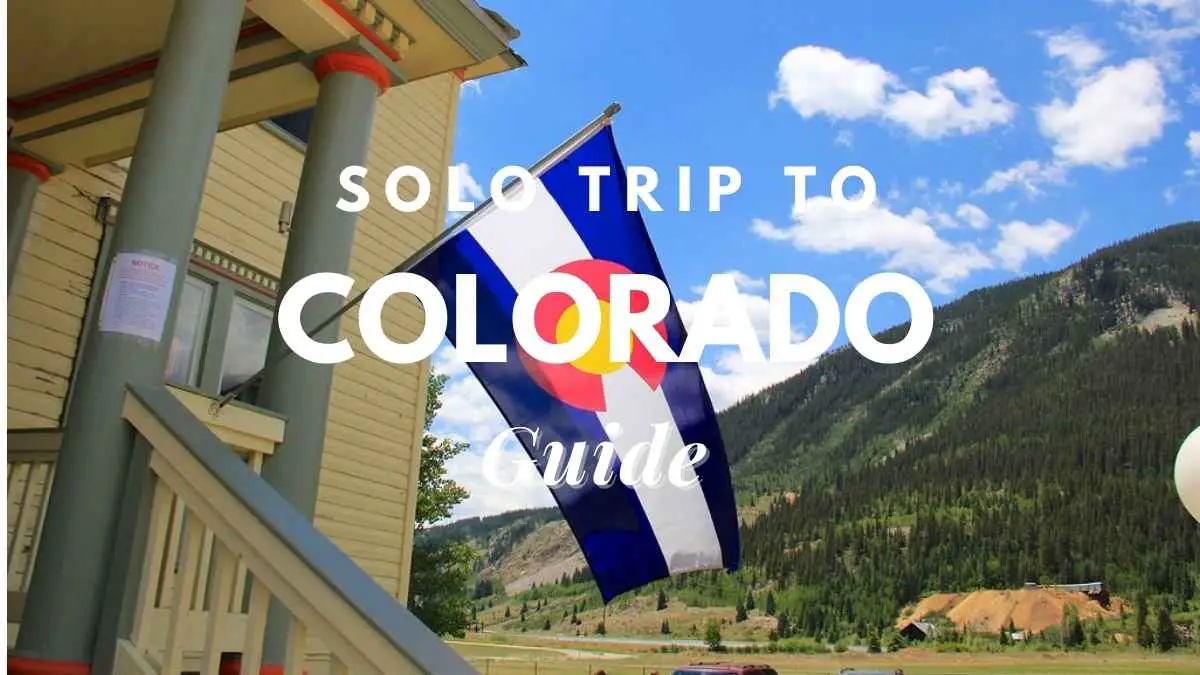 Should you go on a solo trip to Colorado?
Colorado is one of the top states in the United States for road trips and camping. I realize it's a strong statement, but after you see the variety and beauty, I'm sure you'll agree! The Rocky Mountains in the state's center give way to huge desert and red rock plateaus in the west. The topography becomes dry towards the south, and little rural communities give it a distinct character. Colorado's varied landscape never ends!
Colorado, which has the most "fourteeners" (mountains higher than 14,000 feet) in the United States, is a mecca for outdoor enthusiasts from all over the globe. In the summer, the state provides camping, mountain biking, and hiking, and in the winter, it is one of the top spots in the United States for snowboarding and skiing. Following are the best locations that you should explore when you go on a solo trip to Colorado.
Read: Is Traveling A Hobby? The Ultimate Guide To An Exciting Way Of Life Learn about the Downsides Of Traveling As A Hobby

Denver
Denver, Colorado's biggest city, is an excellent starting place for your excursions in the Rockies. Denver has transformed from a quiet hamlet to one of the liveliest cities in the western United States in the previous decade. Today, it is home to world-class brewers (take a tour if you have time), restaurants for every palate, and a plethora of historical buildings.
If you're looking for culture, check out the Denver Art Museum or the famed Denver Mint — a museum that commemorates the history of gold and silver coin creation during Colorado's mining boom. Finish your day at the RiNo (River North), a former industrial district that has been transformed into one of the city's coolest areas, complete with street art, bars, restaurants, and cafés.
Denver, nicknamed "The Mile High City," is a mile above sea level and enjoys over 250 days of sunlight every year, so carry some sunscreen. It's a pedestrian-friendly city, and because you'll be walking a lot, you don't want to acquire a sunburn before your big road trip.
National Park of the Rocky Mountains
Rocky Mountain National Park should not be missed on any Colorado road trip itinerary. It is one of the most beautiful national parks in the state, with spectacular beauty at all times of the year. But don't rush on your way to RMNP, you'll travel through Boulder, a college town with a thriving tech economy and a big outdoor culture.
Explore hiking paths around the Flatirons — beautiful rock formations that dominate the landscape of this town – after checking out local boutiques and getting a lunch on Pearl Street. Take a strenuous walk up Mount Sanitas to put your stamina to the test.
Now it's time to visit Rocky Mountain National Park! I suggest spending the most of your day in Boulder and arriving in Rocky Mountain in the evening, so you have at least one day to explore this magnificent location. After a hard day of trekking, you may stay in Estes Park, the entrance to RMNP; however, be sure to reserve your lodging ahead of time since it is quite busy during peak season!
Garden of the Gods
Garden of the Gods is approximately an hour and 20 minutes south of Denver, in the foothills of Pikes Peak. Garden of the Gods is a spectacular blend of breathtaking landscape, reasonably simple hiking routes, and eccentric rock formations that overlook Pikes Peak. Garden of the Gods is one of Colorado's most popular treks, with approximately 15 miles of hiking paths ranging from easy to intermediate.
One of the finest aspects about the Garden of the Gods is that it is completely free! The park's owner, Charles Perkins, wished to gift the land to the public, but he died before he could do so. His family later fulfilled his goal by gifting the park to Colorado Springs.
Garden of the Gods is gorgeous at any time of year, although summer is the busiest season, as it is for many other destinations in Colorado. Winter is an excellent season to take shots because the red rocks get coated in white powder, producing beautiful landscapes across the park. Autumn gives magnificent colors and cooler temps, while spring is pleasant but not quite crowded.
If you're still looking for adventure after seeing the Garden of the Gods, you may drive to the summit of Pikes Peak, which can be reached by automobile or on foot.
National Park and Preserve of the Great Sand Dunes
Head to Great Sand Dunes National Park and Preserve in southern Colorado to uncover the tallest sand mountains in North America! These magnificent sand dunes cover 30 square miles and are set against the background of the Sangre de Cristo Mountains.
Some of the most popular activities here include sand sledding and sandboarding. So go ahead and get a sand sled from one of the area's rental shops and slide down a tall sand dune! Take a leisurely trek along a sand dune, pack a picnic, and pitch up tent for the night to appreciate this intriguing and peaceful location. Because of its distant position in rural Colorado, the Great Sand Dunes National Park and Preserve is also a popular destination for astronomy, with many dark aficionados visiting all year.
The Great Sand Dunes National Park and Preserve is about 35 miles from Alamosa. While winter is often dry and pleasant, it also brings lower weather, so be prepared! This is an experience that anyone who goes on a solo trip to Colorado should not miss out.
Mesa Verde National Park
Mesa Verde National Park, located in the southwest corner of Colorado, was established to protect the archaeological remains that document the history of the Ancestral Pueblo people who lived here from 600 AD to 1300 AD. Mesa Verde, which translates as "Green Table," presents a blend of centuries-old history seen in hundreds of cliff houses.
Visitors may take a guided tour of the Step House at Wetherill Mesa and see hundreds of ancient cliff homes (tickets can be obtained at the park's visitor center), or they can take a self-guided tour of the Step House at Wetherill Mesa at their own speed.
If you don't feel like wandering around the archaeological sites, you may explore various vistas and overlooks along the Chapin Mesa's 6-mile Mesa Top Loop Road.
Because all of the sites are placed in historical sequence, it's a terrific opportunity to learn about the area's unique history. If you're still hungry for more, pay a visit to the Chapin Mesa Archaeological Museum, which is a nice alternative to being outdoors when it's too hot in the summer. Don't touch the houses while touring the park. These antique buildings are delicate and easily destroyed. If you want to go for a trek, there are various routes on Chapin Mesa, including Spruce Canyon trailheads and the Petroglyph Point Trail.
Telluride
Telluride has established itself as one of North America's best winter sports destinations. After the region's mining industry declined in the 1970s, the town was recreated with the aid of residents who developed the area's first ski resort. But Telluride's Old West attitude lives on to this day, and you can feel it the instant you walk into the city's downtown.
Today, this little town is regarded as one of the best spots in Southwest Colorado for leisure, owing to its Victorian-era elegance, hiking, mountain biking in the summer, and skiing and snowboarding in the winter. People go from all over the globe to enjoy the fantastic environment.
Telluride, in addition to being an outdoor enthusiast's paradise, is also a popular summer festival location. Mountainfilm, Telluride Bluegrass Festival, and Telluride Film Festival are among the most notable events held here. Telluride lodging is expensive, particularly during the busy season. Budget-friendly solutions may be found in surrounding towns such as Ridgeway, Ouray, and Montrose. If you want to camp, go to the beautiful Alta Lakes west of Telluride.
Aspen
Even if you've never been Colorado, you've undoubtedly heard of Aspen. While Aspen is a wonderful destination to come at any time of year, skiing is what has made it renowned. People travel from all over the globe to ski the famed Aspen slopes, which include Aspen Highlands, Aspen Mountain, and Snowmass Ski Resort, among others.
However, it is not just the winter season that provides a plethora of activities. In the autumn, travelers flock to shoot the famed Maroon Bells, two gorgeous peaks reflected in the quiet waters of Maroon Lake – one of Colorado's most photographed locations – or trek the Rio Grande Trail, one of the simplest routes near Aspen.
Final words
Now you are aware about the best places to visit when you go on a solo trip to Colorado. Take a look at these places and plan your visit to Colorado accordingly.