The state of New York has a total of 1,611 towns and cities. New York City, Buffalo, Rochester, Yonkers, Syracuse, Albany, New Rochelle, Mount Vernon, Schenectady, and Albany are the top ten largest cities in terms of population, while the ten oldest cities are New York City, Albany, Hudson, Schenectady, Troy, Amsterdam, Buffalo, Utica, Rochester, and New York City. Here is a list of cities in New York.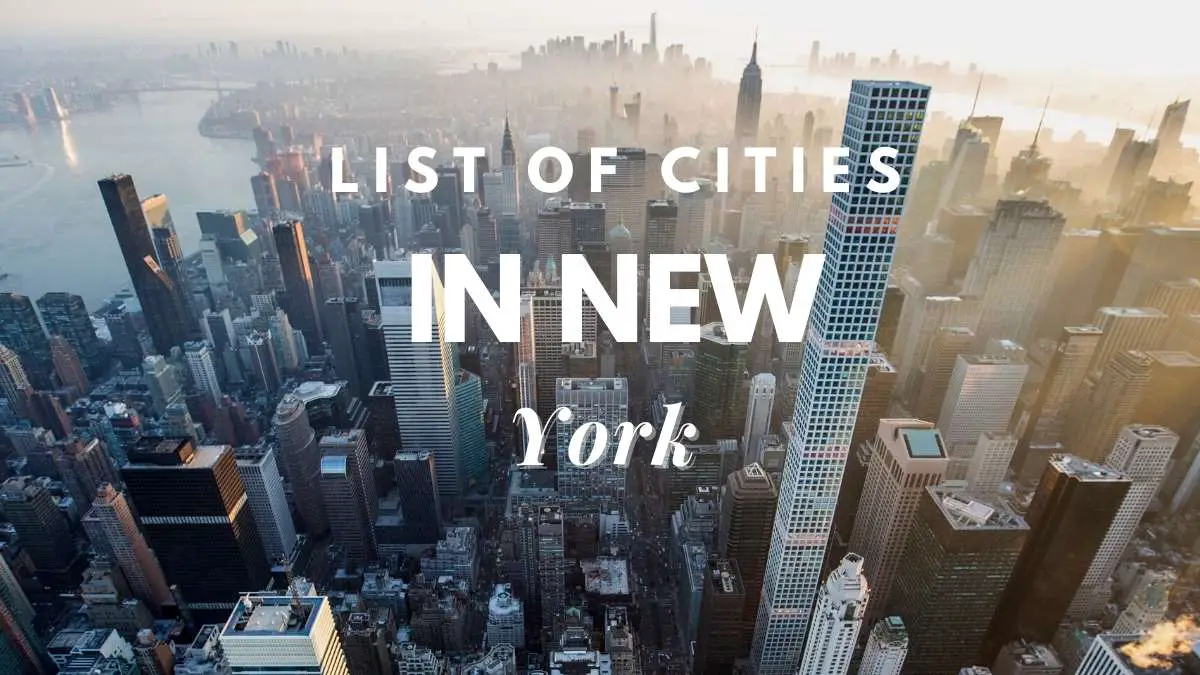 Accord
Adams Center
Adams
Addison
Afton
Akron
Albany
Albertson
Albion
Alden
Alexander
Alexandria Bay
Alfred
Allegany
Allentown
Alma
Almond
Altamont
Altmar
Altona
Amagansett
Amenia
Amityville
Amsterdam
Ancram
Andes
Andover
Angelica
Angola
Antwerp
Apalachin
Aquebogue
Arcade
Ardsley
Argyle
Arkport
Armonk
Ashland
Athens
Atlantic Beach
Attica
Au Sable Forks
Auburn
Aurora
Austerlitz
Ava
Averill Park
Avoca
Avon
Babylon
Bainbridge
Baldwin
Baldwinsville
Ballston Lake
Ballston Spa
Barker
Barneveld
Barton
Batavia
Bath
Bay Shore
Bayport
Bayville
Beacon
Bedford
Belfast
Bellerose
Bellmore
Bellport
Belmont
Bemus Point
Bergen
Berkshire
Berlin
Berne
Bethel
Bethpage
Big Flats
Binghamton
Black River
Blauvelt
Bloomfield
Blooming Grove
Bloomingburg
Blue Point
Bohemia
Bolivar
Bolton Landing
Bombay
Boonville
Boston
Bovina Center
Bradford
Brant
Brasher Falls
Brentwood
Brewerton
Brewster
Briarcliff Manor
Bridgehampton
Bridgeport
Bridgewater
Brightwaters
Broadalbin
Brockport
Brocton
Bronxville
Brookfield
Brookhaven
Brownville
Brushton
Buchanan
Buffalo
Burdett
Burke
Burlington Flats
Byron
Cairo
Calcium
Caledonia
Callicoon
Calverton
Cambria Heights
Cambridge
Camden
Cameron
Camillus
Campbell
Canaan
Canajoharie
Canandaigua
Canaseraga
Canastota
Candor
Caneadea
Canisteo
Canton
Cape Vincent
Carle Place
Carlisle
Carmel
Caroga Lake
Carthage
Cassadaga
Castile
Castleton On Hudson
Castorland
Cato
Catskill
Cattaraugus
Cayuga
Cayuta
Cazenovia
Cedarhurst
Celoron
Center Moriches
Centereach
Centerport
Centerville
Central Islip
Central Square
Central Valley
Champlain
Chappaqua
Charlotteville
Chateaugay
Chatham
Chaumont
Chautauqua
Chazy
Chemung
Chenango Bridge
Chenango Forks
Cherry Creek
Cherry Valley
Chester
Chittenango
Churchville
Cicero
Cincinnatus
Clarence Center
Clarence
Clarendon
Clark Mills
Clarkson
Clarksville
Claverack
Clay
Clayton
Clayville
Cleveland
Clifton Park
Clifton Springs
Clinton
Clintondale
Clyde
Clymer
Cobleskill
Cochecton
Coeymans
Cohocton
Cohoes
Cold Brook
Cold Spring Harbor
Cold Spring
Colden
Collins
Colton
Commack
Conesus
Conewango Valley
Congers
Conklin
Constable
Constableville
Constantia
Cooperstown
Copake
Copenhagen
Copiague
Coram
Corfu
Corinth
Corning
Cornwall On Hudson
Cornwall
Cortland
Cortlandt Manor
Coxsackie
Cragsmoor
Croghan
Crompond
Croton On Hudson
Crown Point
Cuba
Cutchogue
Dannemora
Dansville
Darien Center
Davenport
Dayton
De Kalb Junction
De Peyster
De Ruyter
Deer Park
Deferiet
Delanson
Delevan
Delhi
Delmar
Denmark
Depauville
Depew
Deposit
Dexter
Dickinson Center
Dobbs Ferry
Dolgeville
Dover Plains
Dresden
Dryden
Duanesburg
Dundee
Dunkirk
Durham
Eagle Bay
Eagle Bridge
Earlville
East Aurora
East Bloomfield
East Greenbush
East Hampton
East Islip
East Marion
East Meadow
East Moriches
East Nassau
East Northport
East Norwich
East Otto
East Quogue
East Randolph
East Rochester
East Rockaway
East Syracuse
East Williamson
Eastchester
Eastport
Eaton
Eden
Edmeston
Edwards
Elba
Elbridge
Elizabethtown
Ellenburg
Ellenville
Ellicottville
Ellington
Ellisburg
Elma
Elmira
Elmont
Elmsford
Endicott
Endwell
Erin
Esopus
Esperance
Essex
Evans Mills
Fabius
Fair Haven
Fairport
Falconer
Fallsburg
Farmingdale
Farmington
Farmingville
Farnham
Fayette
Fayetteville
Fine
Fishers Island
Fishkill
Fleischmanns
Floral Park
Florida
Fonda
Forestburgh
Forestport
Forestville
Fort Ann
Fort Covington
Fort Drum
Fort Edward
Fort Johnson
Fort Montgomery
Fort Plain
Frankfort
Franklin Square
Franklin
Franklinville
Fredonia
Freedom
Freeport
Freeville
Fremont Center
Frewsburg
Friendship
Fulton
Fultonville
Gainesville
Galway
Garden City
Gardiner
Gasport
Geneseo
Geneva
Genoa
Georgetown
Germantown
Gerry
Ghent
Gilbertsville
Gilboa
Glasco
Glen Cove
Glen Head
Glens Falls
Glenwood Landing
Gloversville
Gorham
Goshen
Gouverneur
Gowanda
Grafton
Grand Island
Granville
Great Bend
Great Neck
Great River
Great Valley
Greene
Greenfield Center
Greenlawn
Greenport
Greenvale
Greenville
Greenwich
Greenwood Lake
Greenwood
Greig
Groton
Groveland
Guilderland
Guilford
Hadley
Hagaman
Hague
Hamburg
Hamden
Hamilton
Hamlin
Hammond
Hammondsport
Hampton Bays
Hampton
Hancock
Hannibal
Harford
Harpersfield
Harriman
Harris
Harrison
Harrisville
Hartford
Hartsdale
Hartwick
Hastings On Hudson
Hastings
Hauppauge
Haverstraw
Hawthorne
Hector
Hempstead
Henderson
Henrietta
Herkimer
Hermon
Heuvelton
Hewlett
Hicksville
High Falls
Highland Falls
Highland Mills
Highland
Hillburn
Hillsdale
Hilton
Hinsdale
Hobart
Holbrook
Holland Patent
Holland
Holley
Holtsville
Homer
Honeoye Falls
Hoosick Falls
Hoosick
Hopewell Junction
Hornell
Horseheads
Houghton
Howard Beach
Hudson Falls
Hudson
Hume
Hunter
Huntington Station
Huntington
Hurley
Hyde Park
Ilion
Indian Lake
Inlet
Interlaken
Inwood
Irvington
Island Park
Islandia
Islip Terrace
Islip
Ithaca
Jackson Heights
Jamesport
Jamestown
Jasper
Java Center
Jay
Jefferson Valley
Jefferson
Jeffersonville
Jericho
Jewett
Johnsburg
Johnson City
Johnstown
Jordan
Keene
Keeseville
Kendall
Kent
Kerhonkson
Kinderhook
Kings Park
Kingston
Kirkwood
Knox
La Fargeville
La Fayette
Lacona
Lake George
Lake Grove
Lake Katrine
Lake Luzerne
Lake Placid
Lake Pleasant
Lake View
Lakewood
Lancaster
Lansing
Larchmont
Laurel
Laurens
Lawrence
Le Roy
Lee Center
Leeds
Leicester
Leon
Levittown
Lewis
Lewiston
Lexington
Liberty
Lima
Limestone
Lincolndale
Lindenhurst
Lindley
Lisbon
Lisle
Little Falls
Little Valley
Liverpool
Livingston Manor
Livingston
Livonia
Locke
Lockport
Locust Valley
Lodi
Long Beach
Long Lake
Lorraine
Lowville
Lynbrook
Lyndonville
Lyon Mountain
Lyons Falls
Lyons
Macedon
Machias
Madison
Madrid
Mahopac
Maine
Malden Bridge
Malone
Malverne
Mamaroneck
Manchester
Manhasset
Manlius
Mannsville
Manorville
Marathon
Marcellus
Marcy
Margaretville
Marilla
Marion
Marlboro
Martinsburg
Maryland
Masonville
Massapequa Park
Massapequa
Massena
Mastic Beach
Mastic
Mattituck
Maybrook
Mayfield
Mayville
Mc Donough
Mc Graw
Mechanicville
Medford
Medina
Medusa
Melrose
Melville
Mendon
Meridian
Merrick
Mexico
Mid Island
Middleburgh
Middleport
Middlesex
Middletown
Middleville
Milford
Mill Neck
Millbrook
Miller Place
Millerton
Millport
Milton
Mineola
Minerva
Minetto
Mineville
Minoa
Mohawk
Moira
Monroe
Monsey
Montauk
Montezuma
Montgomery
Monticello
Montour Falls
Mooers
Moravia
Moriah
Moriches
Morris
Morrisonville
Morristown
Morrisville
Mount Kisco
Mount Morris
Mount Sinai
Mount Vernon
Munnsville
Nanuet
Napanoch
Naples
Narrowsburg
Nassau
Natural Bridge
Nedrow
Nelliston
Nesconset
Neversink
New Baltimore
New Berlin
New City
New Hartford
New Haven
New Hyde Park
New Lebanon
New Lisbon
New Paltz
New Rochelle
New Suffolk
New Windsor
New York Mills
New York
Newark Valley
Newark
Newburgh
Newcomb
Newfane
Newfield
Newport
Niagara Falls
Nichols
Niverville
Norfolk
North Babylon
North Bay
North Boston
North Collins
North Hudson
North Norwich
North Salem
North Tonawanda
Northport
Northville
Norwich
Norwood
Nunda
Nyack
Oakdale
Oakfield
Oceanside
Odessa
Ogdensburg
Olcott
Old Bethpage
Old Westbury
Olean
Oneida
Oneonta
Ontario
Orangeburg
Orchard Park
Orient
Oriskany Falls
Oriskany
Orwell
Ossining
Oswegatchie
Oswego
Otego
Otisville
Otto
Ovid
Owego
Oxford
Oyster Bay
Painted Post
Palatine Bridge
Palenville
Palmyra
Panama
Parish
Parishville
Patchogue
Patterson
Pavilion
Pearl River
Peconic
Peekskill
Pelham
Penfield
Penn Yan
Perry
Perrysburg
Peru
Petersburg
Phelps
Philadelphia
Philmont
Phoenicia
Phoenix
Piercefield
Piermont
Pike
Pine Bush
Pine Hill
Pine Plains
Pitcher
Pittsford
Plainview
Plattekill
Plattsburgh
Pleasant Valley
Pleasantville
Plymouth
Poestenkill
Point Lookout
Poland
Pomona
Pompey
Port Byron
Port Chester
Port Ewen
Port Henry
Port Jefferson Station
Port Jefferson
Port Jervis
Port Leyden
Port Washington
Portageville
Porter Corners
Portland
Portville
Potsdam
Poughkeepsie
Pound Ridge
Prattsburgh
Prattsville
Preble
Preston Hollow
Prospect
Pulaski
Pulteney
Putnam Station
Putnam Valley
Quogue
Randolph
Ransomville
Ravena
Reading Center
Red Creek
Red Hook
Redfield
Redford
Redwood
Remsen
Remsenburg
Rensselaer Falls
Rensselaer
Rensselaerville
Rhinebeck
Richburg
Richfield Springs
Richford
Richland
Richmond Hill
Richmondville
Richville
Ridge
Rifton
Ripley
Riverhead
Rochester
Rock Hill
Rockville Centre
Rocky Point
Rodman
Rome
Romulus
Ronkonkoma
Roosevelt
Roscoe
Rose
Roseboom
Rosendale
Roslyn Heights
Roslyn
Rotterdam Junction
Round Lake
Rouses Point
Roxbury
Rush
Rushford
Rushville
Russell
Rye
Sackets Harbor
Sag Harbor
Sagaponack
Saint Bonaventure
Saint James
Saint Johnsville
Salamanca
Salem
Salisbury Center
Sand Lake
Sandy Creek
Sangerfield
Saranac Lake
Saranac
Saratoga Springs
Sardinia
Saugerties
Savannah
Savona
Sayville
Scarsdale
Schaghticoke
Schenectady
Schodack Landing
Schoharie
Schroon Lake
Schuyler Falls
Schuyler Lake
Schuylerville
Scio
Scipio Center
Scottsville
Sea Cliff
Seaford
Selden
Seneca Falls
Shandaken
Sharon Springs
Shelter Island Heights
Shelter Island
Shenorock
Sherburne
Sheridan
Sherman
Sherrill
Shirley
Shokan
Shoreham
Shortsville
Shrub Oak
Sidney
Silver Creek
Silver Springs
Sinclairville
Skaneateles
Sloatsburg
Smyrna
Sodus Point
Sodus
Somers
Sound Beach
South Dayton
South Fallsburg
South Glens Falls
Southampton
Southold
Speculator
Spencer
Spencerport
Spring Valley
Springville
Staatsburg
Stafford
Stamford
Stanfordville
Star Lake
Stephentown
Sterling
Stillwater
Stockton
Stone Ridge
Stony Brook
Stony Creek
Stony Point
Stratford
Stuyvesant
Suffern
Summit
Sylvan Beach
Syosset
Syracuse
Tannersville
Tappan
Tarrytown
Theresa
Thiells
Thompsonville
Thornwood
Ticonderoga
Tillson
Tioga Center
Tomkins Cove
Tonawanda
Tribes Hill
Troupsburg
Troy
Trumansburg
Truxton
Tuckahoe
Tully
Tupper Lake
Turin
Tuxedo Park
Tyrone
Ulster Park
Unadilla
Union Hill
Union Springs
Uniondale
Unionville
Utica
Vails Gate
Valatie
Valhalla
Valley Cottage
Valley Falls
Valley Stream
Van Buren Point
Van Etten
Vernon
Verona
Verplanck
Vestal
Victor
Victory Mills
Voorheesville
Waddington
Wading River
Wainscott
Walden
Wales Center
Walker Valley
Wallkill
Walton
Walworth
Wampsville
Wantagh
Wappingers Falls
Warrensburg
Warsaw
Warwick
Washington Mills
Washingtonville
Waterford
Waterloo
Watertown
Waterville
Watervliet
Watkins Glen
Waverly
Wawarsing
Wayland
Wayne
Webster
Weedsport
Wells
Wellsburg
Wellsville
West Babylon
West Bloomfield
West Haverstraw
West Hempstead
West Hurley
West Islip
West Monroe
West Nyack
West Point
West Sand Lake
West Sayville
West Winfield
Westbury
Westerlo
Westernville
Westfield
Westford
Westhampton Beach
Westhampton
Westmoreland
Westons Mills
Westport
White Plains
Whitehall
Whitesboro
Whitney Point
Willet
Williamson
Williamstown
Williston Park
Willsboro
Wilmington
Wilson
Windham
Windsor
Wolcott
Woodbury
Woodhull
Woodmere
Woodridge
Woodstock
Worcester
Wurtsboro
Wyandanch
Wynantskill
Wyoming
Yaphank
Yonkers
York
Yorkshire
Yorktown Heights
Yorkville
Youngstown
The Best Method of Transportation in NYC
If you didn't already know, using traditional public transit is the greatest way to travel about NYC. I'm not kidding when I say that the traffic in NYC is ridiculous. If you're driving through Times Square and are stopped at the same traffic signal for more than ten minutes, kill me!
Therefore, when visiting NYC, be sure to get used to using the subway system! You can also take the bus, but I've always thought the metro was superior. The Staten Island Ferry is free and available if you need to go to Staten Island quickly. If you want to enjoy a beautiful view of Manhattan and the Statue of Liberty, I suggest taking the Staten Island Ferry anyway.
If you decide against using the train, you may, of course, call a taxi as in the movies. When you notice a taxi approaching, stand on the street or near it while holding your hand up. You may also utilize Uber or Lyft. I've discovered that Uber/Lyft is less expensive. Although I've never had an issue with taxis running the meter, it never hurts to double-check.
Read: Is Traveling A Hobby? The Ultimate Guide To An Exciting Way Of Life Learn about the Downsides Of Traveling As A Hobby

Avoid Renting a Car
This gets me to my second piece of advice for visiting New York City: AVOID renting a vehicle there! As I've already said, it's impossible to locate parking in New York City, and even if you can, it's quite costly. The city's drivers are also wild!
Additionally, walking or using the subway may often get you to your destination quicker due of how horrible the traffic is in NYC. You may use Citymapper instead of the Google Maps app, which I find to be more useful, for the subway.
Visit Times Square but avoid eating there.
Times Square is a must-see for anybody visiting New York City for the first time, but do not, I repeat DO NOT, dine there! For such poor cuisine, the price is excessive! Consider the dining options in your hometown. The cuisine at popular tourist destinations is often mediocre. If you have the time, you should visit Times Square both during the day and at night to get a true sense of it. Thank goodness it's free!
Avoid going to chain restaurants.
This leads me to my second point: unless it's Eataly or a well-known 5-star restaurant, stay away from franchise restaurants! The city of New York is renowned for its incredible dining options, many of which are NOT Red Lobster, Fridays, Olive Garden, or Planet Hollywood.
You should know that pizza, bagels, and egg sandwiches are like a religion for us New Yorkers now that I'm really hungry. It's crucial for you to have these requirements with you when you leave New York City as a visitor for the first time!
The majority of New York Style Pizza is offered by the slice, and there are so many options to pick from! Oh, and don't, I repeat, DO NOT, eat your pizza with a fork and knife if you don't want people to treat you like an alien! Just saying. If a pizza slice is in the shape of a triangle, it should be folded in half. Simply hold the square slice in your palms if it is one.
Additionally, in New York, a slice of cheese is known as a basic or ordinary slice (although you may just say cheese). Therefore, you may approach and ask for two regulars. There are no greater bagels than those found in New York! Have an egg sandwich or a huge, fluffy bagel with a variety of cream cheese spreads. Actually, our gentle water is the key to NY bagels.
The most common egg sandwich is a bacon, egg, and cheese (BEC), but I often order an egg white, spinach, and mozzarella cheese for my vegetarian friends. Brooklyn Bagels in Chelsea is my favorite bagel shop in New York City.
People in New York Aren't Usually Rude
Let me explain. It seems like there are a lot of harsh individuals in New York, but that's not the case at all! Most people would be more than eager to assist you if you asked one of the "stable" seeming folks on the streets for assistance.
The prevalent perception of New Yorkers is that they are impatient, like things moving quickly, may be overworked, or are under stress. urban life! Additionally, it's simply simpler to avoid eye contact with people when there are so many people crammed into the city.
As long as you are aware of these New York City travel advice, you shouldn't have any issues. New Yorkers do have certain pet peeves that might cause some rudeness to emerge.
Final words
Now you have a good understanding about the list of cities in New York. You can keep these in mind and get the most out of time that you get in here.