Port Aransas, located on Mustang Island in Texas, is a popular destination for fishing enthusiasts. With its abundant waterways and diverse marine life, it's no surprise that many visitors seek out the best fishing rentals in the area. In this article, we'll highlight some of the top options for fishing rentals in Port Aransas, including both boats and fishing gear. From this article, we will be sharing details about the 10 top affordable Port Aransas fishing trips.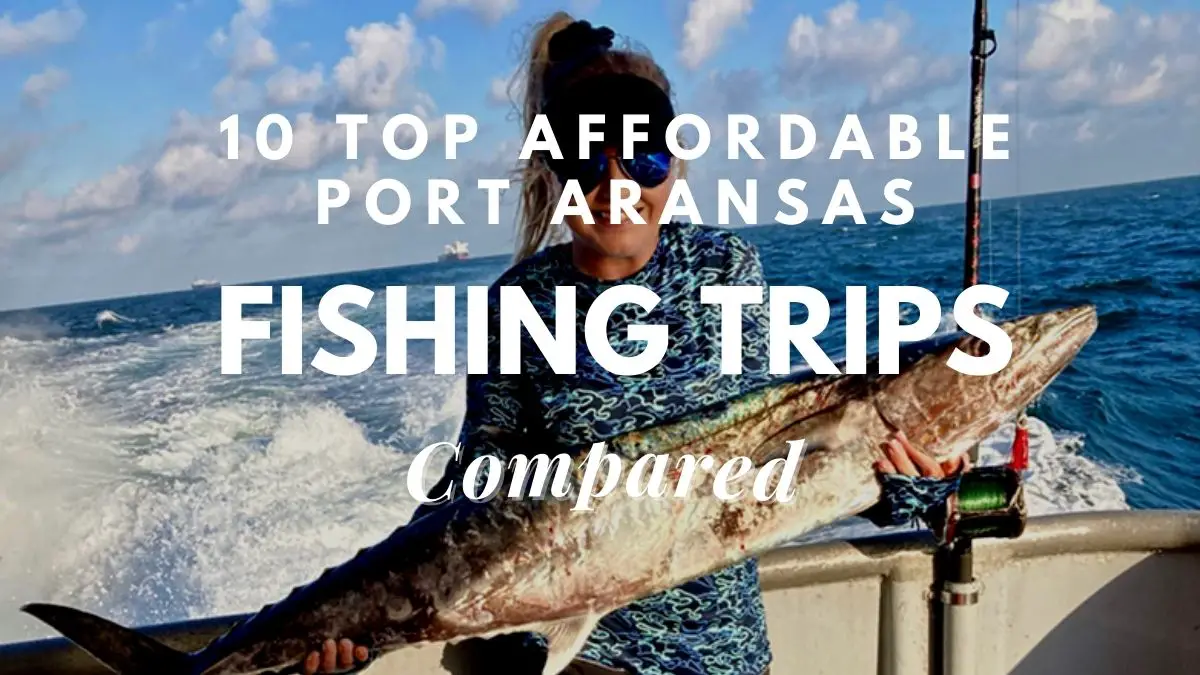 1. Fisherman's Wharf
One of the best places to start your search for fishing rentals in Port Aransas is at Fisherman's Wharf. This local business offers a variety of rental options, including both boats and fishing gear. Their fleet of boats includes everything from small skiffs to large bay boats, so you'll be sure to find something that meets your needs. They also offer a range of fishing gear, including rods, reels, and tackle, as well as live bait and artificial lures.
Read: Is Traveling A Hobby? The Ultimate Guide To An Exciting Way Of Life Learn about the Downsides Of Traveling As A Hobby

2. Island Outfitters
Another great option for fishing rentals in Port Aransas is Island Outfitters. This full-service fishing outfitter offers a variety of boats, including kayaks, skiffs, and flats boats, as well as fishing gear and accessories. They also offer guided fishing trips and instruction for those who are new to the sport.
3. Captain Jesse's Guide Service
For those looking for a more luxurious fishing experience, Captain Jesse's offers guided fishing trips on their custom built 24-foot bay boat. They provide all the necessary gear, as well as snacks and drinks, and can accommodate up to four anglers per trip. They offer a variety of fishing trips, including wade fishing, drift fishing, and offshore fishing.
4. Port Aransas Beach Rentals
For those who prefer to do their fishing from the comfort of the shore, Port Aransas Beach Rentals offers a variety of beach fishing gear rentals. Their selection includes rods, reels, and tackle, as well as beach carts and coolers to make it easier to transport your gear. They also offer guided beach fishing trips for those who want a little extra help catching the big ones.
5. Redfish Bay Boat Rentals
This local business offers a variety of boats for rent, including kayaks, skiffs, and flats boats. A great thing about this fishing adventure is that there is no need for you to bring all the gear needed on your own. That's because it will be possible for you to get the gear you need.
6. Island Boat Rentals
This family-owned business offers a variety of boats for rent, including pontoon boats, bay boats, and skiffs. Similar to most other boat rentals, this rental will also provide you with the gear that you need to go ahead with fishing. You may even be able to get artificial lures and live bait.
7. Island Moor Boat Rentals
This locally owned and operated business offers a variety of boats for rent, including kayaks, skiffs, and flats boats. Fishing gear that you need will be offered to you.
8. Coastal Bend Guide Service
This guide service offers guided fishing trips on their custom built 24-foot bay boat. You can expect to get fishing gear you need as usual. Along with that, snacks will also be offered for your preferences.
9. The Fishing Dock
This local business offers a variety of fishing gear rentals, including rods, reels, and tackle, as well as live bait and artificial lures. They also offer guided fishing trips for those who want a little extra help catching the big ones.
10. Getaway Adventures
This local company offers a variety of rental options, including both boats and fishing gear. Their fleet of boats includes kayaks, skiffs, and flats boats, and you can get fishing gear from them as well.
Things to keep in mind before you go ahead with Port Aransas fishing
If you love to fish, guided fishing may be one of the most fun and informative experiences you have. It can be done on a kayak trip, a big sportfishing boat, or at any level in between. But all too often, things may go wrong, ruining an otherwise enjoyable day on the lake. Follow a few straightforward recommendations if you want to hire a guide or board a charter boat shortly to get the most out of your experience.
You should be very honest with your guide about all of your expectations for the day before your mail that deposit check. Inquire about the fishing conditions and possible outcomes throughout that season. Get a thorough description of how your day may unfold. Inquire about the weather cancellation policy, the tackle and bait, the included items, and any possible additional fees. To prevent any misunderstandings and to leave the dock with a clear understanding of what your day will include, settle all of these issues in advance. Any seasoned guide should prioritize complete clarity, but it doesn't harm to start the conversation on your own to confirm their standard operating procedure.
If you have a particular objective in mind, let your possible guide know what it is, and ask them if they think your expectations are reasonable. When it comes to the fishing, it's important to let your guide know if you are set on a certain result and to find out from him if this is feasible. Keep your strategy focused on capturing anything that has a chance of happening.
If you have a particular goal that calls for a certain degree of ability from you, PRACTICE well in advance of your trip. Spend as much time as you can practicing your casting at home before your trip if your aim is to capture a permit with a fly rod, which is quite difficult for even the most experienced fly fisherman. This kind of comprehensive, advanced-level objective need a collaborative effort to be successful. The guide's goal would be to position you in front of the target species, but without a flawless throw from you, you are sure to fall short. Do your part well in advance if you plan to start something that calls for advanced training, physical fitness, or talent in order to prevent failure and disappointment.
The idea is to provide enough food for everyone for a whole day. Having lots of ice cold beverages and food to sustain your energy while passing the time makes any long day on a boat more fun. There may be lengthy intervals between bites on some days, so keeping a sandwich or other snacks on hand keeps you alert while out on the water. Equally crucial is staying hydrated, particularly in the humid heat. Plan to go to the store ahead of time and pack for the whole group if you are sailing with others. Few things on a yacht are more uncomfortable than one person eating his own sandwiches while everyone else goes without food. Although it may seem absurd, certain days, the snacks do make a difference in everyone's degree of satisfaction.
Several mouths to feed? The snackle box, a new social media craze that you may have heard of, is a useful method to carry a variety of foods on the boat. A snackle box is what? That's right, it's a tackle box full of delectable finger foods—exactly as it sounds! In essence, a charcuterie board to go for those who don't want their food to contact. Let's face it, not every trend that becomes viral is worth paying attention to, but every so then, we come across something really brilliant.
Sort snacks into those that need refrigeration and those that don't. In this manner, one can be kept in the bag and the other on ice. Image source: Lux Boards
The snackle box is an excellent method to transport a wide variety of snacks that otherwise would take numerous bags and room to accommodate, letting everyone in the party to find something they enjoy grazing upon. If you're munching on meltable foods like chocolate while outside in the sun, be careful not to make a gooey mess. Be careful to think about whether your tackle boxes are food safe if you want to partake in the "snackle box" fad.
Avoid becoming "That Guy"
It might be tough to drink and drive a boat. The majority of charter companies forbid it, however others let you decide. The final lesson is that although drinking a beer while on a boat is not a good idea, it does expose everyone to additional risks. The probability of a mishap aboard rises significantly with each drink, which is something no guide enjoys doing. Bottom line: If you're looking for a party, you can find one far more easily than aboard a fishing boat. Avoid embarrassing the captain or ruining the vacation for the rest of your party by exercising control. Save the party until after the journey.
Avoid "Guiding the Guide"
Keep in mind that you are paying a fishing crew for hire for their experience when you engage into a contract with them. Unfortunately, there are times when the bite is sluggish for everyone aboard. This is not the time to start advising a change in strategy or even merely criticizing the crew's choice of tactics since "my guide last year in the Keys did it this way." Let them carry out their duties.
The fact is that some days are better than others, and—believe it or not—the guide is probably enough frustrated by the lack of movement to warrant a stress response. It is not a good motivator to remind him of how much better the fishing was on a prior trip. Ask the skipper in advance whether it is possible for you to take charge of the boat yourself if you wish to. If they agree, go ahead and do it; if not, locate someone who will let you or hire a boat and do it alone.
The most delightful days on the water may be spent fishing with children. Sadly, it sometimes seems like torment for the children. Make the day about the kids if you want to bring them on a charter boat. Plan your activities by accurately estimating your child's attention span. Kids normally need regular stimulation because when they get bored, they stop having fun.
Tormenting your child by forcing them remain outside when they lose interest is the simplest method to make them dislike fishing. If they get seasick, the same holds true. Never subject a child to a day of seasickness just so you may get a good deal. When you're a youngster, dragging plastics all day long in hopes of catching a blue marlin is far more intelligent than a half-day of bottom fishing with a chicken rig where the bites never cease. If you want a lifelong fishing companion, give them the chance to get interested at their own rate.
Be considerate of the boat and equipment
For a charter boat operator, the cost of purchasing and maintaining a boat as well as the required fishing equipment is significant. People are sometimes irresponsible enough to swing leads or rigs into painted surfaces or drop objects on the deck. Similar damage to finishes and lost or damaged rods may come by manhandling light tackle or carelessly putting a rod against a gunwale to cause it to tumble overboard. Recognize that the expense of fixing damaged components and painting cuts into a profit margin that is already small. Lost gear is often the responsibility of the person who caused it, and an embarrassing discussion that ends with you signing a check for a rod that was lost at sea can definitely ruin a vacation. You should constantly respect your guide's investment if you want them to appreciate your attentiveness.
Charter fishing may be fairly expensive, but if you split the cost with a companion, you can reduce it somewhat. Bringing the largest group possible only to save money is never a good idea. For instance, the probability that each of you will succeed in catching a blue marlin on light tackle is essentially nonexistent if you require five other people to contribute to the expense with you. Most of you won't likely ever hold a fishing rod in your hands. Save money till you can do it alone if your high ambitions surpass your means of support. Otherwise, feel free to separate the party if you only want to go fishing with the males and catch a lot of "whatever's biting."
What is considered suitable for a gratuity when hiring a fishing guide is a topic that is often contested. When asked how much is usual, the majority of guides will feel awkward, and with good reason. The reality is that when you ask the question, you put the guide in an uncomfortable situation, and it is a gratuity in recognition of someone's work. The industry guideline for tips for fishing crew is 15% to 20% of the trip fee. Use these figures as a starting point even if it may sometimes be lower or much higher.
Final words
While keeping the facts in mind and the options we recommended, you may go ahead with Port Aransas fishing. It will provide a great overall experience, which you will surely fall in love with.