Port Townsend, Washington, must be the most stunning, must-see American city ever. Port Townsend, which is most renowned for its Victorian architecture and surrounding natural beauty, is situated at the northeastern extremity of the Olympic Peninsula on the Puget Sound in Washington. The city has a mild environment all year round.

There are a ton of activities to do in Port Townsend, particularly if you like being outdoors, which is another reason the town is popular in addition to its endearing appearance. In this article, we will be sharing some fun things to do in Port Townsend. Explore the old Victorian architecture in downtown Port Townsend on a gorgeous summer day if you're seeking for the top things to do in Port Townsend.

Victorian seaport town Port Townsend is located in Washington.

One of our favorite tiny towns to visit year-round, particularly with children or as a destination for families with many generations, is Port Townsend. With continual sea breezes and the nicest people, you've ever met, it's lovely and laid-back.

On a cross-country road trip many years ago, our family visited Port Townsend for the first time, and we have been spellbound by it ever since. In reality, our firstborn has now left the nest and now earns a job by constructing and maintaining wooden boats on the Port Townsend shoreline. This implies that we get to stay in our beloved west coast town for a long time! We thought we'd share some of our favorite Port Townsend activities with you since we love Port Townsend so much.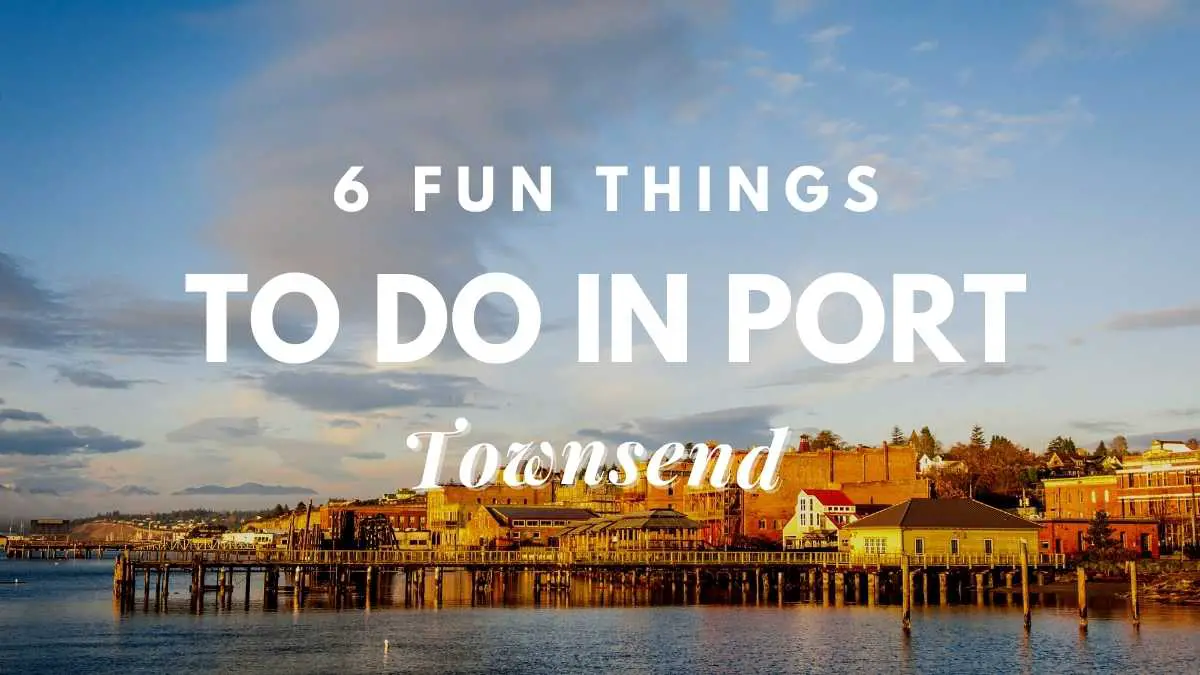 1. Picnic in Peace in Chetzemoka Park
We like exploring parks, trails, beaches, and camping everywhere we travel. There are so many gorgeous natural sites in Port Townsend! In Port Townsend, Washington's Chetzemoka Park, two individuals are enjoying a picnic while seated under a tree.
Small seaside park Chetzemoka Park is accessible by foot from both uptown and downtown Port Townsend. Bring a picnic and take a walk around the huge gardens of tropical flowers provided by the public and the vibrant rose promenade. At Chetzemoka Park, there are floral mysteries just waiting to be unearthed. Deer are often seen grazing on the park's lush grass.
Take the short route to the little rocky beach to see the tide come in or go out. Dog walkers, bird watchers, and others searching the sound for whales are likely to be encountered. There are many benches with swings for relaxation, as well as several picnic tables. Call me traditional, but one of the most romantic things to do in Port Townsend—and the most affordable—is to have a picnic in the afternoon while gazing out over the Puget Sound.
For a little respite from the commotion of downtown Port Townsend, go through Chetzemoka Park, locate a quiet area to unwind, and enjoy the breathtaking views of the Puget Sound. A tranquil city park chock full of surprises!
If you are looking forward to going on a picnic here, you need to take everything needed along with you. That's because it will not be possible for you to get anything from here locally as there aren't any shops. If you can bring everything you want, you will be able to enjoy a unique picnic.
Read: Is Traveling A Hobby? The Ultimate Guide To An Exciting Way Of Life Learn about the Downsides Of Traveling As A Hobby

2. Plan an Adventure for the Entire Day and Night at Fort Worden State Park
Fort Worden State Park is the best option for camping and hiking in Port Townsend that is near to the city center. Hikers, swimmers, anglers, and nature enthusiasts should all visit Fort Worden. You wouldn't walk the same path again in a week of daily visits!
During the daytime, it is better if you can start planning for a place to spend the night. There are numerous campgrounds available in the state park. However, the location and facilities available would differ from one state park to another. While keeping that in mind, you should be careful to pick the right place to enjoy camping. This will help you to enjoy camping here at the park without worrying about anything.
3. Camping at Port Townsend's Fort Worden State Park
In close proximity to Port Townsend's downtown, you may set up your tent or leave your RV. Fort Worden State Park has two unique camping sites. The most crowded campground is the Beach Campground (for obvious reasons); however, the exposed beach sites provide little privacy or cover.
The Beach Campground is ideal for RVs since it provides some solitude and shelter from the weather. The Point Wilson Lighthouse and the Marine Science Center are both easily accessible by foot from these lovely campgrounds, which also provide amazing sea views.
Read: Port Angeles VS Port Townsend Compared- Which Is Nicer?
4. Investigate the Decommissioned Fort Worden Bunkers
Fort Worden State Park's abandoned bunkers near Port Townsend, Washington. One of the finest things to do in Port Townsend, Washington, is to explore the bunkers. Washington's Port Townsend is home to one of the Fort Worden bunkers.
Exploring the turn-of-the-century bunkers at Fort Worden State Park was one of our kids' favorite activities when they were small. Although there are bunkers all around the park, our favorites are tucked away in the cliffs with views of the Straits of San Juan de Fuca and the Puget Sound.
Be careful since these unattended, enormous concrete bunkers lack any safety measures or management that you would anticipate from a historical site. Of course, that's what makes exploring them so much fun!
These "catacombs," as our children called them, were full of dark tunnels and chambers, rail-free stairs, vertical ladders, and the impression that, once explored, they would turn into labyrinths without a way out. The bunkers are a pleasure for anyone with an adventurous or inventive spirit and would be an excellent location for the next blockbuster horror film. If your children are older and not terrified of heights or dark spaces, the Fort Worden bunkers are one of the greatest family-friendly activities in Port Townsend.
5. Take a trip to the Point Wilson Lighthouse.
At Admiralty Inlet, on the southernmost point of Fort Worden State Park, the Point Wilson Lighthouse is situated directly at the Puget Sound's entrance. For ships entering and leaving the region, it is an essential navigational assistance. Built in 1879, the first lighthouse perched atop the lightkeeper's residence. Both the existing lighthouse and the structure housing the fog signal were built in 1913. It is one of the 19 American lighthouses around Puget Sound that are still intact.
Despite not being an official component of Fort Worden State Park, the grounds of Point Wilson Lighthouse are easily accessible from the park. You may stroll there from Fort Worden Beach or the park's northern shore. From May through September, Saturdays from 1 to 4 p.m. are reserved for tours.
Before you visit the lighthouse, it is better if you can take a look at weather conditions in here as well. If you can go on a clear day, you will be able to see the clear skies out there without any problem. It can provide a perfect view field of the horizon to you. Make sure that you also take your camera as you get to the top of the lighthouse, so that you will be able to capture some perfect pictures.
6. The Port Townsend Marine Science Center
Looking for more family-friendly activities in Port Townsend? If you have children who are interested in the ocean, a wet day is a terrific opportunity to visit the popular science center at Fort Worden State Park.
With touch tanks, aquariums, and even a hydrophone to hear offshore whales, the Marine Science Center offers interactive adventures to educate children and adults about the Salish Sea. It first opened its doors in 1982.
One of only six completely articulated orca whale skeletons in the country is kept at the facility. The Marine Science Center is open every day except Tuesday during the summer and on weekends during the winter.
7. The Port Townsend Farmers Market for shopping
One of the top outdoor markets in Washington, the Port Townsend Farmers Market is held every Saturday year-round in uptown Port Townsend. You shouldn't miss this market if you want to stock up on an abundance of veggies, meats, cheese, and seafood or just meander about while enjoying live music.
Between April and December, the Port Townsend Farmers Market is held on Tyler and Lawrence Streets in the downtown area and is open from 9 am to 2 pm. Hours in the winter are from 10 am to 2 pm. You will be able to buy a lot of fresh fruits and vegetables here at the market. All of them are locally produced. Therefore, you will be able to enjoy foods that don't come with pesticides.
Final words
Now you are aware about 7 fun things to do in Port Townsend as of now. However, you are also encouraged to explore the town, and immerse yourself in many other great activities as well.