The Petoskey stone, Michigan's state stone, and its lesser-known relative, the Charlevoix stone, are discovered along the coasts of Michigan's lower peninsula and are unique to the Great Lakes. For first-time stone hunters, these unique jewels might be elusive, but the ideas below will help you get on track to your first find! Continue to read and we will share more details on how to find Petoskey stones.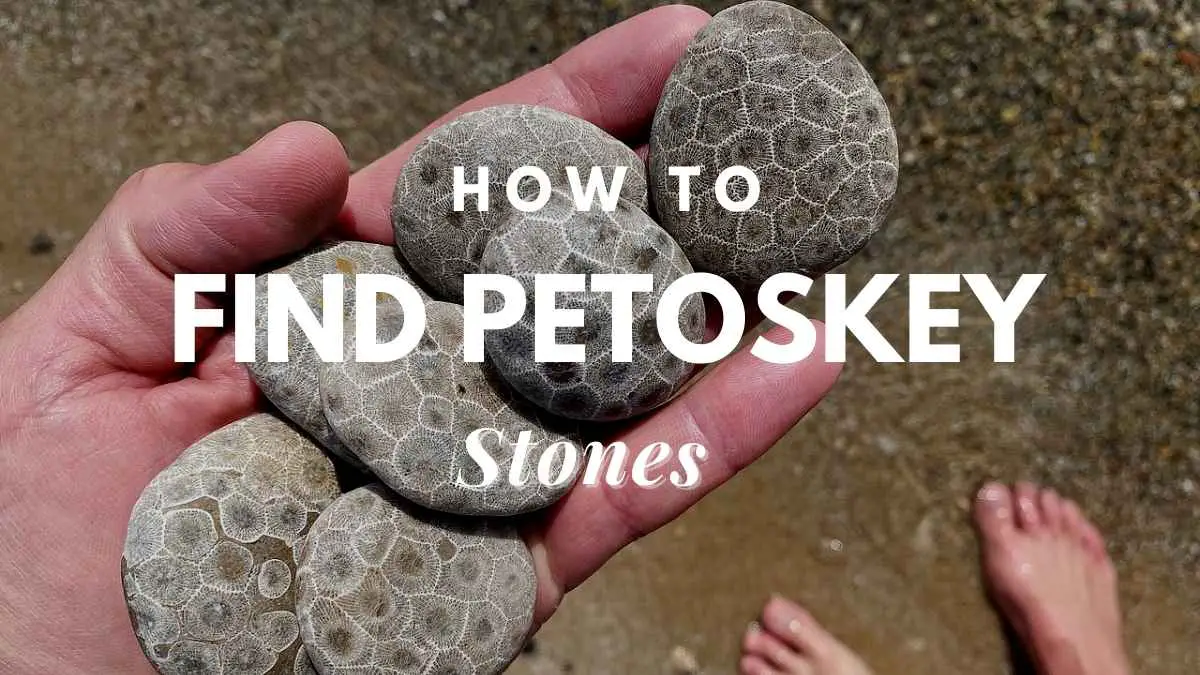 What is a Petoskey Stone?
Hexagonaria percarinata, a prehistoric rugose coral, is preserved in the Petoskey stone. A Petoskey stone is distinguished by its distinctive exoskeleton structure, which is made up of closely packed, six-sided corallites, which are the skeletons of once-living coral polyps. Each polyp had a mouth in the middle with tentacles that extended out for food. The hexagonal form of each cell, as well as the thin lines extending out from the black "eye" in the center, are distinctive to this fossil.
Read: Is Traveling A Hobby? The Ultimate Guide To An Exciting Way Of Life Learn about the Downsides Of Traveling As A Hobby

What makes a Petoskey stone different from a Charlevoix stone?
The Charlevoix stone resembles its Petoskey cousin in appearance, yet it has its distinct structure and peculiarities. The Charlevoix stone has a honeycomb-like appearance due to its thinner exoskeleton and closer coral colonies. They're a little less frequent than Petoskey stones, but both of these unusual fossils may be found when exploring northern beaches in Charlevoix or across northern Michigan.
Where can you locate the finest Petoskey Stones?
The age-old question is: where can you discover the greatest Petoskey and Charlevoix stones? It's pretty uncommon to see people wandering down the shores of Lake Michigan hunting for these magnificent natural fossils, whether they're in Charlevoix, Petoskey, or elsewhere. Rock hunters are likely to unearth a gem or two on the various public beaches. The following are some common rock hunting spots that might yield Petoskeys. The removal of stones may be prohibited in certain regions. Before embarking on your hunt for the ideal Petoskey stone, make sure to familiarize yourself with the guidelines.
Here are the best places to find Petoskey stones
Petoskey
Charlevoix
North Point Nature Preserve
Fishermen's Island State Park
Beaver Island
Lake Michigan Beach
Mt. McSauba
Leelanau County
Leelanau County
Sleeping Bear Dunes in the National Lakeshore
Leelanau State Park
Empre Beach
Tips for Finding Petoskey Stones
1. Find an uncrowded and rocky section of Lake Michigan beach.
Though there are exceptions, you'll have the highest chance of locating these fossils if there are other stones around. Storms and strong winds may churn up the lake and drop large amounts of stone, but they can also clean the beach of stones.
2. Have patience.
You may spend an hour wandering along Lake Michigan's coastline and only come across a handful Petoskey or Charlevoix Stones. Don't become discouraged. Rock hunting takes a great deal of patience. It gets simpler to recognize the next stone as you locate more. Furthermore, while strolling along a Lake Michigan beach, the scenery is typically rather pleasant.
3. Be aware of the rules
It's critical to be aware of any state or federal rules while hunting rocks of any type. You are only permitted to remove 25 pounds of stones each year, according to the Michigan DNR. The DNR has the authority to seize any Petoskey Stone that weighs more than 25 pounds. If you're looking for stones around the beaches of Sleeping Bear Dunes National Lakeshore, bear in mind that you must leave them where you found them. Visitors are welcome to locate and enjoy Petoskey stones and other natural wonders on the National Park Service's Water Michigan beaches, but they must be returned to the lake to preserve the environment's pure character.
4. Know when it's time to go
Because wave activity and winter's ice have delivered fresh stones to the beaches of Lake Michigan, the spring is often the greatest time of year to locate Petoskey stones. Going out in the rain or shortly after a storm may also be fruitful.
5. Other suggestions
Collect your valuables in a little bucket or bag. Keep a watch out for the "Pink Pets" Petoskey Stones, which are quite uncommon. The pink color comes from the iron that leached into the coral as it calcified.
6. Be equipped with tight tools
Finding Petoskey stones does not need a lot of sophisticated equipment. A little shovel, a bag to transport your newly discovered treasures, and, most importantly, a water bottle Many Petoskey stones are located along the water's edge, and they're moist. If you stumble across one that is dry, it will seem to be simply another limestone rock. Unless the stone is wet or polished, the pattern is not visible. Whether you believe you've discovered one but it's dry, spritz it with water to see if it's alive. If you see the characteristic hexagon design, you've got a Petoskey Stone.
7. Search for them in rocky beaches
Small, rural beaches, rather than popular parks where everyone wants to swim and sunbathe, are a better choice.
In addition to the waterline, the stones may be found in various locations. Dig farther into the sand beyond the point where the water meets the coast. Many beaches are also bordered by steep, forested hills. Investigate the hills. Look for uprooted trees in the loose earth around them. The usual hunter just does not think to check in these regions.
Another location to look for stones is in the water, about 10 to 15 feet out from the coast. This may need the use of specialized equipment. Depending on the water temperature and the time of year, snorkeling equipment will be useful, and a wetsuit will keep you warm. Petoskey Stones aren't often discovered on the seashore. They are sometimes seen in the soil along roadbeds, gravel pits, and newly plowed agricultural fields. Just make sure you're not intruding on someone else's property. Keep searching if you only discover one Petoskey Stone. They're often encountered in groups.
Final words
There are times when it is easier to discover the stones than others. The stones are dragged up on the coast by the winter ice, so early spring after the thaw is a good time to search. You'll also beat all the summer visitors to the hunt in the spring. Fall winds whip up large waves that wash ashore on the beach, scattering Petoskey stones. Another ideal time to look is just after a summer rainstorm with large waves.
Don't take too many Petoskey Stones if you stumble upon a huge cache. A state statute prohibits anybody from removing more than 25 pounds of rock or mineral from state property at a time. A 93-pound Petoskey Stone was discovered a year ago. After learning about it on social media, the state took it back. Even if it butts up to private property, the water of Lake Michigan and the ground underneath it along the Michigan coastline are under state control.
You don't have to go home empty-handed if your search for Petoskey Stones fails. The stones may be purchased from Grandpa Shorter's in Northern Michigan. They'll even arrive polished, so you won't have to keep squirting water on them to see the distinctive pattern. You may also buy jewelry created from the stones if you want to take a bit of Michigan with you wherever you go.