Are you searching for unique places to stay in Eureka Springs? Treehouses, hobbits, castles, caverns, cabins overlooking tigers, rock cabins, ghost hotels, museum hotels, and more are available in Northwest Arkansas. Give yourself and your loved ones an unforgettable experience full of fun and excitement by staying at one of these pleasantly distinct places to stay. Check out our Top 10 list for wonderful places to stay:

Do you like getting freebies at your favorite spots? With Expedia Free Extras, you get more. Why not spice up your holiday or work trip with an adventure?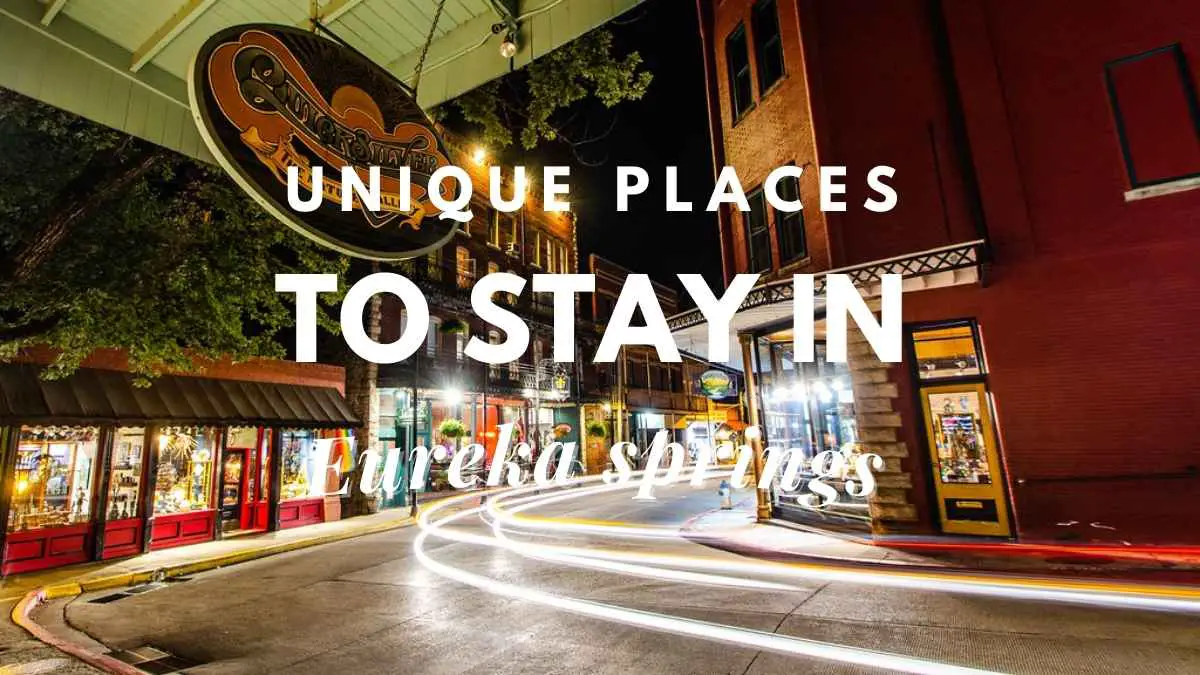 1. Bentonville AR Hotels
A Street A 104-room boutique hotel. In addition to a world-class restaurant, it features a modern art museum. 21c has world-class amenities including a fitness facility and complimentary cruiser bikes. Located in the Historic Bentonville Square, near the Crystal Bridges Museum of American Art. Definitely a cool hotel!
Read: Is Traveling A Hobby? The Ultimate Guide To An Exciting Way Of Life Learn about the Downsides Of Traveling As A Hobby

2. Eureka Springs Lodging
These treehouse rentals are 1.8 miles from Eureka Springs' Historic District and a welcome variation from the usual commercial hotels. Themes of romance, adventure, and enjoyment. Take a look at their romance bundles. When you are searching for unique places to stay in Eureka Springs, you may consider this as one of the best options available to consider. From Venice to New York, any theme will make you feel in a forest. Where to get cheap Eureka Springs Treehouses? The greatest prices are available today!
3. The Crescent Hotel
The Castles – Inspired by a 1600s castle. Transform into a romantic fairytale with hidden passageways leading to the beautiful jacuzzi tower. The Crescent Hotel is about a mile from Eureka Springs' Shopping and Historic District.
There are also nighttime ghost tours. There are paths that link to city trails and mountain riding. Walking the Elite promenade and visiting Harmon Park for skateboarding, picnicking, a kid's playground, and hiking.
4. Treehouse Cottages
These lovely hand-built homes are located less than a mile from Eureka Springs' historic core, with its numerous shops and restaurants. A mile distant is a second site. There are also kitchenettes and whirlpool baths in the cottages. A stone terrace with a garden and waterfall is ideal for weddings. The second site has a private path. Guests love this location because of the attention to detail.
5. Rd Rock Hause Eureka Springs
This European-style rock home has been wonderfully refurbished to accommodate all contemporary comforts. On 25 forested acres, yet just a quarter mile outside the city boundaries of Eureka Springs (you'll feel private, but quite accessible to Historic Downtown).
Beaver Lake and some of the country's best fishing rivers are approximately 15-20 minutes away. Go get your rod. Eureka Springs shopping, eating, and sights are about 4 minutes away. Enjoy the paths and the brook with the kids. Home offers all you need for a relaxing and enjoyable stay, including reading nooks.
6. The Grand Tree House Resort
Luxury resort The Grand Tree House Resort is about 1 mile from Eureka Springs Historic District and 2.1 miles from Pine Mountain Theater.
The treehouses have stilts. Kitchenettes with toasters, mini-fridges, microwaves, and coffeemakers are standard. They also offer whirlpool baths and flatscreen TVs. It's free. A trolley station is nearby. This is why we thought of adding this to the list of unique hotels to stay in Eureka Springs.
7. Turpentine Creek Wildlife Refuge
Turpentine Creek Wildlife Refuge is one of the country's most unusual accommodation options. Congo, Safari Lodge, and Kalahari are all lodges. Each lodge is named after a bird. The Refuge not only saves big cats and other huge creatures from around the nation, but also educates the public on their protection.
After visiting the Refuge, you will want to support this amazing non-rescue profit's and education activities. This boutique hotel is situated on the University of Arkansas campus.
8. The Inn at Carnall Hall
The Inn at Carnall Hall is a mile from downtown Fayetteville's famous Dickson Street nightlife. The rooms include classic design, HDTVs, and Wi-Fi. Jacuzzis, workstations, and seating places abound. Some also give great views of the Old Main lawn, which has every tree species native to Arkansas. A taste of Southern Hospitality awaits every visitor at The Inn at Carnall Hall. The Inn's own private label wine is served here. No smoking is allowed on the porches or in the building. Booking for Inn at Carnall Hall might get you the greatest price.
9. Rogers Hobbit House
Getaway at The Hobbit House! With 6 bedrooms and 3 bathrooms, The Hobbit House (more like a compound) is a one-of-a-kind entirely sustainable constructed Earth Ship.
You know you're in for something spectacular the instant you walk in. Each of the two main residences has a kitchen. With a straw house, a tire house, and another bedroom space, the residence has three primary components.
Your group will enjoy hours of fun and relaxation in the spacious walled outdoor pool and wide patio area till November. It's like being outdoors among the trees and inhaling fresh air thanks to the indoor rainfall plants. This gorgeous area will appeal to both young and old. See more photographs and availability.
10. Springdale Arkansas Hotels
Ascend Collection Hotel with 46 newly refurbished rooms is described as a beautiful combination of comfortable hotel and B&B. A contemporary wood-framed building linked to a 19th-century water mill. The hotel is less than 10 minutes from Fayetteville and 15 minutes from Stonebridge Meadows Golf Club. Each room is uniquely furnished with marble baths, vintage furniture, Jacuzzis, lofts, and balconies.  The staff is helpful and nice.
11. Iris Hill Glamping
Iris Hill Glamping is known for being peaceful, clean, and handy. In addition, there is a front terrace with a fire pit and a rear porch to enjoy the marvels of nature. There's also a nice community BBQ area where you can quickly prepare meals. This location is great for those who want to be in nature and away from the cares of life, yet still want to be close enough to Eureka Springs to eat or shop. Click here for more photographs and availability.
12. Inn at the Mill
This historic mansion, designed by the late Herb Fowler, is on 40 acres of meadow and forested hills on the crest of Mt Kessler, surrounded by maple and oak trees. Free parking, outdoor chairs, Internet access and Wi-Fi are available. The quiet property is close to Mt. Kessler hiking and bike paths. Whether you're in town for a Razorback game, to bike the trails, for an event, a family reunion, work or anything, you'll love staying in this stunning property. Click here for more photographs and availability.
13. Historic Texaco Bungalow
This early 20th century Texaco Gas Station is now a beautiful 1 bedroom, 1 bath cottage situated only 3 blocks from downtown Eureka Springs on the Upper Historic Loop. Walking distance to fashionable restaurants, shopping, art galleries, and city attractions. A big living room with pleasant reading corner. A king bedroom suite with adjoining bath and walk-in shower This charming apartment is charming, cozy, and convenient. Book this beautiful lodging to experience something new. Click here for more photographs and availability.
Final words
These are the most unique places to stay in Eureka Springs. You may take a look at availability and stay at one of these hotels during your stay.