Planning a vacation may be almost as much fun as the vacation itself. You may select from a seemingly endless number of local and international destinations, book accommodations in one of millions of hotels, resorts, and inns, and plan an itinerary that suits your family's preferences. You can design a vacation to fit any budget and study destination eateries that will please even the most adventurous (or timid) palates.

When traveling internationally, though, your transportation options are far more constrained. Today, Americans going to other continents must generally pick between two primary modes of transportation: flying or taking a cruise ship. We've put up a comparison of both aircraft and cruise ship travel aspects to assist you decide which is the best option for your holiday.

Traveling by plane is unrivaled because it is the safest form of transportation; for longer distances, flying is the most efficient mode of transportation. A cruise, on the other hand, has a lot of advantages, especially if you want full-service, catered vacation. When planning your next trip, take the time to compare flying vs. cruises.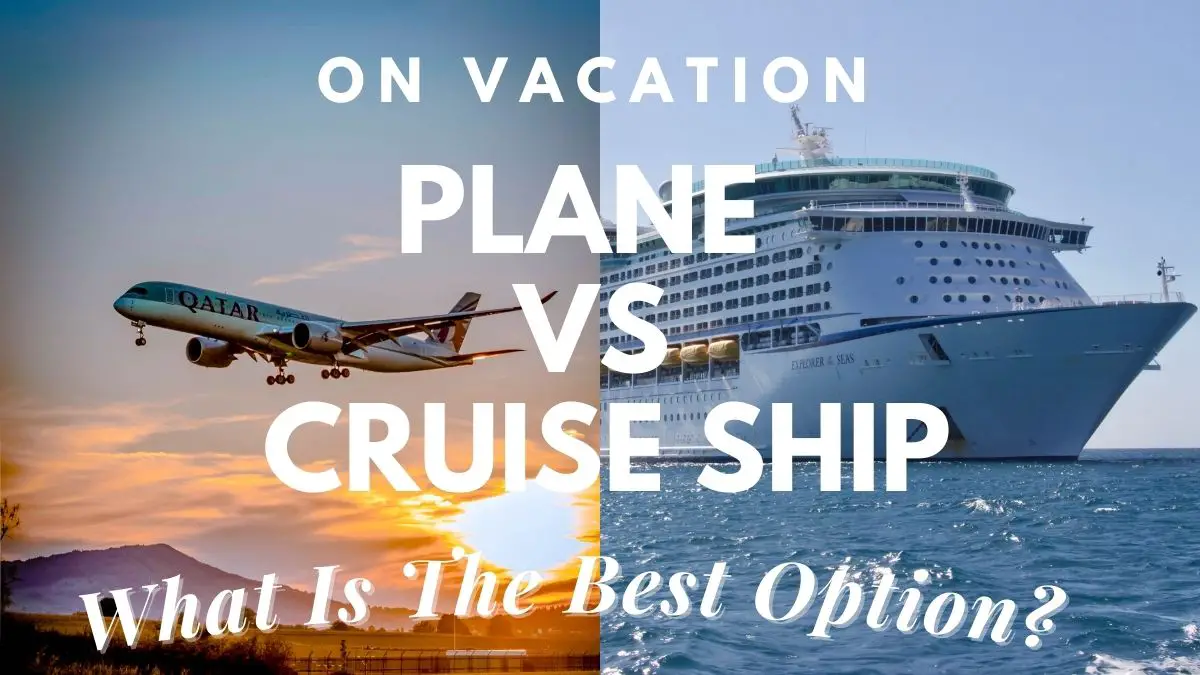 Time taken
A four-hour trip from almost any place in the United States may send you to a warm, beach locale, a large metropolis, or a casino destination for a long weekend.
A cruise won't allow you to do that, but if you have additional time and want to travel to one of those locations by boat, the slower pace may be soothing and revitalizing.
An aircraft is definitely the greatest option for you if you want to travel to your destination as quickly as possible.
Even flights to the most remote locations seldom take more than a day, while some cruise ships take up to a week to reach their foreign destinations.
When you take a cruise, though, the journey to your destination is generally just as pleasurable as the destination itself.
You can move about, swim in the pool, and utilize the health facilities and spas aboard cruise ships instead of being restricted to a tiny seat on an airline.
Cruise companies go to great lengths to impress passengers, providing them with entertainment, activities, and lavish meals during their voyage.
In summary, a cruise may be a good fit if you care more about having a nice time than getting to your end destination.
The most major distinction between flying and sailing is the time it takes to get to your destination.
Most flights are only a few hours long, and only the longest trips, which generally include layovers, run longer than one day.
Traveling by ship, on the other hand, always takes many days to reach an international location.
A trip from New York to London may take anything from 11 to 12 hours.
Transatlantic freighters or cruise ships, on the other hand, take four to five days to complete the journey, not including any side stops.
Read: Plane vs rental car on vacation – (pro's and cons)Learn about the what experiences matter the most?
Cost of travel
Flight prices continue to rise, and it's becoming more usual for perks like extra legroom, refreshments, and Wi-Fi to be excluded from the cost of a plane ticket.
Cruise rates, on the other hand, cover nearly everything, with the exception of alcohol and optional extras like on-board casinos, shopping, and shore excursions.
That implies you won't have to make any more expenditures for food, entertainment, or even extra blankets and pillows.
The cost of flying is generally significantly lower than the cost of a cruise, with some cruises costing up to three times the cost of airline to the same destination.
However, because the cost of a cruise usually includes the cost of your accommodation, meals, and entertainment while on board, you may wind up spending less money overall throughout your trip.
Commercial air travel is far less costly than commercial shipping.
In most situations, you can fly from New York to London for less than $1,000, but a cruise may cost two to three times that.
On the other hand, if you are not in a rush to go anywhere and have good seamanship abilities, you might be able to join on as a hand on a commercial vessel and cruise for free.
Without a considerable amount of training time, airlines have no other option.
If you're searching for a more affordable maritime option, several freighter lines provide a limited number of berths for a small number of passengers every voyage.
The lodgings are simple yet pleasant, and the cost per day may be as little as 100 Euros.
The price in US dollars fluctuates based on the currency rate.
Private space while traveling
It's happened to everyone who has travelled on a regular basis: a seatmate who snores, stinks, speaks, or cries the whole journey.
However, if it means arriving to your destination on time, it's generally manageable.
Despite the fact that most cruise ship rooms are tiny, you may spend the bulk of your time exploring the ship or relaxing by the pool.
In most cases, you have the option of selecting your cabin and dinner companions.
Read: Paddleboards VS Kayaks – What Is The Best Choice For Your Next Vacation? Learn about the level of control
Entertainment options
You might be able to see a movie or two if your flight is long enough.
However, you have no control over what it is; you must listen to it through earphones (for which you may be charged extra); and, while there are usually numerous displays in the cabin, other passengers milling around may obscure your view.
Onboard cruise ships, entertainment and activities can range from rock climbing and boogie boarding to culinary and art workshops to Las Vegas-style performances.
Environmental impact
Flying and taking a cruise both have a harmful impact on the environment.
The most serious issue is carbon dioxide emissions, which exacerbate an already severe air pollution situation.
Flights and cruises produce a lot of rubbish, sewage, and waste water, and cruise ships can harm coral reefs.
In addition, the majority of cruise passengers must travel to the ship's departure port.
A cruise ship like the Queen Mary 2 produces 0.43kg of CO2 per passenger mile, compared to 0.257kg for a long-haul aircraft, according to our estimates.
Our feelings about what's best for the environment aren't always correct, which emphasizes the significance of estimating the actual carbon emissions from various activities and basing our judgments – both as people and as government policy – on the facts.
We would be delighted if the cruise ship industry examined their carbon footprint more closely.
It is not insignificant, as these data demonstrate.
Aside from the carbon emissions, the ocean bears a significant penalty.
Because the cruise industry has a terrible track record when it comes to waste water treatment and disposal, it must clean up its act if it wants to be deemed an ecologically benign mode of transportation.
The business's size is also significant: cruising is the fastest-growing segment of the travel industry.
In 2003, 9.3 million people cruised, with the International Eco-tourism Society predicting 17 million passengers in 2010.
Read: Why Are Vacations Important?Learn about vacations that can help you with stress management
Safety
Despite the prevalence of flying phobias, statistics show that air travel is quite safe.
Only a small proportion of the millions of flights that take place each year have accidents—statistics suggest that your chances of dying on a commercial aircraft are less than one in seven million.
In the United States, your chances of dying in a vehicle accident are around one in 83.
Despite the fact that cruise travel has a statistically low number of recorded yearly deaths, it can be difficult to assess the reality of cruise travel safety.
This is because there is no single public database for cruise ship accidents and marine mortality, and ships were not compelled to record aboard crime until recently.
The safety of cruise travel has come under criticism in recent years as a result of catastrophic tragedies like the Costa Concordia tragedy and the norovirus epidemic on the Crown Princess.
Another cruise safety issue is that many cruise ship accidents and injuries are subject to maritime law, which means they must be handled differently than normal personal injury claims.
Contact a cruise ship injury lawyer if you or a loved one has been hurt aboard a cruise ship.
Only an attorney with experience in maritime law has the knowledge and skills to assist you defend your rights and get the most money possible.
Flying and sailing are both statistically highly safe modes of international travel.
In 2010, one accident occurred per 1.6 million flights throughout the world. Accidents aboard cruise ships, on the other hand, are more difficult to track.
Not every country is obligated to disclose its accident statistics to an international organization.
In 2010, the International Maritime Organization reported around 1,600 cruise ship fatalities, however even that number is uncertain.
One thing to keep in mind is that there is very little you can do after a plane crash.
If your cruise ship sinks, following the safety guidelines will greatly increase your chances of survival.
Accidents may happen, but even in the case of the Costa Concordia's sinking, the great majority of the ship's passengers landed safely.
Read: Why are vacations so stressful?Learn about assuming that travel will help you solve all your problems
Reasons to travel
People travel for a variety of reasons, but most only fly for one: to get to their destination as quickly as possible.
Although some individuals love flying, it is a rare customer that buys an airline ticket just for the purpose of experiencing aircraft travel.
Flying is the quickest method of public transportation currently accessible.
Those that go by cruise ship make the trip their whole holiday or a portion of it.
Cruise ships are huge floating hotels with all of the facilities of a traditional hotel, including casinos, nightclubs, bars, several restaurants, and entertainment available at all hours of the day and night.
If a flight is a means to a goal, a cruise is frequently the destination in and of itself.
Traveling by freighter is an experience in itself since it may take much longer depending on the ports of call.
Read: How To Eat Healthy On Vacation [Answered]Learn about the healthy meal plan even before you leave
Ability to access amenities
Coach customers on airlines are provided with the most basic travel experience imaginable.
On lengthier flights, they may be provided a little snack such as a tiny bag of pretzels and a small glass of soda or water, as well as a small sandwich box to purchase.
On many airlines, first-class passengers receive beverages and a dinner, but they are not much more comfortable than their coach counterparts.
While some airlines have seats that convert to beds, seats that convert to tiny cabins, and other high-end amenities, they remain the exception rather than the rule.
Aside from excursions to the restroom and short walks along the aisle, airline passengers are asked to remain seated with their seat belts secured.
On the other side, cruise guests get the best of both worlds.
Food is available at different times throughout the day in many locations. Ships provide a variety of activities, including day trips to exotic locations and literary readings.
Cruise guests benefit from a comfy bed, enough of space to move around, tailored fitness and other programs, and all of the other amenities you'd expect from a high-end hotel.
Read: [20 tips] Staying With Friends And Family On VacationLearn about involve everyone in the planning
Which one is better?
Now you have a clear understanding about the differences of flying and taking a cruise ship for your next vacation.
There are pros and cons associated with both these options.
It is up to you to pick the right option out of these two based on your preferences.
For example, if you wish to reduce the time and money that you spend on travel, reserving a flight would be the best option.
On the other hand, flying will cause least environmental impact.
However, cruise will be the best option available when you want to enjoy your travel.
It will take time, but you will never forget the time you have onboard as you will be exposed to multiple entertainment options.
on the other hand, you can have your own personal space on the cruise ship as well.
Read: Is Traveling A Hobby? The Ultimate Guide To An Exciting Way Of Life Learn about the Downsides Of Traveling As A Hobby