The North Cascades National Park is a hidden treasure. It is the least frequented national park in Washington, and the sixth least visited in the whole United States, with only roughly 30,000 people per year on average. Its scarcity of tourists is due to its magnificence, which includes Rocky Mountains, alpine lakes, floral meadows, and resident goats. Consider spending 1 to 2 days at North Cascades National Park if you're looking for a weekend experience that's a little off the main path.

It's free, and you won't have to fight crowds of other visitors for that ideal Instagram image. Check out our North Cascades National Park itinerary for practical suggestions and ideas on where to go and what to do before you hit the road.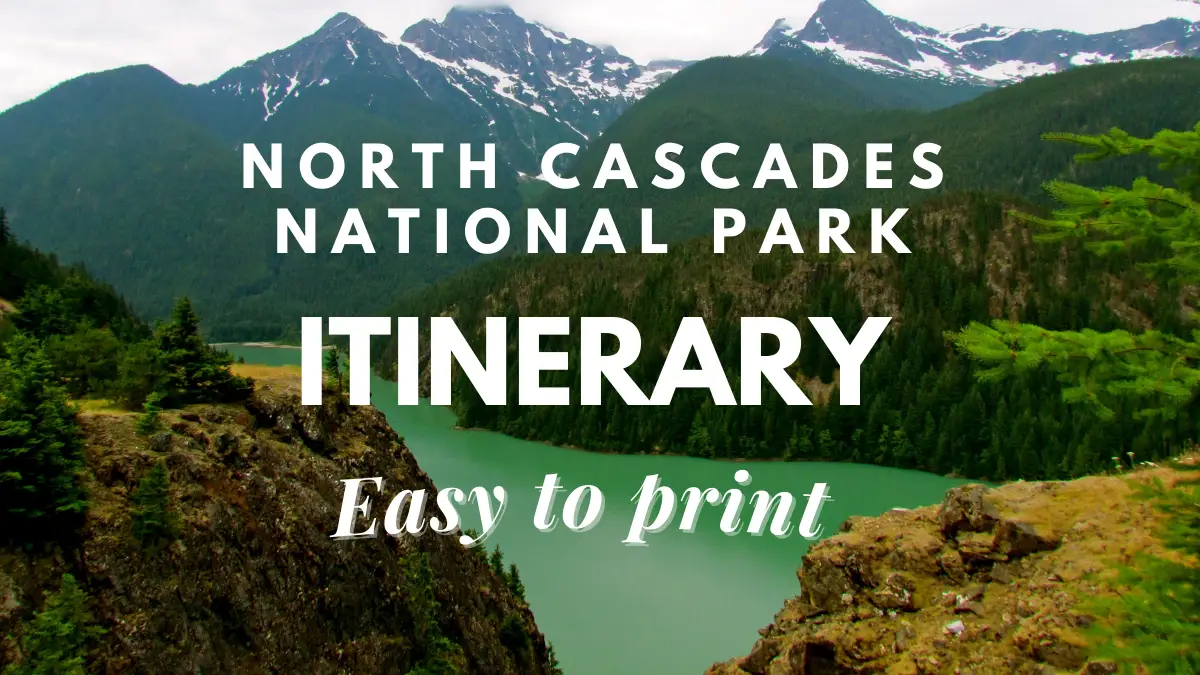 How Long Should You Spend at the North Cascades National Park?
The number of days you spend in North Cascades National Park, or on any vacation, is determined by a variety of factors, including your own speed and preferences.
However, as compared to other national parks, this one is rather modest at around 500,000 acres. As a result, most visitors will be satisfied with 1 to 2 days in North Cascades National Park.
If you're short on time, though, you can see the highlights of North Cascades National Park in a single day.
Read: Is Traveling A Hobby? The Ultimate Guide To An Exciting Way Of Life Learn about the Downsides Of Traveling As A Hobby

North Cascades National Park: Getting There and Around
Because North Cascades National Park is approximately two hours northeast of Seattle, it is quite simple to get from the Emerald City and its environs. You may either take I-5 north and then WA-530 east or take I-5 north and then Highway 20 east.
The difference in time is only around nine minutes; the former takes you to the north end, while the later takes you to the south side.
I propose staying in Winthrop, a delightful, little old West town with a population of just over 300 people or camping on-site.
While getting there is simple, given that this is the Pacific Northwest and the park is located within a mountain range, the weather is a major factor.
Because of significant snowfall and avalanche dangers, the route leading into the park is blocked from late November until early April.
Even if you could get into the park, I would not encourage going because the weather is snowy and there is a risk of avalanche.
Also, late spring, early summer, or early-to-mid fall are the finest times to visit the North Cascades.
While the months of July and August have the best weather in terms of bright sky and mild temperatures, climate change has resulted in:
Some days can be extremely hot, raising the danger of chafing, irritability, and, in the worst-case scenario, heat stroke.
More crucially, over the previous few years, most of Washington state has been on fire at this time, to the point that mid-to-late summer is now popularly referred to as "fire season." I recommend avoiding these months if you want to be safe and avoid hazy skies, road closures, or, you know, fire.
Instead, travel in late May or late September, when the wildflowers are in bloom and the heat and flames have died down, but the temperature is still nice.
Mid-October will most certainly be chilly, if not snowing, but you will be treated to beautiful fall foliage.
As previously said, North Cascades National Park is free, so you won't have to pay a charge or show your Discover Pass at an entry.
There is a Visitors Center, though, where you can get hiking guides and learn about the park's history.
Unlike Yellowstone or the Grand Canyon, there is no shuttle to drive you around the sights, so you'll need to bring your own car or hire one for the weekend.
If you need to hire a car for your vacation to the North Cascades, go to Rentalcars.com to compare rates from major suppliers, or go to Outdoorsy to look for RVs or campervans.
Travel Itinerary to the North Cascades National Park
Put on your hiking boots, pack your bag, and head to North Cascades National Park for an exciting 1-2 days of trekking through lush evergreen woods, crystal clear lakes, and breathtaking vistas of the Cascade Mountain Range.
Read: Visiting North Cascades National Park (What You Should Know)Learn about Where to Camp in the North Cascades National Park
Day 1: Scenic Views and Hiking
Grab a cup of coffee and a picnic lunch before embarking on day one of your North Cascades Road trip, which will take you to two of the park's most beautiful places.
1. Thunder Knob Trail
Thunder Knob Trail is a hiking trail located in Thunder Knob. The Thunder Knob Trail is a 3.6-mile circuit trail that begins across the street from the park's most popular campground, Colonial Creek Campground.
It is dog-friendly, as are many hiking paths in the North Cascades. The brief hike, which gains 635 feet in height, rewards you with views of the mountains and Diablo Lake.
2. Diablo Lake and Ross Lake
Diablo Lake is the most well-known and important site in the North Cascades National Park.
The lake, which is officially a reservoir, is surrounded by evergreen trees and mountains and offers gorgeous blue water fed by melting glaciers.
Drive a few minutes farther down the road to Ross Lake Overlook, a panorama similar to Diablo Lake that has beautiful blue water surrounded by mountains rich with plants and wildlife.
If you have time, stroll one mile to the boat ramp, where you may pay $3 for a boat ride to Ross Lake Resort. You may walk about the grounds and rent a boat or kayak to see the lake and its environs from a fresh perspective.
The Diablo Lake Overlook and the Ross Lake Overlook are both pullouts off Highway 20.
The Diablo Lake Trail, a 12.1-kilometer moderate hike through the forest to the dam, is also available. While the views are good, they do not compare to those from the Overlook.
3. Washington Pass Overlook
The last item on your North Cascades National Park agenda for day one is technically outside the park complex, but it's one of the most popular and a must-see while you're in the region.
Washington Pass is located east of the North Cascades National Park Complex on Highway 20.
It's the highest point on Interstate 20, midway between Western and Eastern Washington (which, to many Washingtonians, is essentially a Mason-Dixon Line demarking significant cultural and political differences, as well as contrasting landscapes).
To get to the Overlook, you'll have to walk a half-mile paved circular track off the highway, where you'll be rewarded with a breathtaking view of Liberty Bell Mountain's towering crags.
4. Winthrop
After that, travel into Winthrop for supplies and a stroll through the charming town center before hitting the hay for some much-needed rest before the next day.
Consider breakfast at the Rocking Horse Bakery, supper and a drink at the Arrowleaf Bistro or Old Schoolhouse Brewery, and dessert at Sheri's Sweet Shop while you're there.
Read: Best Time To Visit North Cascades National ParkLearn about the Ross Lake that is a great place to go fishing, boating, or just relax
Day 2 – Beautiful Lakes & Maple Pass Trail
If you have two days in North Cascades National Park, you may trek one of the greatest paths in the state and view even more beautiful crystalline lakes and majestic mountains, as well as a variety of local flora and animals.
1. Blue Lake
The Blue Lake, which is not far from Washington Pass, is your first destination of the day. As parking is restricted here, you'll want to head out early to grab a place.
Blue Lake is a short 2.25-mile woodland trek off Highway 20 at a height of 6,254 feet (4.5 miles roundtrip).
You'll walk through the forests and into wildflower meadows before arriving to the lake, which, according to its name, is extraordinarily blue, the water reflecting the surrounding granite peaks with incredible clarity.
2. Rainy Lake
Rainy Lake, a four-minute drive from Blue Lake, has even more pure waters surrounded by snow-capped mountains. It's worth a visit even though it's not as well-known as Blue Lake.
It's also a pleasant stroll, as the 2-mile roundtrip trail from Rainy Pass Trailhead to the lake is paved.
3. The Maple Pass Trail
Maple Pass Trail, along with Diablo Lake, one of the park complex's most valued sites, is the final destination on your North Cascades itinerary.
Despite the park's lack of popularity, the Maple Pass Trail is widely recognized as not just the park's greatest trek, but also one of Washington's most beautiful.
Arrive early (at least by 9 a.m.) to acquire a parking place and escape the crowds, especially if you're visiting during peak season.
The 7.5-mile roundtrip path climbs 2,000 feet through deep woods and is a steady uphill trek.
It's lovely at any time of year, but especially in the autumn, when the larches are ablaze with brilliant leaves in a rainbow of hues.
You may take a side excursion to the shoreline of Lake Ann at the 1.3-mile mark, which is well worth the time if you have it.
Otherwise, when you reach the trail's highest point, you'll be treated to a breathtaking view of Lake Ann with the Cascades in the backdrop.
To avoid a parking charge, display a Northwest Forest Pass on the dashboard because the trek begins on US Forest Service territory rather than in the park complex proper.
Day 3: Continuing to explore the area
1. Thunder Creek Trail
Thunder Creek Trail is one possibility. The route is 12 miles roundtrip, but you may shorten it by stopping at the Thunder Creek bridge a few miles in.
2. The Pacific Crest Trail
The world-famous Pacific Crest National Scenic Trail, or Pacific Crest Trail, is also part of North Cascades National Park (PCT).
If you haven't read Wild or are unfamiliar with the PCT, it is a vast hiking and equestrian path that runs from southern California to Canada and passes through some of the most beautiful natural areas on the west coast, including the Sierra Nevada and Cascade Mountain Ranges.
The PCT enters the North Cascades complex via the Okanogan National Forest, slightly north of Stehekin and around Rainy Lake.
The PCT is an experience in and of itself, but even a small portion of it is rewarding. A backcountry permit is required if you wish to camp along the PCT.
3. Cascade Pass/ Sahale Arm
Cascade Pass/ Sahale Arm is another popular trekking spot in the state.
It begins in Marblemount, WA, and ascends 4,000 feet through mystical woods and picturesque wildflower meadows as it climbs the Cascades via mystical forests and idyllic wildflower meadows.
Climbers headed for Sahale, Boston, Magic Peaks, Mix-up, or the Ptarmigan Traverse into the Glacier Peak Wilderness frequently begin their journey here.
If you don't have time or just don't have the stamina for a 12-mile trip after two days of hiking, you don't have to do it all (totally understandable).
Cascade Pass, a path utilized by indigenous people to traverse the Cascade Mountain Range, is a moderate 3.7-mile climb.
From here, head east to Pelton Basin, where you may camp, or visit Horseshoe Basin, a beautiful cirque with wildflowers, flowing waterfalls, and a historic mining site.
Alternatively, you can hike 5.9 kilometers and put in a lot more effort to reach the peak Sahale Glacier. This trail is tough and should only be attempted by experienced hikers.
At nine miles, the walk to the little Cottonwood Campground is the longest of the main pathways, but it is also the mildest.
Where can you stay?
The town of Winthrop is likely your best option if you're seeking for a great spot to stay near North Cascades National Park.
The town offers a variety of lodging alternatives, and its closeness to the park entrance makes it an ideal starting point for your North Cascades National Park itinerary.
Make sure that you plan your travel itinerary before visiting the North Cascade National Park. Then you can end up with getting the best returns at the end of the day.