Antelope Canyon might be a highlight of your Arizona vacation. It's simple to understand why the Navajo people consider this area sacred because it's surrounded by red canyon walls sculpted by nature over millennia. Antelope Canyon is a slot canyon formed by flash floods flowing through the sandstone. Water carves a twisting route through the stone, producing circular and wave walls with fine patterns.

A few years back, we went to the canyon. It was one of the more costly activities on our agenda, and I had questioned whether it was worthwhile. That was the case. In this piece, I'll provide some ideas and recommendations for visiting Antelope Canyon. I hope this information will assist you in making the most of your visit to this magnificent location.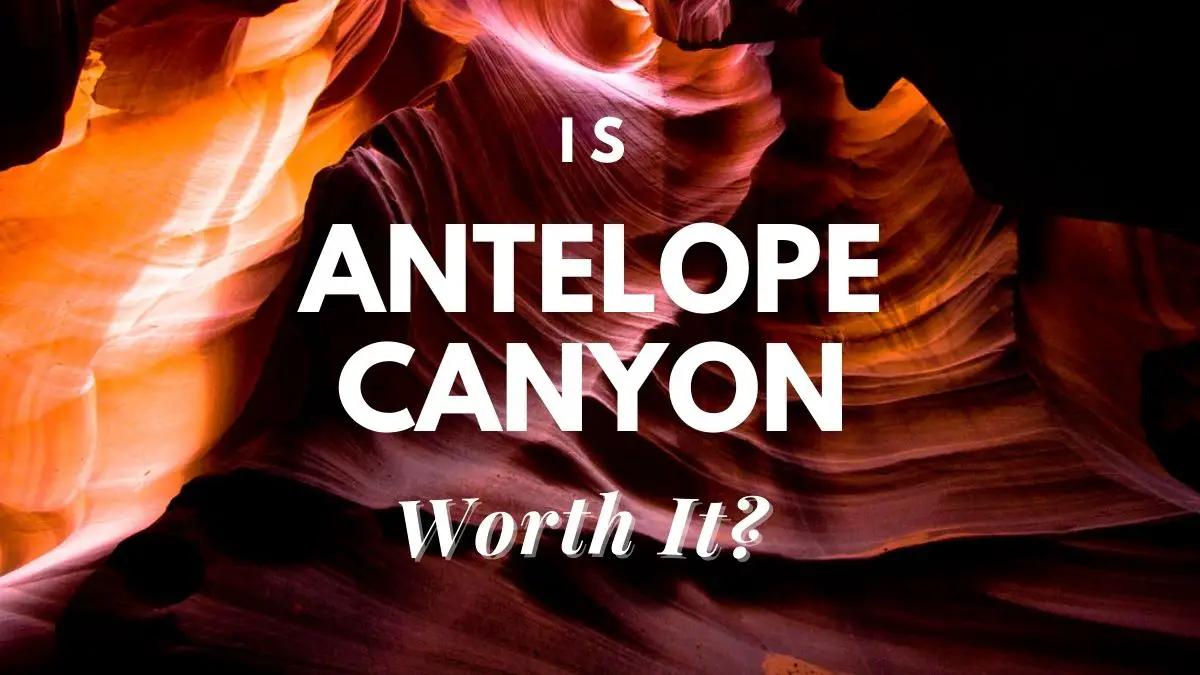 It Is Dangerous to Visit Antelope Canyon During A Flash Flood?
Tours may be canceled without notice if it is pouring upstream.
If this happens, tour providers should return your money, but double-check their website to be sure.
Flooding from flash floods is a major hazard.
People have perished in slot canyons as a result of flash floods.
Unfortunately, Antelope Canyon has claimed its share of life.
I don't want to scare you away by being sad, but if you're interested in Antelope Canyon fatalities, you should know that 11 tourists died in the canyon in 1997.
They had no clue a flash flood was approaching since there was no early warning system in place.
The narrative of their guide may be found here. He was the incident's sole survivor.
Thankfully, things have changed since then.
Visitors are no longer allowed in the canyon when there is a significant flood danger, thanks to the installation of an early warning system.
So, please don't get upset at them if this occurs to you. Floods are a serious threat.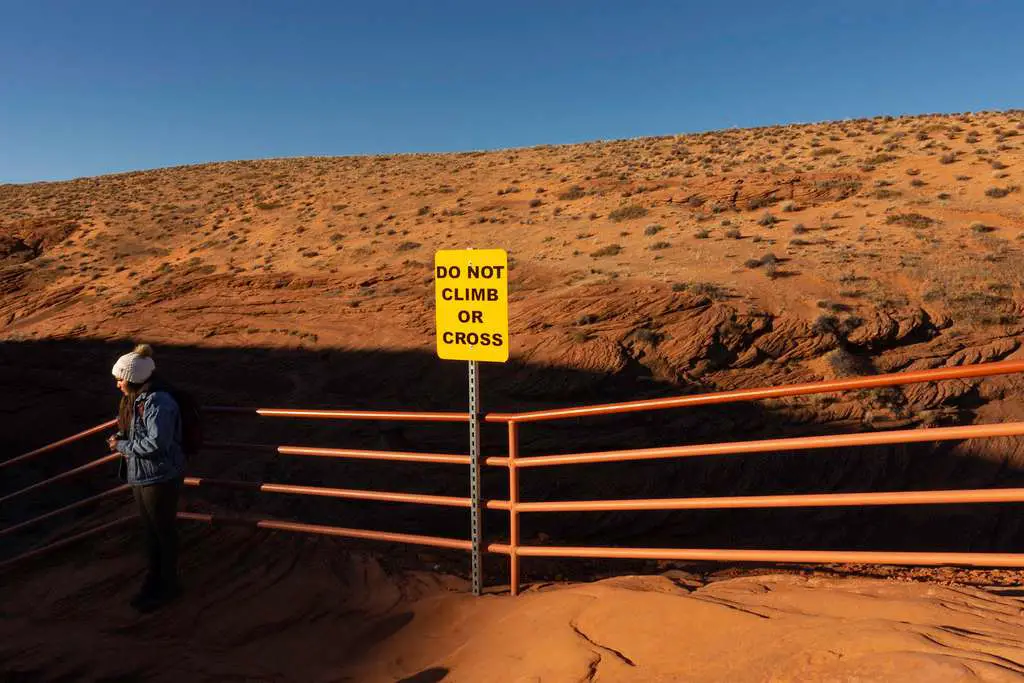 Read: Is Traveling A Hobby? The Ultimate Guide To An Exciting Way Of Life Learn about the Downsides Of Traveling As A Hobby

The Navajo Tribe Owns Antelope Canyon
Antelope Canyon is sometimes mistaken for a national park.
I can see why. If it hadn't been on Navajo property, it would very definitely have been a national park.
It's one of numerous Navajo tribal parks that tribal officials look after.
Oh, and in case you're curious, here's the deal: Antelope Canyon is located in Arizona, not Utah.
It's in the state of Arizona.
I realize this may seem ridiculous, but people Google "Antelope Canyon, Utah," so it's worth mentioning.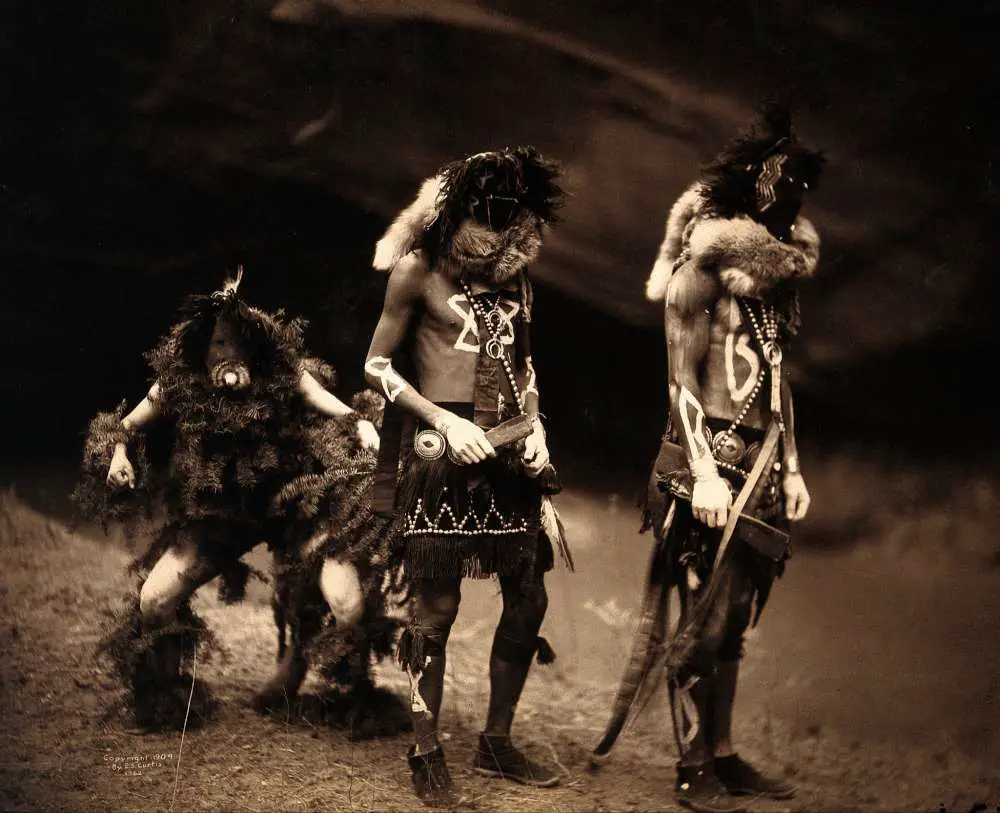 Read: How To Get To Antelope CanyonLearn about Where is the Antelope Canyon?
Keep the time zone in mind
During the summer, Navajo territory observes Daylight Saving Time (DST).
The majority of Arizona's regions do not.
In the Navajo reservation, this implies it is one hour earlier.
Adjust your schedule if you're visiting Antelope Canyon and arriving from outside the reserve on the same day.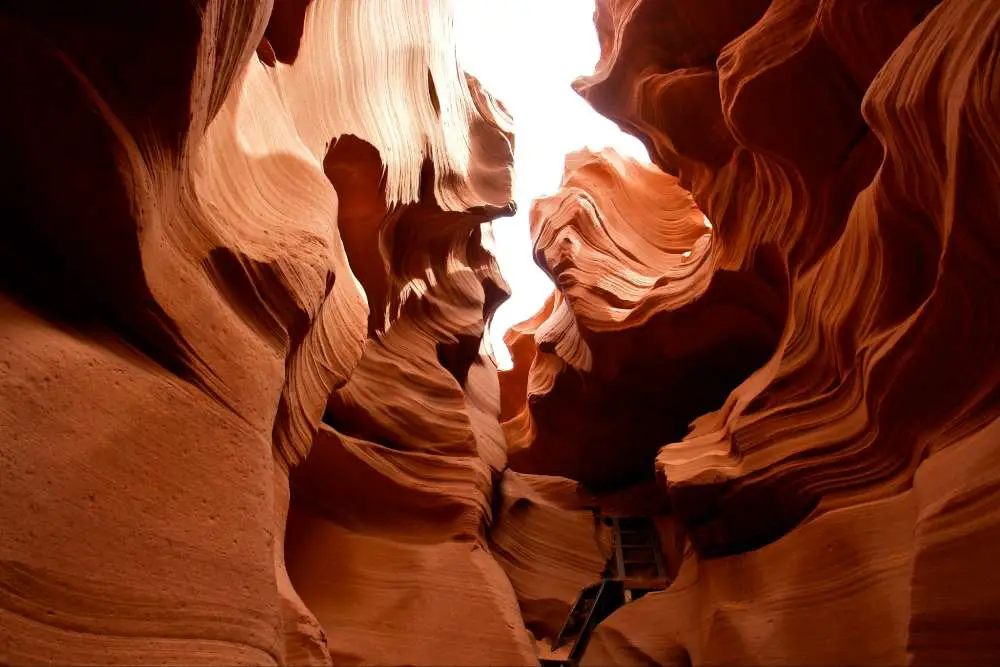 Read: Bryce Canyon VS Antelope Canyon ( Pros And Cons For Each ) Learn about Why you should go to Bryce Canyon National Park?
The Antelope Canyons are divided into two sections: the lower and upper canyons.
It's the same canyon, but you may visit it from two different directions: Upper Antelope Canyon and Lower Antelope Canyon.
The upper canyon is the most visited.
The entry point is on the ground level, making it broader and more accessible.
The lower canyon's entrance is smaller and steeper, and tourists must descend many flights of stairs.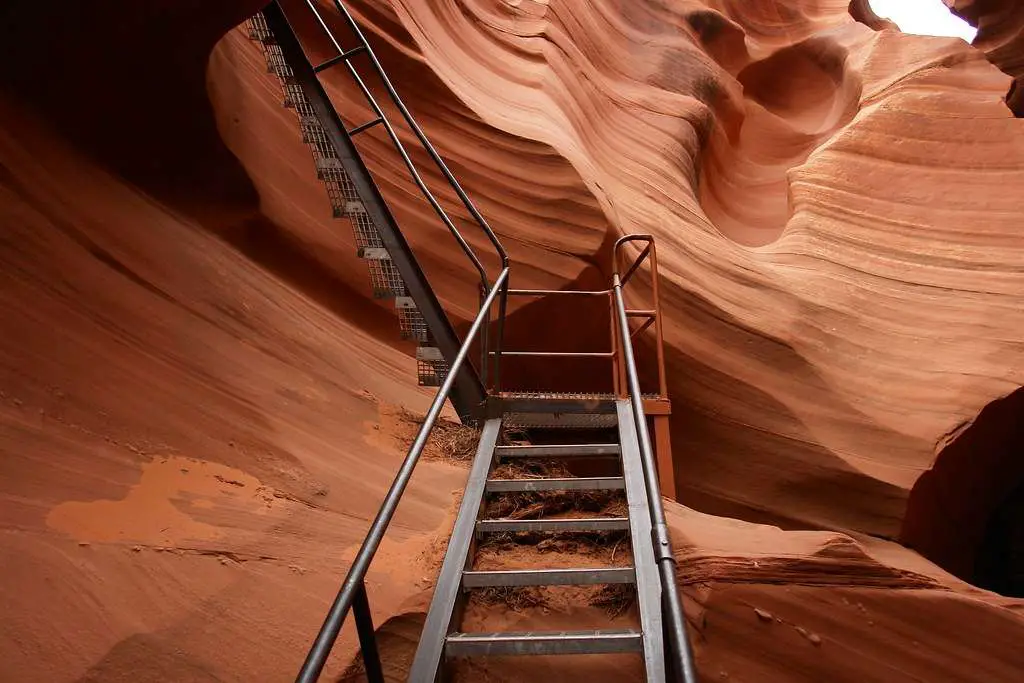 Only guided tours are permitted to see Antelope Canyon.
Antelope Canyon may only be visited with a Navajo guide, according to Navajo Tribal Parks Authority rules.
Both the Upper and Lower canyons offer guided excursions throughout the year.
You have the option of taking a general tour that lasts approximately an hour or a photographic tour that lasts up to two hours.
All visits are limited to two hours due to park rules.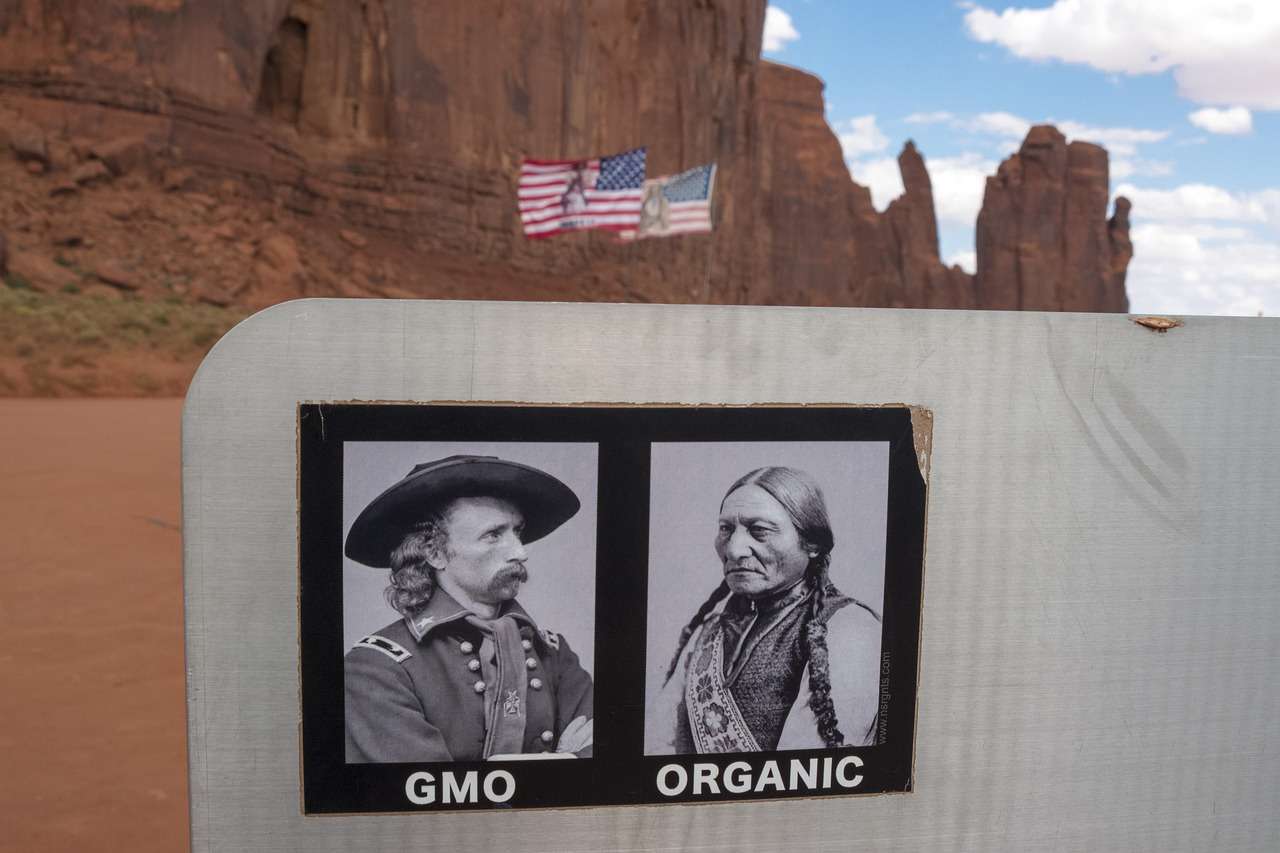 Guided Tours of Upper Antelope Canyon
You may visit the upper Antelope Canyon with one of three certified tour companies.
You can be picked up from the town of Page by tour operators, or you can drive to the parking lot closer to the canyon's southern entrance and be picked up there.
They will then drive you to the start of the trip in their 4WD vehicles.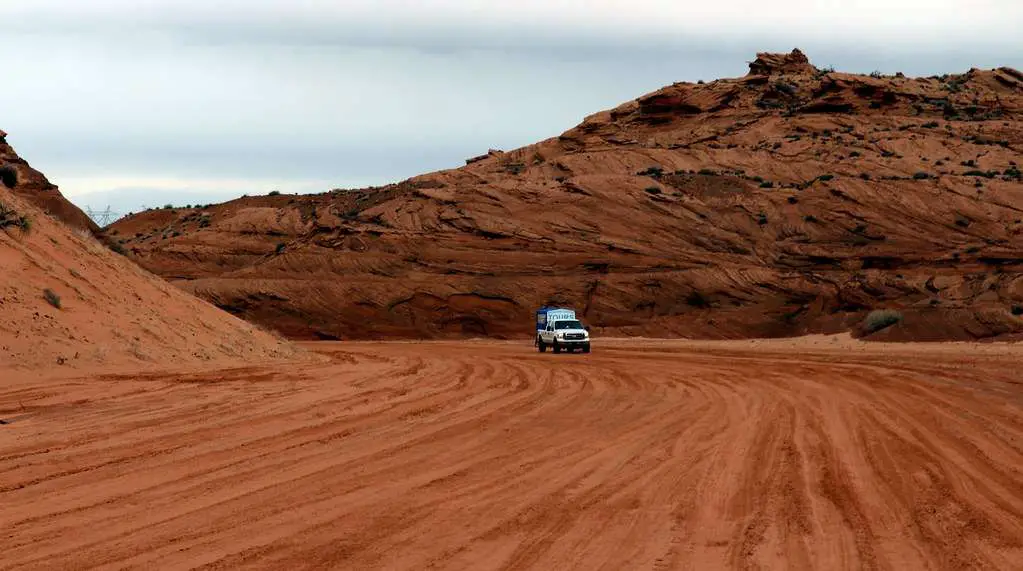 Lower Antelope Canyon Tours with a Guide
There are two businesses that offer guided trips to the canyon's lower reaches.
They are just across from one other, at the canyon's northern entrance.
Visitors Park their cars in the lot and walk the short distance to the entrance.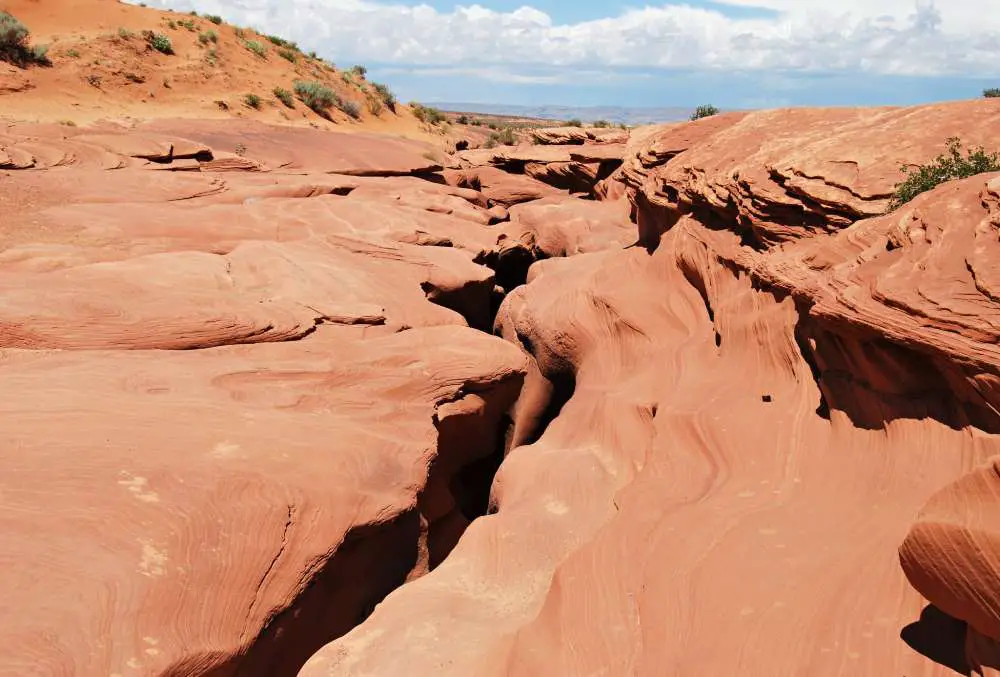 Entrance Fees to Antelope Canyon
Antelope Canyon is an expensive place to visit.
The guided tour firms charge $40-$50 per person for the tour (discounts are available for minors under the age of 12), plus an extra $8 fee to the Navajo Tribal Parks. In addition, there is a 6% sales tax (collected by the Navajo authorities).
Travel to the lower canyon and begin your tour there if you want to save money.
It will be less expensive than taking one of the trips that take you to the canyon.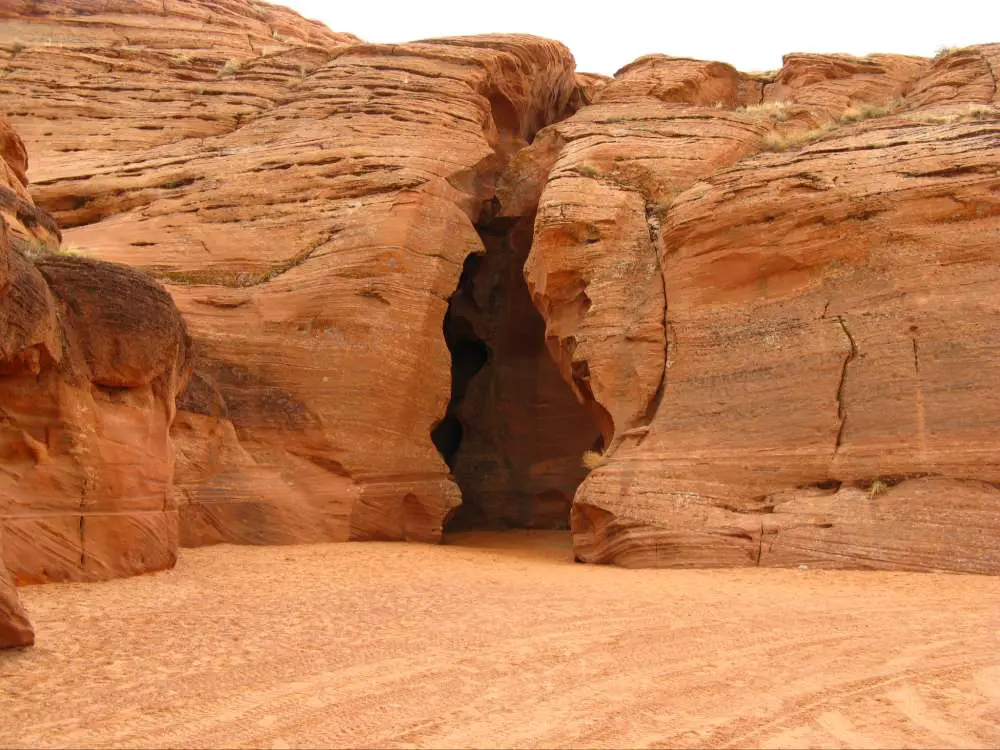 Be prepared for the worst
You'd think that paying such a high sum would earn you some delicate loving care…
They don't, though. You'll be tossed around in a 4WD truck over the desert if you visit the upper canyon.
Pregnant people, as well as individuals with back discomfort or other health problems, should avoid this product.
It's also a little unsettling for the rest of us.
If you drive to the bottom of the canyon, you must descend (and then ascend) five flights of steps.
This is exactly what we did, and the stairs were no trouble at all.
Before entering the canyon, though, be prepared for a bleak encounter.
Even if you pre-booked your tour, you can plan to wait at least 45 minutes in the Arizona desert heat.
Although there is considerable shade, there is no air conditioning.
The restrooms are also a bit of a letdown.
If you like yours to be clean and contemporary, make sure you have somewhere to go before going on the tour.
Near the bottom antelope canyon, there are restrooms.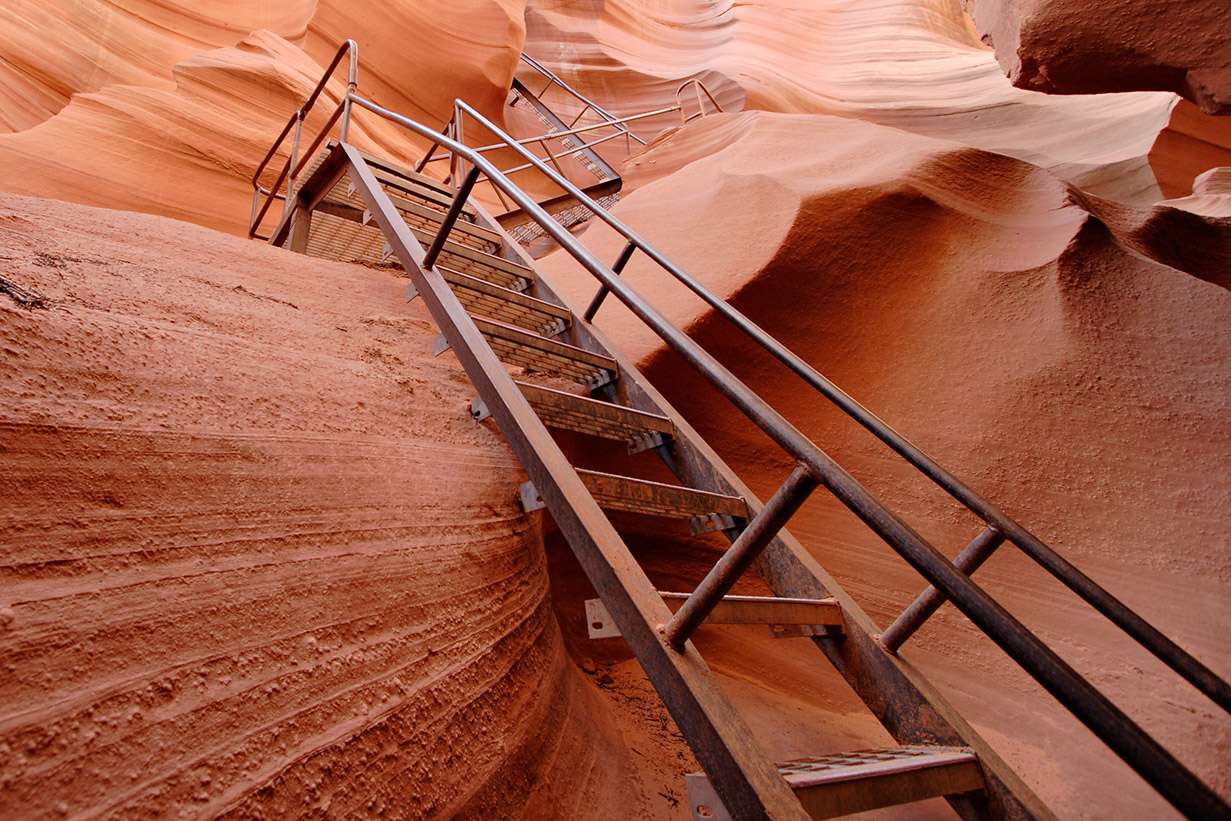 Accommodation options available at Antelope Canyon
Antelope Canyon is located in Page, Arizona, a Navajo reservation community.
Antelope Canyon, Glen Dam, Lake Powell, Rainbow Bridge, and Horseshoe Bend are just a few of the town's prominent attractions.
Because there are so many tourists in town, lodging is usually costly.
If you don't book ahead of time, you'll be stuck with the least attractive locations (and sometimes with none at all).
Here are some decent motel and hotel options in Page, Arizona.
This is Booking.com's "Bargains Finder," which ensures you're viewing the greatest deals in Page.
You'll need them, believe me.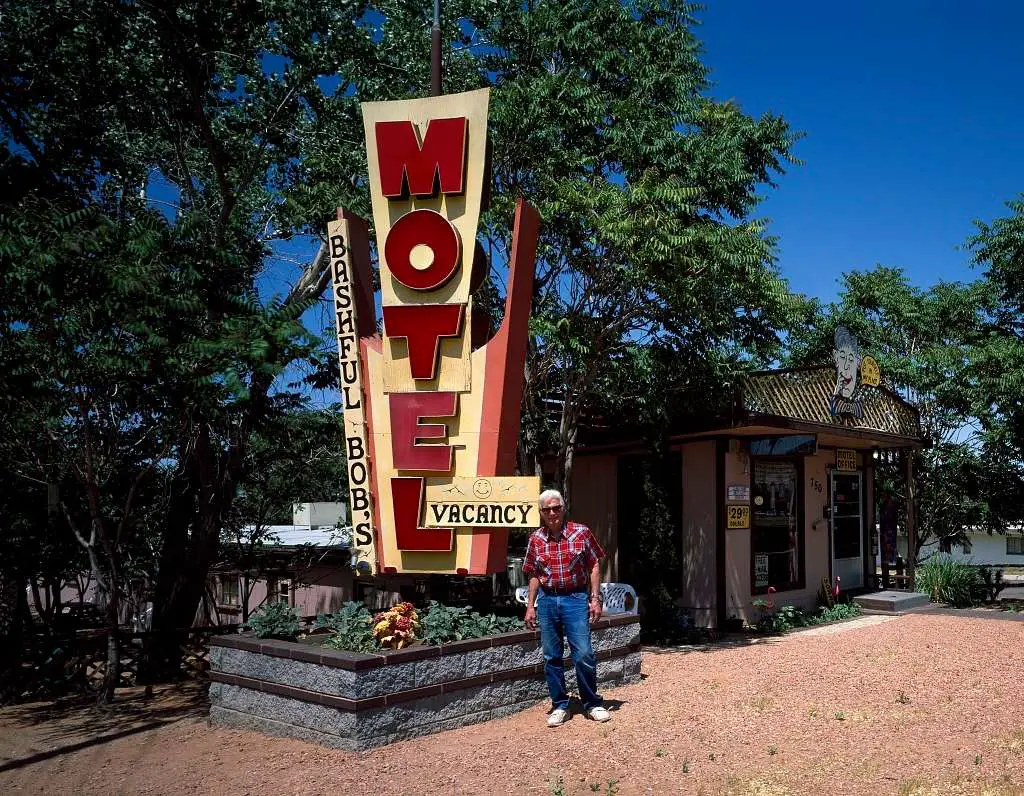 Frequently Asked Questions about the Antelope Canyon
We've received a lot of questions from tourists about Antelope Canyon over the years, so I decided to compile them into a FAQ. Let's get started.
What is the best way to get to Antelope Canyon?
Antelope Canyon is located in Page, Arizona.
It's about a 10-minute drive from town, and parking is plentiful at the admission booths.
Some tour companies will gladly transport you from Page if you don't have a car or don't want to drive your own.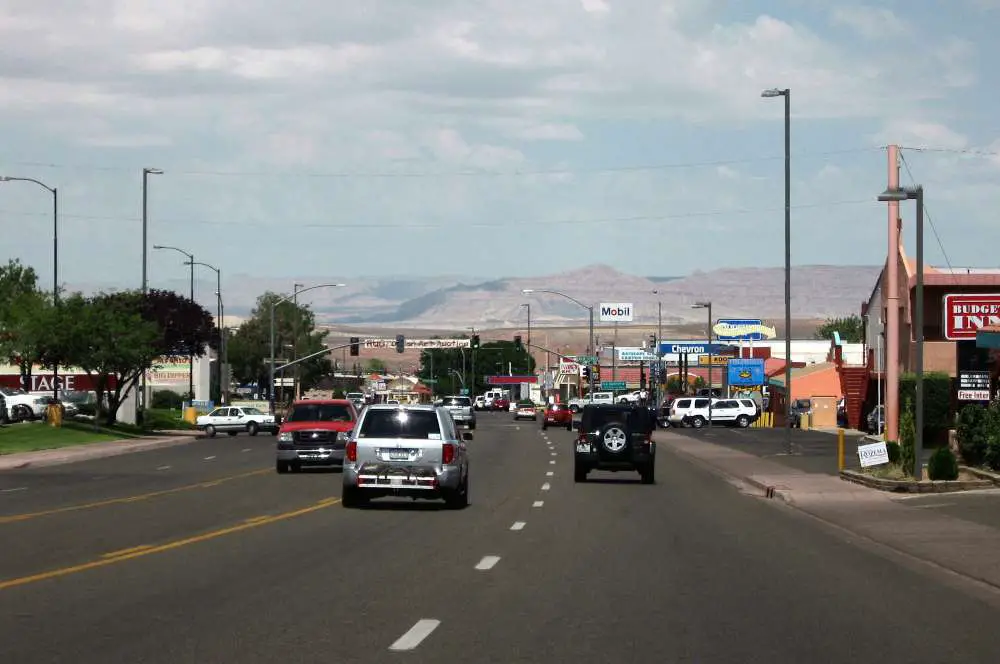 Antelope Canyon is located in the state of Arizona. From the city of Las Vegas
The quickest route from Vegas to Page is to take I-15 to Kanab, Utah.
Because the journey takes around 5 hours, most people intend to spend at least one night in Page.
There's actually a lot to do there, so if you have an extra day, you won't be bored.
My advice is to rent a boat and go sailing on Lake Powell.
That was a fantastic experience for my children.
If you have extra time, you may visit the Grand Canyon National Park on your way to or from Page.
This would be a lengthier drive (about 7 hours), but hey, you're going to the Grand Canyon!
Make sure to include the famous Way 66 stretch between Oatman and Seligman in your itinerary if you choose that route.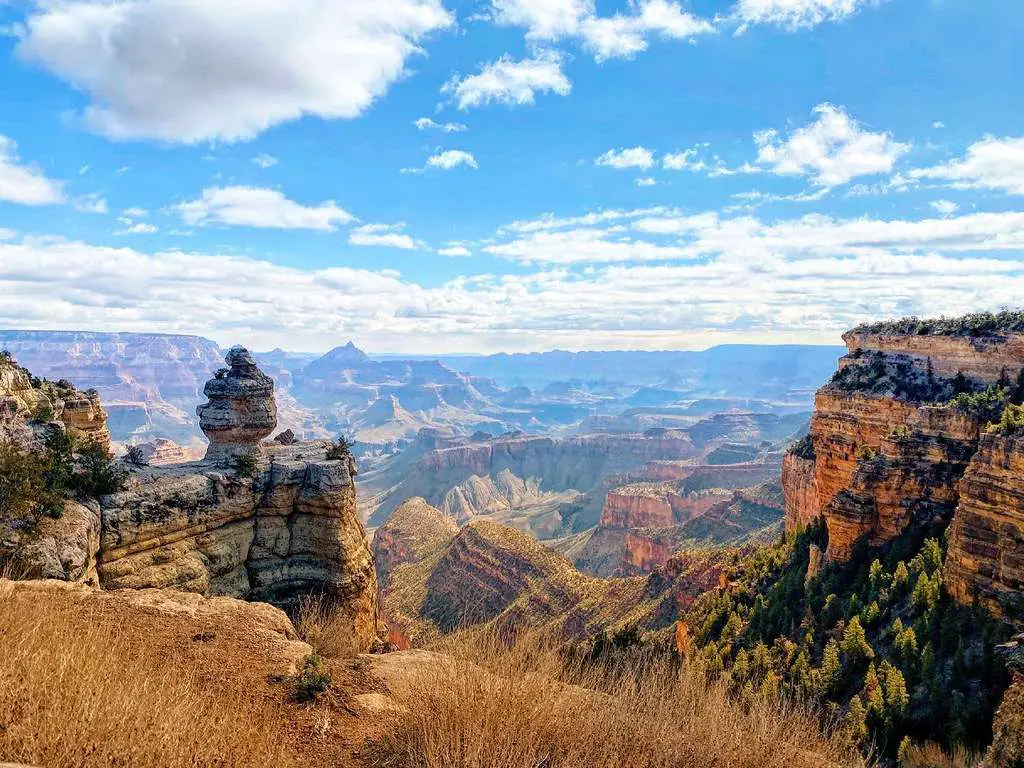 How to get to the Antelope Canyon?
Antelope Canyon is accessible from Phoenix via Route 17 and Route 89.
Take a detour to Sedona, on Highway 89A, if you have the time. It's a breathtakingly beautiful scenic byway that's definitely worth the extra effort.
This drive should take you around six hours if you don't take the diversion.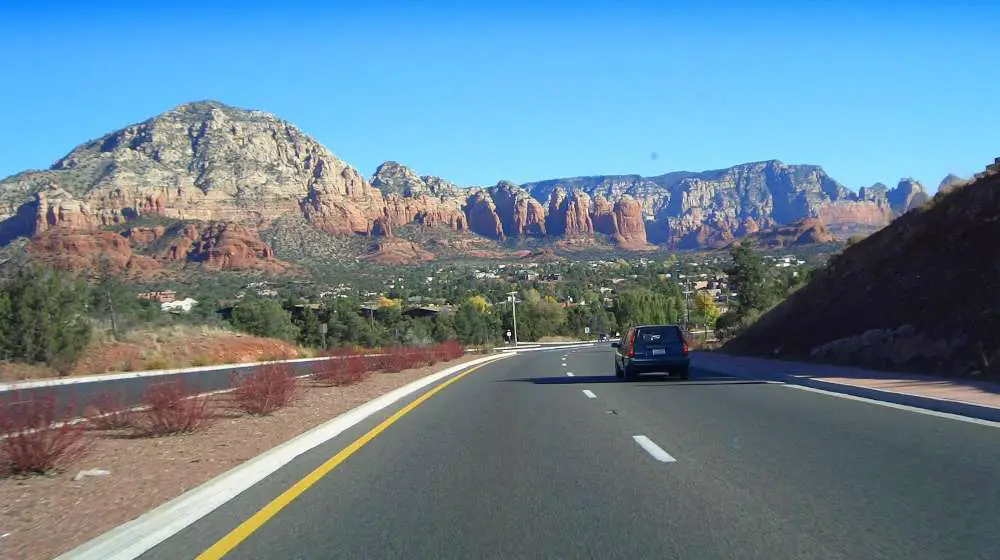 What Should You Bring to Antelope Canyon?
That is dependent on the policies of your trip operator.
We had no restrictions on our excursion. We could bring our bags and backpacks even though we couldn't eat or drink once within the canyon.
Some tour companies, however, state on their websites that backpacks are not permitted.
So, before you book your tour, double-check the conditions.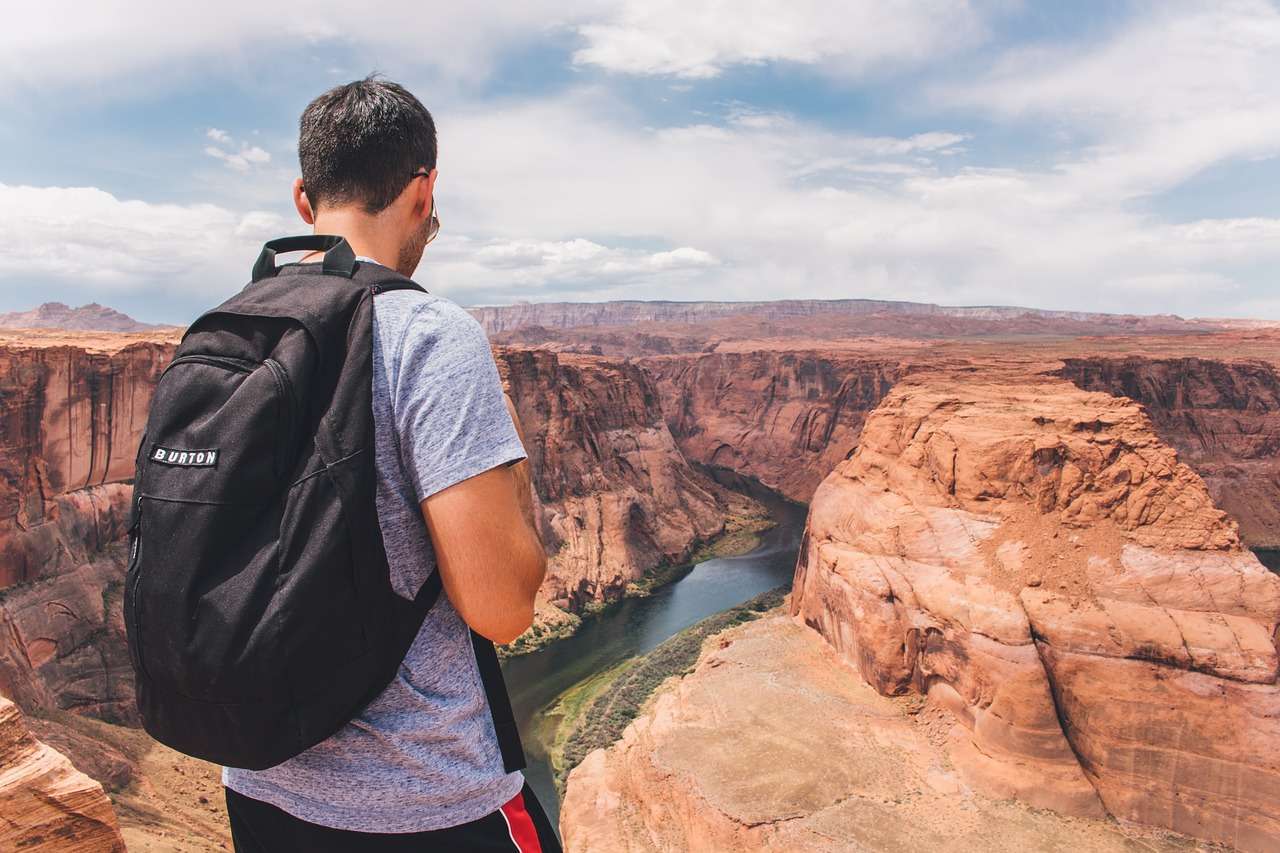 Is it OK to bring a little child?
Again, this is dependent on your trip operator's policies, so double-check with them before booking.
Because of the ladders, you can't carry a stroller into the Lower Canyon. In terms of a baby backpack, I'm not sure I'd have felt safe wearing one in the Lower Canyon.
Some of the hike's sections were simply too narrow.
It might have been feasible to remove a backpack and hand the infant over, but it would have required extreme caution.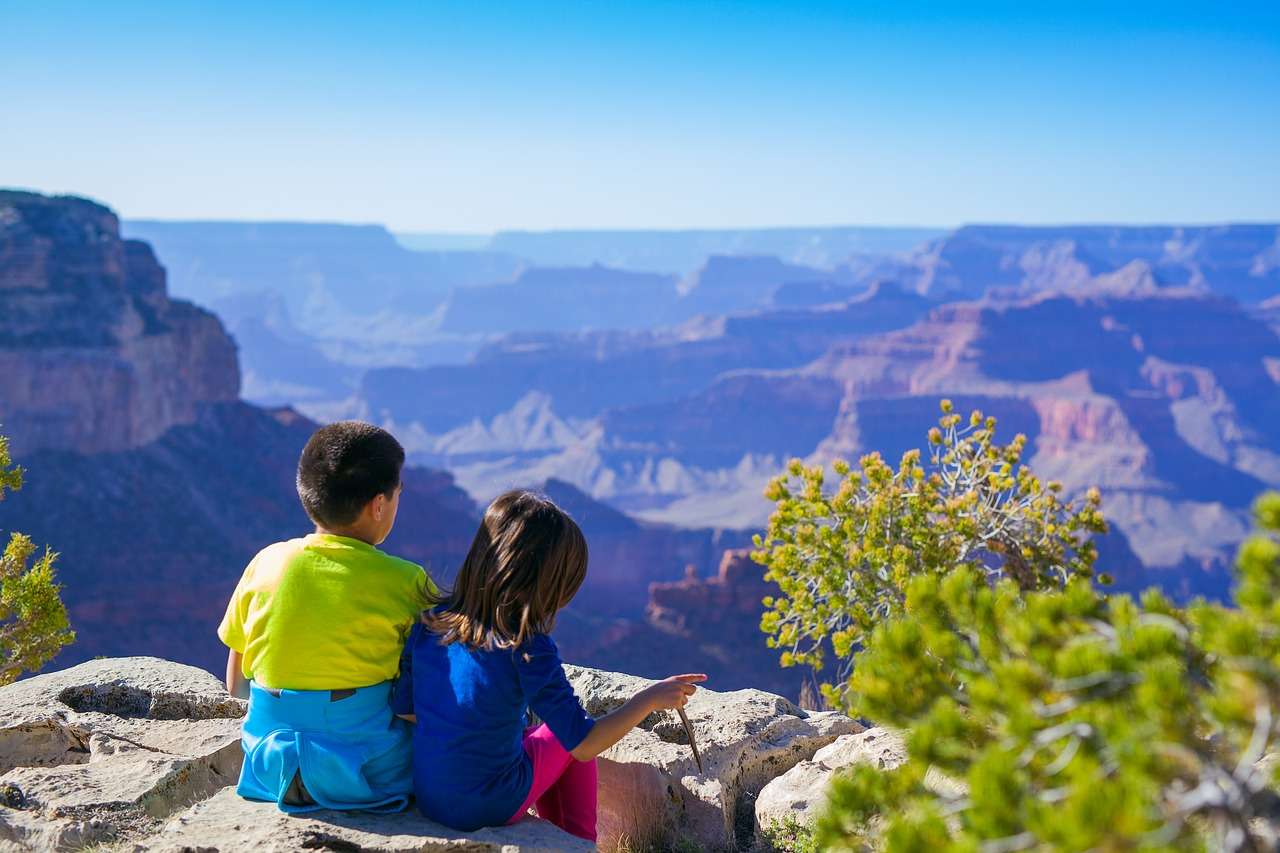 Are Antelope Canyon's Ladders Safe or Scary?
The ladders are located in the lower canyon, and I found them to be extremely safe.
I'm afraid of heights, yet I had no trouble with them.
They weren't very lengthy, and they felt extremely secure.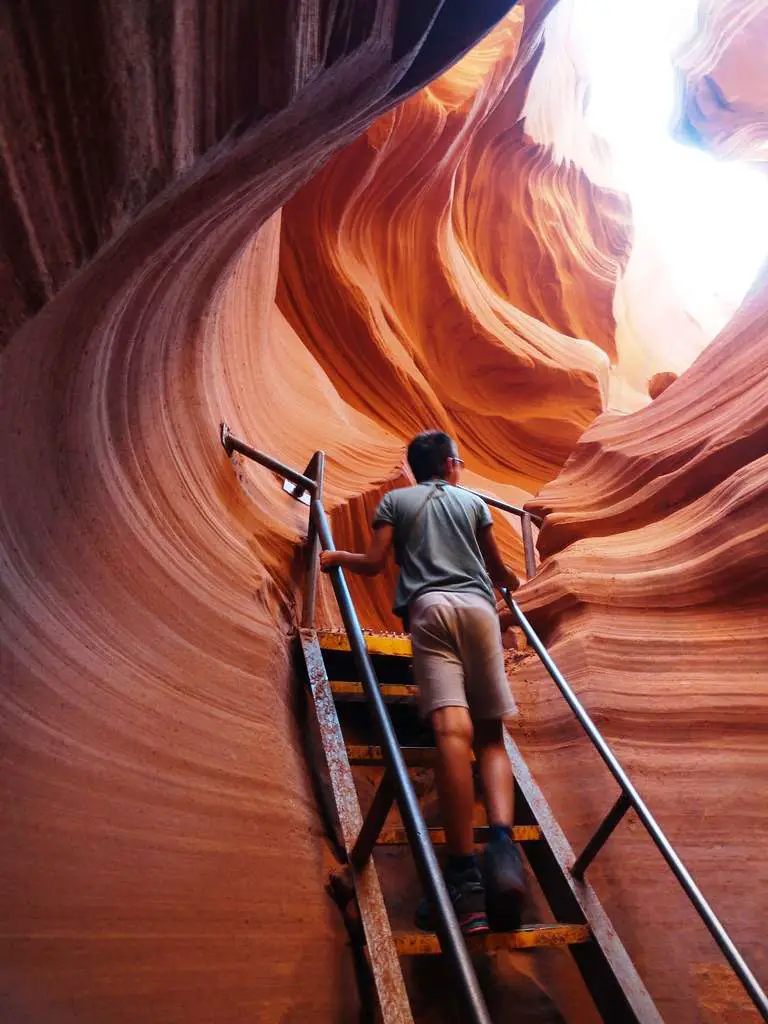 Is This a Technical or Difficult Hike?
Nope. I'm not in great shape, yet the hike was no problem for me.
It's not too quick – everyone always pauses for photos – and the ground is reasonably flat (with the exception of the ladders themselves).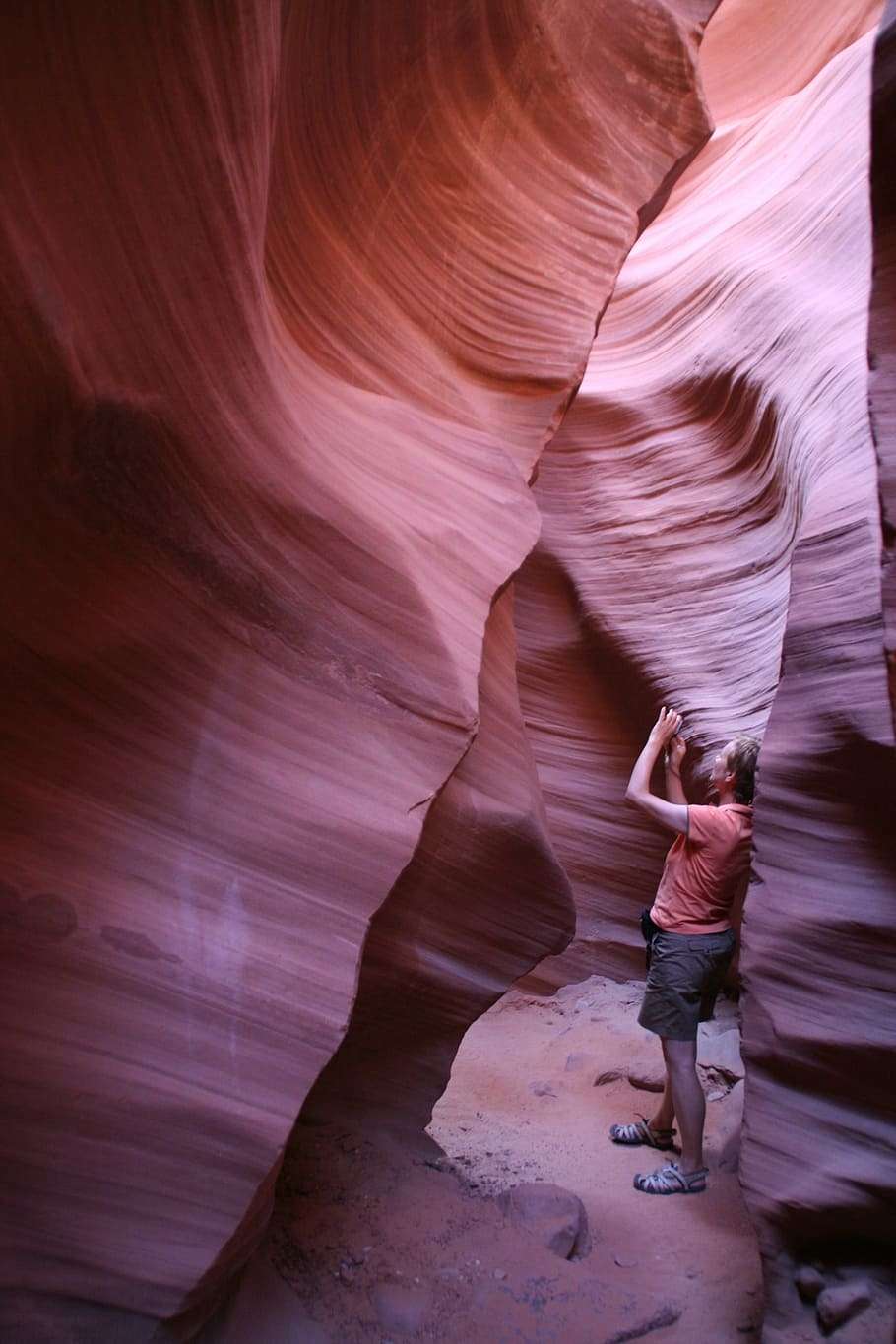 What Time of Day Is Best to Visit Antelope Canyon?
That's a question that a lot of people have.
Because of the angle of the sun, the guides typically propose early morning or late afternoon.
Personally, I believe that this is a factor that should be considered by professional photographers.
We went on a mid-day tour and had a fantastic time (I'll share some photographs with you shortly — they seem fairly nice to me).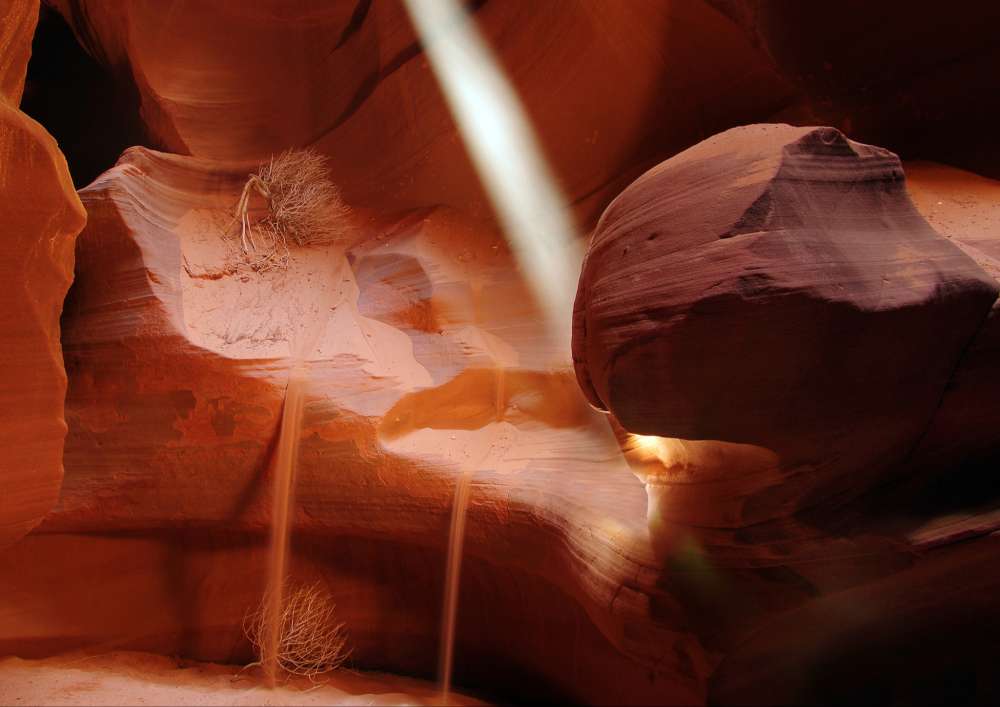 Should you visit the Antelope Canyon?
Based on the facts available, let's deep dive and see whether you should be visiting the Antelope Canyon or not.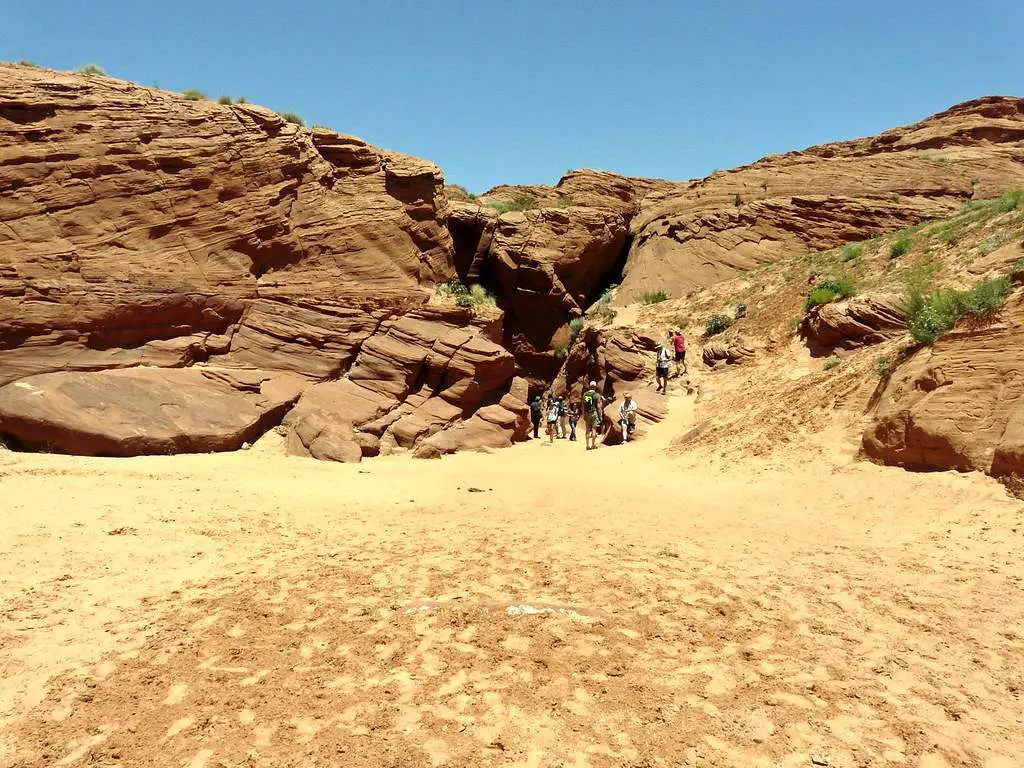 Antelope canyon is crowded
From April through October, when the light beams shine down into the canyon's upper portion, Antelope Canyon has become a highly popular destination in the Southwest.
Even though the number of people that visit the canyon each day is limited by the need that they do so on a guided tour, the number of people coming each day has increased significantly in recent years.
The canyon's vastness, on the other hand, hasn't altered, so you'll often be elbow-to-elbow with other hikers.
The canyon also gets quite small at places, which you notice ten times more when there are a lot of people inside.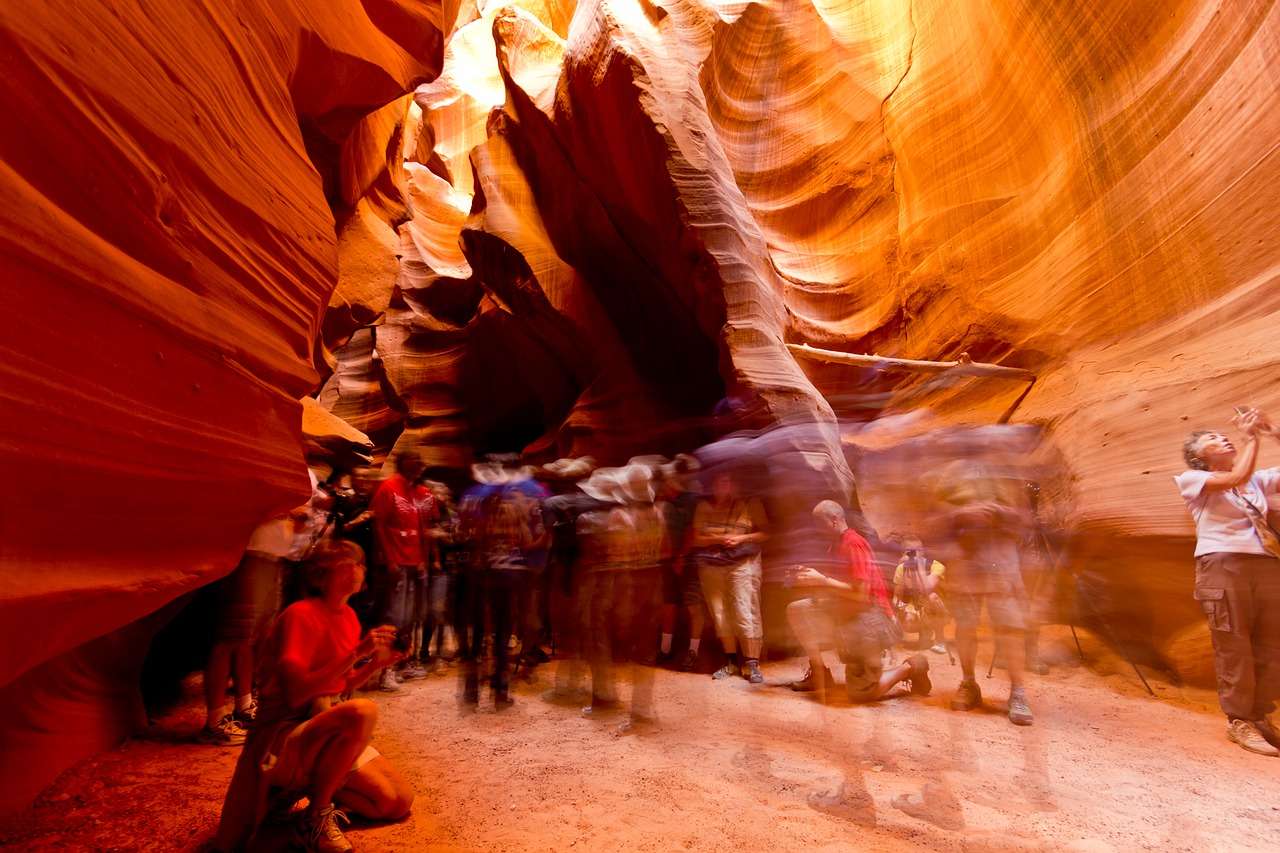 You don't have to spend a fortune
Upper Antelope Canyon tours are also not inexpensive.
A normal trip costs between $40 and $60 per person, with midday tours being the costliest.
The basic trips include transportation from Page, a Navajo park fee, and an hour-long slot canyon guided tour.
Photography-focused trips cost $80-$90 per person and enable you to carry a tripod and offer you two hours within the canyon.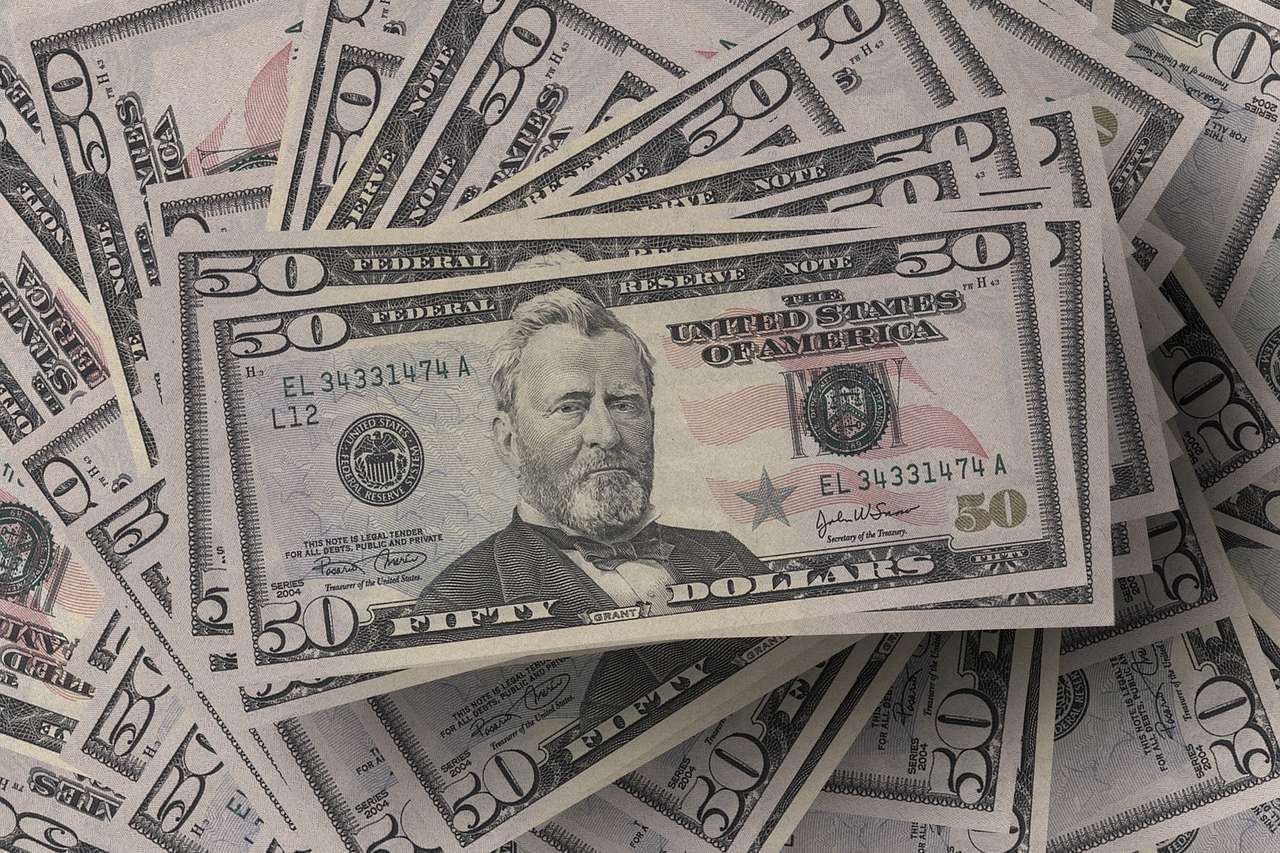 Tours tend to get hurried
I'm not sure about the photography excursions, but I've heard that the normal Antelope Canyon tours may be hurried.
This is due to the fact that everything is on a timer, and they don't want any stragglers to throw things off.
Unfortunately, if the light beams do not appear until the last 10 minutes of your trip, you will not have any further time to photograph or observe them.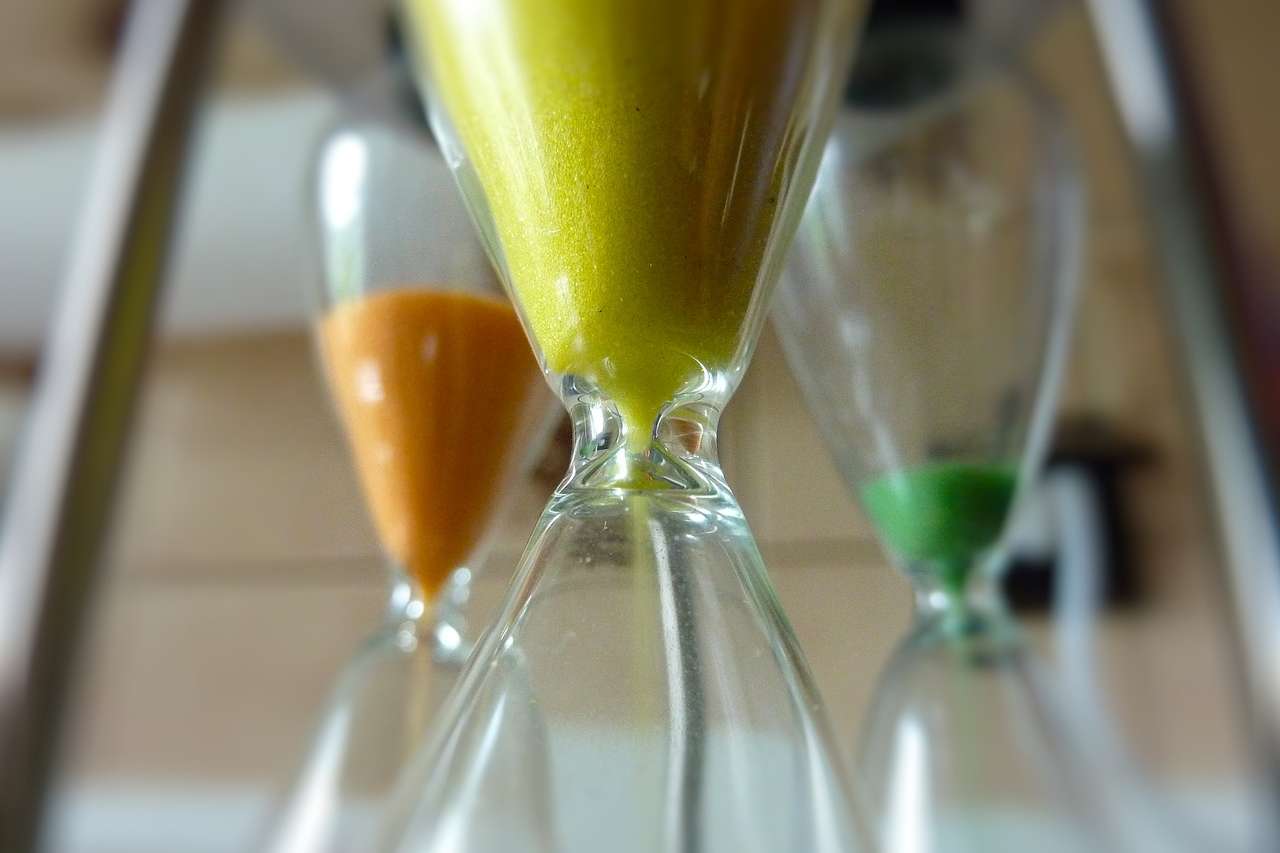 Tours are well organized
Things really operate quite smoothly considering the number of people they transport down the canyon each day.
You travel one way through the canyon, pausing periodically for your guide to point out interesting rock formations or assist you with photography.
Then, on the way out, you go considerably faster (so rapidly, in fact, that you're not allowed to stop at all – but our party did pause momentarily to observe some light beams).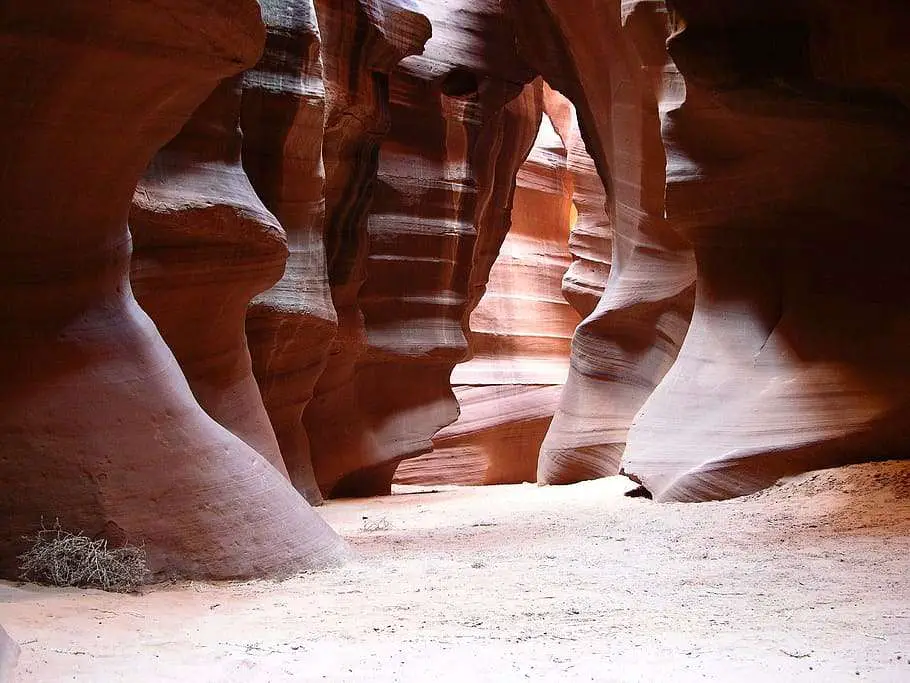 You can focus more on photography
If you are able to arrange a longer photography trip, you will be given first preference for the greatest photo locations.
People typically appreciate the idea that you've paid a little more in the hopes of taking better photographs in the canyon, and guides will try to shoo people out of your views.
Final words
Based on these facts, you can decide whether you should be visiting the Antelope Canyon or not. The decision you take will not be something that you will regret about in the future.