Are you looking forward to going on a snow trip? Then you should have a clear idea on what to pack for snow trip. Winter packing is more difficult than summer packing. It's true. Cold-weather travel calls for heavier clothing, layers, and accessories. Winter packing lists should take this into consideration while remaining compact.

No need to check a bag just because you require a coat and hat. But that means you'll need to pack wisely. Whether you're going skiing in Hokkaido or spending the holidays someplace colder, here's how to pack light.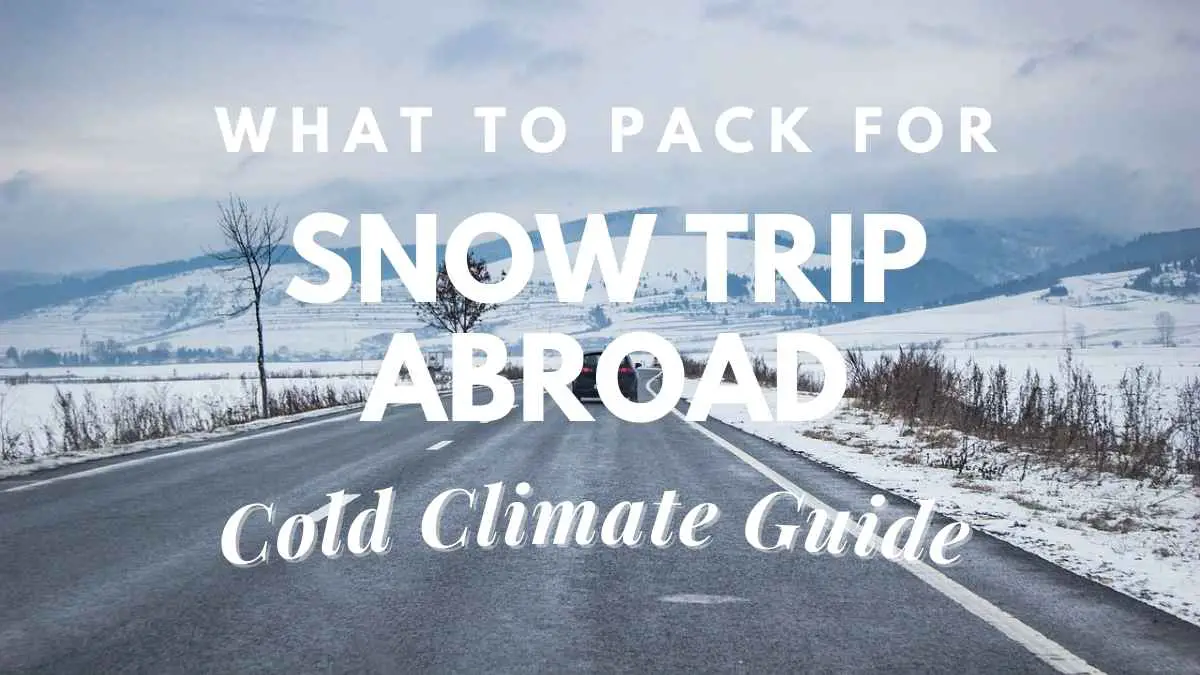 Packing for Cold Weather
Before we get to the packing list, let's review two essential packing concepts. A winter journey requires four of the Seven Secrets of Packing Light.
Do Not Bulk Pack – Instead, pack layers
First, layer, not bulk. Sweaters and hoodies take up a lot of suitcase space. Wear insulating layers. Dress in sleeveless t-shirts and lightweight sweaters. Individual layers save space in your backpack and offer you additional possibilities. This method is covered in detail in our post on packing for a globe travel.
If it's heavy, wear it next. Let's imagine you wish to pack a hefty sweater on your vacation. It's fine. But just one should be brought and worn on the journey. Worn instead than packed. Wearing the sweater instead of packing it saves suitcase space. This goes for your winter coat as well. Wear it on the aircraft, even if you don't intend to keep it on. Afterwards, stow it in the overhead bin.
Bring Your Lightest Shoes
During a winter trip, you may need boots to keep your feet warm, particularly if you plan to go outside. Wear boots. Don't pack. Socks should be smaller and lighter than boots if you require them. Save them.
In harsh conditions, high-performance textiles, natural or synthetic, are essential. Wool is warm and light in the cold. Merino wool is "nature's performance fabric" since it regulates temperature and odor. Maybe you already have one. Socks and base layers should be merino wool.
Read: Is Traveling A Hobby? The Ultimate Guide To An Exciting Way Of Life Learn about the Downsides Of Traveling As A Hobby

Packing list for winter travel
Winter garments for travel may be different from those for cold weather at home. Great winter travel attire will not add additional bulk to your backpack. They'll also withstand the elements, since you'll be spending more time outside. Finally, your winter travel attire should be simple to layer and adapt to different occasions.
Since I reside in San Francisco, I already do. I leave my big sweaters at home and bring my fitting sweaters when I travel. Sweaters made of merino wool, cashmere, or cotton pack well.
The finest winter travel clothing layers well. Pack two to three tees as a first layer, in addition to your sweaters. If you wonder what to pack for snow trip, this is something that you should never ignore. That's because you will appreciate the help that long-sleeved t-shirts can offer you while you go ahead with your travel adventures. Choose a combination of long and short sleeves so you're ready for a long day in the cold as well as an evening by the fire.
Prepare every outfit with a light pair of long underwear (leggings and long-sleeve shirt). Any merino wool clothing brand will provide suitable base layers. Smartwool provides long underwear and leggings for men and women. It may be worn beneath a thick sweater and pants, particularly if you'll be outdoors.
I normally take a pair of jeans or leggings, a mid-length skirt, and heavy wool-lined tights for winter city excursions. Jeans are good for winter travel, but not ideal if snow is expected. Get shopping for travel jeans, leggings, and men's trousers.
Winter travel coats are down jackets. They are lightweight, warm for their size, and more weather-resistant than more fashionable jackets. A decent alternative for moderate weather is Ultra-Light Down jackets. They will make your life easy when you carry as well.
Warn and lightweight scarf
A scarf is a requirement for winter. You don't want to forgo warmth, but you also don't want to overpack. Heat is provided by lightweight jersey or wool scarves.
Wear a wool or wool-blend beanie to remain warm. You might think that these items are not important to be carried along with you at all, but you should not ignore them. We strongly encourage you to carry them along with you as you travel.
For cold-weather travel, choose waterproof or water-resistant boots in neutral colors that go with everything.  If you need new boots for the winter, I recommend a good brand for both men and women. Menswear Web "For minimal sliding on snow and ice, you want a soft outsole with maximal tread," explains Put This On. In other words, wear rubber-soled boots in bad weather. Depending on your schedule, you may also carry durable footwear for indoor workouts or warmer days.
Grab some wool socks to keep your feet toasty. Merino wool is warm, odor-resistant, and sweat-wicking. Plan to wear each pair twice or three times before washing.
Mid-sized travel backpack
Choose a large travel bag like a reputed Backpack with storage space of around 45L to hold all your winter gear. You'll have plenty of room for layering and yet be compliant.
Packing Tips for Cold Weather Travel
Winter items just take up more space in your suitcase, no matter how hard you try. How to travel with big winter gear.
Pack your winter travel clothing in compression packs or packing cubes to save space. These handy pouches will deflate larger things like sweaters, coats, and ski trousers.
Organize smaller items into the shoes you carry
Gloves, socks, and other small things may go in your second pair of shoes.
Borrow or Rent Items When Traveling
Ask if you can borrow sweaters or jackets from friends or relatives. You can rent stuff anywhere you go, particularly if you just need them for a few days.
Send presents to your relatives before you return home for the holidays. You may also use the USPS flat-rate service to send items home if your journey takes you to several climates and locations.
Winter Sports Gear Traveling
Packing for a ski vacation is a unique experience. You'll need gear and extra clothing. You may either bring your own gear or rent it. "Never ever send your skis or snowboard," warns Angelina, a regular traveler and snowboarder. People have reported never seeing their boards or skis again. It's not worth losing a costly pair of skis or snowboards. If you must send, insure it."
If you're bringing gear, you'll have to check a bag. Pack everything but your gear in a carry-on to avoid paying for two bags.
Watch the weather. Will your thickest coat suffice? Or a lighter one?
If you can, buy lighter gear.
Bring basic necessities and leave the rest at home.
Organize tiny items in your ski boots.
Save money on checked baggage by sharing a snowboard or ski bag.
Don't simply put your skis/board in the bag. Keep it under 50 pounds to avoid an excessive baggage fee.
An excellent bag
Renting Equipment
This is a bad choice for serious skiers and snowboarders. Renting is costly, time demanding, and generally of poor quality. You have to rent occasionally, particularly if you're not serious and don't possess your own stuff.
Own ski boots. They're the only thing that still fits in a carry-on, plus they're more comfortable.
Look for ski-in/ski-out packages when renting gear.
Where to rent Better demo gear at resorts. Local ski stores are usually cheaper.
Do you need more? Outerwear may be rented at REI.
Packing for Winter If you're going somewhere chilly, you can still travel with simply carry-on. Winter travel packing tips:
Pack lightweight clothing in a large carry-on.  The clothes you buy should come along with multiple layers as well.
Choosy Down Jackets
Best Merino Wool for Winter Travel Clothes
Tighten clunky layers using compression bags or packing cubes
Carry your bulkiest layers.
Larger products and sporting equipment may be rented locally.
Final words
Now you know what to pack for snow trip. When deciding what to pack, keep two things in mind: your destination and your plans! In the winter, the weather in New Orleans and New York City varies tremendously (and we cover the typical weather in each city in our things to do pages!)
But there are a few general goods that are useful for going wherever – and therefore suitable for your next vacation! Packing cubes are a great way to organize and conserve space in your baggage.