Anna Maria Island is a 7-mile length of beach in the Gulf of Mexico that offers a variety of activities. On the opposite side of Tampa Bay, the island is just an hour south of Tampa. Bradenton Beach (southern end), Holmes Beach (middle), and Anna Maria Island are the three cities that make up Anna Maria Island (northern end). The island is recognized for its beautiful Gulf beaches, delectable cuisine, waterfront cafés, and friendly locals. There's also fantastic shopping and entertainment both on and off the sea. This article will serve as a guide on things to do in Anna Maria Island in 2022. You can go through facts we share in this article and get the most out of visit to the island.

Anna Maria Island offers it everything, from kayaking or paddle boarding among manatees to exploring a mangrove forest or watching live music at one of the local venues.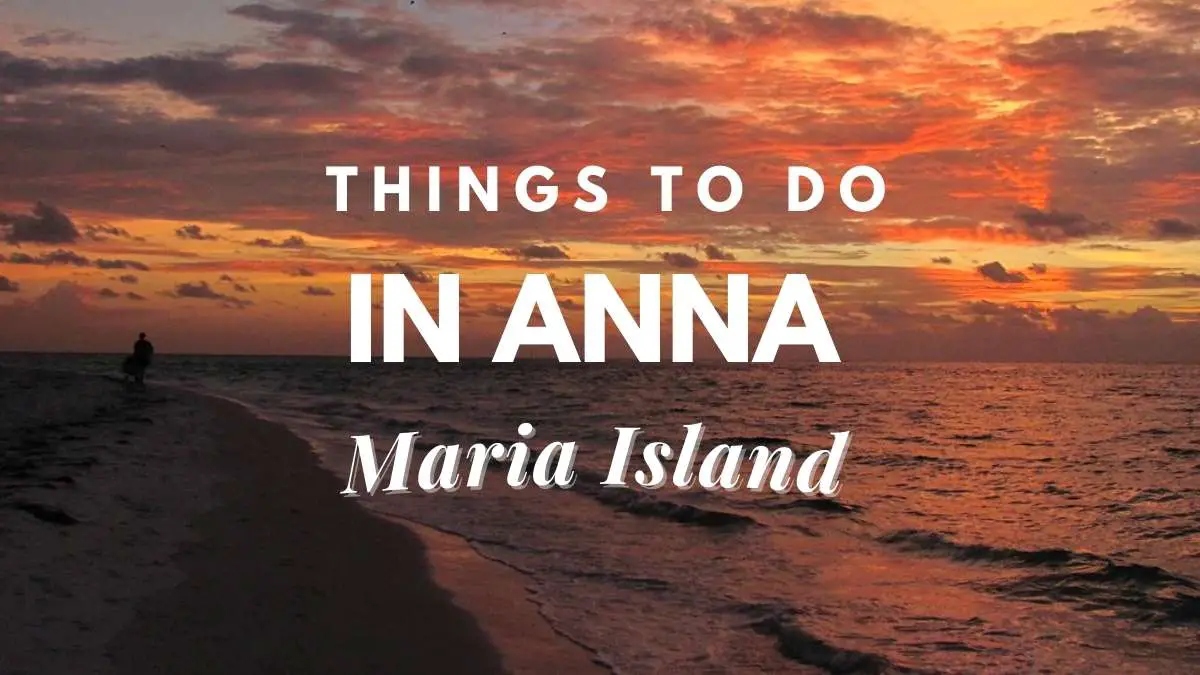 1. Unwind at the beach
There are numerous beautiful beaches on Anna Maria Island. Coquina Beach and Cortez Beach are prominent beaches in Bradenton Beach, near the island's southern end. Both of these beaches offer lots of facilities, including a restaurant directly on the sand at Coquina Beach. Manatee Beach is located near Holmes Beach and is the island's primary public beach. Anna Maria Island Beach Cafe serves cuisine while Bamboo Beach Tiki Bar serves beverages.
There are other more attractions at Manatee Beach, including a gift store. Live music is also available throughout the year. Bayfront Park and Bean Point are located in Anna Maria, near the island's northern tip. Between Anna Maria City Pier and Rod & Reel Pier, Bayfront Park is a short distance away. A lovely playground with picnic tables, shelters, and a beach area is also available. The time you spend at the beach is not something that you will worry about. That's because the beach in here provides a complete relaxation experience. You will surely enjoy the benefits that would come on your way with it.
Read: Is Traveling A Hobby? The Ultimate Guide To An Exciting Way Of Life Learn about the Downsides Of Traveling As A Hobby

2. Dine with a view at incredible restaurants
A vacation to Anna Maria Island would be incomplete without a meal at one of the area's greatest restaurants! On the island, there are various waterfront restaurants that provide delicious seafood, burgers, cocktails, and more. Excellent beachfront eating alternatives include the Kokonut Hut, Bridge Tender, Anna Maria Oyster Bar, Sandbar, and Rod & Reel Pier.
The Feast and Sharky's Seagrill both provide some of the greatest seafood on the island. Mr Bones BBQ is well-known in Holmes Beach if you like delicious barbecue. Omas Pizza is a pizza and Italian restaurant in Bradenton Beach that serves pizza and sandwiches.
Read: 16 Family Things To Do In Anna Maria Island In 2023
3. Take a trip to the Anna Maria City Pier.
The Anna Maria City Pier, located on the island's northern tip, is a stunning sight to see. Come here to stroll the 700-foot pier, get some food and beverages, go fishing, or just take in the scenery. We spotted a bunch of stingrays and even a few of dolphins when we were there. Parking is available on the pier, or you may ride the city trolley here.2
When you are at the pier, you will discover some great activities to engage with. Make sure that you pick the right activities accordingly, so that you will end up with getting an outstanding experience at the end of the day. We also encourage you to go here early in the morning, so that you will be able to enjoy your time without having to worry too much about anything.
Read: Anna Maria Island VS Siesta Key- What's The Difference?
4. Visit Rod & Reel Pier to go fishing (or eat some food).
Rod & Reel Pier is an excellent choice for a casual seafood restaurant with breathtaking views of the Gulf. Eat either inside the restaurant or on the balcony. Appetizers, sandwiches, and grouper, shrimp, and other seafood dishes are available at Rod & Reel Pier. Breakfast, lunch, and supper are all available. For a charge, you may also go fishing from the dock or walkways. A fishing ticket costs $2, a pole costs $2, and every hour costs $2. The bait is $3.50.
5. Kayaks or paddleboards may be rented for the day.
There are various locations on Anna Maria Island where you may hire kayaks and paddle boards. You may hire water equipment from Beach Bums and Kayak Jacks, for example. On the island, there are a few firms that provide kayak and paddle board trips.
We went on a guided kayak excursion with Happy Paddlers at Longboat Key, which is right over the bridge. They provide a variety of kayak trips, as well as kayak fishing charters!
6. Visit Pineapple Marketplace to see what the vendors have to offer.
Pineapple Marketplace offers over 30 merchants selling apparel, jewelry, antiques, art, and more. This is a terrific location to browse for unusual treasures, whether you're a collector or simply looking for a good value. Pineapple Marketplace caters to all tastes.
7. Visit the Historical Society Museum to learn more about Anna Maria Island.
The beaches and waterfront eateries aren't the only attractions on Anna Maria Island. Come learn about Anna Maria Island's history at the museum! The exhibits at this museum depict early island life and the earliest residents in the region. View the antiques, periodicals, and maps that help to preserve Anna Maria Island's history. Take a stroll around Anna Maria Historical Park and pay a visit to the historic Anna Maria City Jail, which was erected in the 1920s!
8. Visit the shops, restaurants, and pier on Bridge Street.
Bridge Street is known for its stores, bars, restaurants, and the Bradenton Historic Street Pier near Bradenton Beach. Throughout the year, there are various art displays and activities. You'll pass places including Island Time Bar & Grill, Daiquiri Deck, Bamboo Island Bar, Blue Marlin, and Bridge Tender Dockside Bar as you make your way up Bridge Street. These restaurants are fantastic venues for live music! As you go to the pier, you'll pass a fudge store, Sea Salt Boutique, and Bridge Street Jewelers.
The Anna Maria Oyster Bar is located halfway up the pier and provides fishing, parasailing, and other activities.
9. Take Part in The Donut Experiment
When visiting Anna Maria Island, the Donut Experiment is a great spot to satiate your sweet taste. With their donut bar, you can design your own doughnuts! They create the doughnuts, and you choose the frosting and toppings to put on them. You may also sample their customized donuts or mixed donut combos. Don't forget to wash down your donuts with a café beverage!
10. Visit the Leffis Key Preserve
Key of Leffis Nature Preserve is a beautiful location to hike and explore. Walk the boardwalk and nature paths through the mangrove forest while you're here. Take a pause and rest on the dock seats that overlook the lake, taking in the scenery. A 26-foot slope provides spectacular views of the Gulf of Mexico and Sarasota Bay. Many visitors come to fish and see birds and other animals.
11. Take a sunset cruise or a dolphin tour.
There are various enterprises on Anna Maria Island that provide boat cruises. Paradise Boat Tours, based at the Bradenton Beach Pier, provided our boat excursion. The intercoastal waterways are explored on these 90-minute cruises. On the trip, you'll encounter dolphins, manatees, and stingrays, among other water creatures.
12. Ride Bikes Around the Island
Because Anna Maria Island is just 7 miles long and 2 miles broad, riding a bike is a great way to get about! Many of the island's key attractions, including most of the beaches, have bike racks. Many of the beaches also feature walking and bike routes. As previously said, finding a parking space in a vehicle might be challenging in congested areas. Bicycles may be rented from a number of businesses on the island.
13. Purchase a souvenir Nearby Shops or The Island Shopping Center
There are various retail districts on Anna Maria Island. The Island Shopping Center is a strip mall containing gift stores, restaurants, and bars in Holmes Beach. More stores and restaurants may be found across Gulf Drive from The Island Shopping Center.
14. Visit D' Coy Ducks for a Drink
D' Coy Ducks, located in The Island Shopping Center, bills itself as Anna Maria Island's favorite hangout. On weekends, this tavern is a wonderful spot to watch sports and listen to live music. Throughout the week, they have poker, trivia, and karaoke evenings, among other activities.
15. Take in The Views at The Island's End (Bean Point)
Bean Point is a tranquil place on the island's northern edge, where Tampa Bay and the Gulf of Mexico meet. Bean Point, a remote, broad beach with magnificent views, is a must-see on the island. It takes some effort to get to Bean Point. There are few parking spaces available on surrounding streets, however they tend to fill up quickly. Many visitors ride the trolley to Anna Maria City Pier and then walk approximately a mile to Bean Point. There are no facilities at Bean Point, but the sight is well worth the trek!
16. Holmes Beach
The barrier island's jewel, Holmes Beach, offers gorgeous beaches, unique retail possibilities, and a variety of other activities. Why Should You Go? Begin your holiday by visiting Holmes Beach, one of Anna Maria Island's most gorgeous attractions.
Many coastal houses for rent, open-air restaurants, oceanfront cafés, boutique stores, and local guides providing adrenaline-rushing water activities may all be found here. It also has an ADA-accessible, air-conditioned trolley that you may use for free to go about the city.
Spend time with your friends and family while discovering the delights and beauty of Holmes Beach. You may spend a relaxing morning tanning on a sandy beach, building sandcastles with your kids, and taking a leisurely dip. Stroll through its charming streets while sampling the local food and shopping for antiques, jewelry, and souvenirs.
17. Coquina Beach
Coquina Beach is a lovely 22-acre public beach with diamond-white sand, dazzling water, and rich flora as a background. This weekend go on an affordable and fun-filled getaway with your friends, family, or partner while enjoying a fantastic beach day along this beautiful coastline.
It offers services such as free parking, beach wheelchair rentals, playgrounds to keep your kids amused, and much more. There is also an onsite café with Belgian waffles, bagels, sandwiches, fresh seafood dishes, and much more.
Make memorable memories with your friends while enjoying a day on the beach and in the water at Coquina Beach. Go into the sea for activities like snorkeling or swimming, or remain on the beach for activities like sunbathing, sand creations, or resting at the café. Playing a competitive game of beach volleyball with your friends may also be a lot of fun.
On Anna Maria Island, the Monkey Bus is a terrific way to get about. You are free to drive your car on the island, which has paved roads. However, during the busy seasons of the year, traffic may get congested. The beaches provide free parking; however, these sites fill up fast. Parking at the beaches may often be problematic, particularly in the summer and on the northern end of the island. Golf carts are popular for getting about the island and can be rented at most establishments that also offer kayaks and paddleboards.
Final words
These are the best things to do in Anna Maria Island. On Anna Maria Island, there are several wonderful locations to stay. Tropic Isle is where I've stayed on the island a number of occasions. It's a 4-star hotel, and although the island's lodgings might be pricey, Tropic Isle is reasonably priced. I like staying here and suggest it since it is a small hotel with a lovely pool and is located just across the street from the beach! It's situated on Anna Maria Island near the northern end of Bradenton Beach, making it quite convenient. Several eateries, including Kokonut Hut, Wicked Cantina, and Sharky's, are within walking distance of Tropic Isle.